Movement, travel and the circulation of people and goods are constant themes in Gabriel's work.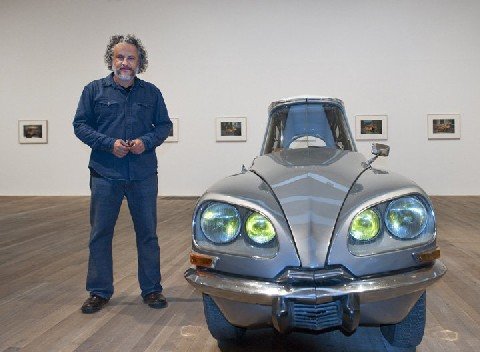 Whether it is the vehicle itself, from La DS (above) to the yellow Schwalbe motorcycle…
…or from Elevator (above) to the rubber tyres of a truck - or the indication of travel as is evidenced in Gabriel's drawings and collages using bank notes and airline tickets. His work reflects on the vastly increased volume and speed of travel particularly in the past two decades that he has been working. Of course he has also travelled extensively in his life and continues to live in multiple locations using his time in different places to produce new bodies of work that relate to the particularities of the place.
Importantly, though the work is not about his personal life (we never see Gabriel in any photograph that he has taken documenting his movement), his own migration is paralleled by the way in which our lives are indelibly affected by this vast global highway.
Gabriel Orozco is at Tate Modern until 25 April