1829
Born 8 June, son of Mr John William Millais, a man of independent means from Jersey, and Emily Mary Hodgkinson in Southampton, England, youngest of three children (Emily and William). Father held a position in the Jersey Militia, which involved occasional duties, and was a keen musician. Spends early years in Southampton - home of his mother's family who were prosperous saddlers.
1833
Family live in Jersey near St Helier. Starts drawing at the age of four. Gets expelled from nursery school and mother assumes Millais's education, grounding him in history, literature, poetry and costume. Later Millais remarked; 'I owe everything to my mother.' Local drawing master Mr Bessell gives him art lessons at Hackett Cottage in St. Helier. Also receives guidance from a German artist Edward Henry Wehnert who had studied in Paris and was living in Jersey during this time.
1838
Millais's drawing talent recognised by prominent men on the island such as Philip Raoul Lemprire and Sir Hilgrove Turner of Gouray Lodge (former Lieutenant-Governor of Jersey). Mr Bessell feels there is nothing more he can teach him. Family encouraged to travel to London to meet the President of the Royal Academy, Sir Martin Archer Shee. Millais draws in the British Museum. Becomes pupil at Henry Sass Preparatory Art Academy in Bloomsbury where family now rent home on Charlotte Street, Fitzroy Square. Wins Silver medal of the Society of Arts for drawing The Battle of Bannockburn. Spends time in the National Gallery looking at Rembrandt, Rubens and Titian.
1840
At the age of 11, enters RA Schools on 17 July for a probationary period as their youngest ever student on 12 December. Known as 'the child' and referred to thereafter into adulthood. Stays at the RA for six years.
1844
Meets William Holman Hunt (son of a building manager) at the RA Schools.
1846
Exhibits first picture at age of 16 at RA Pizarro Seizing the Inca of Peru. Active member of Cyclographic Society.
1848
Shares studio at 87 Gower Street (now no.7, very near the British Museum) with Hunt. Inspired by Lasinio's engravings after frescoes in the Campo Santo at Pisa and Ruskin's Modern Painters, advocating a return in art to 'truth to nature'. Meets Dante Gabriel Rossetti (poet, painter and son of a political exile from Italy) and together with Hunt, they form the Pre-Raphaelite Brotherhood (PRB). The four other founder members are William Michael Rossetti (brother of Dante), FG Stephens, Thomas Woolner and James Collinson. Millais commences work on Lorenzo and Isabella following Pre-Raphaelite principles.
1849
Lorenzo and Isabella exhibited at RA and well received. Millais starts painting Portrait of James Wyatt, Oxford Art Dealer and early patron. Meets Thomas Combe in Oxford. Starts on portraits of his family. Paints landscape background for Ferdinand Lured by Ariel. Pre-Raphaelite journal, The Germ, published but abandoned after 4 issues in 1850. Begins Christ in the House of his Parents.
1850
Ferdinand lured by Ariel and Christ in the House of his Parents exhibited at the RA. Later painting badly received; figure of Christ described as 'a hideous wry-necked, blubbering red-headed boy' by Charles Dickens and The Times describes the work as 'to speak plainly, revolting' and 'disgusting' mainly due to the detail and sacred subject depicted in such a setting. Visits Oxford with Charles Collins and paints landscapes for The Woodman's Daughter and Mariana in the Moated Grange and Portrait of Thomas Combe, printer to the University, close friend and patron.
1851
The Woodman's Daughter, Mariana and The Return of the Dove to the Ark exhibited at the RA, poorly received. Ruskin (English critic and art theorist) asked to support Pre-Raphaelites by Mrs Coventry Patmore (wife of poet) in letters to The Times in May; Millais then meets Ruskin and his wife, Effie, in June (Millais and Effie met once before seven years earlier). Leaves London with Hunt for Ewell to paint landscapes for Ophelia and The Huguenot.
1852
Elizabeth Siddall (who marries DG Rossetti) sits for Ophelia in Millais's Gower Street studio, and Arthur Lemprire a friend from Jersey sits for the figure of The Huguenot. Both works exhibited at the RA. In June, commences painting on The Proscribed Royalist and includes a large oak, later named the Millais Oak, in wood near Hayes Common in Kent for background. Sitter is friend and fellow artist Arthur Hughes. Ruskin hails Millais as purest Pre-Raphaelite.
1853
In March, Mrs Ruskin (Effie) visits Gower Street to sit for The Order of Release: which is exhibited at the RA with The Proscribed Royalist. Joins the Ruskins with his brother, William Millais, for three-month holiday at Callander in Scotland from July. Falls in love with Mrs Ruskin. Starts Portrait of Ruskin that embodies his attitude to nature, a series of Highland sketches and a group of highly-finished pen and ink drawings. Returns to London in November to news of election to Royal Academy as Associate (ARA) at the age of 24.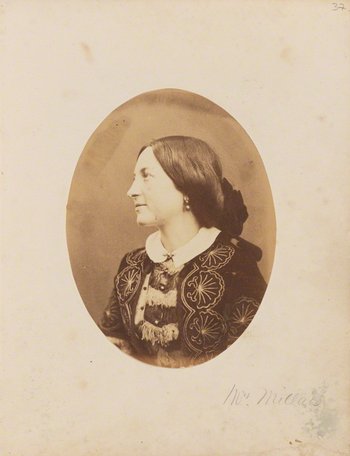 1854
No pictures exhibited at the RA. Ruskin visits Gower Street for sittings for portrait. Mrs Ruskin receives official order allowing her to end her marriage and leaves husband. Millais finishes Ruskin portrait during autumn. Millais and other artists illustrates Moxon's edition of Tennyson. Paints watercolour Portrait of John Leech, the humourist. Stays in Winchelsea in autumn to paint backgrounds for The Blind Girl. PRB breaking up.
1855
The Rescue exhibited at the RA. In Paris, Ophelia and The Order of Release exhibited at Exposition Universelle, Paris and well received. Millais marries Euphemia (Effie) Chalmers Ruskin (daughter of Mr Gray a Perthshire lawyer) on 3 July. Couple spend time between home at Annat Lodge and with Effie's parents in Bowerswell in Perthshire, Scotland and London where Millais keeps studio in Langham Chambers, Langham Place. Effie sits for The Blind Girl. Background for Autumn Leaves started in garden at Annat Lodge.
1856
The Blind Girl sold for 600 to Gambart, the picture dealer. L 'Enfant du Regiment, Peace Concluded and Autumn Leaves exhibited at the RA. Ruskin continues to praise artist. First child, Everett, born.
1857
Sir Isumbras and The Escape of a Heretic exhibited at the RA; pictures severely attacked from all quarters including Ruskin and for next three years artist out of favour. Moxon's Tennyson published. Commission from the Dalziel brothers to illustrate The Parables, which Millais works on for seven years. Second child, George is born.
1858
No paintings exhibited at the RA. Paints The Vale of Rest. Third child, Effie, born.
1859
The Vale of Rest and Apple Blossoms exhibited at the RA; again criticised. Much time during next five years given over to designing illustrations for journals and five Trollope novels.
1860
Millais in fashion again after The Black Brunswicker, first of the subject pictures, exhibited at the RA. Fourth child, Mary, born.
1862
Family settles at 7 Cromwell Place, South Kensington but continues to spend part of each year in Scotland. Paints The Parable of the Lost Piece of Money, first of subject pictures in religious vein (later destroyed in fire). Fifth child, Alice, born.
1863
On strength of success of My First Sermon, first of many genre pictures with children (and showing Effie, his daughter), and The Eve of St. Agnes, Millais elected Royal Academician. Sixth child, Geoffroy, born.
1864
The Parables of Our Lord and Saviour published. Paints popular companion to first Sermon picture, My Second Sermon (again with Effie), Leisure Hours, showing daughters of Sir John and Lady Pender and Red Riding Hood. Also now painting watercolour replicas of popular oils.
1865
Tours Italy, visiting Florence, Venice and Rome. The Romans Leaving Britain, early historical subject picture, exhibited at the RA. Seventh child, John, born.
1867
Three child studies, The Minuet (showing his daughter, Effie) and Sleeping (showing his daughter Alice) and Waking (showing his daughter Mary) exhibited at the RA. Starts to spend part of each year in Scotland.
1868
Artist enters prolific phase with six pictures at the RA including A Souvenir of Velasquez presented as his Diploma picture. Visits Paris. Eighth child, Sophie, born. New influences: Frans Hals, Gainsborough and Joshua Reynolds whose work he had previously rejected in the early phase of his career.
1870
The Boyhood of Raleigh modelled by his two eldest sons, exhibited at the RA. In June, draws sketch of Charles Dickens on his death bed; in autumn paints Chill October, first of many large scale landscapes painted in Scotland.
1878
Chill October and A Yeoman of the Guard among pictures shown at the Paris International Art Exhibition. Also this year A Jersey Lily, portrait of the actress Mrs Lillie Langtry, is exhibited at the RA. Artist is awarded the gold Mdaille d'Honneur and created Officer of the Lgion d'Honneur so visits Paris for awards ceremony in October. Second son, George, dies of tuberculosis. Family moves into newly-built neo-Renaissance home at 2 Palace Gate, Kensington, designed by the architect Philip Hardwick.
1881
Exhibition of work mounted in London by The Fine Art Society. Henceforth painting many portraits of public figures, including this year, the 1st Earl of Beaconsfield (Benjamin Disraeli, Prime Minister 1868 and 1874-80) and Alfred Lord Tennyson. Takes tenancy of Birnam Hall, Murthly Castle, Perthshire where for the next ten years Millais spends holidays fishing and shooting.
1885
Millais is first artist to become a baronet, a special honorary knighthood from Queen Victoria for his outstanding achievements and services to his country. Receives this on 24 June from Mr Gladstone. Takes title of Baronet of Palace Gate, Kensington, County Middlesex and of St. Ouen, Jersey. Paints second portrait of Mr Gladstone.
1886
Exhibition of work in London at the Grosvenor Gallery. Paints Bubbles, showing his grandson, William James, which became famous as an advertisement for Pears soap. Millais particularly successful, earning in the region of 30,000 per annum (about 1,962,900 today!). Paints Archibald Philip Primrose, 5th Earl of Rosebery (Prime Minister, 1894-5).
1892
Following meeting with Henry Tate at Palace Gate, Millais encourages him to open museum of British art, later called the Tate Gallery. In March, following attack of influenza, an uncomfortable swelling develops in throat that begins to effect his capacity for work.
1896
Following Leighton's death, Millais elected President of the Royal Academy (PRA) 20 February; receives congratulatory letter from Hunt ending, 'You have gone a letter higher-from PRB to PRA'. Health rapidly deteriorating; pays last visit to RA to receive the Prince of Wales, 2 May. As he lies dying of throat cancer, Queen Victoria receives Effie in private audience. Millais dies aged sixty-seven at 2 Palace Gate, 13 August, and is buried in St Paul's Cathedral, 20 August
1897
Everett, eldest son, dies suddenly of pneumonia, 7 September; Effie dies at Bowerswell, 23 December and is buried in Kinnoull Church, Perth, Scotland.
1898
Memorial Exhibition, Royal Academy.
1899
Youngest son, John Guille Millais, publishes a two-volume The Life and Letters of Sir John Everett Millais, 'To the memory of my dear father and mother I dedicate these volumes.'