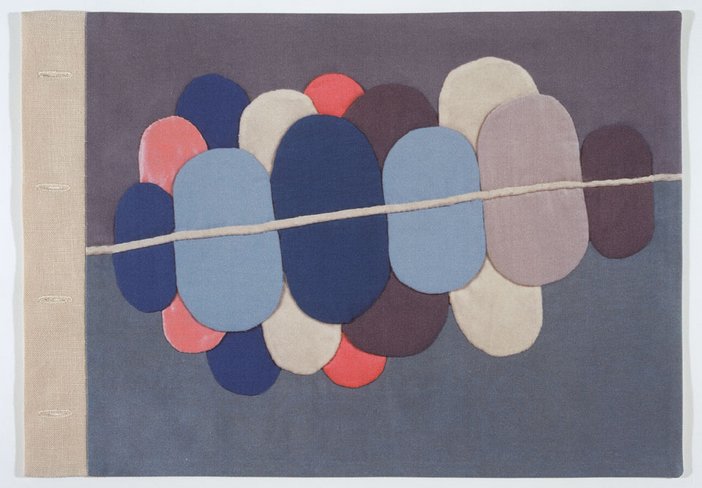 In the 1990s Bourgeois started using clothes and linens she had kept in her closets for decades. She made a number of fabric books and 'drawings' in collaboration with a seamstress whom she trusted to faithfully translate her ideas.
Bourgeois's family ran a tapestry restoration business and needlework held a particular significance for her, stemming from childhood memories of her mother sewing and weaving. She was also interested in psychoanalytic interpretations of 'reparation', in which a subject makes amends for the instinctive violence enacted on a loved-one, starting with the relationship between infant and mother. This concept fed her imaginative use of fabric and was explored through her portfolio of prints titled La Réparation.
The fabric book Ode à La Bièvre presents an abstract visual poem to the river that ran alongside the Bourgeois family house. Its tannic water was used to fix the dyes in the wool-fibres used for the tapestry restoration. As a symbol of the unconscious mind, water is a recurring theme in many of the drawings Bourgeois, a chronic insomniac, made during sleepless nights. For her, the repetitive, rhythmic act of drawing abstract, geometric patterns had a soothing effect.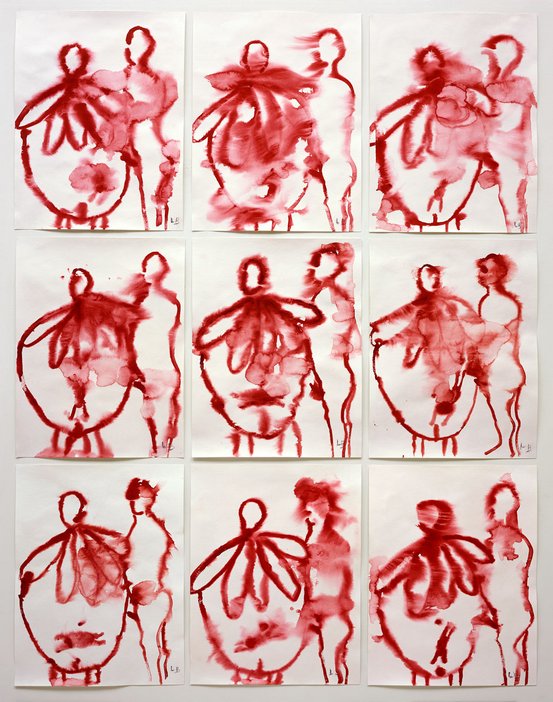 In her final years, Bourgeois created a striking body of red gouache-wash drawings frankly exploring themes that had preoccupied her for many years: birth, reproduction, motherhood, sexuality and human relationships.
Perhaps surprisingly, the life-changing experience of childbirth and the fragile emergence of new life were subjects the artist still grappled with in her old age. Mother to three boys, Bourgeois's powerful and often ambivalent feelings about motherhood were bound up with longing for her own mother:
If you hold a naked child against your naked breast, it is not the end of softness, it is the beginning of softness, it is life itself…I felt that when I represented the two naked bodies of the child and the mother, I can still feel her body and her love.
Bourgeois was generous in creating works for her friends and collaborators, as several of the works in this display demonstrate. She intended the sculpture Variation for Four Hands and One Foot to be the portrait of a relationship.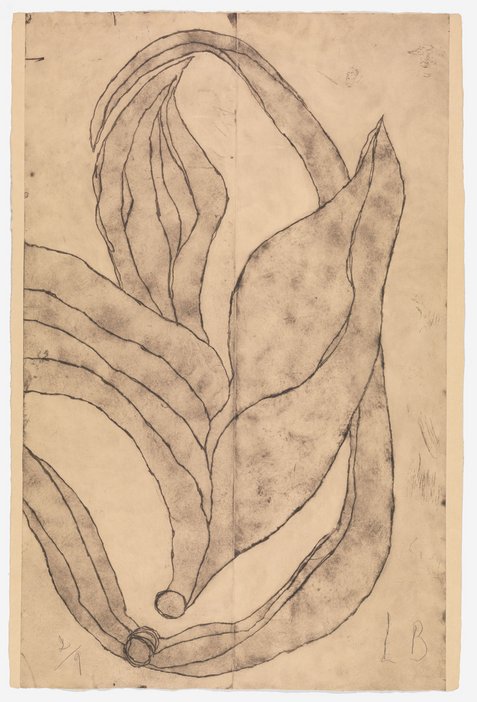 The display includes large-scale soft-ground etchings created in the last years of Louise Bourgeois's life in collaboration with the publisher Benjamin Shiff of Osiris Press, with whom she had worked since the late 1980s.
The works are typical of Bourgeois's drawings, showing both figurative and abstract elements: knots and spirals; leaves and natural forms; hanging, pendulous shapes, and tangled 'entrails'. Their titles are often oblique and poetic or suggestive of inner turmoil.
These etchings are extraordinarily large and reflect the working relationship between Bourgeois and Shiff, who supplied Bourgeois with long, narrow plates that fitted on her work table in the back room of her house, enabling her to work on them easily with her drawing tools. By covering the plates in a waxy ground and then laying large pieces of paper over them, Bourgeois could draw freely and without applying too much pressure to the surface.
Shiff then collaborated with Wingate Studio printers on the production of the works, bringing proofs to the artist for her to mark up, add text, and alter in a number of ways. Multiple prints were taken of some of the soft-ground etchings that resulted. Others became the basis of unique works with hand additions and, sometimes, collaged elements.
Louise Bourgeois (1911–2010) was born in Paris. She lived and worked in New York.
Curated by Ann Coxon