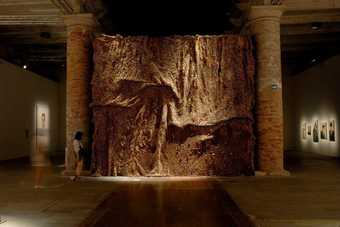 Who is he?
El Anatsui is a sculptor from Ghana who currently lives and works in Nigeria. He transforms simple, everyday materials into striking large-scale installations.
His work raises questions about ethnic identity by combining traditional African techniques and imagery with abstraction (which arguably is rooted within Western art). His interest in African craft led him to be associated with the 1970s art movement Nsukka group.
In 2008 he won the Golden Lion for Lifetime Achievement at the Venice Biennale.  
What are his key works?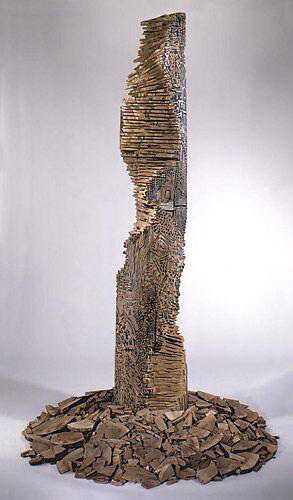 Erosion 1992 is one of his most well-known works made out of wood. The column-like sculpture has been burnt and carved in a way which is destructive, delicate and beautiful. It towers at nearly ten feet tall on a bed of wood shavings. The work, similar to a traditional totemic object has been reinterpreted into a Minimalist sculpture.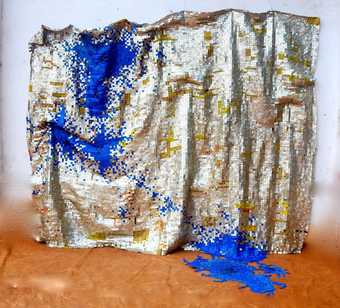 In 1999, Anatsui found a bag of full of metal seals from African liquor bottles. Since then he has received great recognition for a series of wall-mounted installations or assemblages made from seals. He crushes this material into circles or cuts into strips and then sews together with copper wire.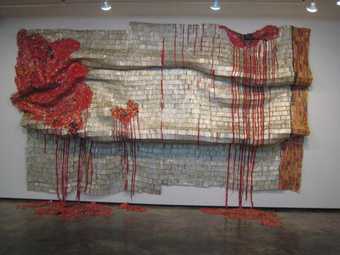 His labour intensive work Bleeding Takari II 2007 is a powerful twenty foot-wide wall-installation which ripples like fabric. The piece is mainly made from gold caps with large patches of red which spills down to the floor, resembling blood. The title is intriguing but doesn't answer any questions, 'Takari' is a fictional name.
Why use recycled materials?
As well as bottle caps, he has also used found materials that range from old milk tins, railway sleepers, driftwood, iron nails and printing plates. His use of recycled African materials highlights that there are some places in the world where people have to re-use materials out of necessity, rather than as a choice.
He hasn't just turned something discarded into something beautiful. The use of bottle caps hints at broader topics such as global consumerism and its history, including slavery.
I saw the bottle caps as relating to the history of Africa in the sense that when the earliest group of Europeans came to trade, they brought along rum originally from the West Indies that then went to Europe and finally to Africa as three legs of the triangular trip…The drink caps that I use are not made in Europe; they are all made in Nigeria, but they symbolize bringing together the histories of these two continents.
The New Razzle Dazzle, Art News
What are his themes?
Consumption, transformation and the environment.
How are his works hung?
It's up to the curator to decide. Anatsui sends his work to institutions without instructions because he believes galleries should be part of the creative process.
Are his works easy to define?
Not really. Although his work are sculptures, they don't have a fixed form, which breaks with the tradition of the medium.
Anatsui also refers to himself as both a painter and a sculptor. He essentially 'paints' and builds up colour and pattern with the bottle-caps – with his works have been compared to traditional Ghanaian kente cloth, Western mosaics, tapestries and paintings by Gustav Klimt.
El Anatsui demonstrates that the smallest bits of scrap metal can map fields of colour and texture as lovely as a painting by Georges Seurat.
Robert Storr,Art News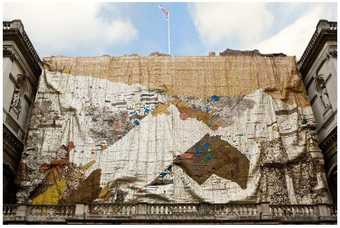 What do the critics say?
…the works evoke lace but also chain mail; quilts but also animal hides; garments but also mosaic, not to mention the rich ceremonial cloths of numerous cultures. Their drapes and folds have a voluptuous sculptural presence, but also an undeniably glamorous bravado.
Roberta Smith, New York Times

This is not pop art, but it is an aesthetic that reaches back into a whole series of things in the postwar period - it has a kind of exaltation I have not seen before.
Robert Storr, Curator at Venice Biennale 2007
El Anatsui in quotes
Art doesn't grow in a vacuum…When you leave your normal domicile and travel, a lot of times your feeling for your original home grows stronger; the distance can make you reach new levels of empathy or feeling for it, so having a distance from any usual terrain provided an influx of ideas.
The New Razzle Dazzle, Art News

I don't believe in artworks being things that are fixed.
Fold, Crumple, Crush (documentary film)

[I am interested in textile because it is] Always in motion. Anytime you touch something, there is bound to be a change. The idea of a sheet that you can shape and reshape.  It can be on the floor, it can be up on the ceiling, it can be up on the wall, all that fluidity is behind the concept.
The Nomadic Aesthetic