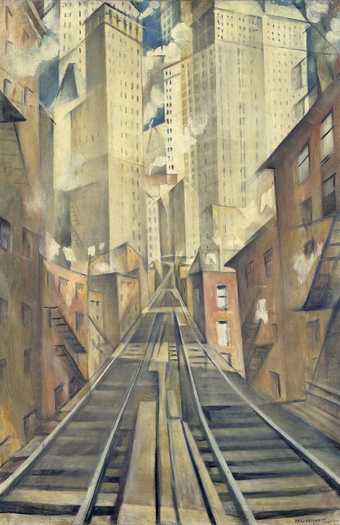 I spend more than a fair percentage of my life in transit. Be it in a plane, train, sleeper bus, taxi, I spend a lot of time staring out of windows or portholes, watching distant shadows on the horizon form into breathtaking geometric vistas. I'm also one of the most anxiety-ridden passengers I know and Christopher Richard Wynne Nevinson's The Soul of the Soulless City encapsulates the two opposing, oft overpowering, and exceptionally vivid reactions in my body.
Firstly, the wonder and amazement of an approaching city, not knowing what lies between the right angles, the size and arrangements of skyscrapers, the sense that anything could be around any corner – a life-changing moment, a chance meeting, a life-ending road crossing, a life-affirming protest gathering. Anything is possible, any idea plausible. The way the railway tracks shoot straight for the heart of the cityscape at speed in this painting gives me an overwhelming sense of the excitement of what could be in the fast-approaching metropolis. All is full of possibility: you are but one of millions in a swarm of souls drifting between the blocks, plotting your own way.
This painting also fills me with dread. The sense of being overwhelmed by your senses – new sounds, new sights, new smells, new forms. The painting directs us into the unknown, and there are no brakes. We are at speed, heading towards the unknown, the other side of the curious mind, the anticipation of not knowing your surroundings, being out of your comfort zone. It's a constant battle between opposing ideals of what the future holds – and this painting forces us to confront it and not look away: welcome to your future at a thousand miles an hour, make of it what you will.
I spend more than a fair percentage of my life living in this painting.
Tracklist
2. Jónsi & Alex – Boy 1904
3. Lubomyr Melnyk – Pockets of Light (Excerpt)
4. Claude Debussy – String Quartet in G minor, Op. 10 – III. Andantino, Doucement Expressif
5. Fairport Convention – Meet on the Ledge

Minor Victories is a group formed of Rachel Goswell (Slowdive), Stuart Braithwaite (Mogwai), Justin Lockey (Editors) and James Lockey (Hand Held Cine Club). Their self-titled debut album is out on Fat Possum (US) and Play It Again Sam (worldwide).