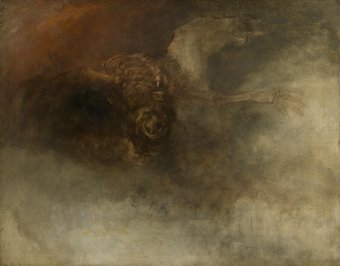 This is the first Turner painting I was introduced to, and it sparked my interest in his work and impressionism during my teenage years. Later when studying impressionism in music, such as the works of Debussy and Ravel, I was fascinated by the parallels between the sounds I was hearing and the art I was interested in; impressionism hints at a scenario but never quite provides the full image, and this painting in particular has had a profound effect on the way I look at art/music – that I like it to be hazy but never shy at getting a point across.
Tracklist
1. Claude Debussy – La Cathédrale Engloutie
2. Michael Nyman – To The Edge Of The Earth
3. Jean Sibelius – Symphony No. 6 In D minor, Op. 104 – I. Allegro Molto Moderato
4. Prayer – Chances
5. Maurice Ravel – Gaspard De La Nuit – Le Gibet (Très Lent)
6. Eluvium – Wind Book
7. Steve Reich – New York Counterpoint – I. Fast
8. Michael Nyman – Ordinary Citizens
9. Knut Nystedt – Immortal Bach
10. John Taverner – Funeral Canticle
11. Prayer – Dark Beneath
12. Max Richter – When The Northern Lights / Jasper And Louise
13. Prayer – Silence Before
14. Prayer – Kind
Prayer is a producer based in London. His second EP Beneath is released by Grade 10.
This mixtape in the ninth in the series.