Family Group is a small sketch model made by Henry Moore to test the design for a larger sculpture intended to be carved in stone. The sculpture demonstrates the artist's engagement with the subject of the family, and is the only terracotta sculpture by Moore in the Tate collection.
Henry Moore OM, CH 1898–1986
Family Group
1944
Terracotta
150 x 126 x 76 mm
Lent from a private collection 1994
L01767
Ownership history
Exhibition history
References
Technique and condition
Entry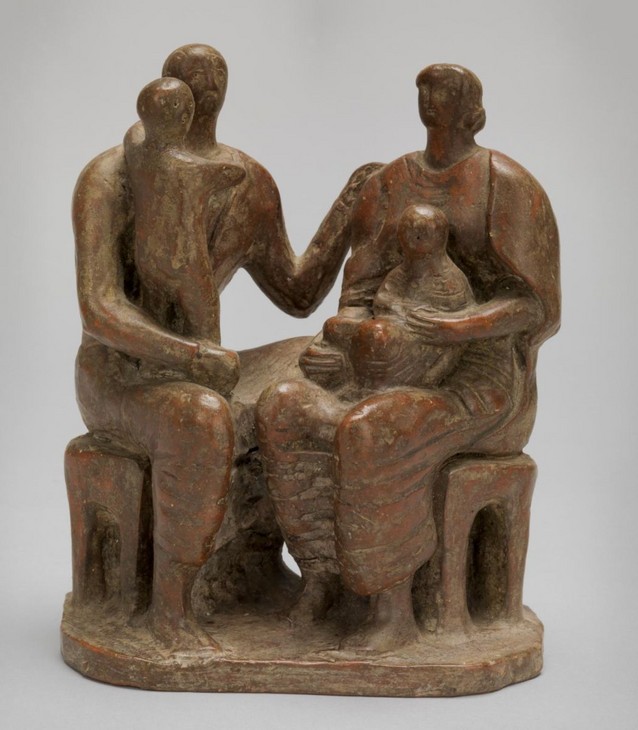 Family Group
is one of at least fourteen small models made by Henry Moore in the mid-1940s, each of which presents a family group in different poses and configurations. This sculpture presents a mother, father and two children (fig.1). The two adults each sit on a stool, which are positioned at an angle to each other. The mother sits on the father's left, with her knees positioned between those of the father, who sits with his legs apart. The father's left hand rests on the mother's right shoulder. This sculpture was modelled in clay, which was then fired to harden it and fix the design.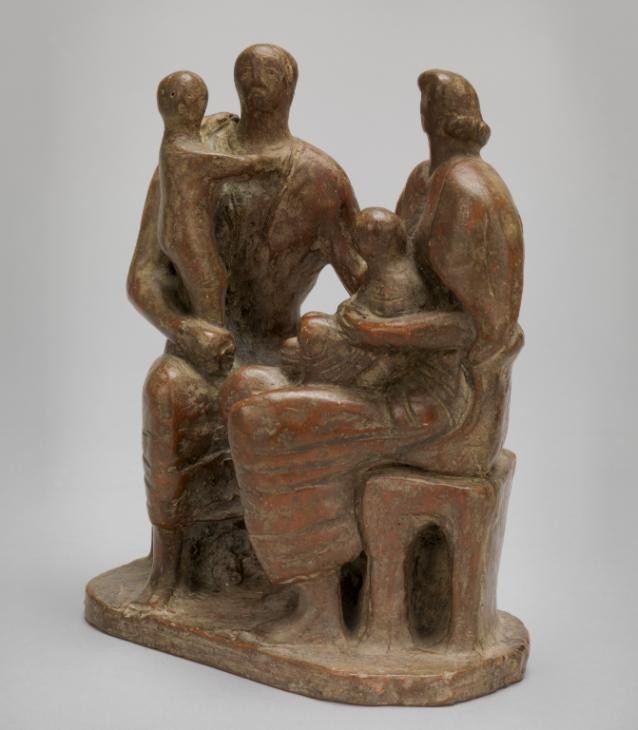 A child stands on the father's right thigh and wraps its arms around his neck (fig.2). Another smaller, probably younger child sits in the mother's lap, with its back to her chest. Neither child has been presented with a high degree of detail and their genders cannot be identified. The adult figures both appear to be wearing long robes or tunics that extend down to their ankles. The mother also has a cloak draped around her shoulders and back. Moore has indicated facial features on each of the four figures, albeit through the use of abbreviated lines for lips and pin-sized round depressions for eyes. While the mother looks towards the father, he and the child he is holding look outwards away from the family.
The origins of this sculpture lie in the mid-1930s when the German architect Walter Gropius proposed to Moore that he make a large-scale sculpture for a school in Impington, near Cambridge, which was designed by Gropius and Maxwell Fry in 1935–6 and opened in 1939. The college was designed to be a flexible space that catered for all the family, acting as the focal point for the entire community.
1
Moore later recalled discussing the commission with Henry Morris, Chief Education Officer for Cambridgeshire County Council:
we talked and discussed it, and I think from that time dates my idea for the family as a subject for sculpture. Instead of just building a school, he was going to make a centre for the whole life of the surrounding villages, and we hit upon this idea of the family being the unit that we were aiming at.
2
In 1951 Moore wrote that,
later the war came and I heard no more about it until, about 1944, Henry Morris told me that he now thought he could get enough money together for the sculpture if I would still like to think of doing it. I said yes, because the idea right from the start had appealed to me and I began drawings in note book form of family groups. From these note book drawings I made a number of small maquettes, a dozen or more.
3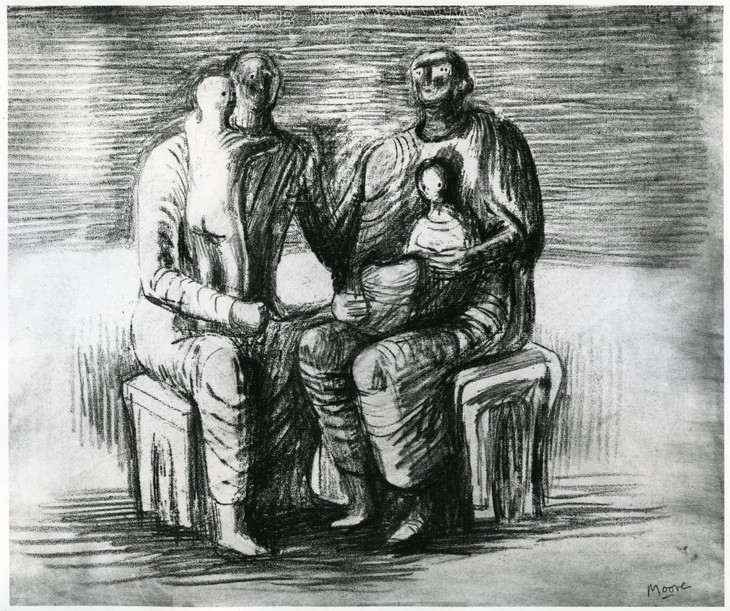 Moore filled nearly two sketchbooks with drawings presenting family groups in different poses. Some present a mother, father and two children of different ages, while others present the parents with only one child. Moore later described drawing as a way not only of generating ideas, but also of 'sorting them out'.
4
By recording his ideas on paper, Moore was able to review, select and edit the compositions that he felt were worth developing into small clay maquettes. The drawing
Family Group: Mother with Seated Child, Father with Standing Child
1944 (fig.3) can be identified as the preparatory drawing for this particular sculpture, and demonstrates how Moore had fully conceived the arrangement of the figures prior to executing the composition in three dimensions. The drapes of the adults' robes and the positions and poses of the children are faithfully copied in the sculpture. In 1963, when Moore was asked by the critic David Sylvester which was the last important sculpture to have been developed from drawings, Moore replied, 'I think the Family Group ones probably. The Family Group ideas were all generated by drawings'.
5
In addition to this work, Moore made at least thirteen other clay models of family groups, which are listed in the artist's catalogue raisonné.
6
These models were preparatory, developmental designs for much larger sculptures, and Moore had originally intended this sculpture to be carved in stone. Although it was made from clay, this maquette is often described as a terracotta. In 1963 Moore addressed any misunderstanding, explaining that 'the original maquettes of the ... FAMILY GROUP sculptures were all modelled direct in clay and then baked, and so became terra-cottas. It was from these terra-cottas that the small bronzes were cast'.
7
Ten of Moore's family group maquettes were cast in bronze editions. This sculpture was cast in an edition of nine plus one artist's copy. Although Morris failed to secure the funds and institutional support for Moore to undertake the Impington commission, two of the original models were enlarged to near life-size. In 1947 Moore enlarged a maquette for a bronze sculpture for the Barclay Secondary School in Stevenage, Hertfordshire (Tate
N05605
), and Tate acquired an example of this large sculpture in 1950 (Tate
N06004
). Later, in 1954–5, Moore carved an enlarged version of another family group maquette for the town of Harlow (Tate
N05604
).
Moore had been trained how to use clay models for enlarging and metal casting when he was a student at Leeds School of Art. However, during the 1930s he was one of a group of sculptors who advocated the method of direct carving, which involved working directly into materials such as stone or wood without referring to preparatory models or sketches. Moore and other contemporary sculptors, including Barbara Hepworth and John Skeaping, believed that by carving in response to a material's particular physical properties a sculptor could create a work of art that had more authenticity than one that eschewed its true qualities. Although Moore rejected clay modelling in favour of direct carving, he nonetheless continued to make clay maquettes for his very large sculptures, such as
Recumbent Figure
1938 (Tate
N05387
). Making clay models for his family group maquettes signalled a shift in Moore's working practice. Over the subsequent decade three-dimensional models in clay, plasticine and plaster replaced drawings as his primary means of generating ideas.
Family Group was acquired by Moore's sister, Mary Spencer Garrould, probably shortly after its creation. It remains in a private collection and has been on loan to Tate since 1994.
Notes
How to cite
Alice Correia, 'Family Group 1944 by Henry Moore OM, CH', catalogue entry, March 2014, in Henry Moore: Sculptural Process and Public Identity, Tate Research Publication, 2015, https://www.tate.org.uk/art/research-publications/henry-moore/henry-moore-om-ch-family-group-r1172238, accessed 18 May 2022.