The Gallery of Lost Art is an immersive, online exhibition that tells the fascinating stories of artworks that have disappeared. Each week, a new story of loss is added, and the evidence presented for examination
Monument to the Third International 1919
It has all the atmosphere of a crime-scene investigation
The Guardian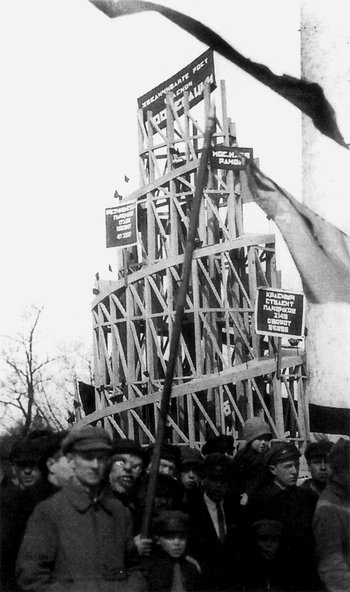 Vladimir Tatlin's Monument to the Third International became famous partly because it was never built.
Tatlin first planned to create a monument to celebrate the 1917 Russian Revolution. In March 1919, however, communist parties from across the world met in Moscow to unite under a single organisation, the Communist International, and he rededicated his project to this historic meeting and its vision for the future.
In late 1920 Tatlin unveiled his first model for the proposed monument, which would have been a vast spiralling tower over 400 metres high (a third higher than the Eiffel Tower and, if realised, the tallest building on earth).
He went on to make two further models during the 1920s but never produced detailed proposals for the tower's construction, not least because chronic shortages of materials made the project unrealisable at the time.
Although impossible to build, Tatlin's planned monument had enormous impact on modern architecture in its sheer ambition and use of modern materials (iron, steel and glass, as opposed to stone or marble). It also became a world-famous symbol of utopian thought.
Find the full story and explore the last traces of many more lost works at the Gallery of Lost Art site.
Illustrated in Norbert Lynton, Tatlin's Tower: Monument to the Revolution, London and New Haven 2009.