Institutional building – a three-day event interrogating one of the most critical aspects of art as engine for social transformation – was a great experience and a remarkable opportunity to bring to Accra some of the most challenging and experimental platforms in the region, as well as to explore in depth the contemporary art scene in Accra and Kumasi, the capital and the second most important city of Ghana.
The event was held in Nubuke Foundation and the Dei Centre for the Study of Contemporary African Art and involved the collaboration of Art in Social Structures (AiSS), which invited all symposium participants and guests to an architectural heritage tour of the city led by former mayor of Accra, Nat Nuno Amarteifio. Visiting the Black Star Gate, the Kwame Nkrumah Memorial or James Town would have not been the same without the insightful knowledge and witty anecdotes of uncle Nat. It was a great closure to our Accra event that had begun with Ethiopian photographer and artist Aida Muluneh's presentation of her platform DESTA for Africa and the renowned Addis Photo Fest. Aida founded DESTA for Africa upon her return to Addis Ababa to offer training in photography and provide local photographers with the technical and conceptual tools to claim ownership of, and re–imagine, the visual narrative of their cultural identity.
On the same day Gabi Ngcobo introduced the Centre for Historical Reenactments – a Johannesburg-based independent platform whose interdisciplinary projects deconstruct readings of history, explore ways in which art can help to reinterpret history and generate new subjectivities. Ato Annan, project coordinator at Foundation for Contemporary Art – Ghana, talked about recent projects that have facilitated local communities to re-appropriate the public space and become aware of their role in transforming their environment. One of our hosts, Kofi Setordji, artist and founding member at the Nubuke Foundation, recalled the responsibility of public institutions and local authorities in the developments of a sustainable art scene.
The second day began with a presentation on the initiatives of the Centre for Contemporary Art East Africa in Nairobi by artist and founding director Jimmy Ogonga. Jimmy told us how this experimental platform was conceived to respond to the lack of quality arts education in Nairobi. Jimmy discussed the work of their previous initiatives and their commitment to make an impact on the daily experience of the citizens of Nairobi. Engaging with local communities, proposing new formulas of interaction and participation with multiple audiences, but particularly with non-art audiences, is at the very core of proposals like Afropixel and CHALE WOTE Street Art Festival. Co-Founder Marion Louis Grand introduced the Afropixel festival and its various projects – for example the 2010 collaboration Entreacte with the South African artist duo Stephen Hobbs and Marcus Neustteter – that Ker Thiossane has generated in Dakar since its inception in 2002, involving the university's faculty, students and local lobbies.
CHALE WOTE Street Art Festival, powered by Accra[dot]alt and lead by its multifaceted producer Mantse Aryeequaye, has been mixing, visual arts, performance, electronic and indie music, fashion, graffiti and traditional arts since 2011. Not having a physical space gives versatility to AiSS, whose activities engage society at large and re–imagine community agency, public space and arts education. Two of their founders, artists and board members, Senam Okudzeto and Godfried Donkor have contributed noticeably to Institutional building and are the major architects of Tate's presence in Kumasi.
The afternoon session began with artist Kader Attia's reflection on re–appropriation and how the concept has informed not only his own practice, but also the work of contemporary Algerian artists. Carleene Dei brought her experience as a senior officer of the United States Agency for International Development (USAID) and founder of the Dei Centre, a joint venture with collector Seth Dei, who Carleene has collaborated for the past forty-five years. Ghana's newest institution is A–N–O, a cultural research platform run by writer Nana Oforiatta-Ayim.
On the last day we had a screening programme. This included a show-reel of the experimental platform Video Art Network Lagos (VAN) – introduced by multimedia artist Emeka Ogboh one of VAN's founding members – and two films: Black Audio Film Collective's Handsworth Songs 1986, which features in the Tate collection; and John Akomfrah's The Last Angel of History 1995.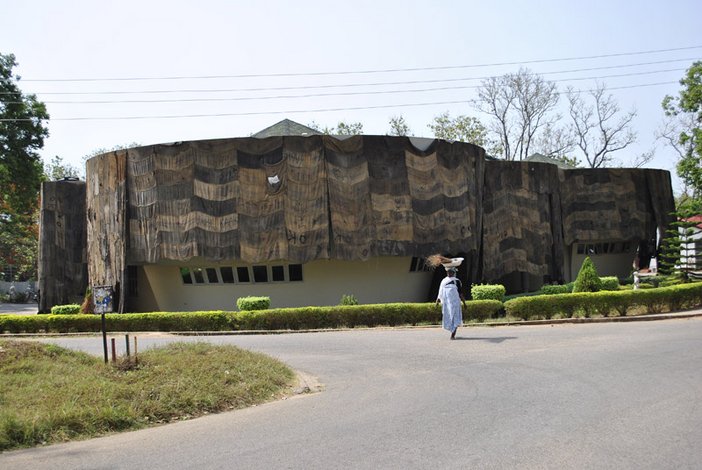 Perhaps, one of the most surprising parts of the trip was our visit to Kumasi. We had the opportunity to engage with aspects of local tradition such as the weaving of Kente cloths, the meaning of Akran symbology, and the legacy of traditional monarchy. However, the scope of our trip was to witness and support the work that Professor Kwaku 'Castro' Kissiedu Head of the Painting and Sculpture department is doing at the College of Art and Social Sciences at the Kwame Nkrumah University of Science and Technology (KUNST). Together with his colleagues, a group of passionate, well-equipped and ambitious individuals are doing the impossible to encourage their students and transform the art scene beyond the limits of the university.
And to end our journey we attended two fabulous exhibitions by Ibrahim Mahama, MFA student, and Dorothy Akpene Amenuke a doctoral candidate and faculty member – outstanding!
Across the Board is a two-year extended project taking place in:
and will raise questions on politics of representation, institution building, public space/public sphere, and interdisciplinary practices.
Sponsored by Guaranty Trust Bank Plc
Elvira Dyangani Ose holds a dedicated curatorial post focusing on African art supported by The Guaranty Trust Bank partnership with Tate.