Saloua Raouda Choucair and her family lived through the Lebanese Civil War - and it literally left its mark on her work. Sophie Partarrieu, a Curatorial Intern at the current Tate Modern exhibition, met the artist's daughter to learn the story behind one such painting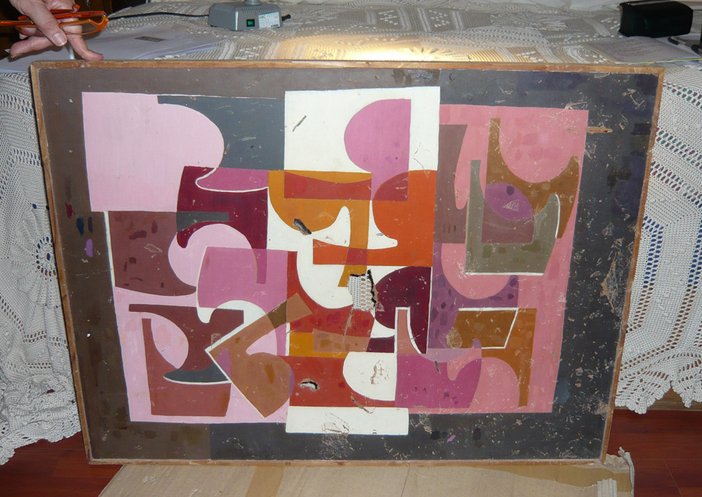 Since my first blog post on the conversations I'd had with Hala Choucair, Saloua Raouda Choucair's daughter, I've been wanting to talk about one particular painting that's captured my attention.
In Room 3 of the Saloua Raouda Choucair retrospective there is a relatively small, pinkish canvas strewn with holes and shards of glass. I had heard about this painting and had seen plenty of images of it over the course of preparing the show. Yet being face to face with a damaged painting is an unusual and powerful experience. It's impossible to see what was once a pristine, finished work without wondering about its story.
Luckily, Hala, the artist's daughter, is with me to fill in the blanks:
This painting used to hang in my room, then we moved it to the dining room. I returned to Beirut from my studies in Paris in 1983, this happened one year later, on 6 February 1984. The war (the Lebanese Civil war) had started up again. That afternoon we had received a warning and had gone to hide in the theatre next door. Except for my father: he was stubborn and used to just sit in a chair, opposite this painting and two others in our living room. It was his chair, even when he wasn't in the house nobody else would sit on it. Well, that afternoon he started to feel tired, so he went to his room next door to lie down and have a nap. About one minute later a shell hit our building and the window exploded. The paintings were damaged and his chair was dotted with shrapnel. I still remember us picking it all out later. Anyways, from then on my mother made him come down to the theatre with us.
The other paintings were patched up or re-created by her mother, but this one was kept "for memory", says Hala.
Sophie Partarrieu is curatorial intern at Tate Modern and an MA student in Curating the Art Museum at the Courtauld Institute of Art