This week our assistant curator, Flavia Frigeri, explains how the memory of a trip to the South Pacific inspired Matisse to create his first large-scale cut-outs on the walls of his Paris apartment in 1946
From the first, the enchantments of the sky there, the sea, the fish and the coral in the lagoons, plunged me into the inaction of total ecstasy. The local tones of things hadn't changed, but their effect in the ight of the Pacific gave me the same feeling as I had when I looked into a large golden chalice.

With my eyes open I absorbed everything as a sponge absorbs liquid.

It is only now that these wonders have returned to me, with tenderness and clarity, and have permitted me, with protracted pleasure, to execute these two panels.
In 1930 Matisse travelled to Tahiti and the South Pacific, where he spent several months. Over fifteen years later the memories of this trip resurfaced on the walls of his Parisian apartment on Boulevard Montparnasse, giving birth to Oceania, the Sky and Oceania, the Sea. The first of his large-scale compositions using the cut-outs, the two panels were produced in response to a decorative commission for the London-based textile manufacturer Zika Ascher. Ascher who had approached Matisse at the beginning of 1946, was confronted in the summer of that year with the finished designs of Oceania pinned directly onto the walls of the artist's bedroom. Asked to replicate the exact layout including the uniform beige colour and texture of the apartment walls, Ascher was faced with no easy task.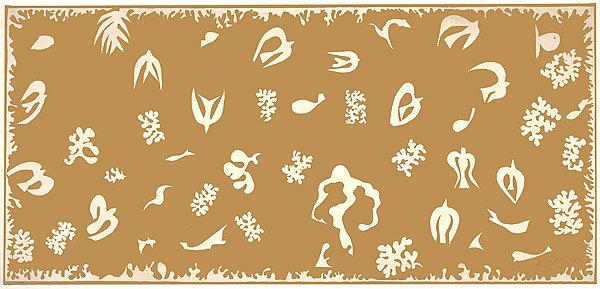 Following the first failed attempt to transfer the composition through photographic enlargements, Ascher and Matisse resolved that the best way forward would be to trace the composition in its entirety. The tracing, together with the unpinned elements, were sent to London where the silkscreens – issued in 30 examples – were finally produced.
However before the sea and sky creatures that populated the two Oceania panels were fixed for posterity, they shifted around in different constellations on Matisse's walls. This was the first time in fact that Matisse treated his surrounding environs like a raw canvas, which could be used to test out his ever-changing cut-out configurations. Corals, fishes, birds, jellyfishes and seaweeds, were pinned and re-pinned all over the beige walls. All available space was occupied including the upper ledge of the French windows, acting as a juncture between the two spheres.
Again it is thanks to Hélène Adant's photographs that we get an insight into how in making these works Matisse was consciously responding to his architectural surroundings. A trait that would characterise his cut-out oeuvre, significantly he chose to remove a radiator from his room at the Hôtel Régina to make space for his blossoming indoor garden, now known as Parakeet and the Mermaid.
Henri Matisse: The Cut-Outs opens at Tate Modern on 17 April, on display until 7 September 2014