Last week our skilful team of art handlers began work installing the exhibition. It is very exciting to see how the show is finally taking form here at Tate Modern. Among the many Lichtenstein paintings installed in the galleries are his fabulous Artist's Studio series made in the early 1970s.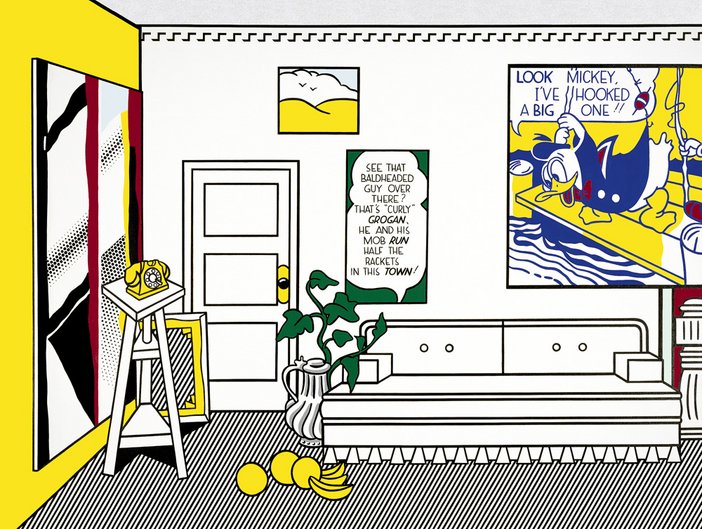 In these large canvases Lichtenstein presented different studio views in his iconic, vibrant Pop style. Among the objects in the room are, of course, some of his previous paintings. Remaking his own works allowed him to ironically reflect upon the nature of pictorial representation in mass culture at a moment when his Pop images were being widely printed and disseminated.
Artist's Studio 'Look Mickey' 1973, for example, features his own early work Look Mickey 1961 rendered almost life size, as well as three other paintings on the walls. The irony is that some of the 'real' objects of the studio are similarly borrowed from Lichtenstein's previous works – such as the telephone from R-R-R-R-Ring!! 1962 and the sofa from Couch 1961.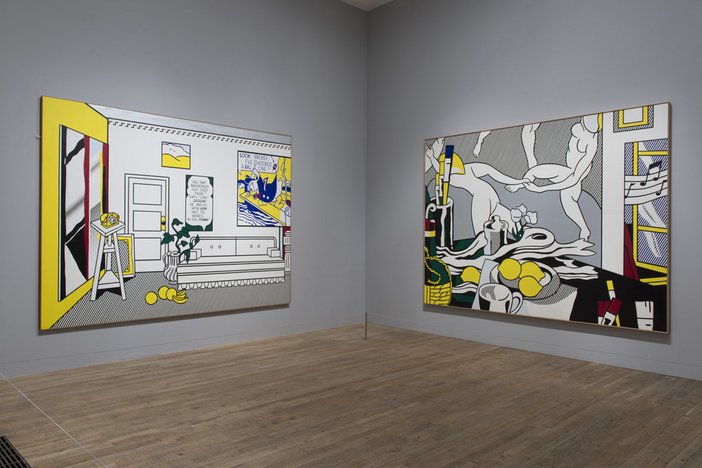 The Artist's Studio series might also be seen as a personal tribute to Henri Matisse, particularly to his two 1911 paintings Red Studio and Pink Studio. Lichtenstein's Artist's Studio 'The Dance' 1974 directly quotes Matisse's masterpiece The Dance 1909 and emulates its distorted perspective. Matisse himself conceived Still Life with Panel of 'The Dance' 1909, a painting-within-a-painting that undoubtedly precedes Lichtenstein's humorous game of self-quotation.
Throughout his life, Lichtenstein had several studios in New York – in West 26th Street, the Bowery and, from 1988 onwards, Washington Street in the West Village. He also lived and worked in Southampton, Long Island, where he bought a carriage house in 1969 and designed his own studio as a classic 'saltbox' building. While preparing this retrospective, I had the opportunity to visit the Lichtenstein Foundation, which is located in the Washington Street building, where one can still feel Lichtenstein's playful spirit.