Get a feel for the 'boogie-woogie' beat of Mondrian's paintings with our playlist of songs selected straight from the artist's record collection by Emma Palmer, Tate Liverpool's Marketing Assistant
© Tate
Music is so often noted as a source of inspiration for artists and for Piet Mondrian jazz, particularly Boogie-Woogie, was a key influence on the development of his highly recognisable style.
On the opening weekend of Tate Liverpool's summer exhibition Mondrian and his Studios, the Royal Liverpool Philharmonic Orchestra's Ensemble 10/10 played a selection of Music for Mondrian. If you missed the performances, fear not, we have compiled our own playlist from Mondrian's record collection for you.
Mondrian and his Studios focuses on the relationship between his work and the space around them. It was in his studios that Mondrian would listen to the movers and shakers of the jazz world on his gramophone, including the likes of Roger Wolfe Kahn, Louis Armstrong and Ethel Waters.
The influence of jazz on Mondrian's style is often cited to be at its peak in his transatlantic works – paintings commenced in Paris, which were brought to London and then completed in New York – examples of which are on display at Tate Liverpool. His fascination with rhythm and duration was directly referenced in his musical taste and it was of this later work that Mondrian famously commented that he'd given it more 'boogie-woogie'. By adding more lines to his paintings, with colour no longer totally bound by the black grids, Mondrian was making them more rhythmically intense allowing the colour to 'jazz up' the paintings. Our exhibition highlights how jazz influenced the artist's work; from archival images of Mondrian posed beside his beloved gramophone to record sleeves from his New York studio.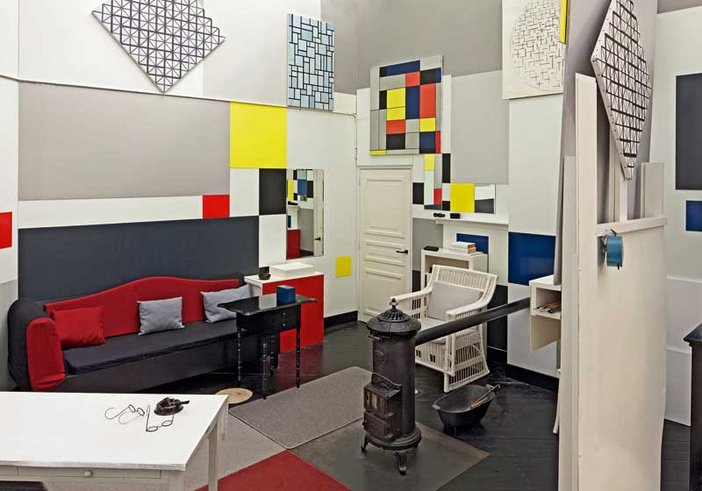 Hear our Mondrian playlist on Spotify
Mondrian and his Studios will be on display at Tate Liverpool until 5 October 2014