Juliette Rizzi & Flavia Frigeri
How did you start working for Matisse?
Jacqueline Duhême
I used to see him drawing in the municipal gardens in Cimiez, Nice. At the time I was working for an association called Help for Mothers, taking care of little girls while their mothers were ill or travelling. I wanted to show him my art, to find out whether it was worth hanging on to my dream of being an artist, but I didn't dare. So I wrote to him, and he replied with a very nice letter asking me to visit him in Paris, where he had one of his studios. He said he needed someone to help with his work, and obviously I was very happy to agree.
Juliette Rizzi & Flavia Frigeri
How old were you?
Jacqueline Duhême 
Twenty. He was an enormous help to me, not only in progressing my drawing, but also psychologically. He was a great man, yet very demanding with others and with himself, so I learned both the rigour and difficulties of work, and also its joys.
Juliette Rizzi & Flavia Frigeri
As you say, Matisse had a studio in Paris, as well as in his house [Villa Le Rêve] in Vence and at the Hôtel Régina in Nice. How long did you work with him in the south of France?
Jacqueline Duhême 
I arrived in the summer of 1947 and stayed until the spring of 1949.
Juliette Rizzi & Flavia Frigeri 
Who else was in the house?
Jacqueline Duhême 
Lydia [Delectorskaya] oversaw everything. She was the 'head governess' of the house. From time to time, she would pose. So would I. She would also hire female models - women she saw on the bus. She would tell them 'Mr Matisse would like to draw you', and they would come over. There was also a cook, and a nurse who came in the evenings to care for him. He was mostly bedridden, so there were quite a lot of things to manage. The cook would prepare him small meals, as he didn't like to eat a lot; he was really quite fragile by then. There was also a gardener who looked after the plants. Matisse lived in his studio, whether in Paris, Vence or Nice. He had a tailor-made desk with wheels whose feet slid under the bed so he could work and draw. It would tilt like an easel.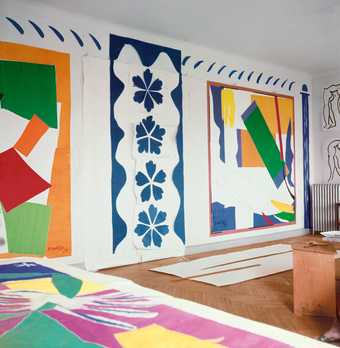 Juliette Rizzi & Flavia Frigeri 
How did each working day start? Was there a routine?
Jacqueline Duhême 
Ah, yes! If I was late, he would cry out: 'Jacqueline, where are you? It's 8.30!' I would bring him a small basin of water with a lotion for his hands, then some talcum powder to keep grease off the paper. It was a whole ritual, which I think he liked. Quite often I would also bring him his breakfast, and we would chat and laugh. He would tell me stories about his time in Le Cateau and other places. He would also feed pieces of brioche to his cats. This was his way of starting the day, and it made him happy.
Juliette Rizzi & Flavia Frigeri 
Do you remember the first time you saw him working on the paper cut-outs?
Jacqueline Duhême 
I witnessed their birth. Matisse would draw in a sketchbook: birds, flowers, fruit… things that inspired him. (He also painted with a feather and Chinese ink or black gouache on white paper to make black stains that would become fruits or a face.) Then he would discard the drawings and cut the paper into a shape that had stuck in his head. He would play with the different colours. It was like drawing, but with scissors. At some point he became so skilful that he didn't need to draw the shape: he would cut directly into the paper, directly into the colour. I found this extraordinary. It was like making a sculpture. There was sensuality in the cutting, and one could feel the passion geared into getting the shape he wanted. Sometimes he became furious and would throw everything out because he felt that it wasn't working.
Juliette Rizzi & Flavia Frigeri 
Was it forbidden actually to throw anything away?
Jacqueline Duhême 
Yes, but if we did, we had to tear it into very small bits. In general, though, we would not throw away any of the tombés.
Juliette Rizzi & Flavia Frigeri 
What tools did he use to make the cut-outs?
Jacqueline Duhême 
He had a lot of scissors, big and small, pointed or round, paper scissors, even some embroidery ones for small shapes.
Juliette Rizzi & Flavia Frigeri 
What kind of paper did he use?
Jacqueline Duhême 
A lot of Bristol paper because it stays quite stiff and does not swallow the gouache.
Juliette Rizzi & Flavia Frigeri 
And how did you apply the colour?
Jacqueline Duhême 
We used large brushes with the paper laid out on the floor, painting in one direction and then the other to get a uniform colour. That is no easy task. Then we had to see if he liked it!
Juliette Rizzi & Flavia Frigeri 
It sounds like the process required a lot of time…
Jacqueline Duhême 
Oh yes, a lot!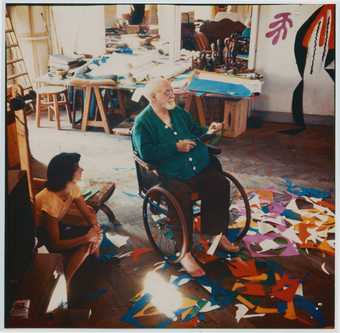 Juliette Rizzi & Flavia Frigeri 
Did he ever use pure colours?
Jacqueline Duhême 
Sometimes. And sometimes he would experiment, saying: 'Let's add a pinch of purple, a pinch of red.' So I would "cook" that up for him and try it on a piece of paper, and he would say: 'Yes, that's interesting, keep going that way.' The hard work would then be to calculate the right quantity. We would usually obtain a different colour first and he would exclaim: 'No, I want this colour!' That way, I learned to be particularly careful about what he wanted. I learned about the value of colours, as they are all different. He was harsh, but he was right. And he was also very warm and kind. We laughed a lot. He had a good sense of humour. That was something Lydia was jealous of, because he didn't laugh with her. He laughed with me. I was much younger and I was… let's say, less severe, more outgoing.
Juliette Rizzi & Flavia Frigeri 
Was there a specific place where the cut-out papers were kept, and an inventory made of them?
Jacqueline Duhême 
Well, we lived inside the work! It was out of the question to get a separate room in which to keep everything. It was all around him. He had his bed with something to lean on, a lot of cushions, his drawing board in front of him. He would bang on it when he was not happy. Everything had to take place around him or on the wall in front. And he had a fishing rod to orchestrate what was happening and give me directions.
Juliette Rizzi & Flavia Frigeri 
Would he ever use the offcuts?
Jacqueline Duhême 
From time to time he would use bits from older cuts, the tombés, to try things out. He could no longer hold a brush alone, but here at least he had the elements of colour that he could play with, as one does in a painting. It was always very composed. Picasso was very jealous. He told me: 'What has the old man come up with now? He is crafty as a monkey! At his age, he still comes up with things like that… it gives me hope.' He was blown away by Matisse's invention.
Juliette Rizzi & Flavia Frigeri 
This method of working was also more convenient, bearing in mind his health and age…
Jacqueline Duhême 
Yes, but at the same time he was also working on the project for the Vence Chapel, as well as tapestries, both of which had to be created in separate sections. At that time I was working mostly for the chapel project - on the stained glass and the ceramic tiles. I posed for the model of the Virgin, holding a cushion for the baby Jesus. Matisse was very happy because I was very thin and he liked the contrast between my pointed chin and the roundedness of my breasts, as you can see in the images of the Chapel's Virgin. I worked a lot on the stained glass, and had to compose forms while keeping in mind that there would be lead in-between [the glass sections]. So sometimes I would show him things with a black margin to give him a sense of the colour values. I think this must have inspired him to think about constructing space, and, well, he liked it. It was a very personal kind of creativity.
Juliette Rizzi & Flavia Frigeri 
In some parts of his cut-outs he creates a colour by using a multiplicity of small pieces…
Jacqueline Duhême 
Juxtaposing different colours makes them brighter. When he laid down the small bits, he would obtain a density that still let light shine through. Everything was carefully thought through; nothing was done at random. And when he did discover something by chance, he would exploit it. An answer would lead to another question that would, in turn, lead to a new answer.
Juliette Rizzi & Flavia Frigeri 
Was there always a coherent line guiding the construction in his head?
Jacqueline Duhême 
Yes, something that kept it all together.
Juliette Rizzi & Flavia Frigeri 
So why would he sometimes accumulate papers in one specific colour, and did he ever pile them on top of one another?
Jacqueline Duhême 
No, more like one next to the other with a small space in-between. Always, in my opinion, as with the stained glass process, it was very constructed, in order to obtain the right shapes.
Juliette Rizzi & Flavia Frigeri 
Were there shapes that he liked more than others?
Jacqueline Duhême 
There were forms that would come to him all at once, and then he would be very happy. Others were more difficult and made him struggle. There was always one colour that would make the others come to light, and, for Matisse, it was usually the blue that made the yellows, oranges and reds brighter. But he didn't have a specific preference for one colour or another.
Juliette Rizzi & Flavia Frigeri 
Did he continue to draw while working on his cut-outs?
Jacqueline Duhême 
Yes. I was lucky to be there when he worked on the wonderful book Florilège des Amours, in which he drew portraits of Pierre de Ronsard, flowers, etc. He drew portraits of Elsa Triolet, Louis Aragon and others. I also posed for him. He made very fine pencil drawings and a lot of portraits. I remember him doing mostly drawings and paper cut-outs, but no watercolours.
Juliette Rizzi & Flavia Frigeri 
Looking at the cut-outs now, have the colours faded?
Jacqueline Duhême 
No. They have been 'fixated by light' - which was actually a phrase that was written on the paint tubes.
Juliette Rizzi & Flavia Frigeri 
Was there a moment when Matisse felt that a cut-out was finished?
Jacqueline Duhême 
Not really. He happily lived surrounded by his cut-outs and created new things all the time. It was a new discovery for him each time.