9 rooms in Turner Collection
Discover the influence of Italy on eighteenth century European artists in this display of drawings, watercolours and oil sketches
The late eighteenth century was a time of political stability in Europe. More people could afford to travel. The Grand Tour was a popular way for young men from wealthy families to finish their education. They travelled around Europe, learning about the cultures of other countries. A guide, or often an artist, accompanied them, including some whose work is shown in this room. A stay in Rome and Naples was a high point of their journey.
For many British painters, the experience of visiting Italy was transformative. Some were inspired to paint landscapes, work outdoors, or experiment with different mediums. Richard Wilson converted from portrait painting to landscape, Thomas Jones experimented with sketching with oil paints, outdoors when he visited Rome or from the window of his lodgings in Naples. As well as the history and cosmopolitan culture of these cities, the scenery and light
inspired painters long after they returned home.
The tradition of the Grand Tour did not continue after the Napoleonic Wars (1803-1815), a series of conflicts in Europe led by Napoleon, Emperor of France. JMW Turner first visited Italy in 1819. While paying close attention to ancient monuments and their history, he responded to the colour and atmosphere of this 'land of all bliss'.
Tate Britain
Main Floor Clore Gallery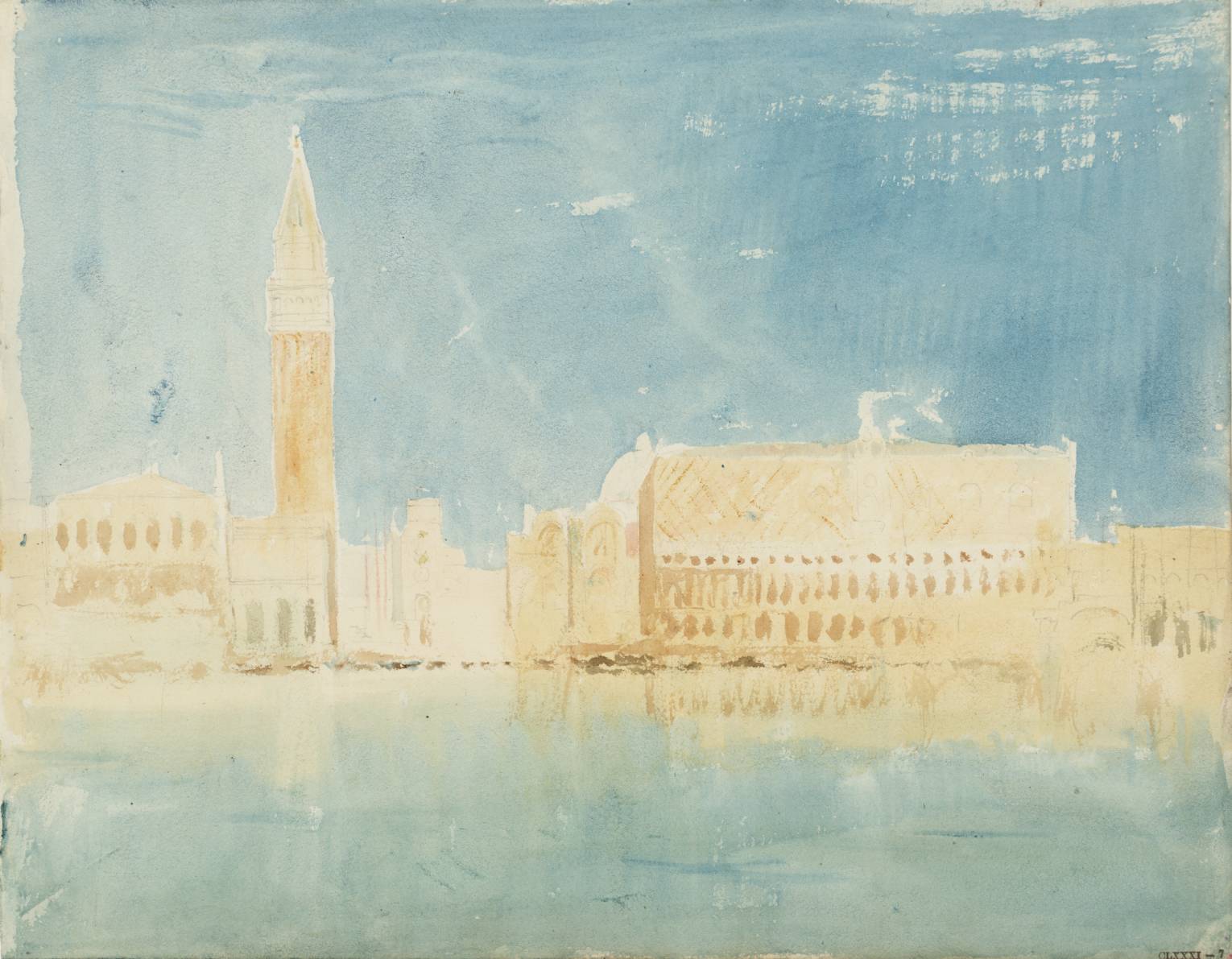 Joseph Mallord William Turner

,

Venice: The Campanile of San Marco (St Mark's) and the Palazzo Ducale (Doge's Palace) - Late Morning

1819
1/30
artworks in Travellers in Italy from Grand Tourists to Turner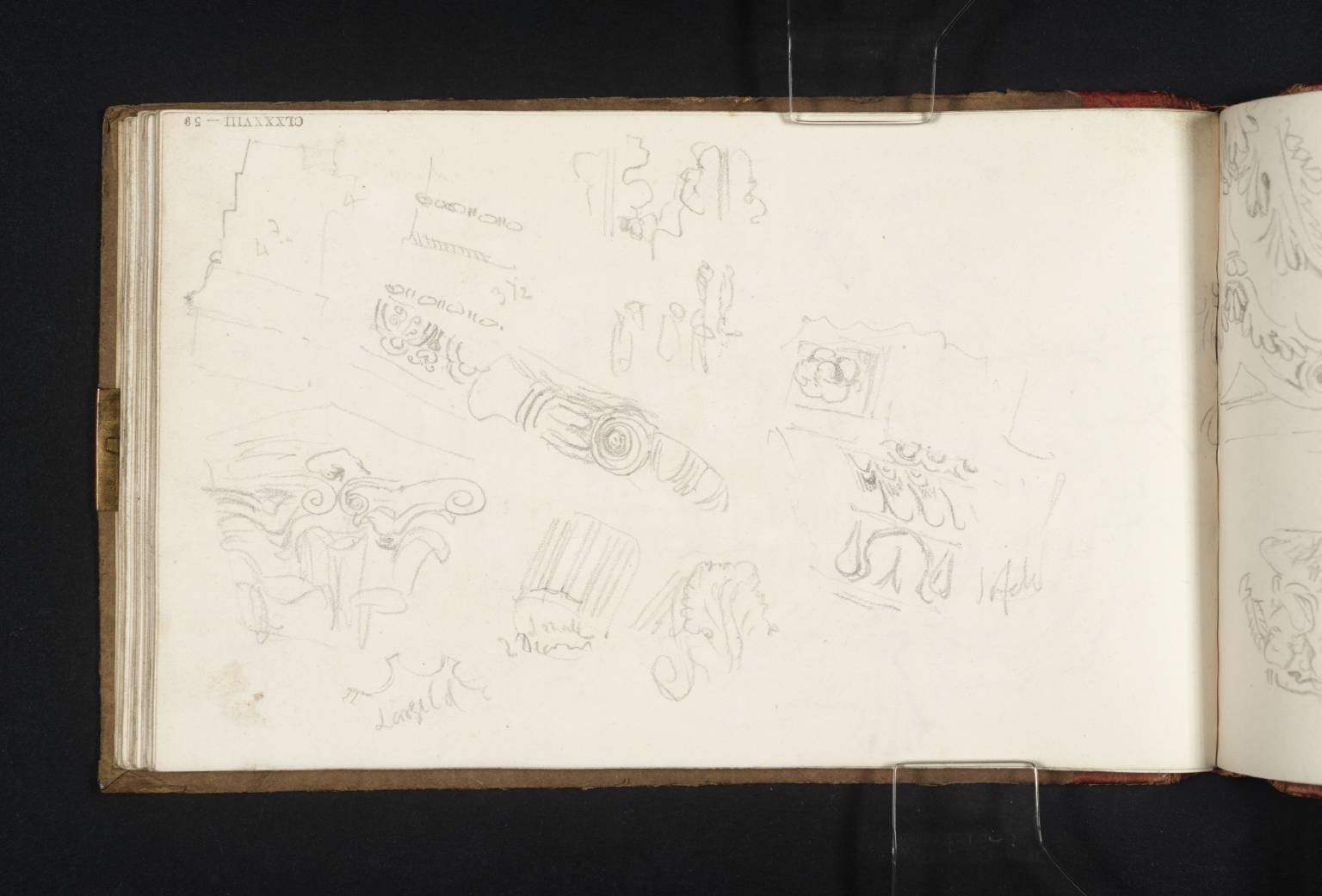 Joseph Mallord William Turner

,

Studies of Ornamental Details from Ruins in the Roman Forum

1819
2/30
artworks in Travellers in Italy from Grand Tourists to Turner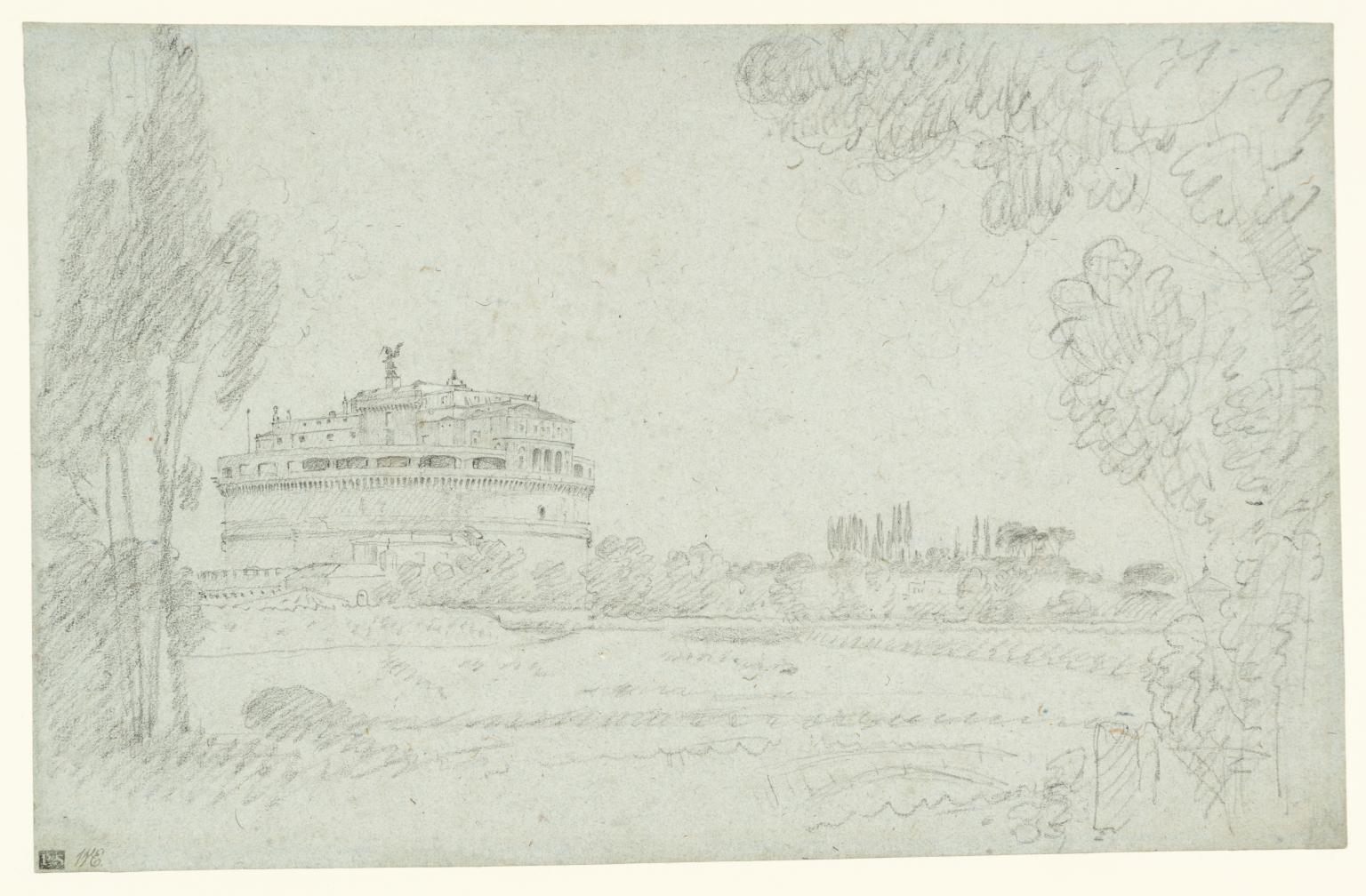 Richard Wilson

,

The Castle of St Angelo, Rome

1752–6
3/30
artworks in Travellers in Italy from Grand Tourists to Turner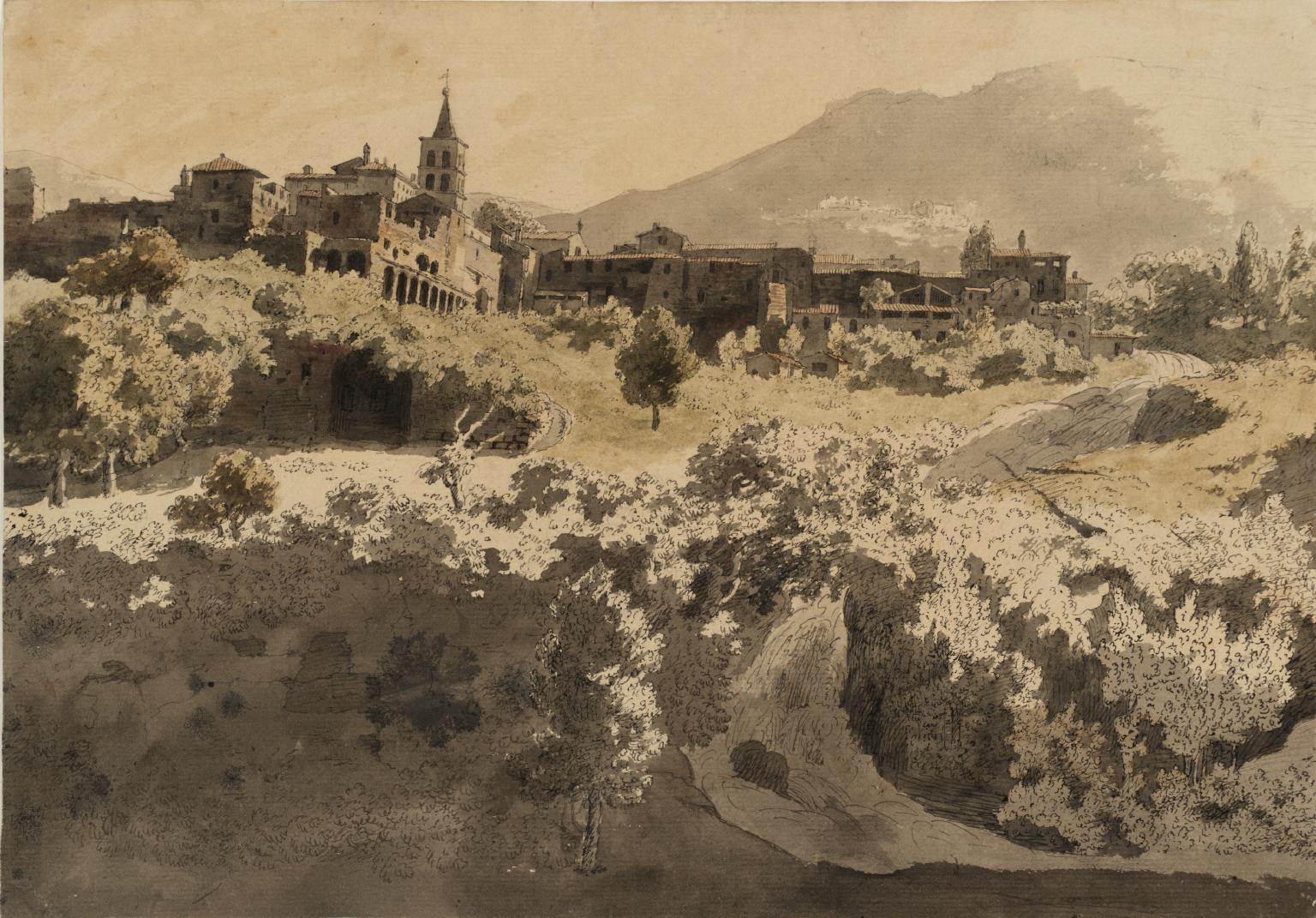 Jonathan Skelton

,

Tivoli

1758

Jonathan Skelton is an important figure in the emergence of the British landscape tradition, although comparatively little is known about him, other than the evidence of his surviving works and a handful of letters sent from Italy to his British patron. He arrived in Rome in December 1757 and embarked upon an intense study of the surrounding landscape. Tivoli had a particulr appeal for Skelton, which he described as 'ye only school where our two most celebrated Landscape Painters Claude and Gasper studied'. Skelton, who appeared to exist on a near starvation diet, died of a fever in Rome in January 1759.

Gallery label, April 2007
4/30
artworks in Travellers in Italy from Grand Tourists to Turner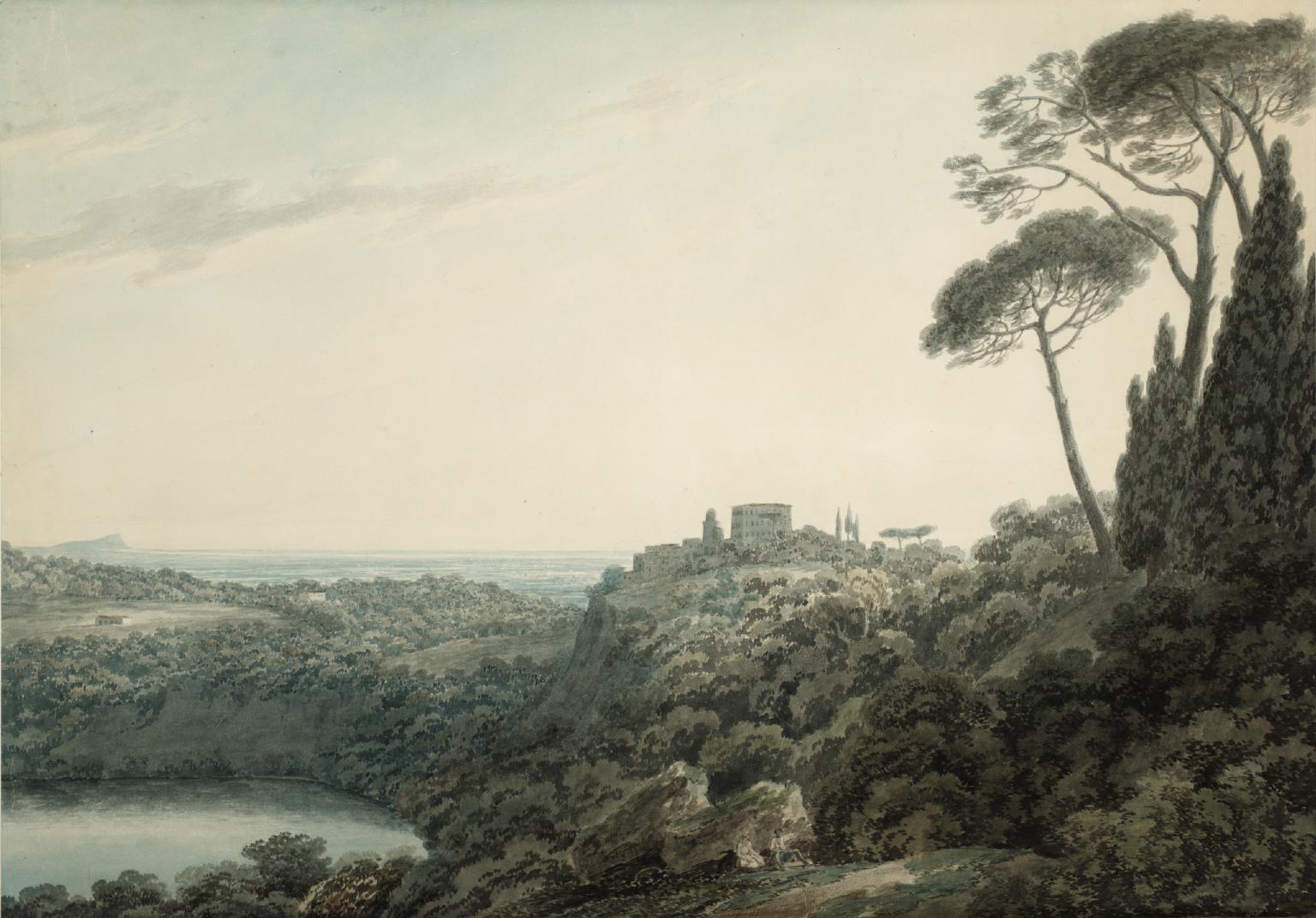 John Robert Cozens

,

Lake Nemi

c.1783–8

This finished watercolour is based on a study Cozens made on the spot, and is one of a number of his compositions of Lake Nemi. The view looks from above the lake towards the ancient hill town of Genzano, one of the 'Castelli Romani' nestling in the Alban hills to the south of Rome. Formed from a volcanic crater, Lake Nemi was one of the most popular sites for artists and those on the Grand Tour to visit, because of its natural beauty and its close association with Roman history and mythology.

Gallery label, April 2007
5/30
artworks in Travellers in Italy from Grand Tourists to Turner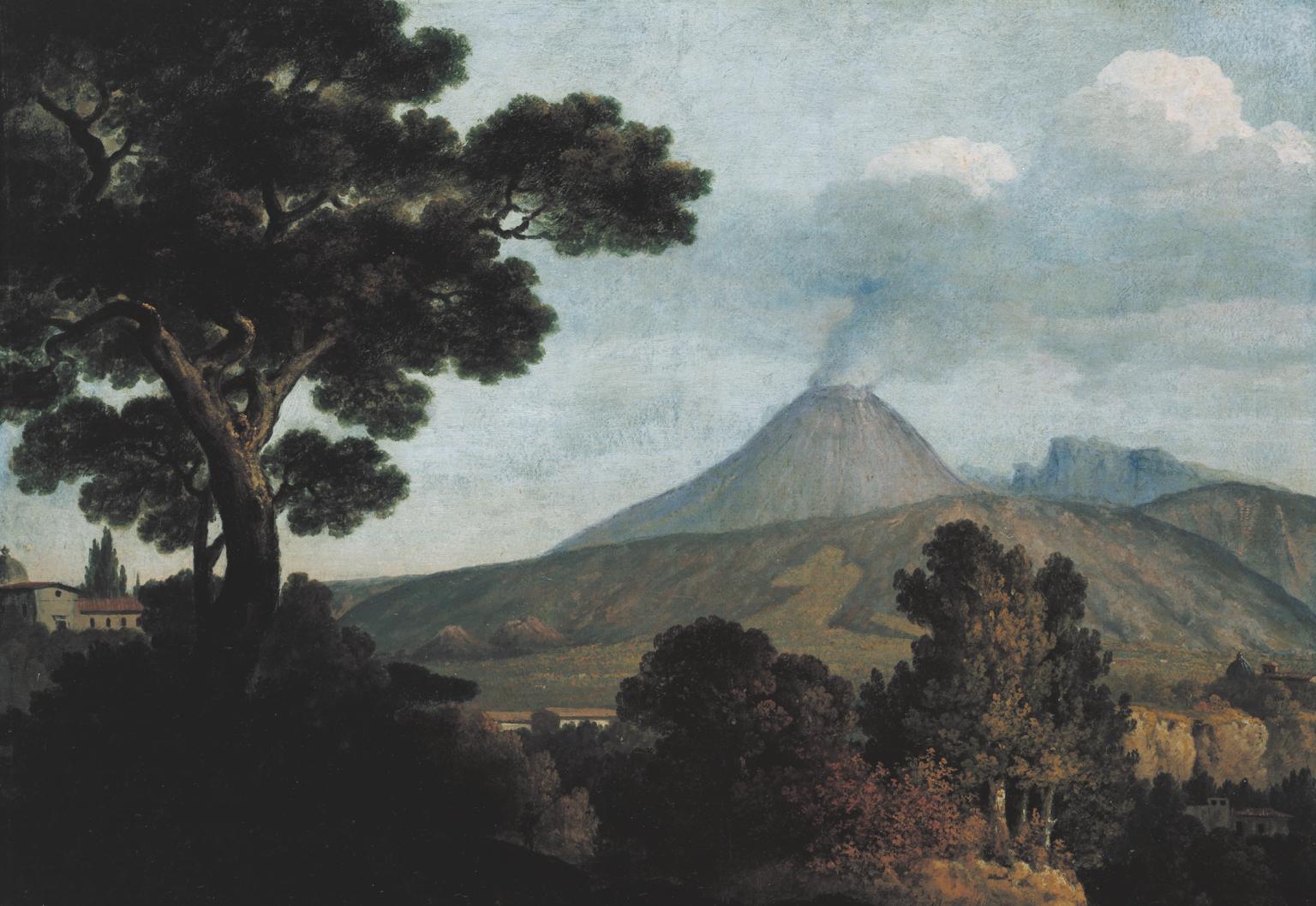 Thomas Jones

,

Mount Vesuvius from Torre dell'Annunziata near Naples

1783

Jones was a pupil of Richard Wilson, and due to his influence strove to produce large-scale classical landscapes. From 1776-83 he was in Italy, initially hoping to win commissions from Grand Tourists. The most remarkable works he produced there, however, were his small oil sketches made directly from nature, the best known of these being his highly original views of Neapolitan buildings and rooftops. This landscape also displays the realism associated with these works, but with a hint of the Picturesque (for instance the inclusion of the fisherman in the foreground). Jones most probably based this view on a sketch he made of Vesuvius from Torre Annunziate when staying with the artist G B Lusieri in 1783.

Gallery label, September 2004
6/30
artworks in Travellers in Italy from Grand Tourists to Turner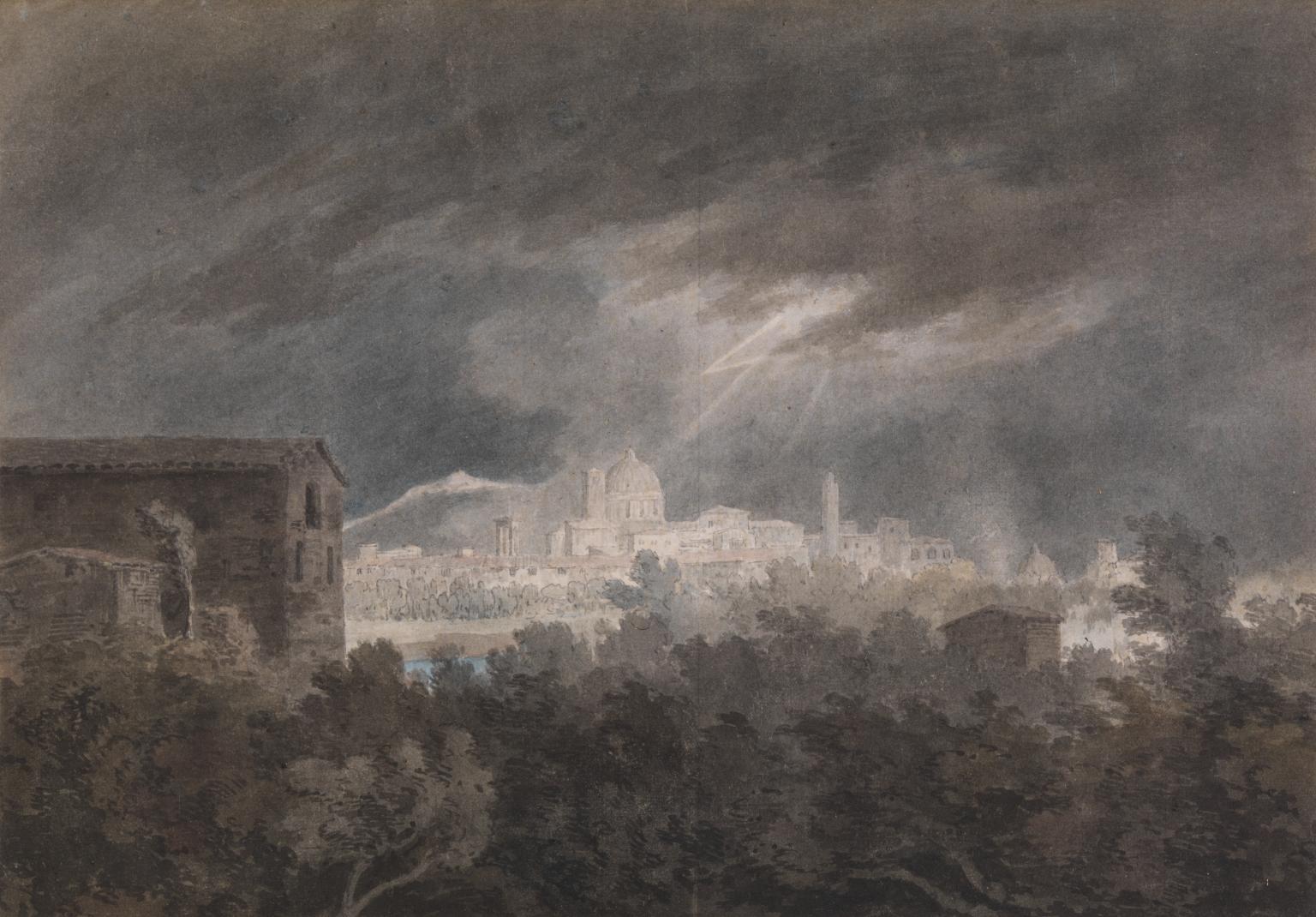 John Robert Cozens

,

Padua

after 1782

This dramatic work is based upon studies Cozens made during his second trip to Italy. Cozens travelled in the retinue of the young William Beckford. They arrived in Padua on 18 June 1782, where Cozens made a sketch of a thunderstorm, which he used as the basis for this work. In his Italian travel journal, Beckford wrote, after a visit to the church of Santa Giustina in Padua, that 'a peal of thunder reverberated through the vaults and cupolas, as I expected would have shaken them to their foundations. The principal dome appeared invested with a sheet of fire'.

Gallery label, April 2007
7/30
artworks in Travellers in Italy from Grand Tourists to Turner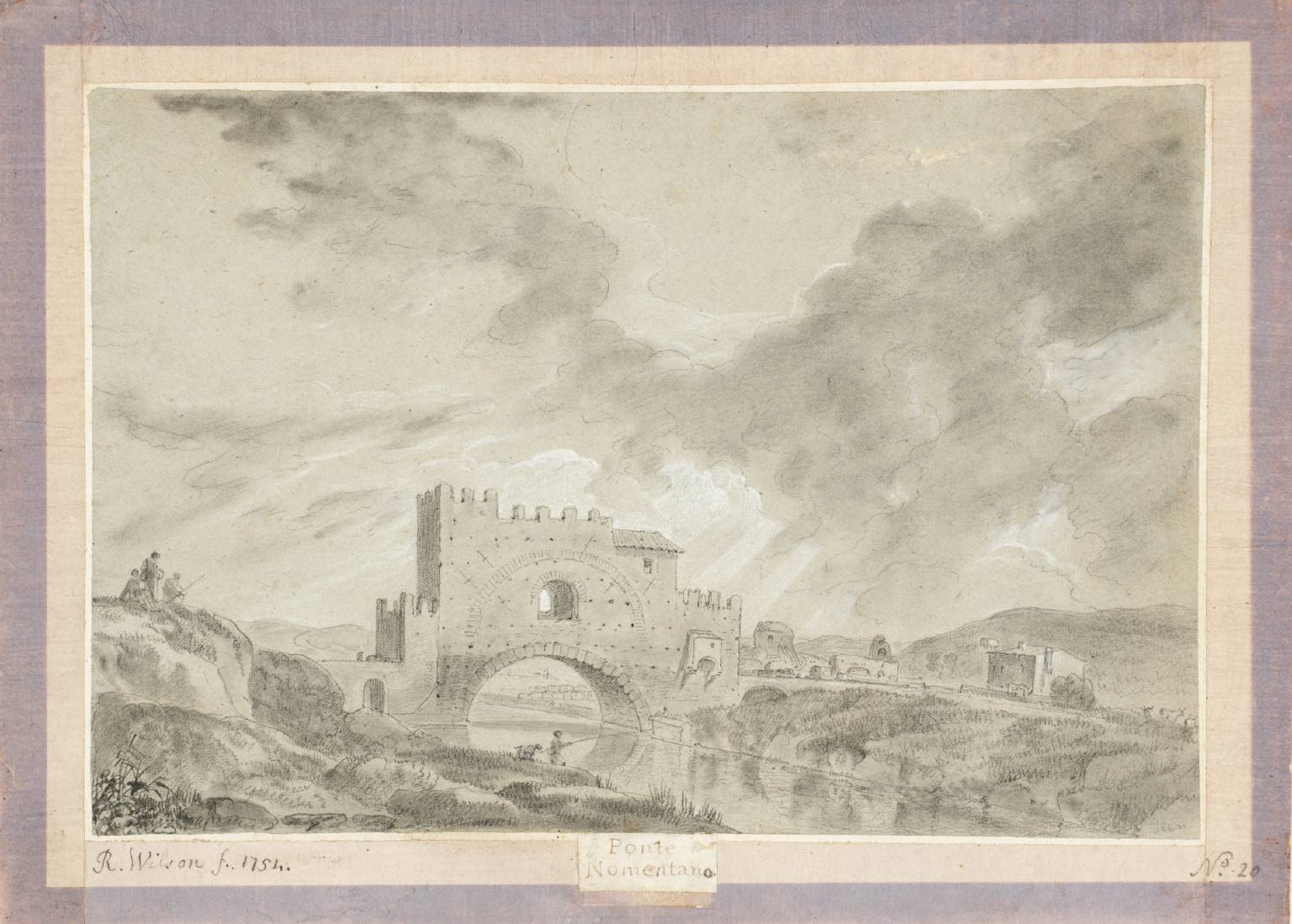 Richard Wilson

,

Ponte Nomentana

1754

This is one of twenty 'views of the environs of Rome' commissioned from Wilson by William Legge, 2nd Earl of Dartmouth. The commission was negotiated by Wilson's friend Thomas Jenkins, who acted as an agent acquiring artworks for British Grand Tourists. Wilson also made two paintings of Roman subjects for Dartmouth, one of which is in the Tate Collection. The Ponte Nomentana, about two miles north-east of Rome, carried the old Roman Via Nomentana across the River Anio to the town of Mentana.

Gallery label, April 2007
8/30
artworks in Travellers in Italy from Grand Tourists to Turner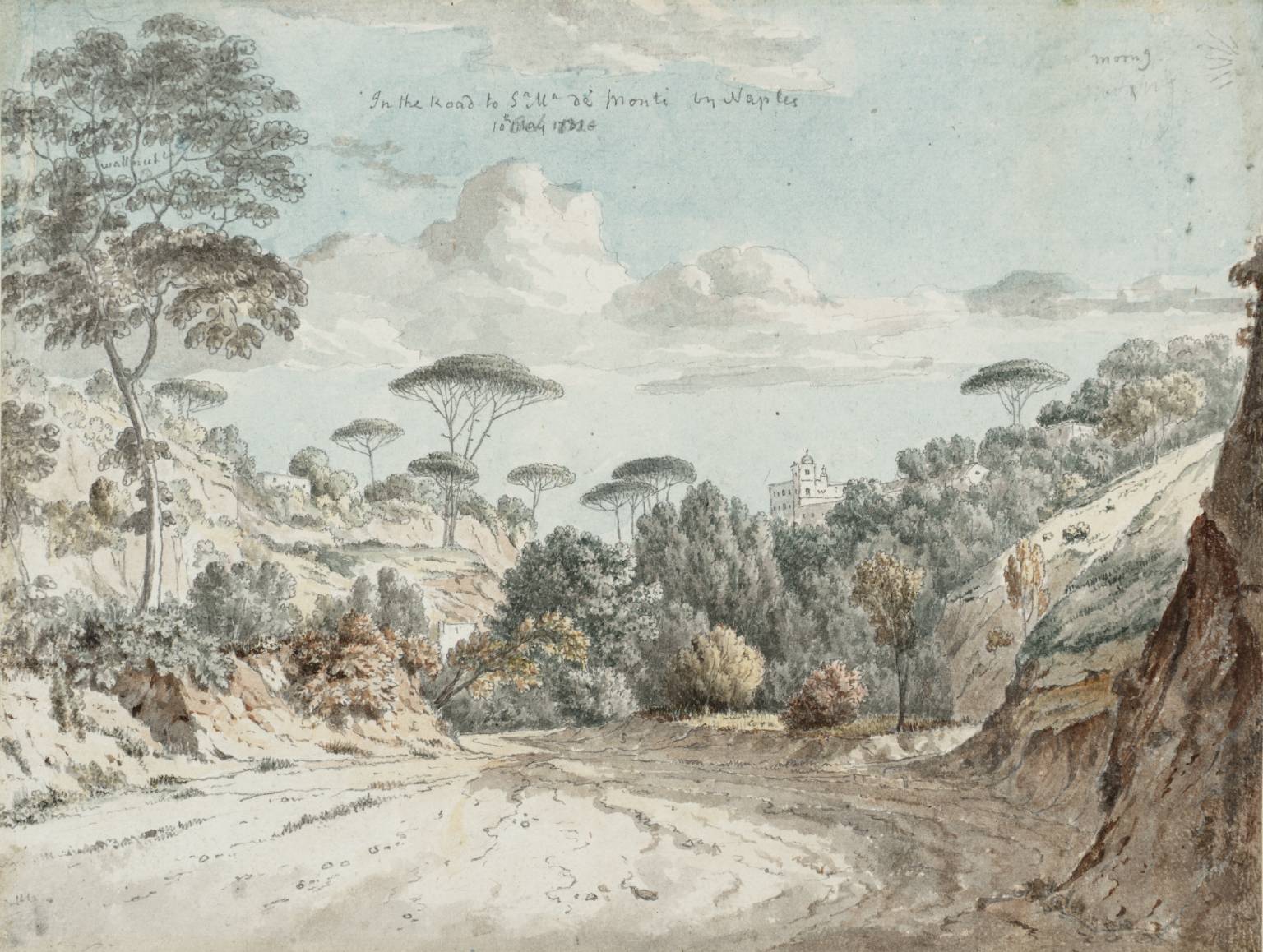 Thomas Jones

,

In the Road to Santa Maria de'Monti, near Naples: Morning

1781

Jones spent nearly eight years in Italy, from 1776 to 1783, chiefly in Rome and Naples. He passed his time, he wrote, 'very Agreeably rambling about and Making a Number of Views and Sketches of the Different scenes in this most picturesque Country'. Sometimes his friends among the English artists in Italy, including Francis Towne and William Pars, accompanied him. The road depicted here, overhung with umbrella pines and walnut trees, was a favourite haunt - a 'romantick Dingle' Jones called it. It was while lodging in Naples that Jones made his now famous oil sketches of roof top views.

Gallery label, August 2004
9/30
artworks in Travellers in Italy from Grand Tourists to Turner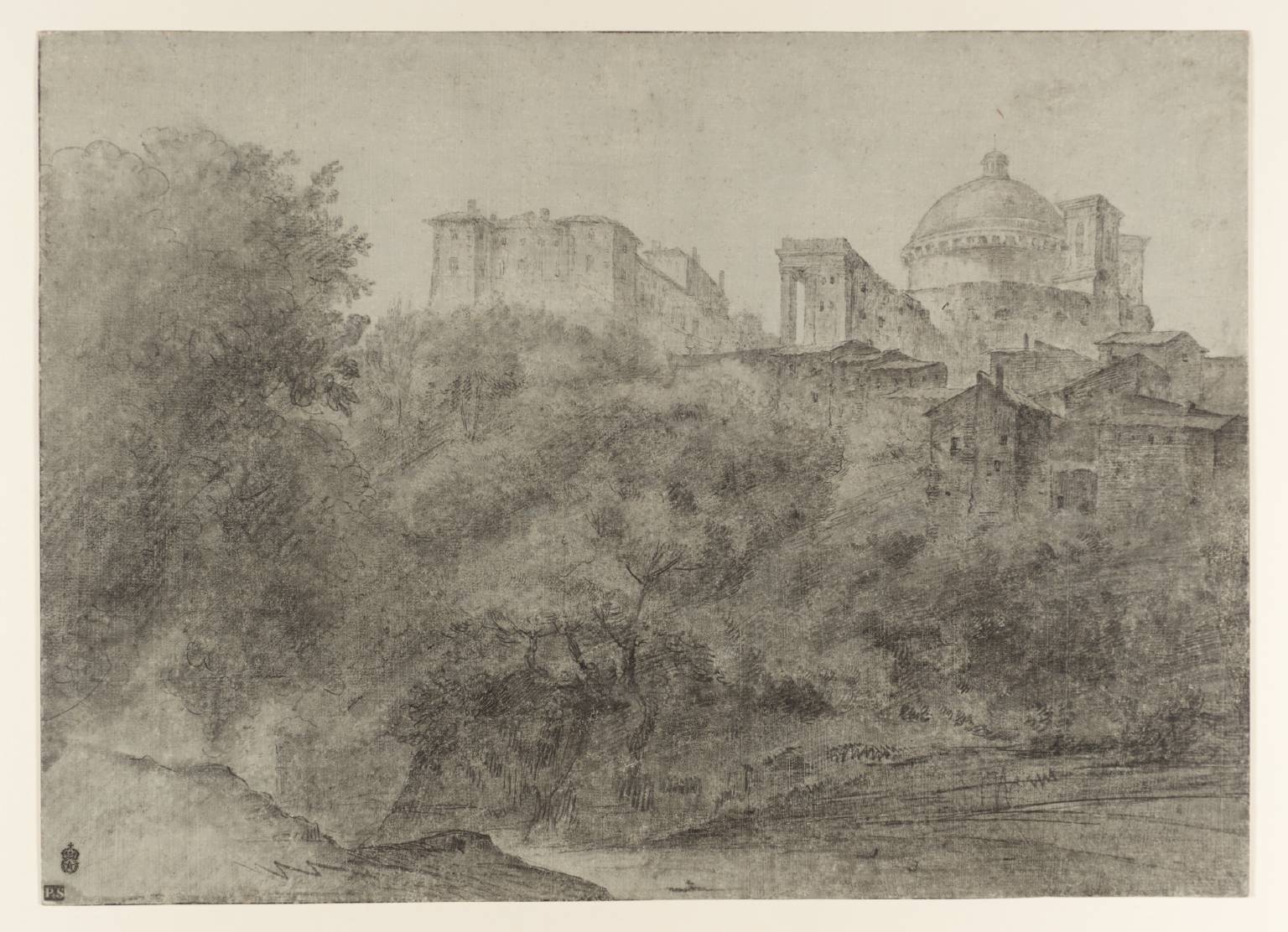 Richard Wilson

,

Ariccia

c.1754–6

The Welsh artist Richard Wilson was one of the most important landscape painters working in Britain in the second half of the eighteenth century. The majority of his drawings are in chalks, pen and ink or pencil. His pupil, Thomas Jones (no.44), reported that Wilson 'did not approve of tinted Drawings' (that is watercolours) which he felt 'hurt the Eye for fine Colouring'. Ariccia is situated south-east of Rome in the Alban Hills. Wilson shows the famous view looking towards the Palazzo Chigi and Bernini's church of Santa Maria dell'Assunzione. He has used a stump (a tightly rolled paper or leather cylinder with rounded points) to soften and smudge some of the black chalk, thus creating rich areas of tone.

Gallery label, September 2004
10/30
artworks in Travellers in Italy from Grand Tourists to Turner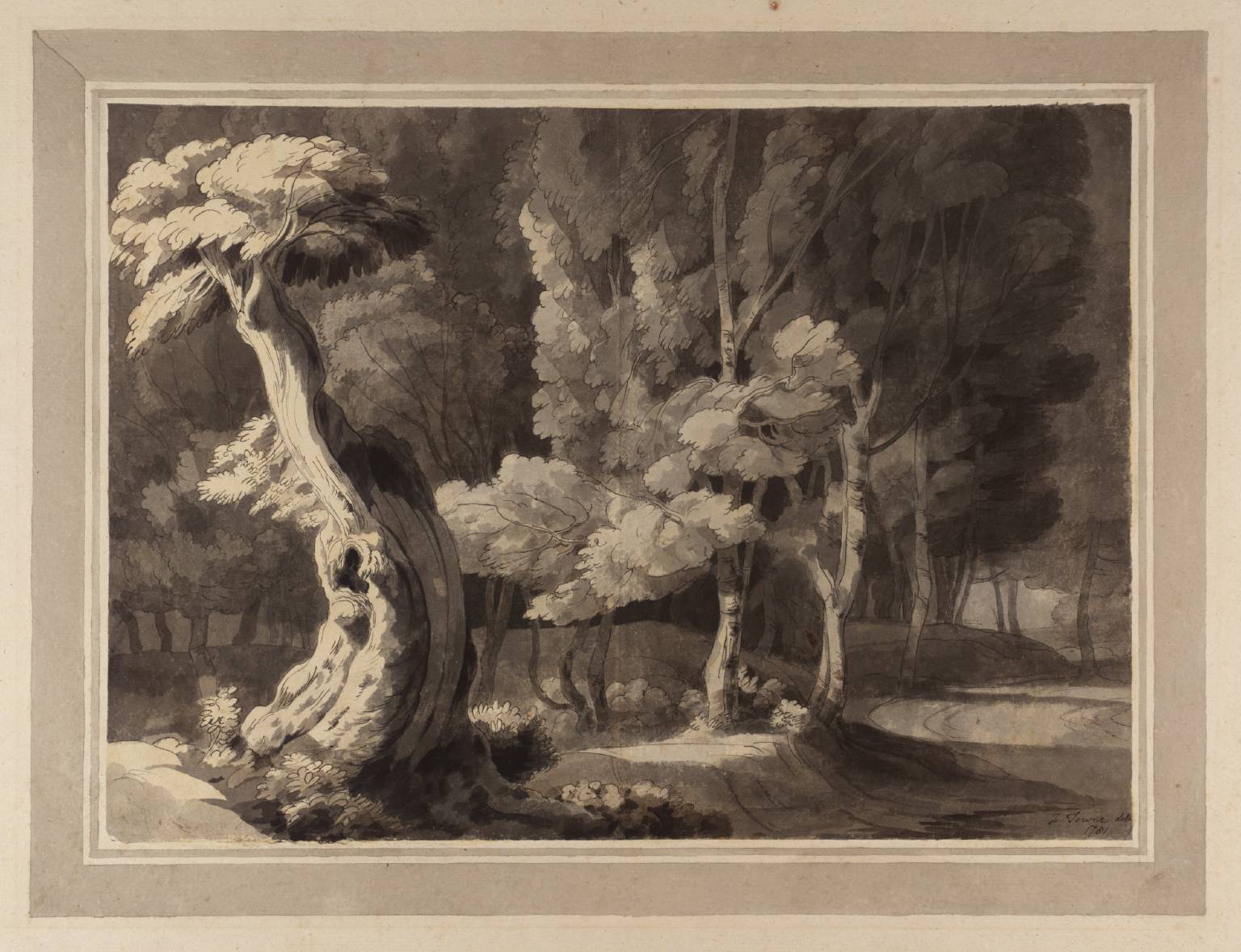 Francis Towne

,

Wood near Albano

1781

The watercolours which Francis Towne made in Italy between 1780 and 1781, and in the Alps on his return to England, are usually regarded as amongst his finest. His practice was to make a pencil skech on the spot, add washes of monochrome or colour, then reinforce the pencil line in pen and ink - as if to emphasise the status of his drawings as sketches. The white of the paper in this watercolour brilliantly suggests the shafts of intense sunlight penentrating through the wooded glades at Albano, which is situated to the south-east of Rome. Towne may have known the watercolours made at Albano a few years earlier by his Devon acquaintance and friend John Downman (no.55).

Gallery label, September 2004
11/30
artworks in Travellers in Italy from Grand Tourists to Turner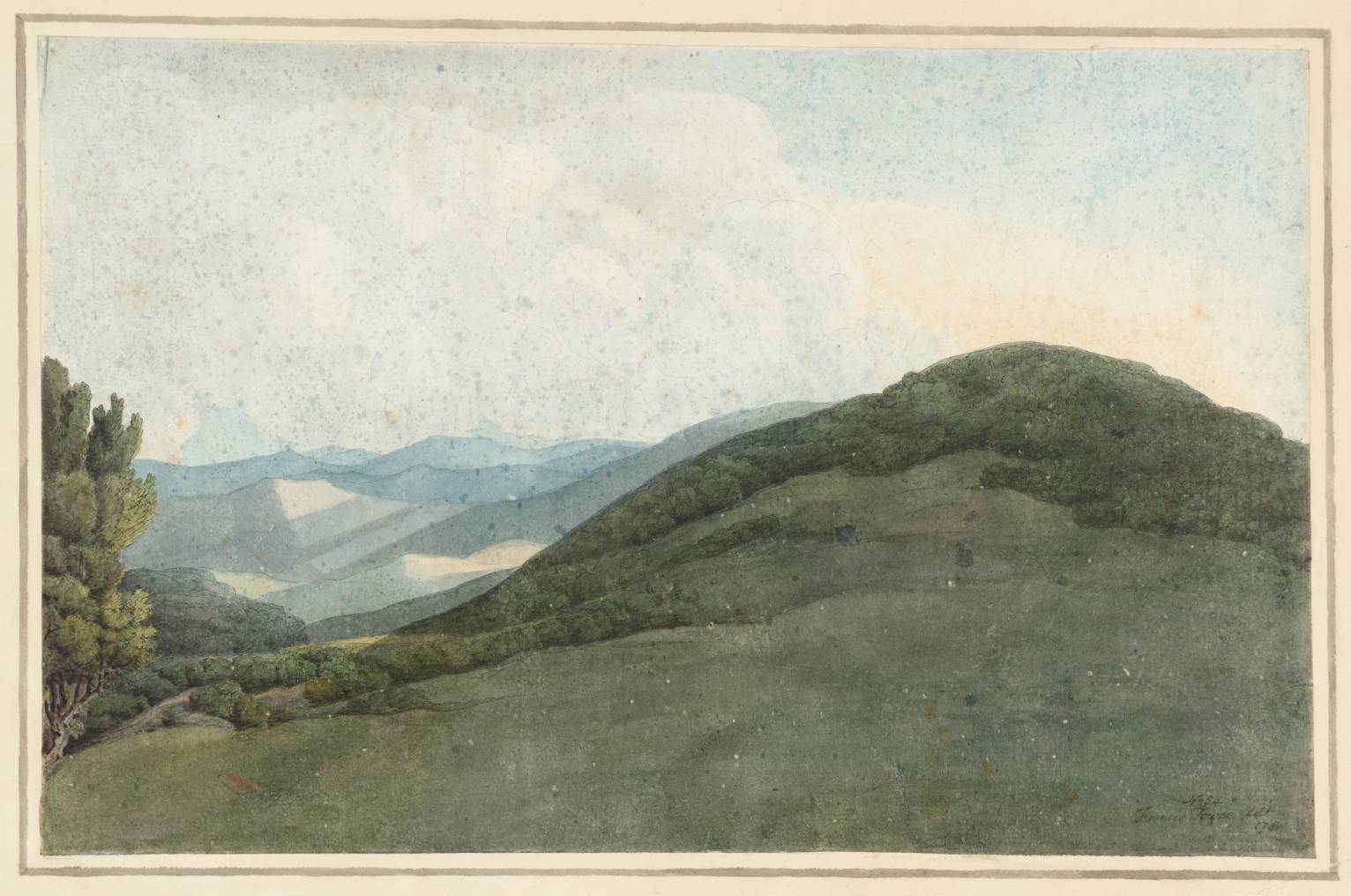 Francis Towne

,

Monte Cavo, II

1781
12/30
artworks in Travellers in Italy from Grand Tourists to Turner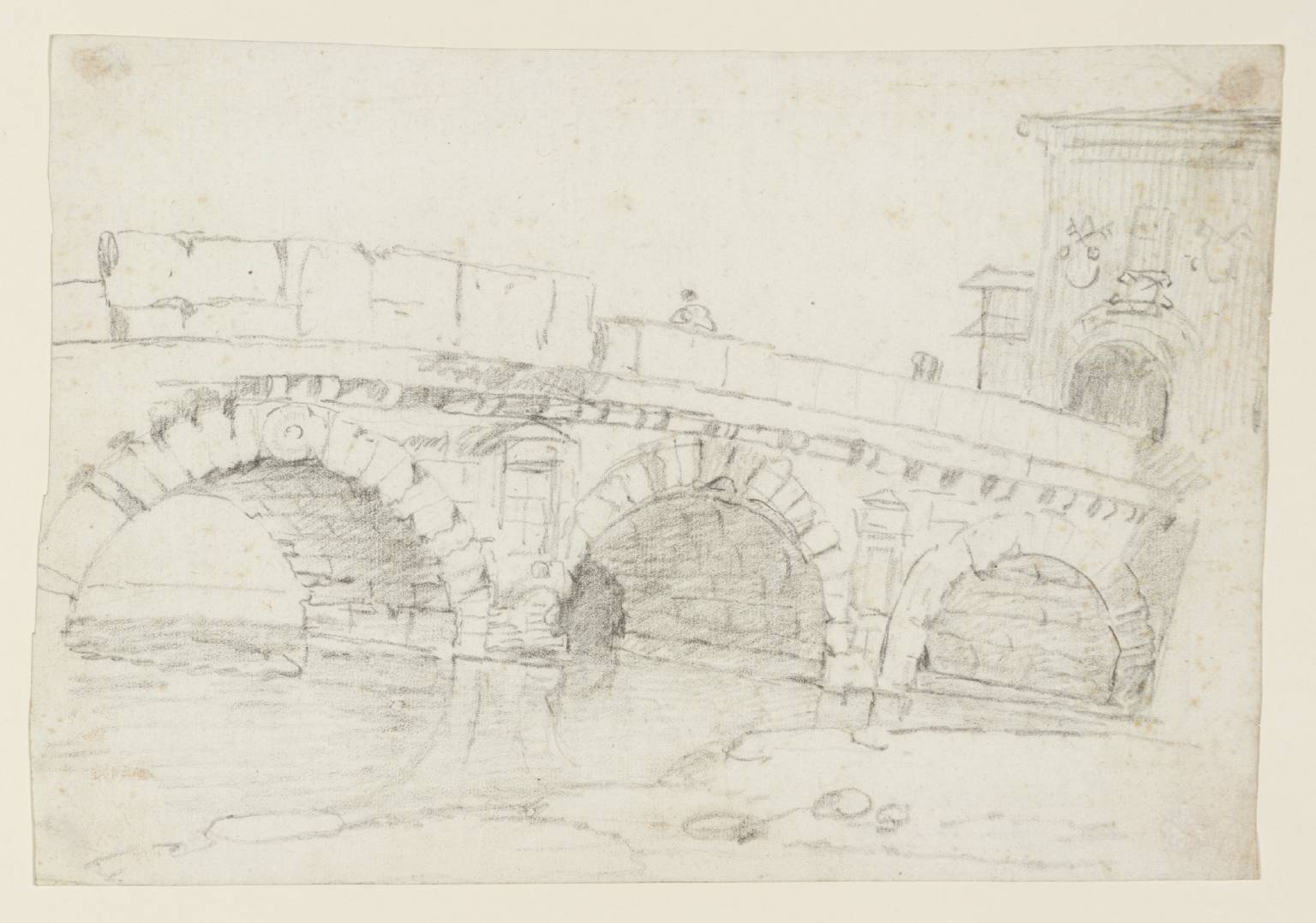 Richard Wilson

,

Bridge of Augustus at Rimini

Date not known
13/30
artworks in Travellers in Italy from Grand Tourists to Turner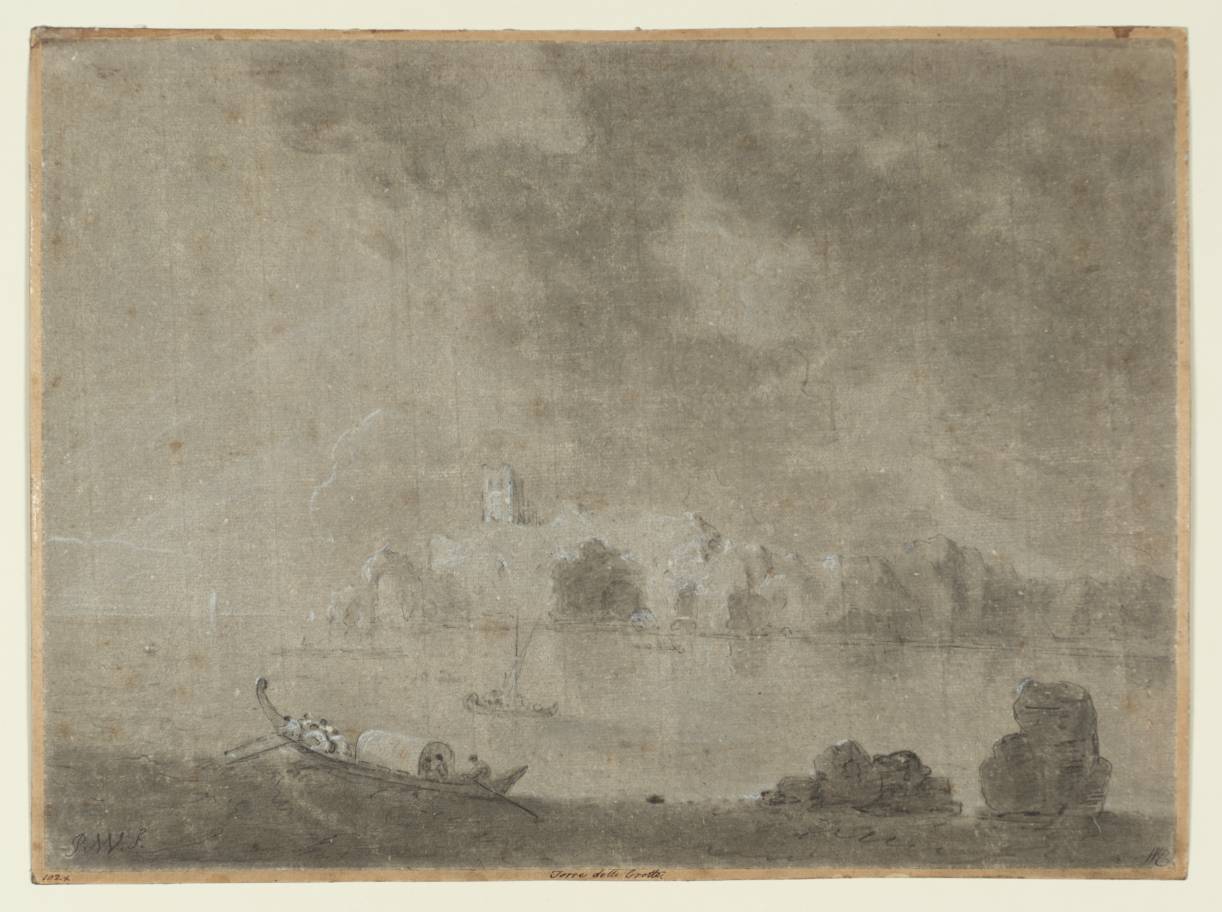 Richard Wilson

,

Torre delle Grotte

Date not known

This drawing in black chalk on a chalky grey-tinted paper shows Wilson's use of the stump (a roll of paper or soft leather cut to a blunt point at each end) to smudge and soften the black chalk. Wilson has applied subtle white chalk lines to the tops of the rocks and boats. Broader applications of white chalk in the sky, sea and rocks are slightly smudged, giving a sense of the moonlight falling over the scene. These highlights give luminosity to the drawing.

Gallery label, April 2007
14/30
artworks in Travellers in Italy from Grand Tourists to Turner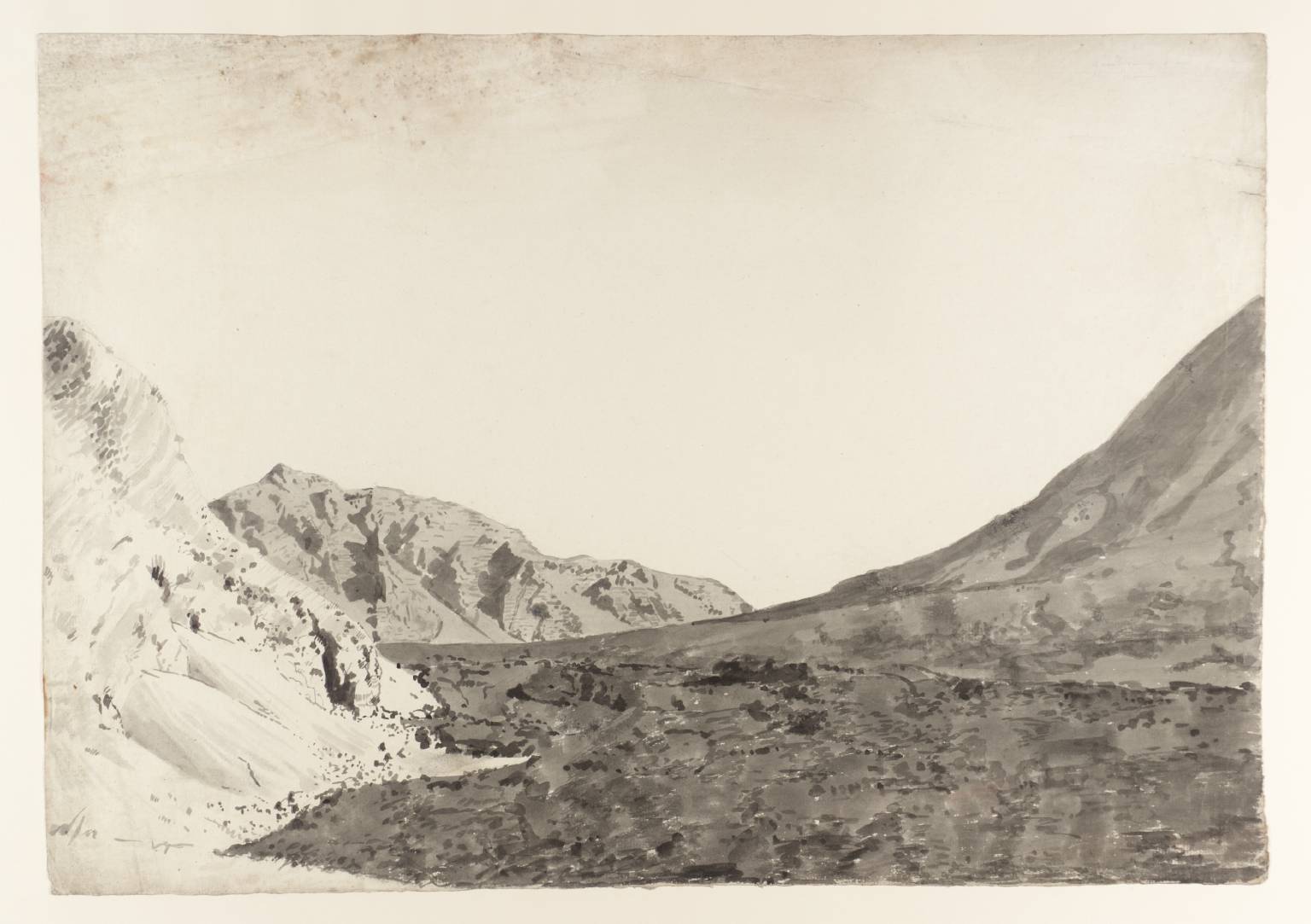 John Downman

,

The Crater of Vesuvius

1774

John Downman visited Italy in 1773 with his fellow artist, Joseph Wright. Although within his professional career he was principally recognised as a portraitist, the informal studies that Downman made during his Italian travels reveal his highly original talent for landscape. His landscape studies, like the one shown here, were made primarily in monochrome washes and in pen and ink. Unlike the majority of views of Vesuvius by other artists, which show the volcano from a distance within the wider landscape, Downman focuses upon the play of light and shadow on the stark, rock-strewn crater.

Gallery label, April 2007
15/30
artworks in Travellers in Italy from Grand Tourists to Turner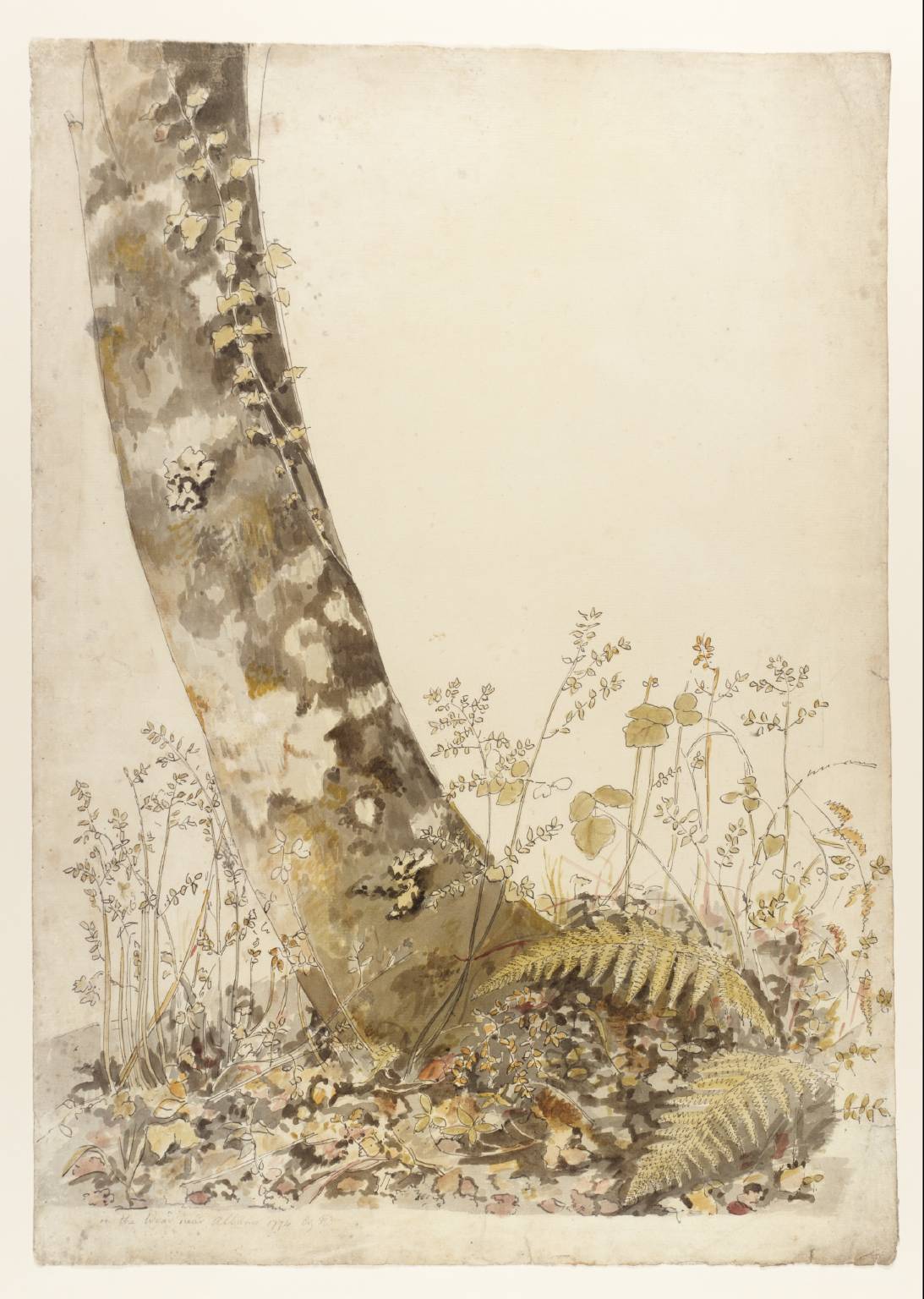 John Downman

,

A Tree Trunk near Albano

1774

Landscape drawings by John Downman are very rare. They mostly date from his tour to the Continent between 1773 and 1774, and a large number of them are in the Oppé Collection. His Italian landscapes tend to focus on the more unassuming corners of Rome and the surrounding region rather than the grand views and sweeping vistas so popular with visitors making the Grand Tour. This study of a tree trunk was drawn by him in the woods at Albano near Rome, and is unusual for its close and low viewpoint. For the intense scrutiny of natural details did not become commonplace until the Romantic generation made it part of their practice in the early nineteenth century.

Gallery label, September 2004
16/30
artworks in Travellers in Italy from Grand Tourists to Turner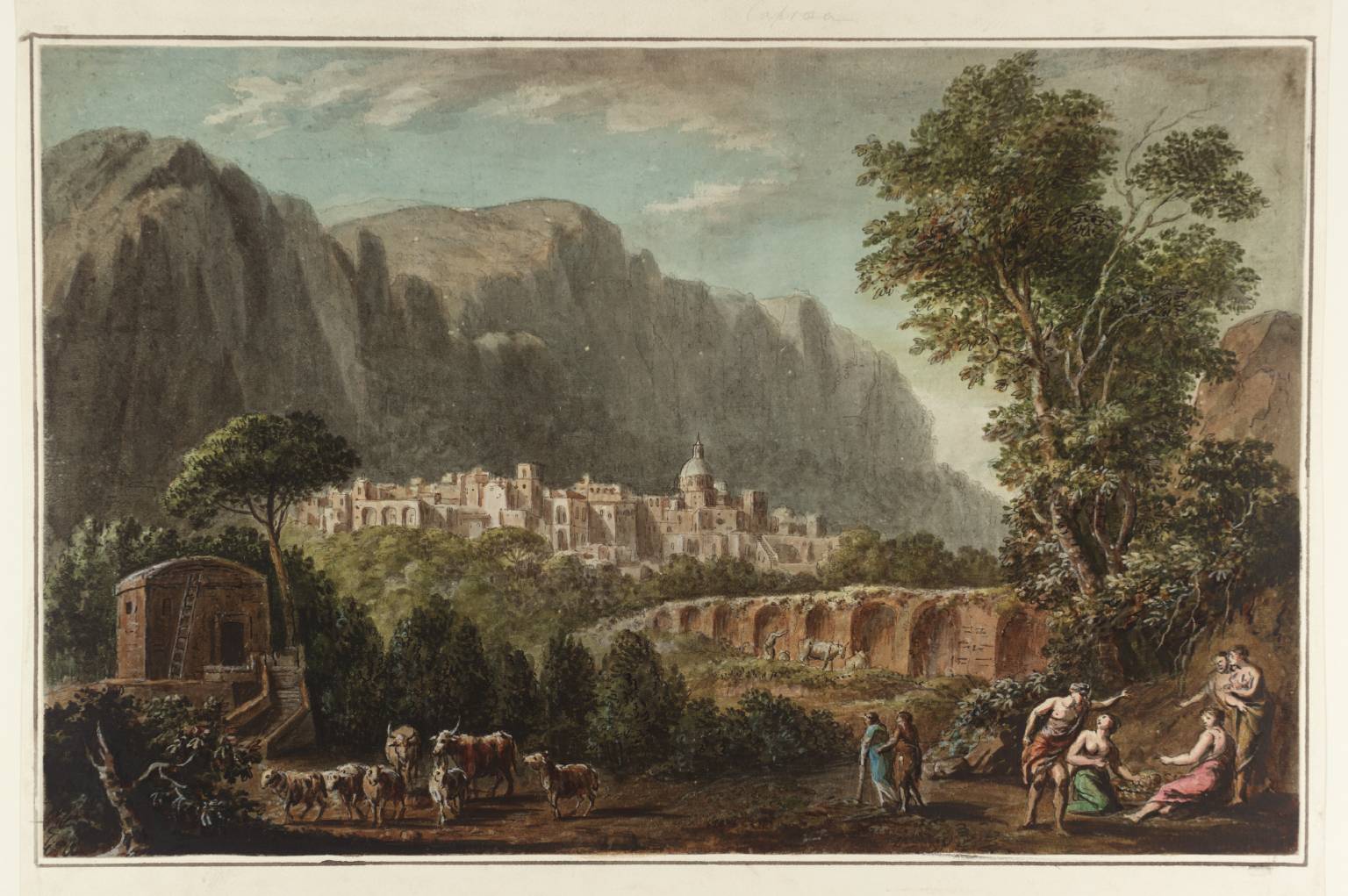 John `Warwick' Smith

,

11. Capraea

1778–9
17/30
artworks in Travellers in Italy from Grand Tourists to Turner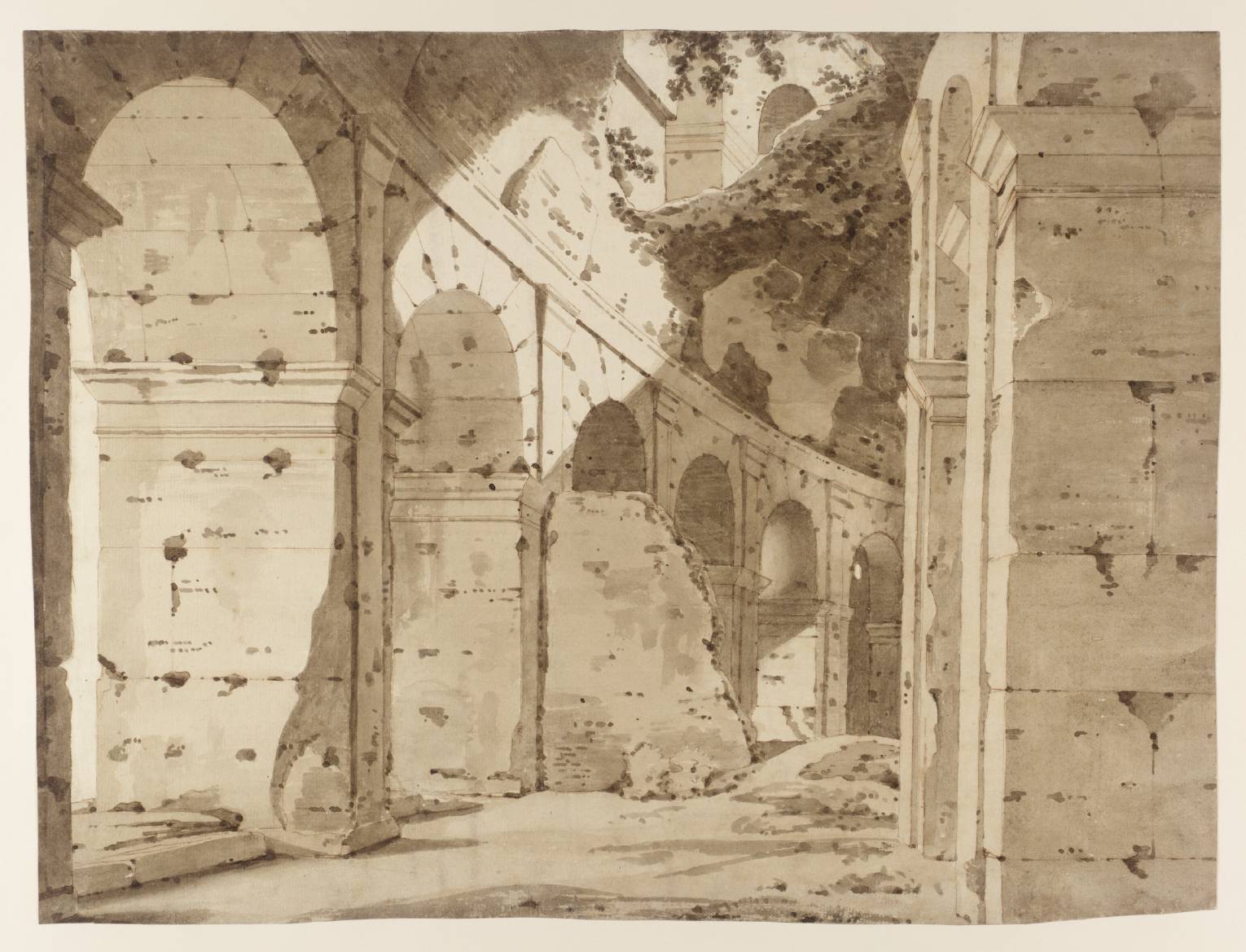 Joseph Wright of Derby

,

Inside the Arcade of the Colosseum

c.1774–5

The Colosseum is one of the most impressive of all the great monuments of classical Rome. Constructed between AD 72 and 80, it was used for gladiatorial combats, games and other festivities. Because of its immense scale, it could only be shown in its entirety from a distant viewpoint. Some artists, like Wright, instead chose to depict a section of the arcade, stressing its monumentality. This dramatic composition is reminiscent of the powerful etchings made by the Italian printmaker and architect Piranesi, and may indeed have been inspired by his example.

Gallery label, April 2007
18/30
artworks in Travellers in Italy from Grand Tourists to Turner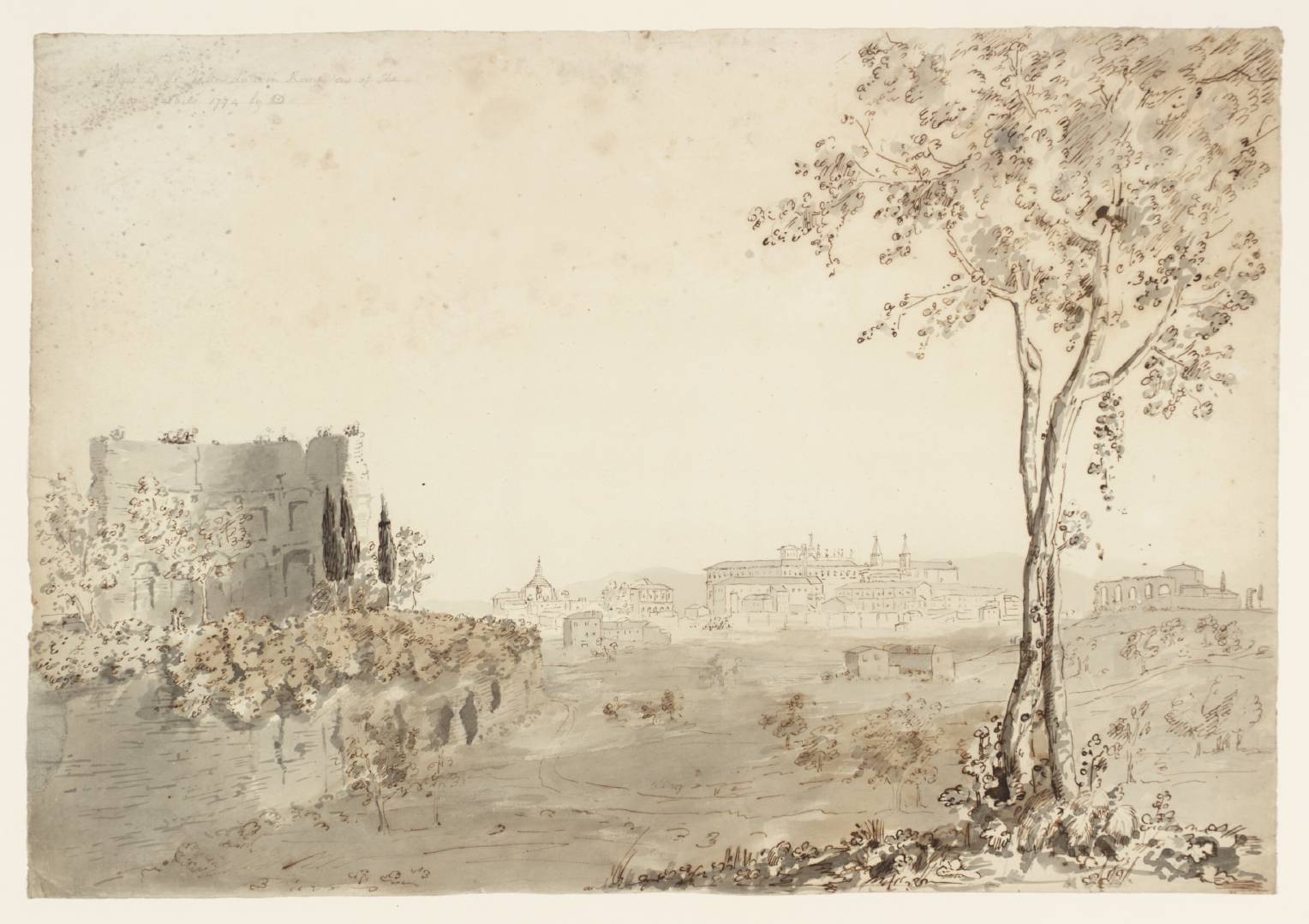 John Downman

,

The Lateran, Rome

1774
19/30
artworks in Travellers in Italy from Grand Tourists to Turner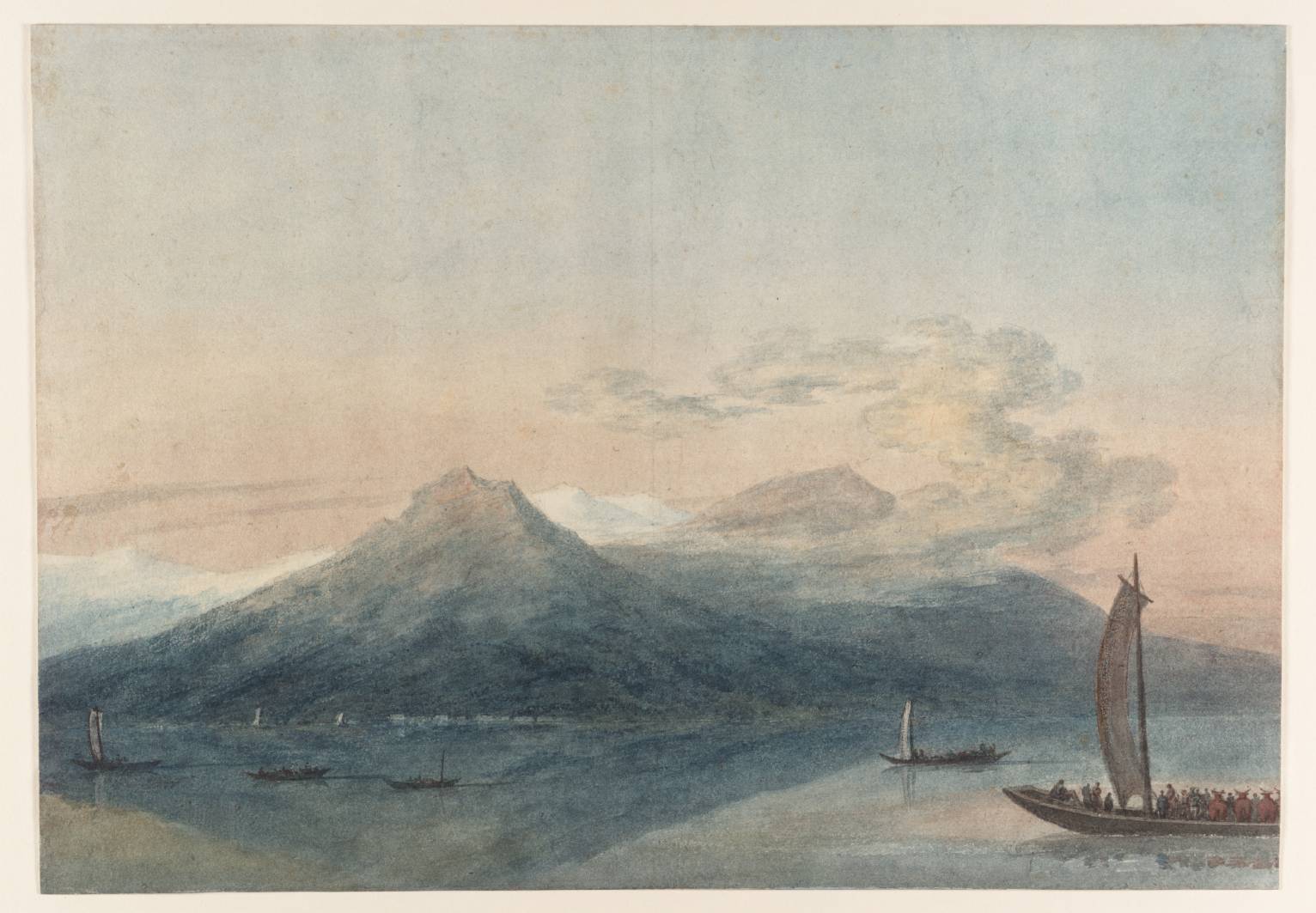 John Robert Cozens

,

View from Isola Borromea, Lago Maggiore

c.1783

This watercolour is one of a series of drawings commissioned by William Beckford. Cozens started making watercolours of Italian subjects for Beckford as early as 1780 and two years later accompanied him to Italy. Beckford, the young author and millionaire, was a friend and patron of Cozens's father, the artist Alexander Cozens. In Italy, John Robert Cozens filled his sketchbooks with small studies, which he later worked up into finished watercolours. These proved influential on the young JMW Turner, who probably made a copy of Cozens's original study for this work.

Gallery label, April 2007
20/30
artworks in Travellers in Italy from Grand Tourists to Turner
Thomas Jones

,

The Bay of Naples and the Mole Lighthouse

1782

Jones recorded in his Memoirs that between May 1780 and May 1782 he took lodgings in Naples in a 'large new built house or Palace' situated opposite the Custom House for Salt in a noisy area near the old harbour. Here he had access to the flat roof, and from this elevated vantage point made a number of striking oil sketches of Neapolitan rooftops, and probably this view of the Bay of Naples as well. Jones has orientated himself away from the harbour, and painted a simple stretch of water looking across to the Sorrentine peninsula. The view is articulated only by the lighthouse and a sequence of rhythmically placed feluccas. The overwhelming impression is one of stillness and calm.

Gallery label, September 1997
21/30
artworks in Travellers in Italy from Grand Tourists to Turner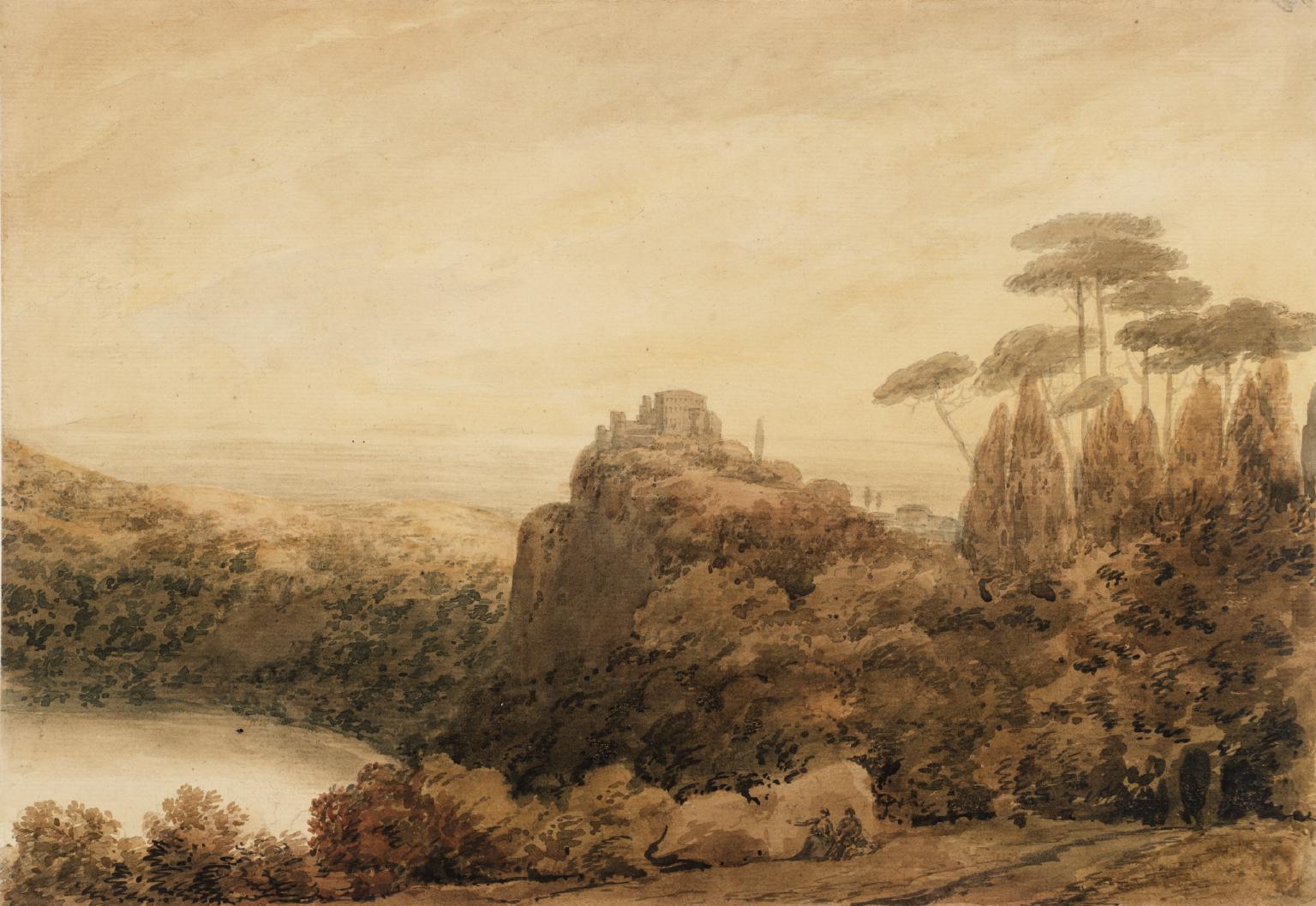 John Robert Cozens

,

Lake Nemi

Date not known
22/30
artworks in Travellers in Italy from Grand Tourists to Turner
Sorry, no image available
Thomas Jones

,

A Scene in the Colosseum, Rome

?1777

The archaeological excavation of many sites in Italy during the middle years of the eighteenth century gave people a new sense of the historical significance of the great ruins that had lain largely ignored for centuries. The Colosseum, near the Roman Forum, was now seen as one of the monumental relics of imperial aspiration, and in its ruined state offered painters opportunities to epitomise empire in decay. They relished the grandeur and picturesqueness of a noble and crumbling structure so vast that it dictates the whole composition of the picture.

Gallery label, August 2004
23/30
artworks in Travellers in Italy from Grand Tourists to Turner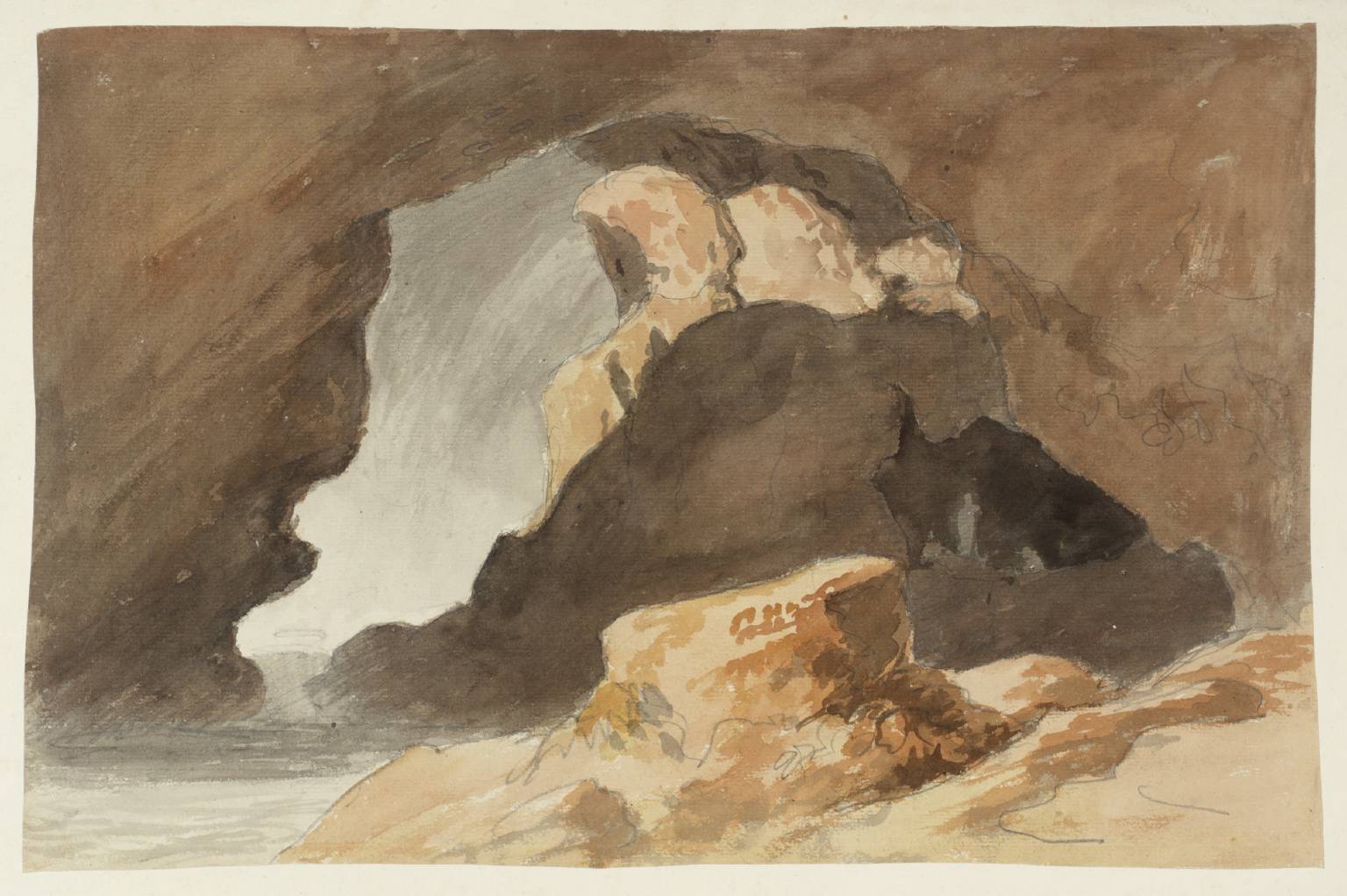 Carlo Labruzzi

,

Grotto of Neptune at Tivoli

Date not known
24/30
artworks in Travellers in Italy from Grand Tourists to Turner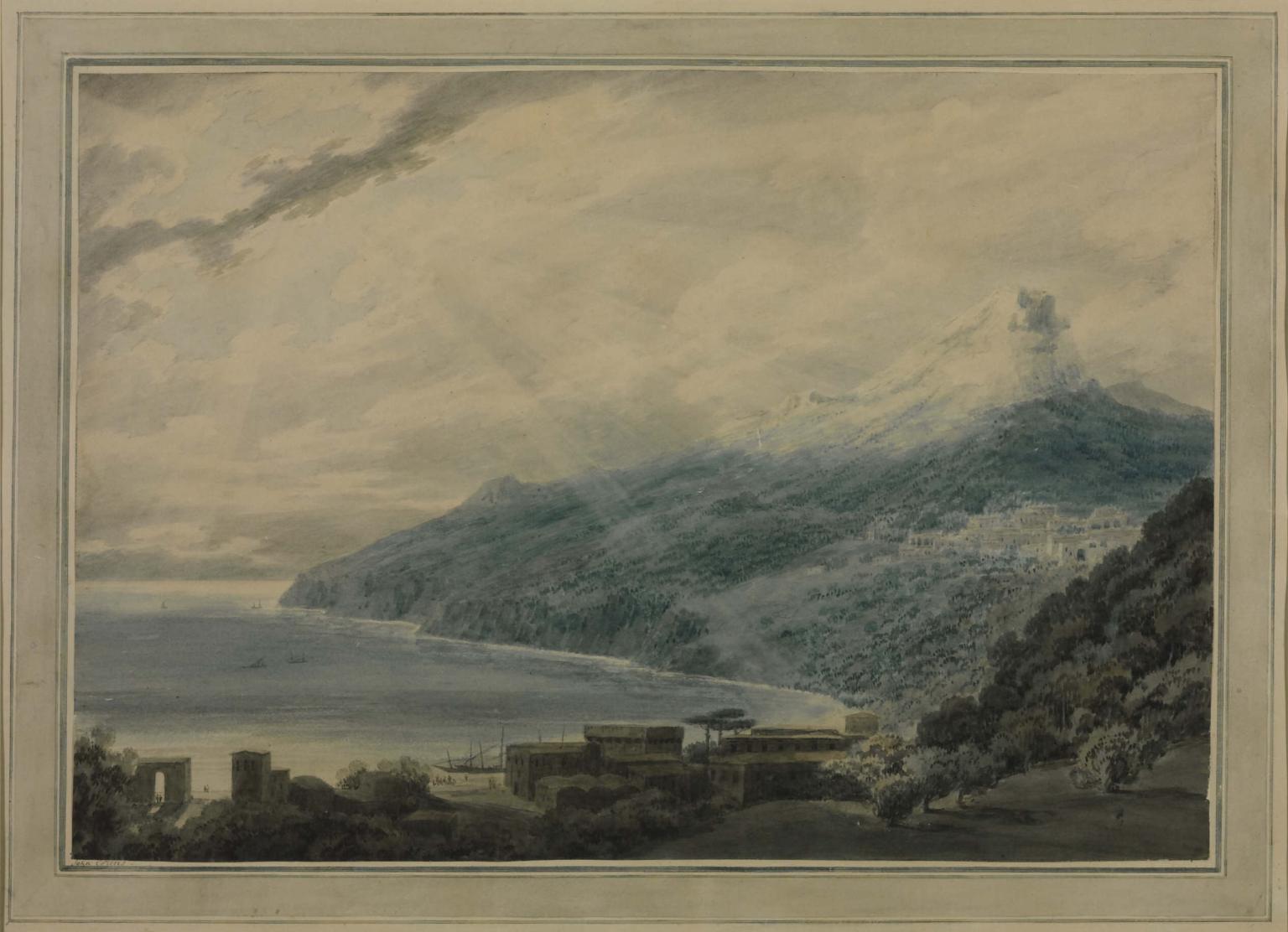 John Robert Cozens

,

The Gulf of Salerno

c.1790

During his visit to Italy with William Beckford in 1782, Cozens spent some time sketching on the south-west coast in and around Naples. Among the most spectacular of the finished watercolours to have emerged from this time is this view of the gulf of Salerno. Typically, Cozens employs a limited palette of muted grey-green and blue, shot through by the shaft of sunlight which breaks through the clouded sky. It is in such watercolours that Cozens demonstrated his desire to express the 'sublime'; an aesthetic movement of this time which aimed to produce an emotional response to the power and grandeur of nature.

Gallery label, April 2007
25/30
artworks in Travellers in Italy from Grand Tourists to Turner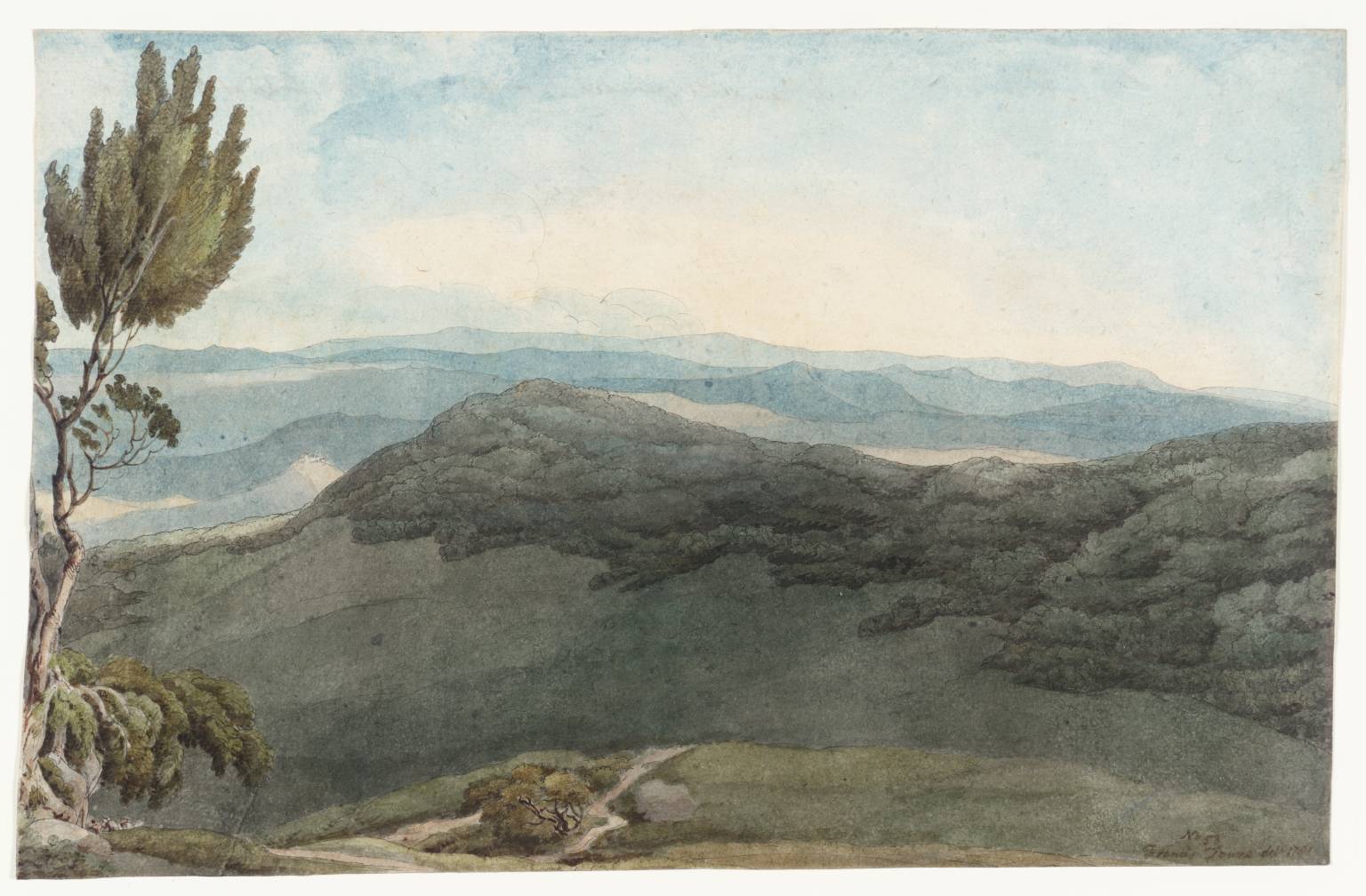 Francis Towne

,

Monte Cavo, I

1781

This is one of two watercolours Towne made of Monte Cavo, the highest mountain in the Alban Hills, to the south of Rome. Unlike many of his other Italian watercolours, in which colour is contained within a tighly controlled line, here Towne paints more freely, in order to capture the subtle play of light on the verdant mountain. The watercolour is inscribed on the reverse, 'Italy No 53. The Spot where Hannibal is said to have lookd at Rome from. Drawn by Francis Towne on the spot 1781' .Although Towne's watercolour is based upon direct observation, his choice of motif is clearly determined by his knowledge of the classical past.

Gallery label, April 2007
26/30
artworks in Travellers in Italy from Grand Tourists to Turner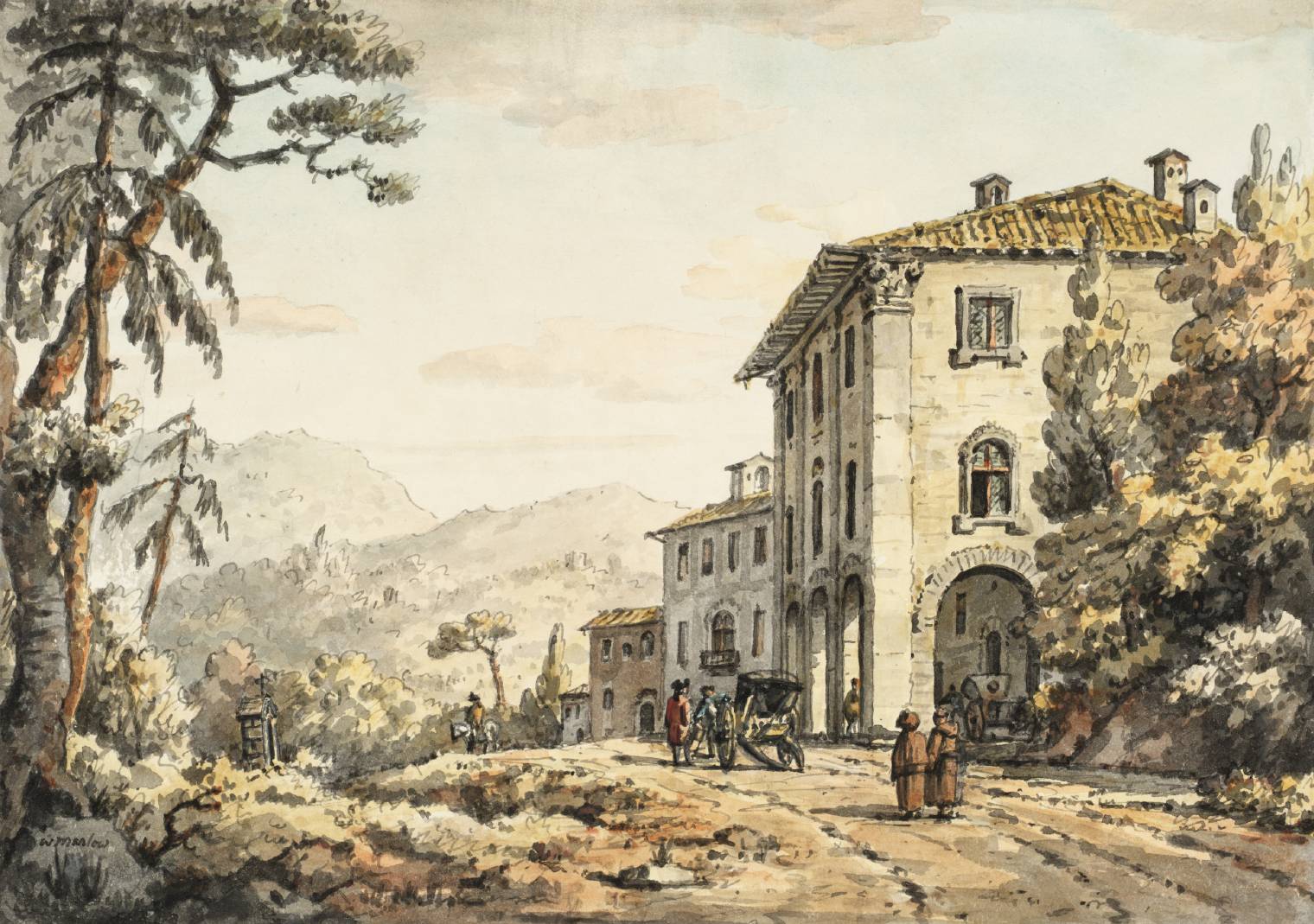 William Marlow

,

A Post-House near Florence

c.1770
27/30
artworks in Travellers in Italy from Grand Tourists to Turner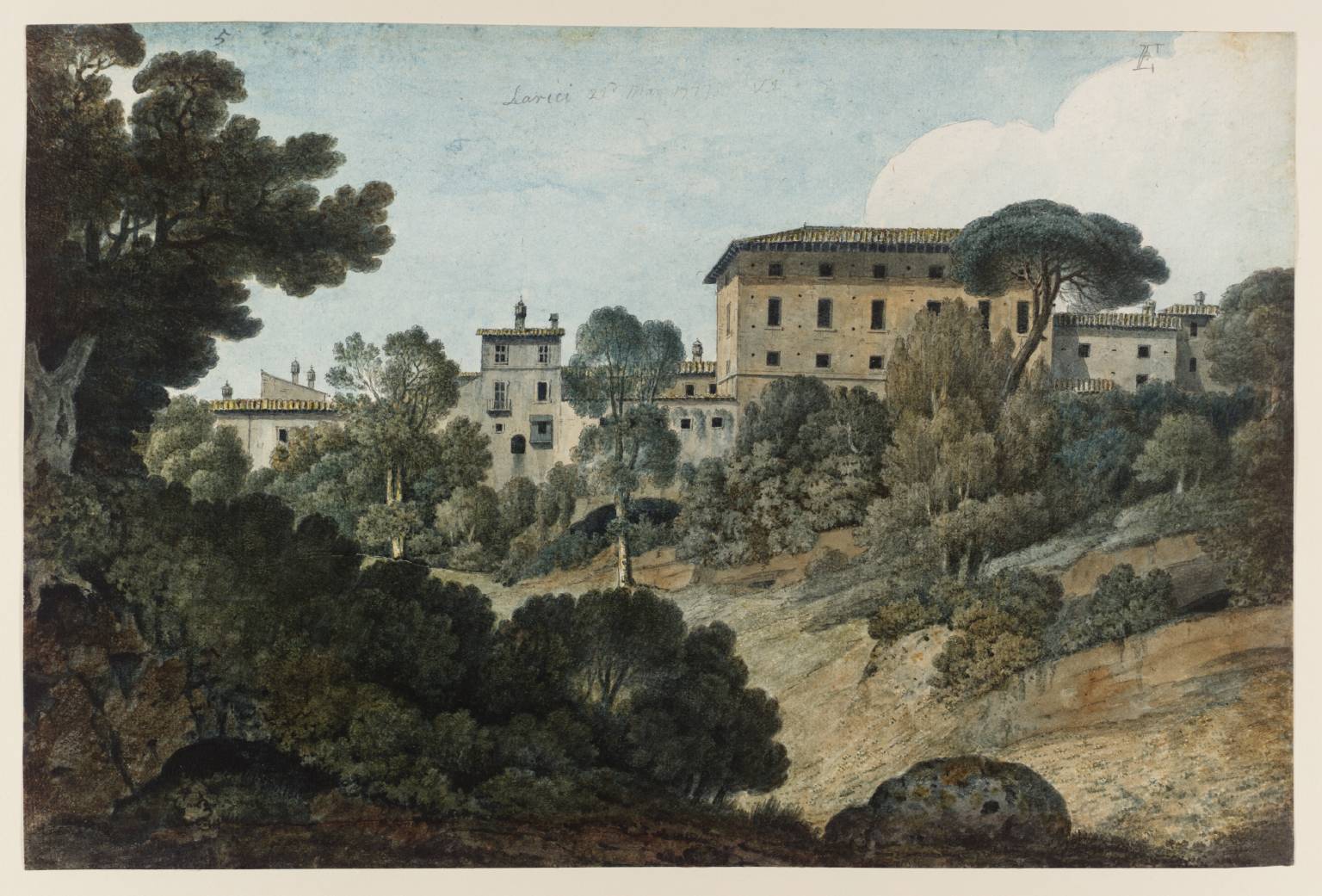 Thomas Jones

,

Ariccia, Buildings on the Edge of the Town. Verso: Relative Positions of the Benedictine Convent of the Madona of the Galoro near Larici and the Gardens of the Convent of the Capuchins at Albano as Well as the Dome of the Church at L'Arriccia

1777

Jones dated this view 22 May 1777, and his memoir for that day confirms that he went to 'Larici' (Arricia) and to the small nearby village of 'Galoro' (Galloro), returning to Genzano 'by the Appian Way to dinner by 4'. Most representations of Ariccia from this time show the more famous view looking up the rugged hill-face to Bernini's Church of Santa Maria dell'Assunzione and the Palazzo Chigi. Jones instead shows it from the opposite side, from the south-east. This viewpoint is so rare that this watercolour was until recently misidentified as a convent at Albano.

Gallery label, April 2007
28/30
artworks in Travellers in Italy from Grand Tourists to Turner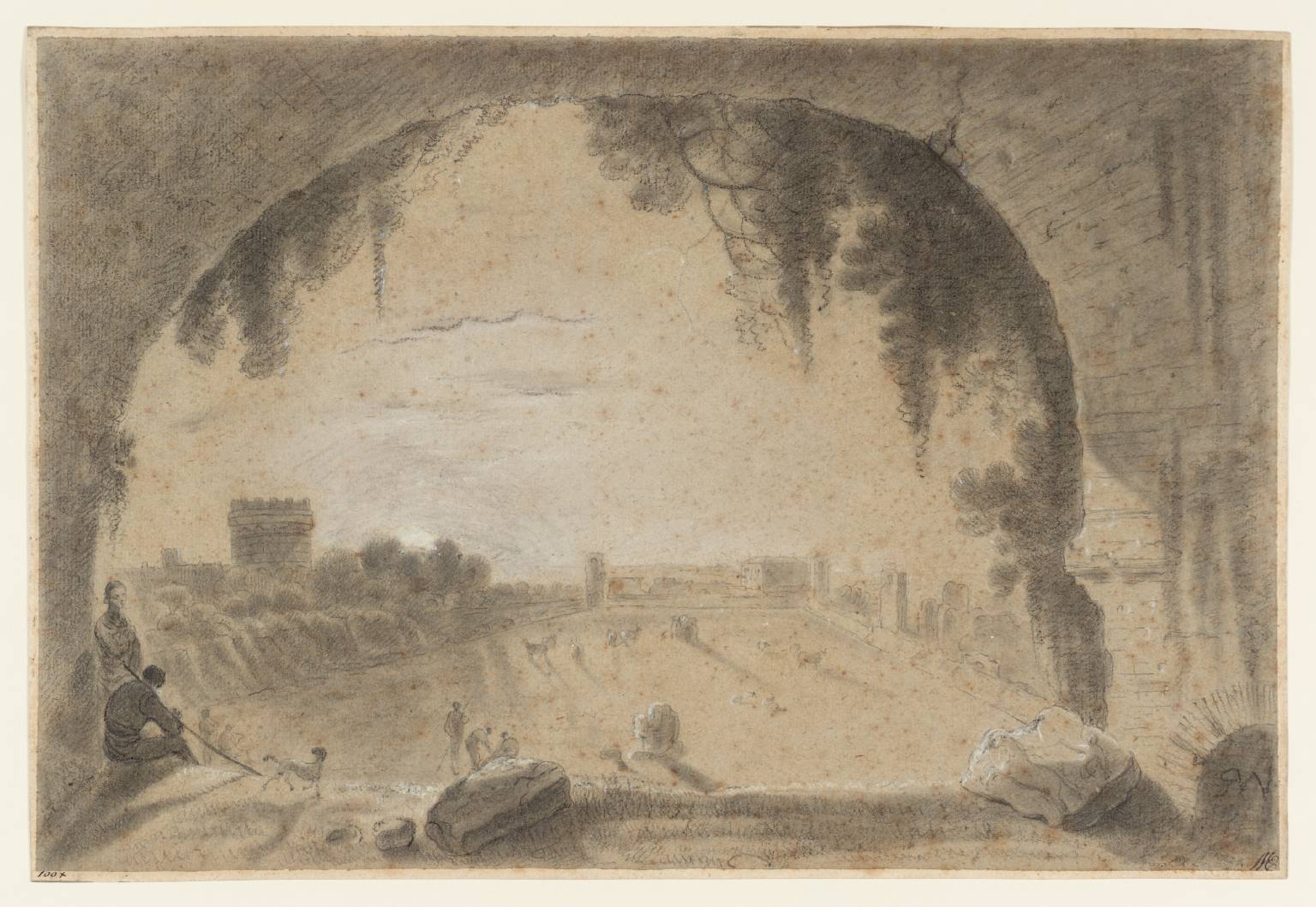 Richard Wilson

,

Circus of Caracalla

Date not known
29/30
artworks in Travellers in Italy from Grand Tourists to Turner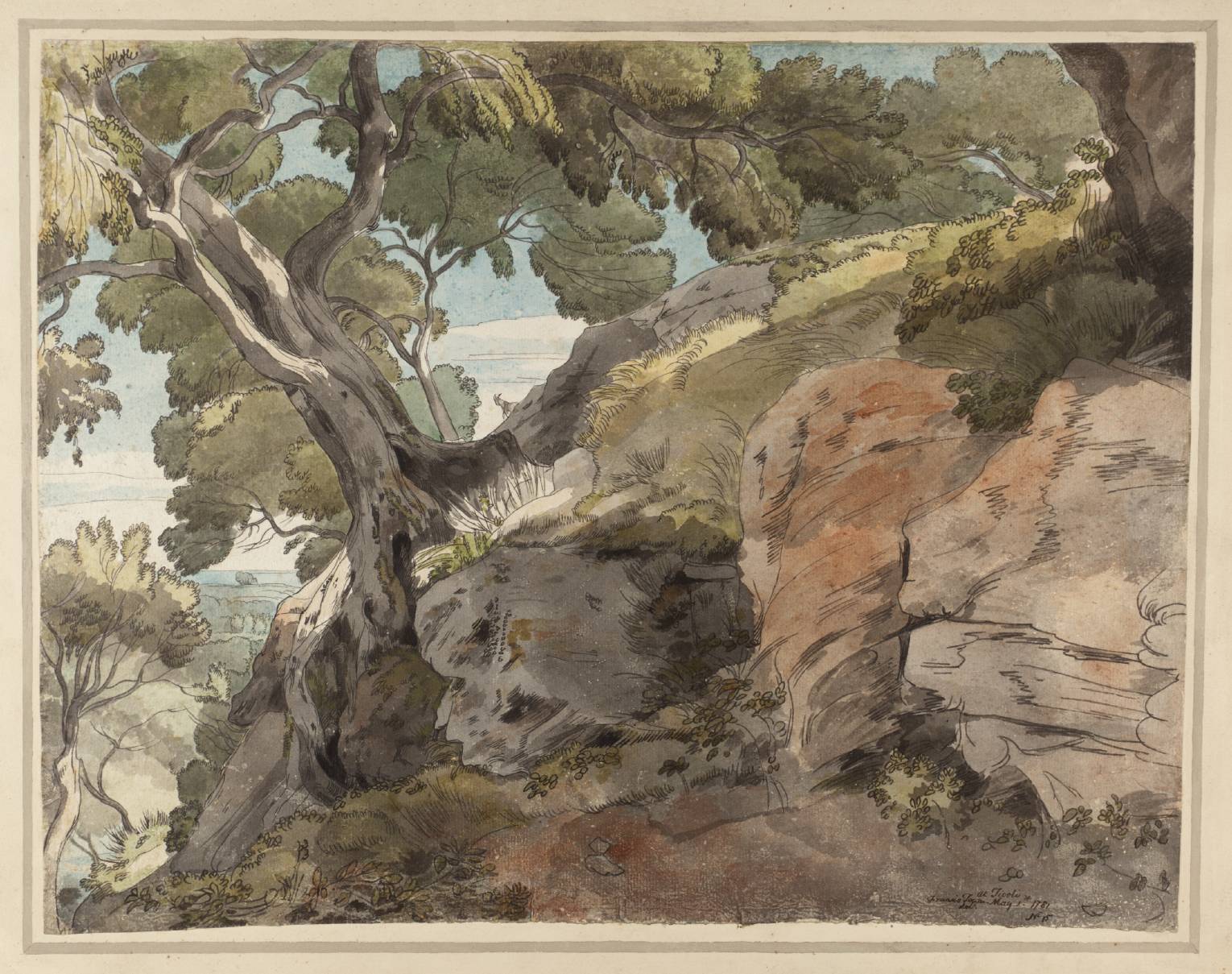 Francis Towne

,

Rocks and Trees at Tivoli

1781
30/30
artworks in Travellers in Italy from Grand Tourists to Turner
Art in this room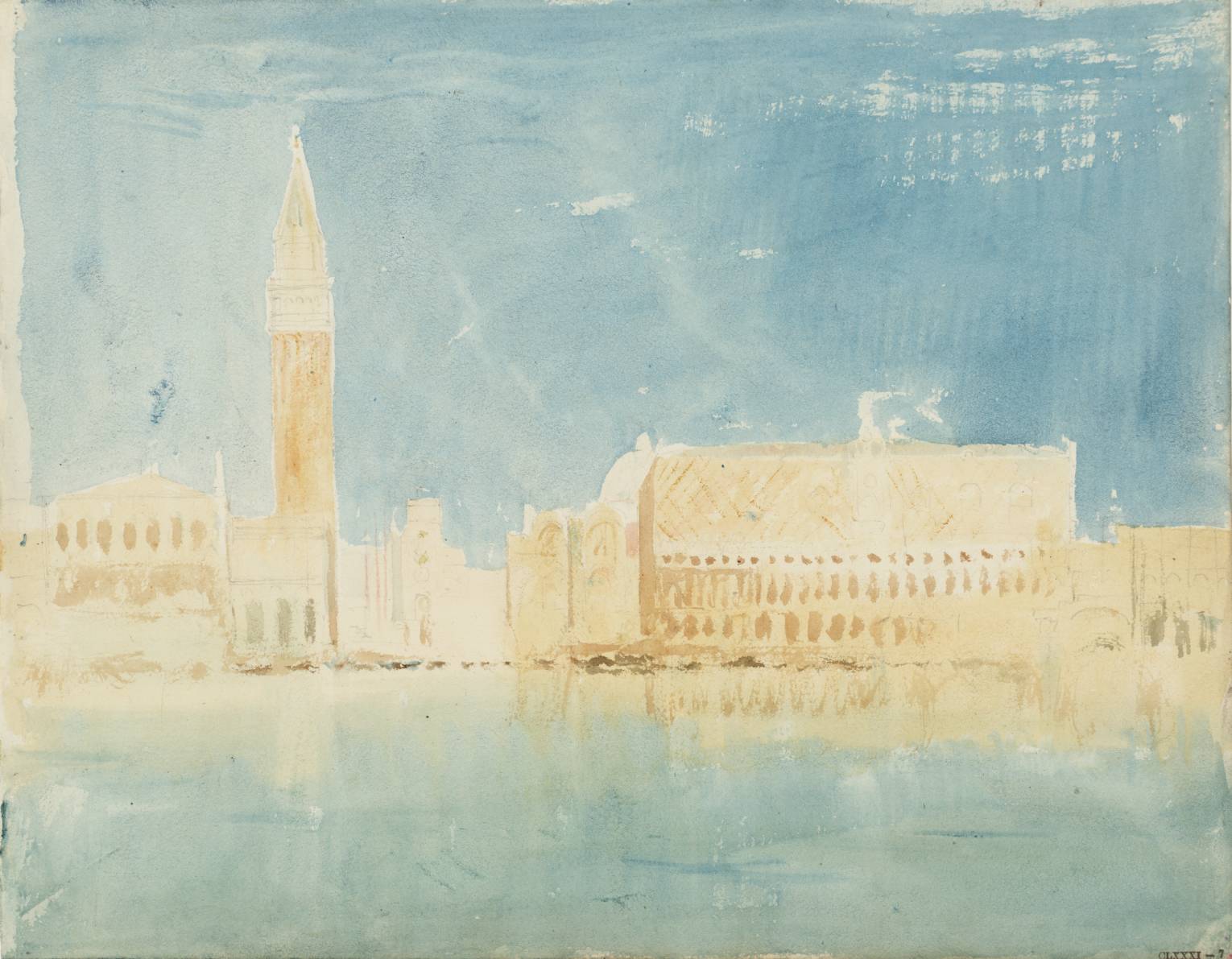 Joseph Mallord William Turner
Venice: The Campanile of San Marco (St Mark's) and the Palazzo Ducale (Doge's Palace) - Late Morning
1819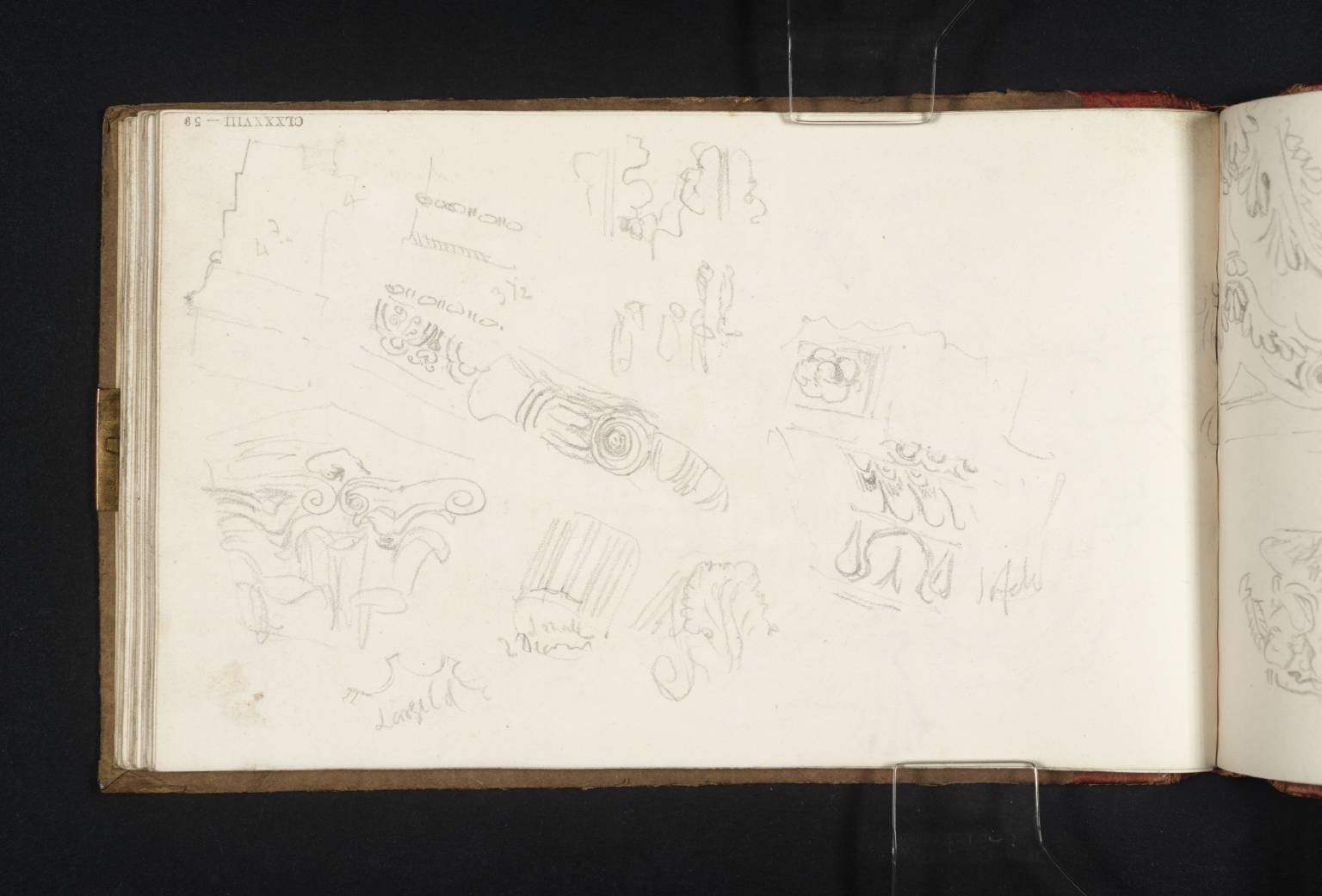 Joseph Mallord William Turner
Studies of Ornamental Details from Ruins in the Roman Forum
1819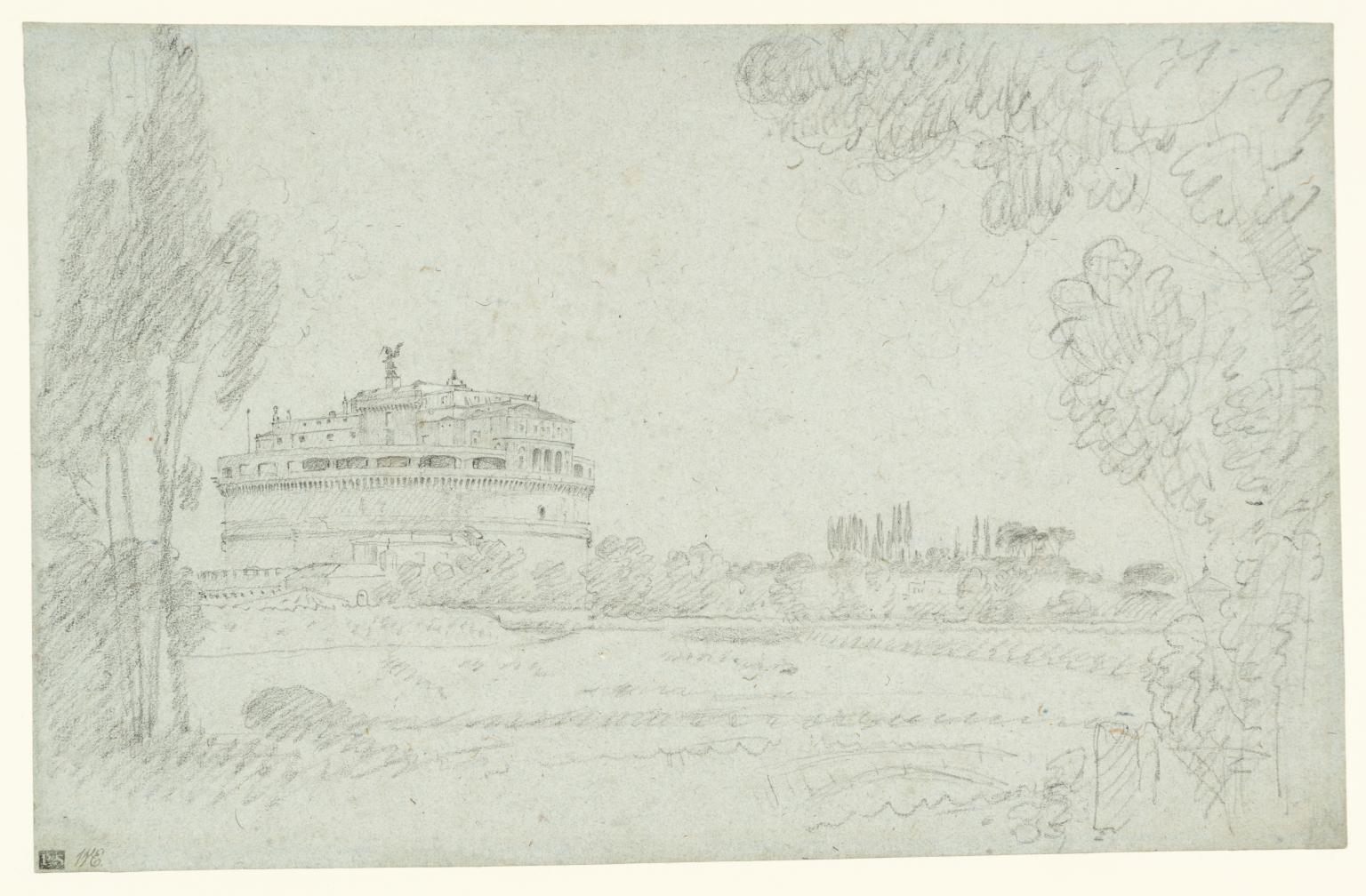 Richard Wilson
The Castle of St Angelo, Rome
1752–6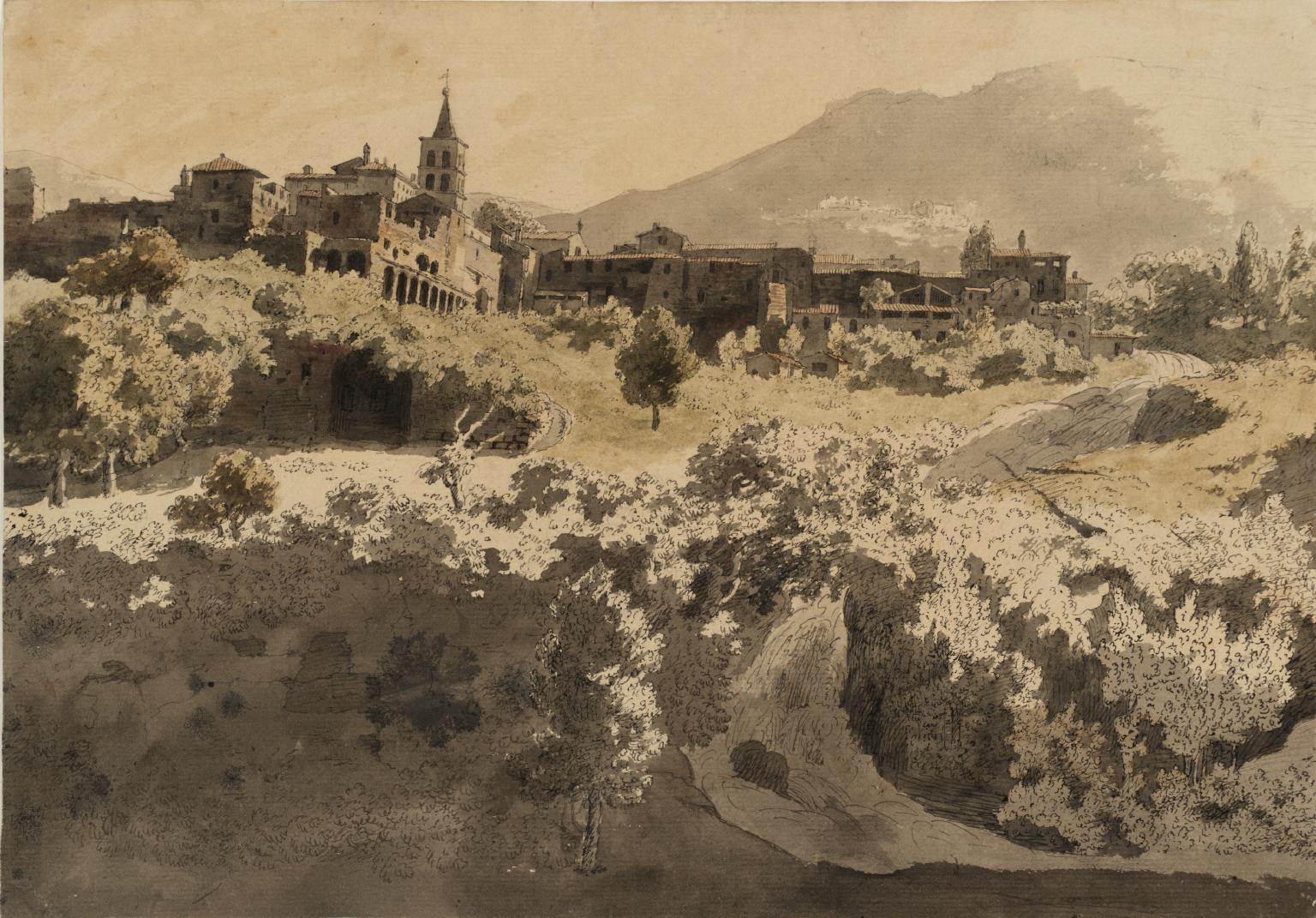 Jonathan Skelton
Tivoli
1758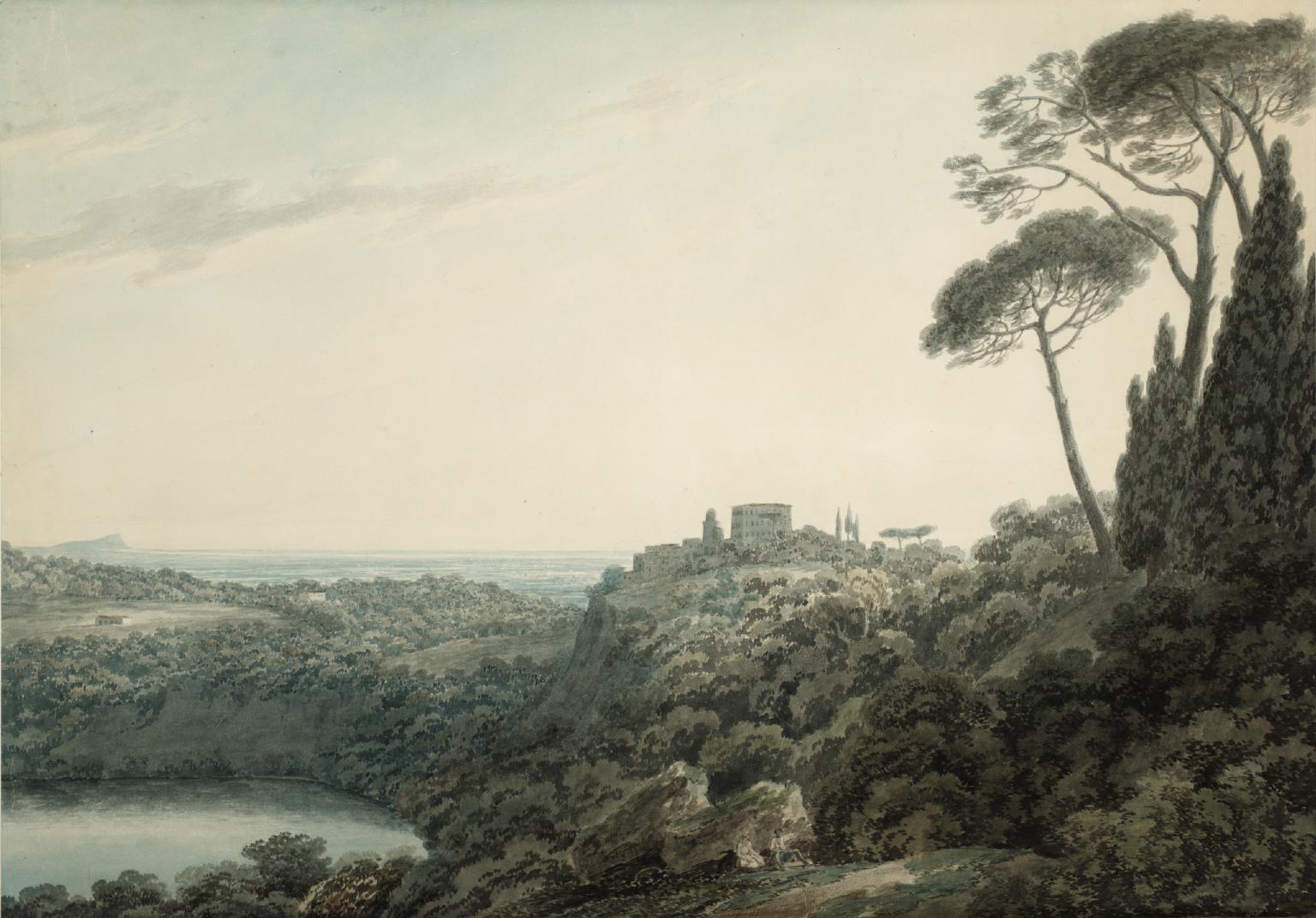 John Robert Cozens
Lake Nemi
c.1783–8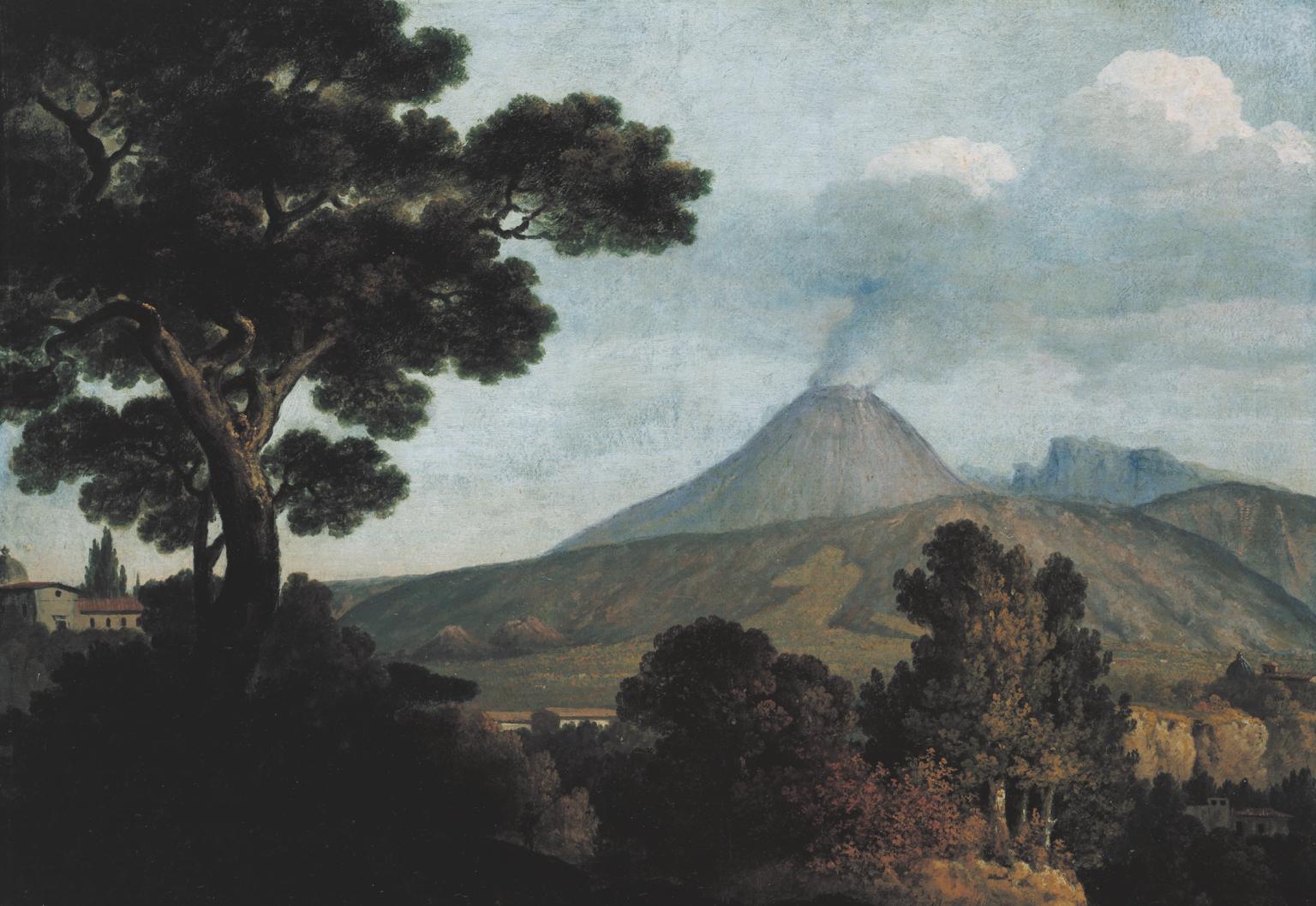 Thomas Jones
Mount Vesuvius from Torre dell'Annunziata near Naples
1783
You've viewed 6/30 artworks
You've viewed 30/30 artworks