9 rooms in Turner Collection
Explore Turner's lifelong interest in depicting scenes of British landscape and contemporary life
At the beginning of his career, Turner went on a tour of Britain every summer. He recorded landscapes, coasts, towns and everyday scenes in his sketchbooks. These sketches became material for pictures, watercolours and prints. His work ranged from highly finished scenes full of human activity to spontaneous impressions of nature.
The early 19th century saw a series of wars between Britain and France. Apart from work produced during a brief ceasefire in 1802 when he visited Paris and the Alps, Turner concentrated on British subjects. He often showed these in groups at his gallery, combining naturalism with patriotic sentiment. After the peace of 1815, Turner regularly travelled abroad, so toured less in Britain. He did, however, spend working holidays at the houses of his closest patrons, such as Lord Egremont at Petworth House.
Britain progressed from a state of constant war towards Victorian prosperity. Turner depicted the technological advances and social changes happening around him. His work reflected the lives of working people and his wealthy and aristocratic patrons.
Tate Britain
Main Floor Clore Gallery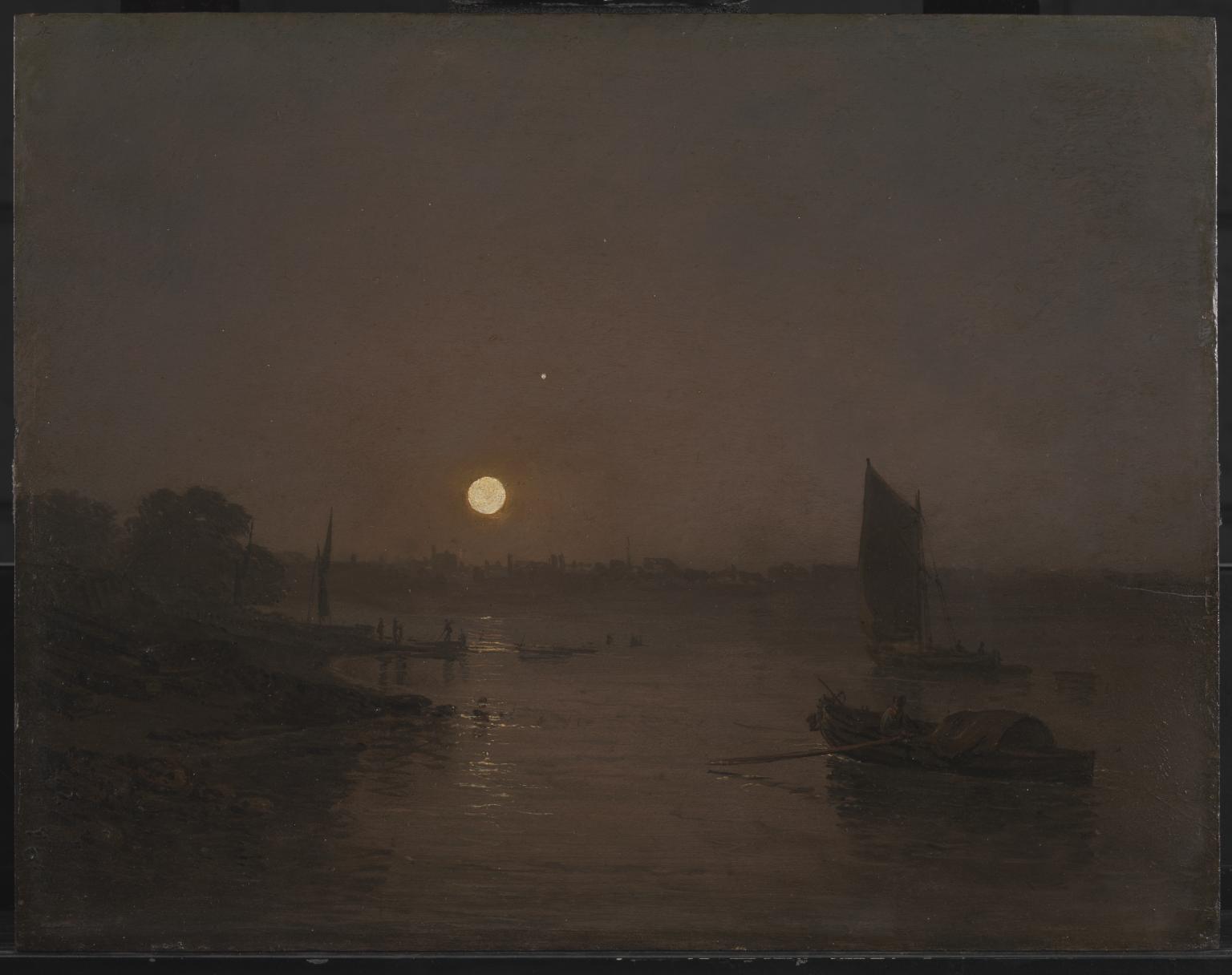 Joseph Mallord William Turner

,

Moonlight, a Study at Millbank

exhibited 1797

Turner painted this work of the Thames at night from a position near that of Tate Britain. It dates from the year after Turner showed his first oil painting at the Royal Academy, also a marine night painting (or nocturne). It was fashionable to show moonlight effects in pictures at this time. They were mostly based on Dutch 17th-century painters like Aert van der Neer, then popular with British collectors. Unlike those highly stylised paintings, here the impression is naturalistic.

Gallery label, July 2020
1/8
artworks in Turner's Britain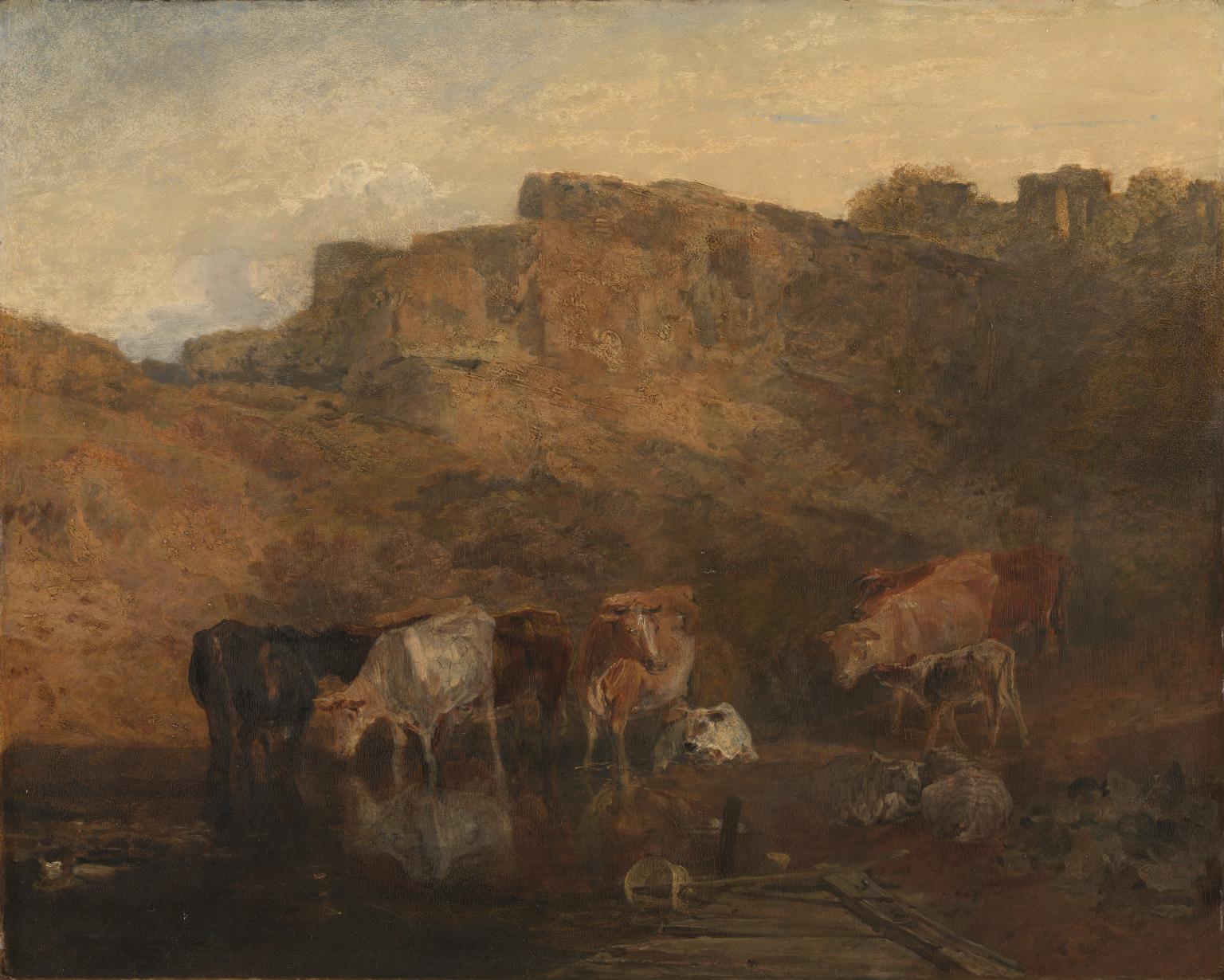 Joseph Mallord William Turner

,

The Quiet Ruin, Cattle in Water; A Sketch, Evening

?exhibited 1809

Turner's early career coincided with the long wars between Britain and France, particularly the Napoleonic Wars (1803–1815). Travel to the rest of Europe was almost impossible. Artists turned their attention to the British landscape and architectural heritage. Paintings such as this, of quiet rural British scenes, provided a focus for patriotic feeling. Like other artists, Turner drew on the newly developed idea of the 'picturesque'. This emphasised the pleasure of roughness and variety in nature or old buildings. Pictures of ruins were popular.

Gallery label, July 2020
2/8
artworks in Turner's Britain
Joseph Mallord William Turner

,

St Mawes at the Pilchard Season

exhibited 1812

This scene captures the unloading of the pilchard boats at St Mawes harbour in Cornwall. Pilchard fishing was an important industry for the town. Turner shows the impact of the Napoleonic War on the home front. Napoleon's Continental Blockade meant countries allied with France could not trade with the British. It prevented excess fish caught in British waters being exported to mainland Europe. Fish like these Cornish pilchards were sold on the beach, often as cheap manure.

Gallery label, July 2020
3/8
artworks in Turner's Britain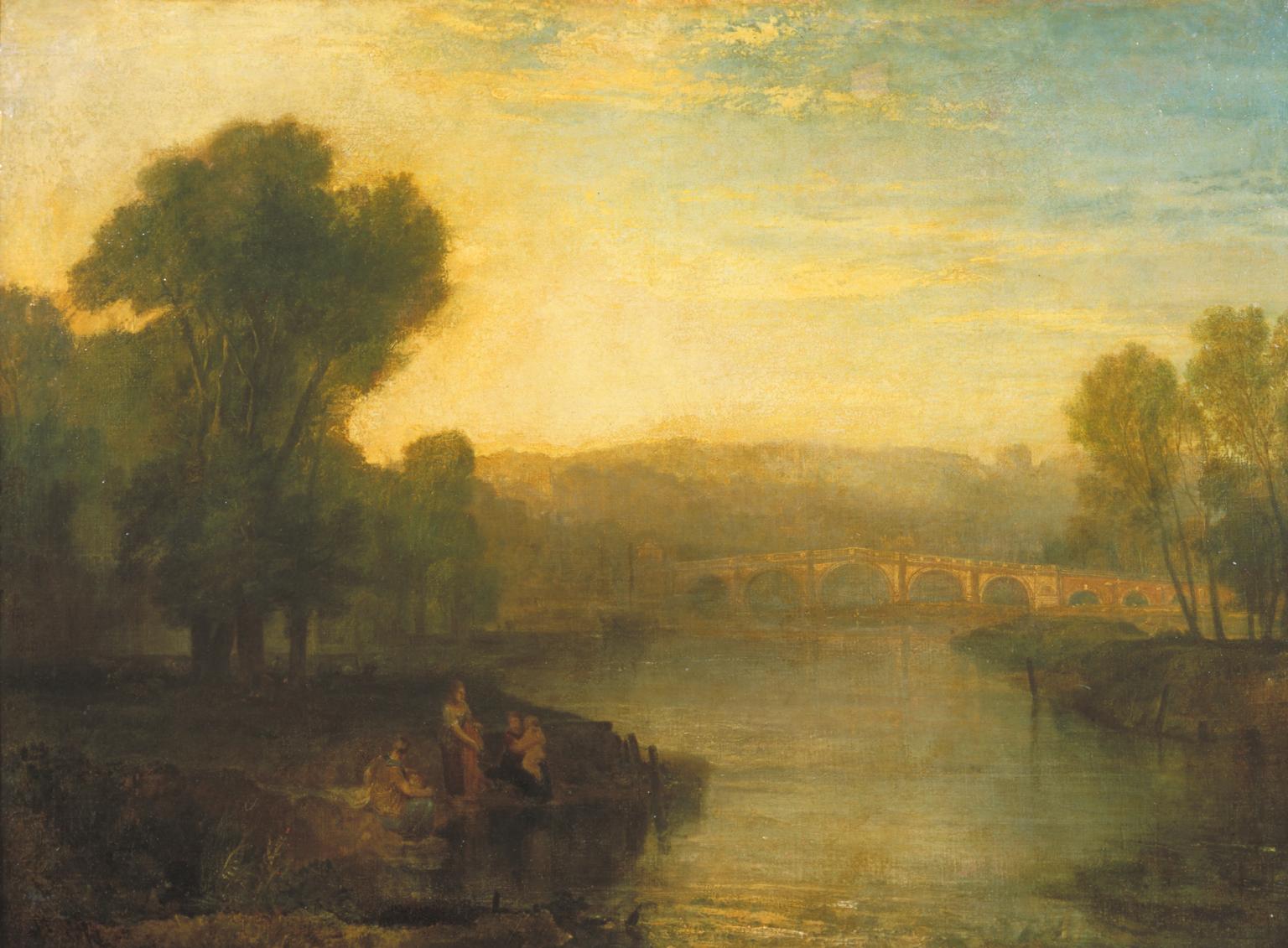 Joseph Mallord William Turner

,

View of Richmond Hill and Bridge

exhibited 1808

In this Thames landscape the sun lies low behind Richmond Hill, emanating a golden light. The foreground, by contrast, is in shade, and the view is shrouded in morning mist. A reviewer wrote that this indistinctness 'leaves the imagination to wander over Richmond, and finish the picture from the suggestions of the painter'. They argued that less skilled artists would have erred by focusing on intricate details.Due to the women bathing a child and the sheep nearby, the work has been viewed in the tradition of 'pastoral'. This was a type of literature portraying an idealised rural life.

Gallery label, November 2021
4/8
artworks in Turner's Britain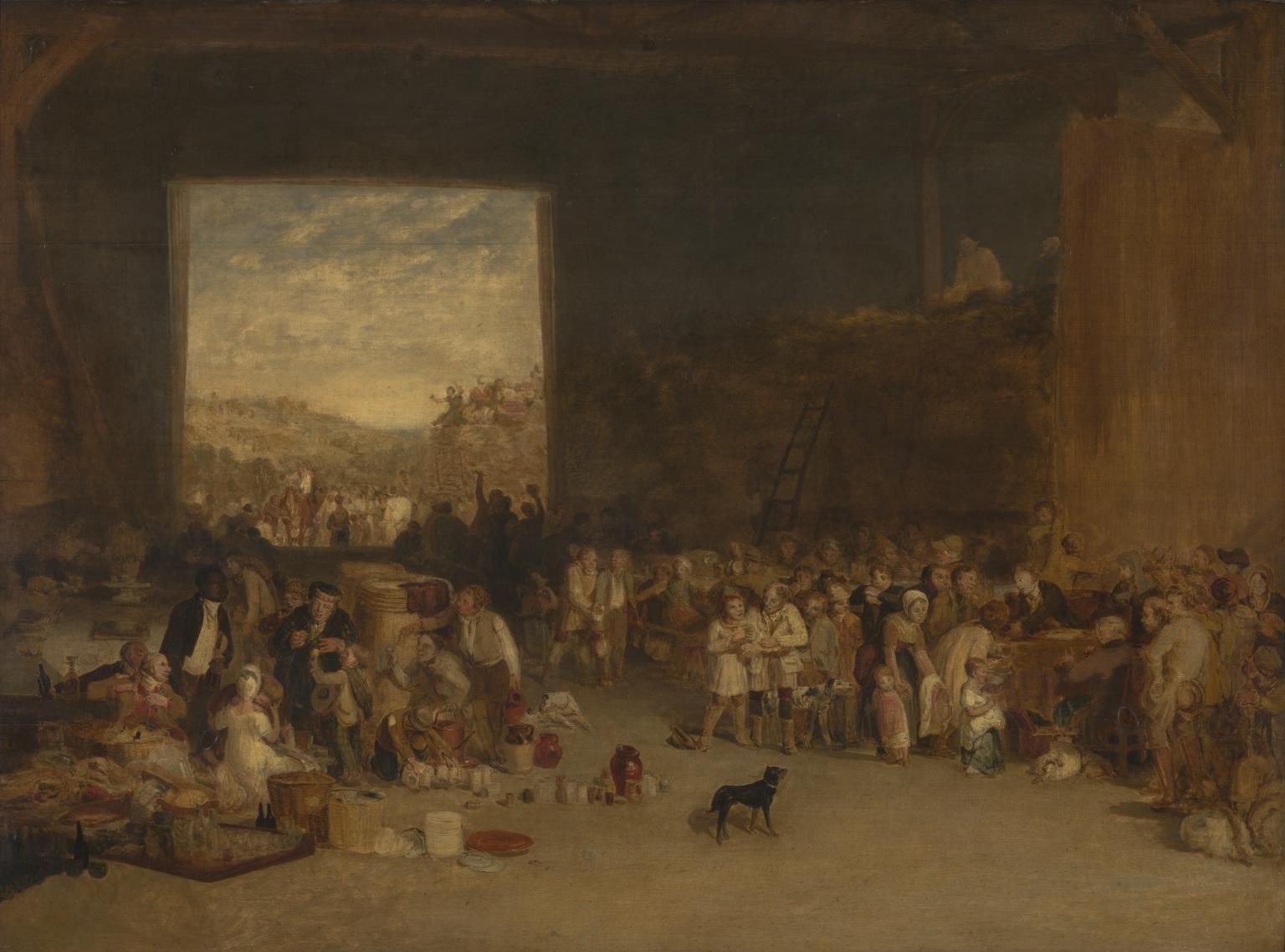 Joseph Mallord William Turner

,

Harvest Home

c.1809

This unfinished painting probably depicts a harvest meal on the Earl of Essex's Hertfordshire estate, Cassiobury Park. The smartly dressed black man standing on the left of the composition is George Edward Doney, the Earl's butler. The picture may have been commissioned by the Earl as a memorial to his much-loved servant, who had recently died. Turner's drawing for the painting shows he originally planned an outdoor setting. He made notes about depicting 'men half drunk' and those waiting to be served looking 'eager and cunning'.

Gallery label, July 2020
5/8
artworks in Turner's Britain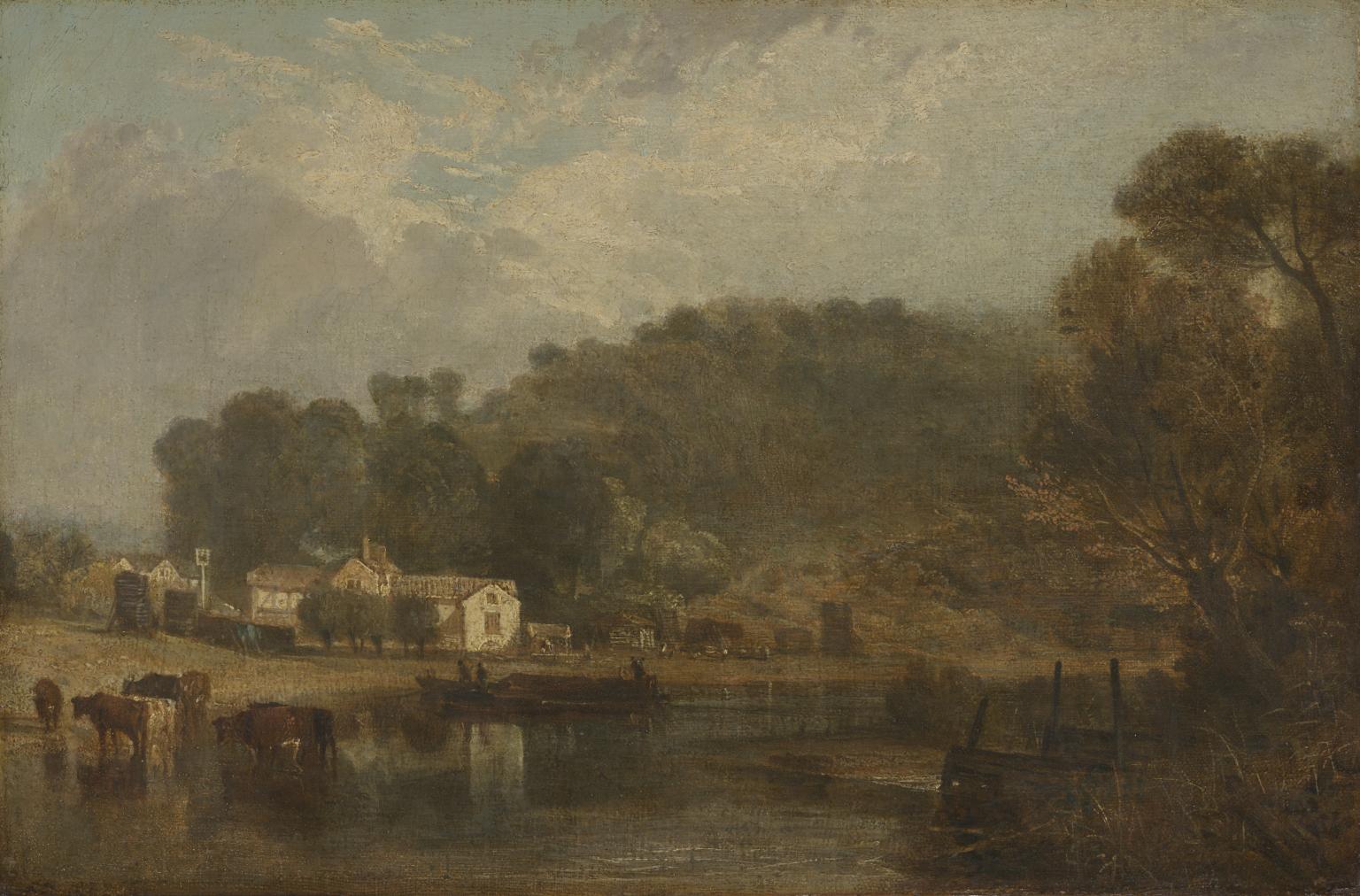 Joseph Mallord William Turner

,

Cliveden on Thames

?exhibited 1807

Turner's deliberately imprecise, atmospheric style was not universally admired. When fellow artist Benjamin West visited his studio in 1807, it is possible he saw this picture. The older artist reported being 'disgusted with what he found there; views on the Thames, crude blotches, nothing could be more vicious'.

Gallery label, July 2020
6/8
artworks in Turner's Britain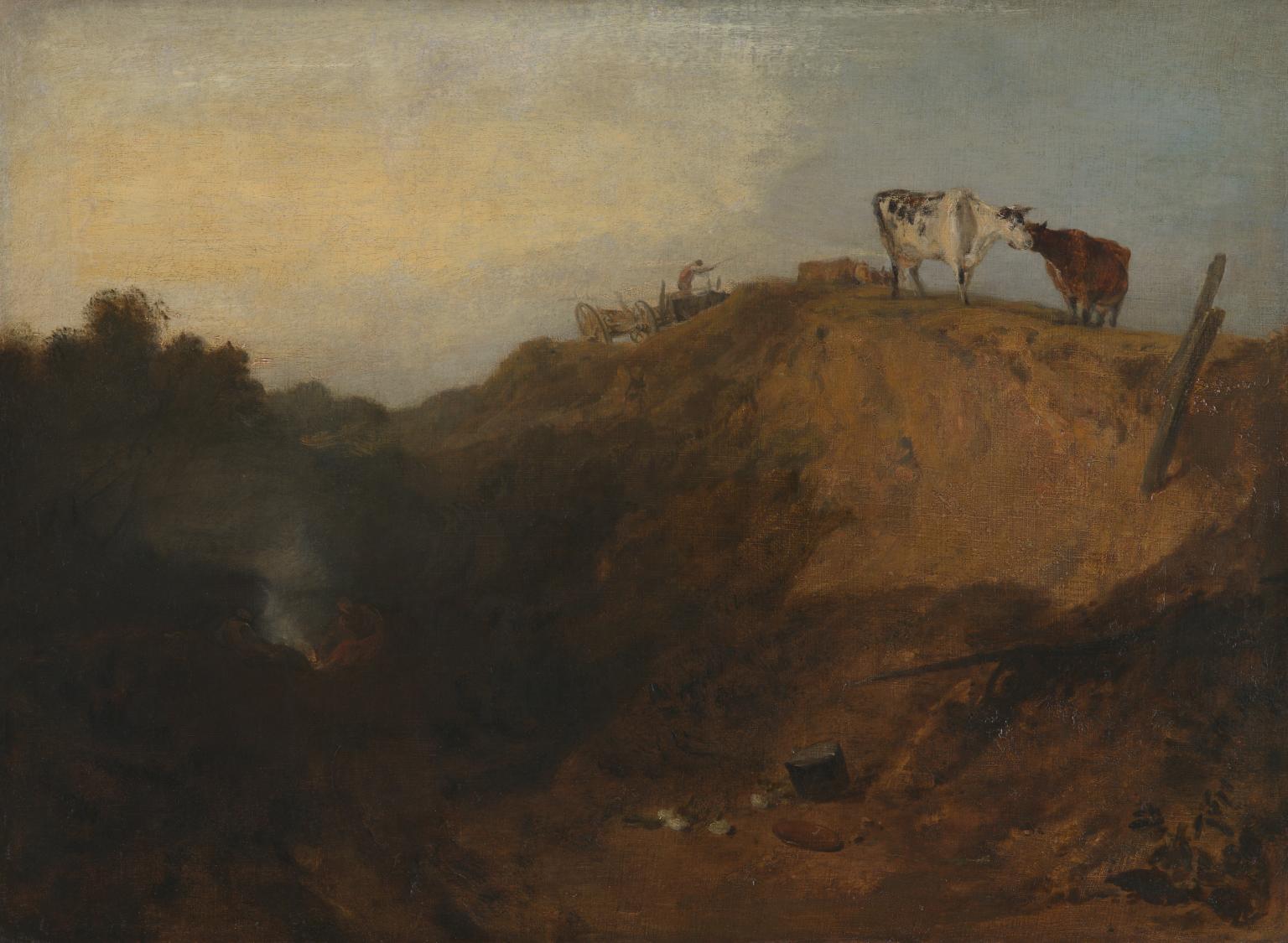 Joseph Mallord William Turner

,

Sketch of a Bank, with Gipsies

? exhibited 1809

Turner depicts a rough and untidy landscape in this small and sketchy painting. Turner was interested in the 'picturesque'. This was an artistic idea that was fashionable at the time. Picturesque paintings showed landscapes that were beautiful but with some elements of wildness. This picture was probably first shown in Turner's Gallery in 1809. Turner's focus is on light and contrast. The figures of the people are barely visible in the black shadows. The smoke from their fire can just be made out. The word 'Gipsies' used in the title is now widely acknowledged as an offensive term for Roma people. Turner probably included them to enhance the picturesque atmosphere, drawing on stereotypes of this community as wild and mysterious.

Gallery label, July 2020
7/8
artworks in Turner's Britain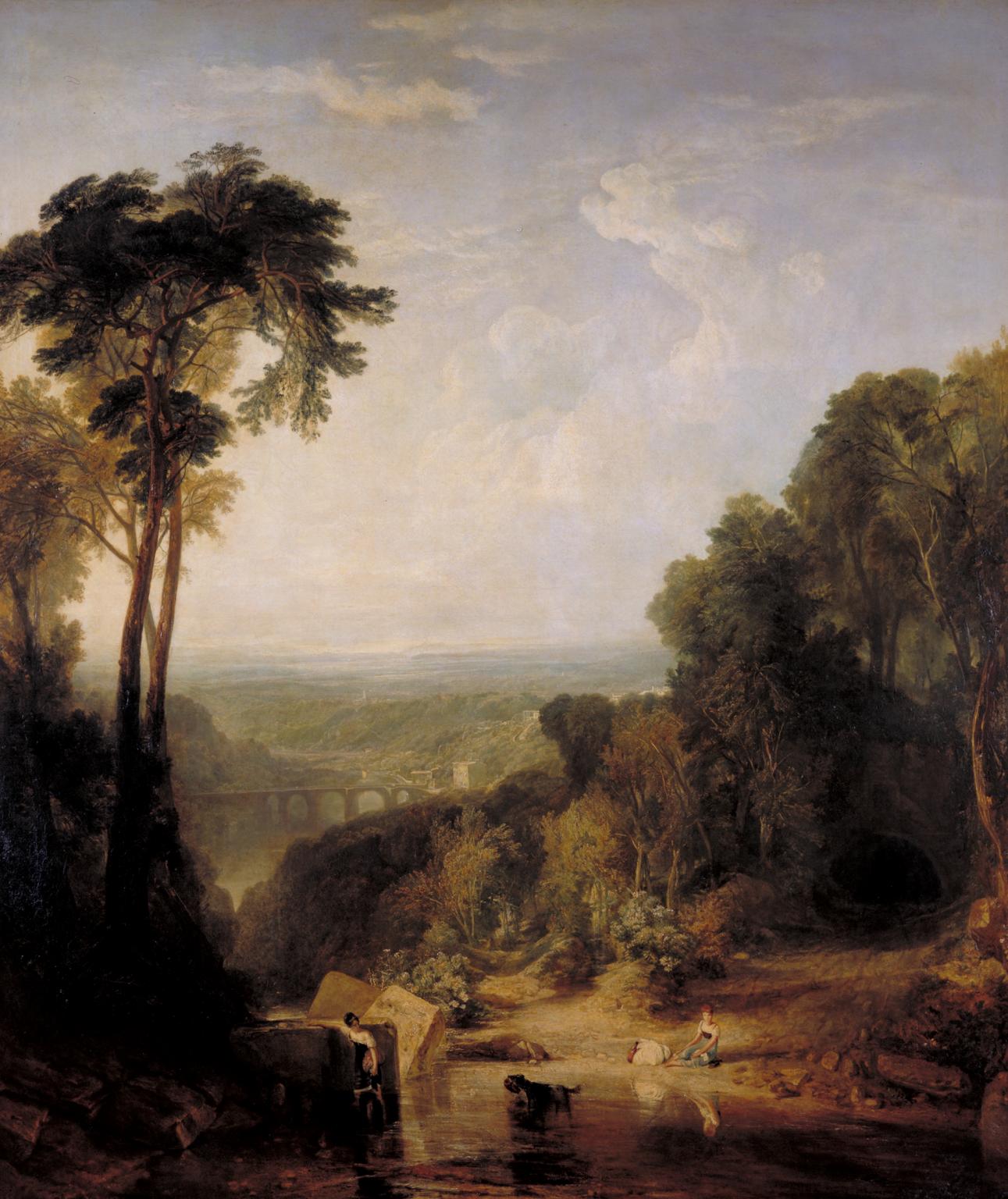 Joseph Mallord William Turner

,

Crossing the Brook

exhibited 1815

Turner developed this painting of the Tamar valley from sketches he made in Devon in 1811 and 1813. His watercolours and drawings of the area were fresh and informal. Here he creates a more self-consciously artful image. This was meant to evoke the 17th-century classical landscapes of French painter Claude Lorrain. The painting was exhibited in the year of the battle of Waterloo. Viewers at the time would have been alert to the patriotic subtext of such an imposing depiction of the British landscape.

Gallery label, July 2020
8/8
artworks in Turner's Britain
Art in this room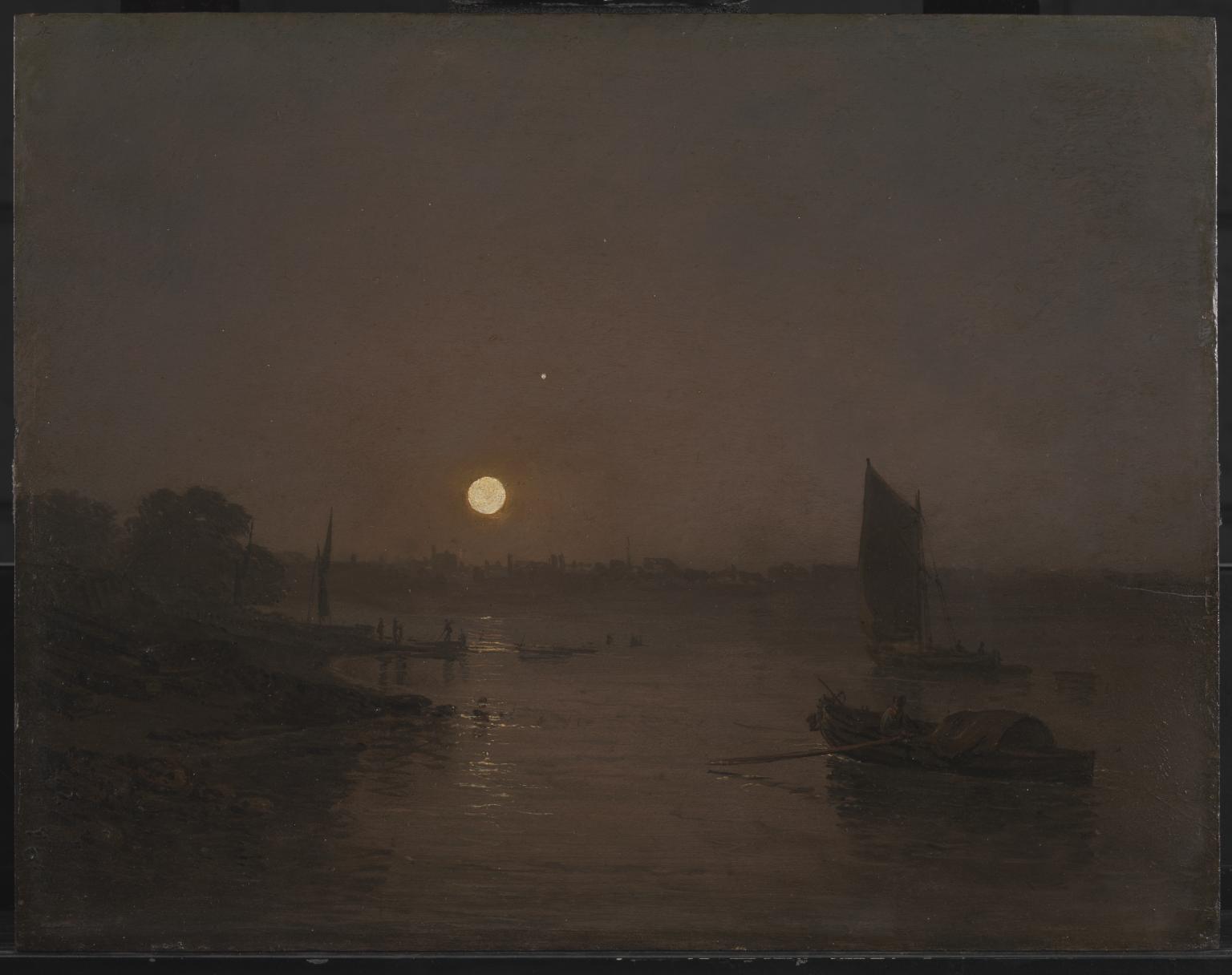 Joseph Mallord William Turner
Moonlight, a Study at Millbank
exhibited 1797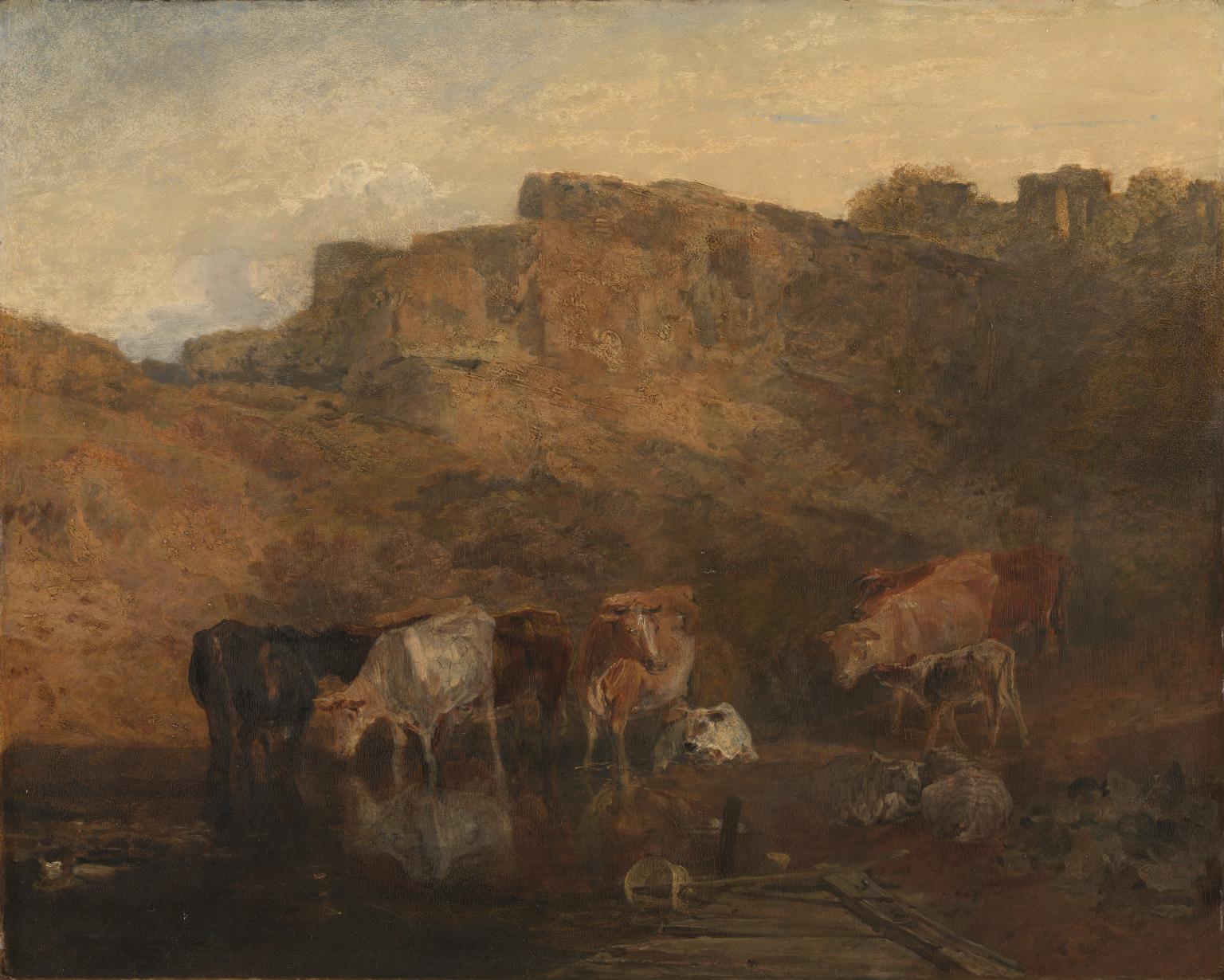 Joseph Mallord William Turner
The Quiet Ruin, Cattle in Water; A Sketch, Evening
?exhibited 1809
Joseph Mallord William Turner
St Mawes at the Pilchard Season
exhibited 1812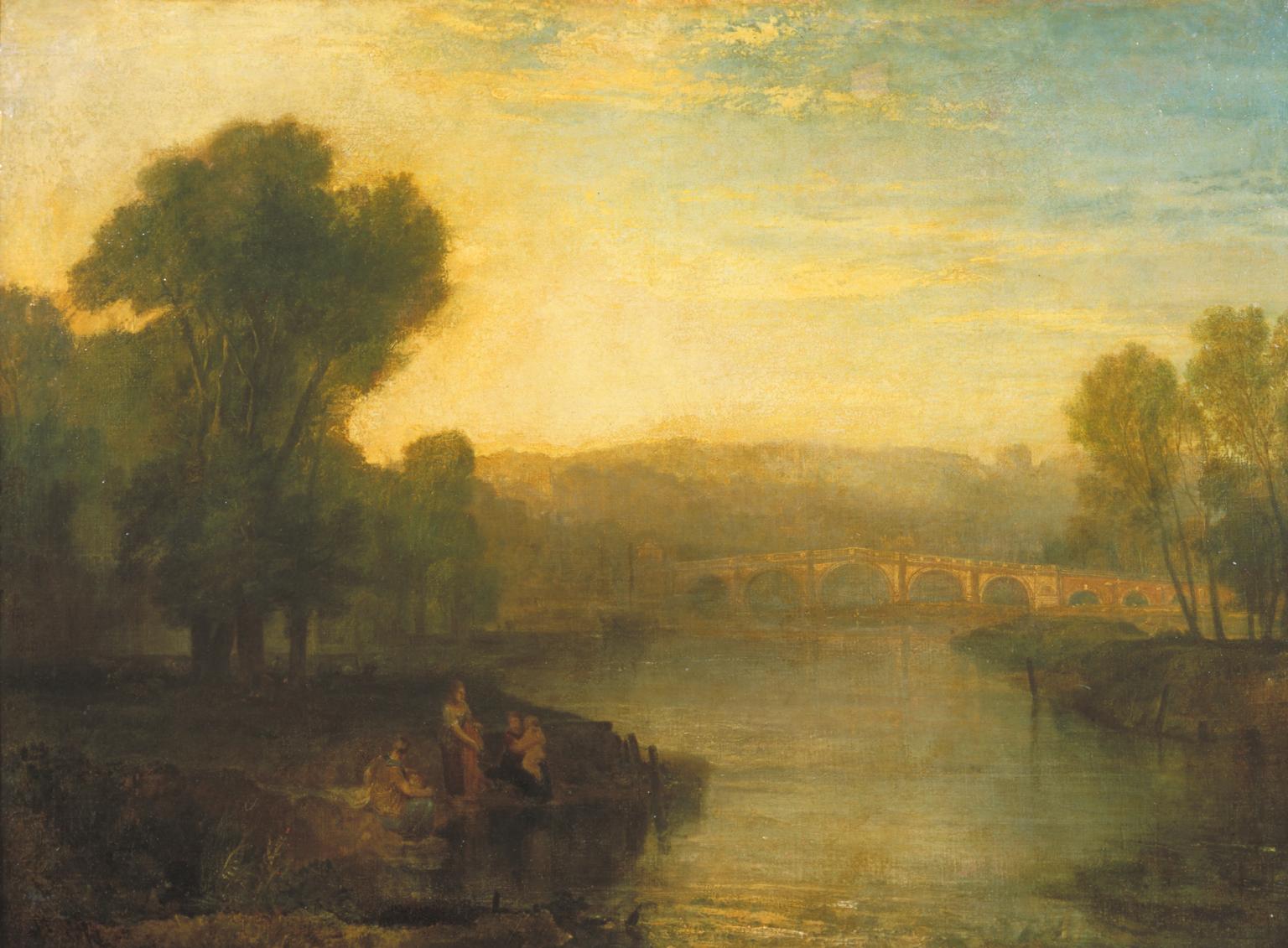 Joseph Mallord William Turner
View of Richmond Hill and Bridge
exhibited 1808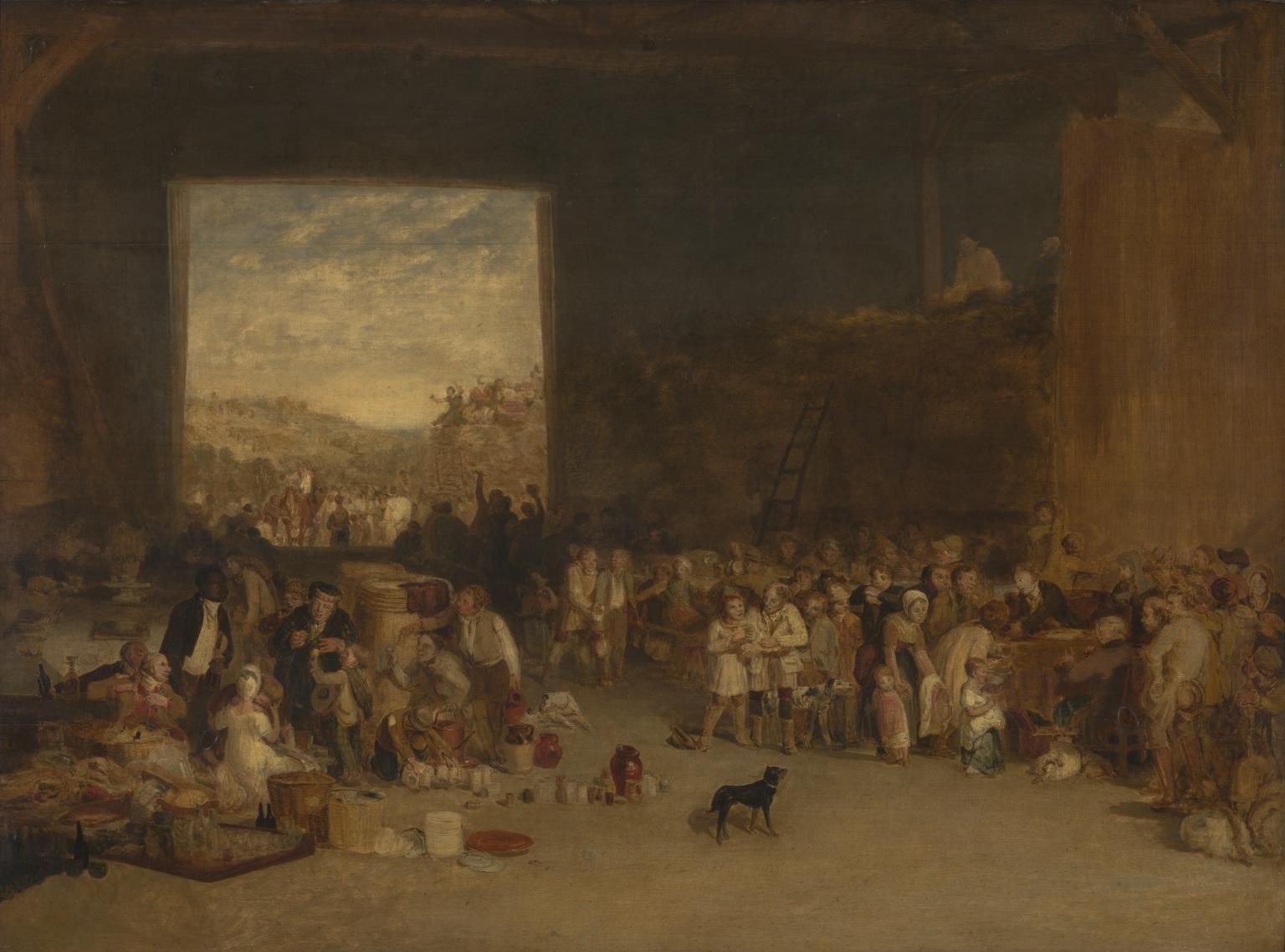 Joseph Mallord William Turner
Harvest Home
c.1809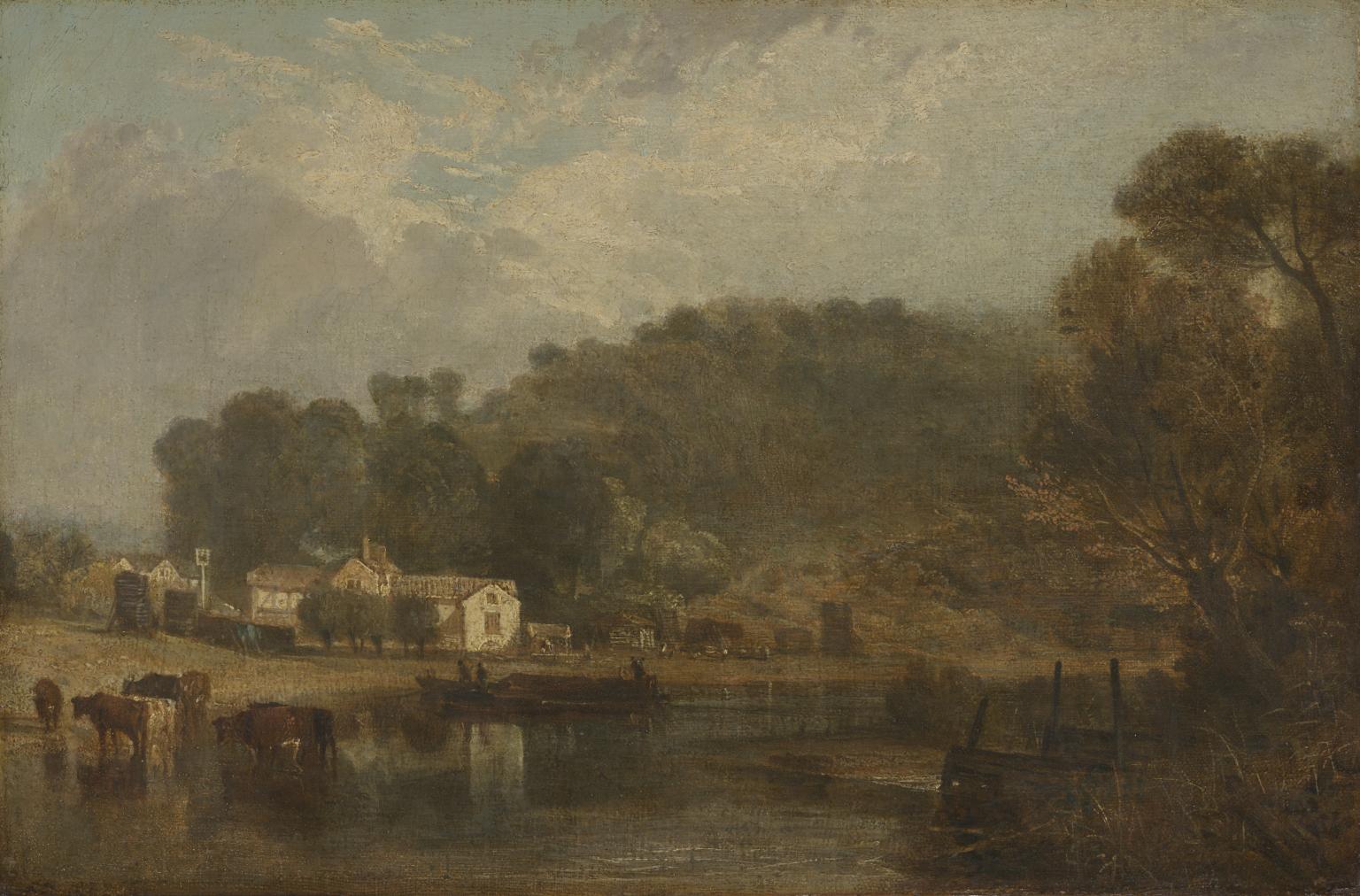 Joseph Mallord William Turner
Cliveden on Thames
?exhibited 1807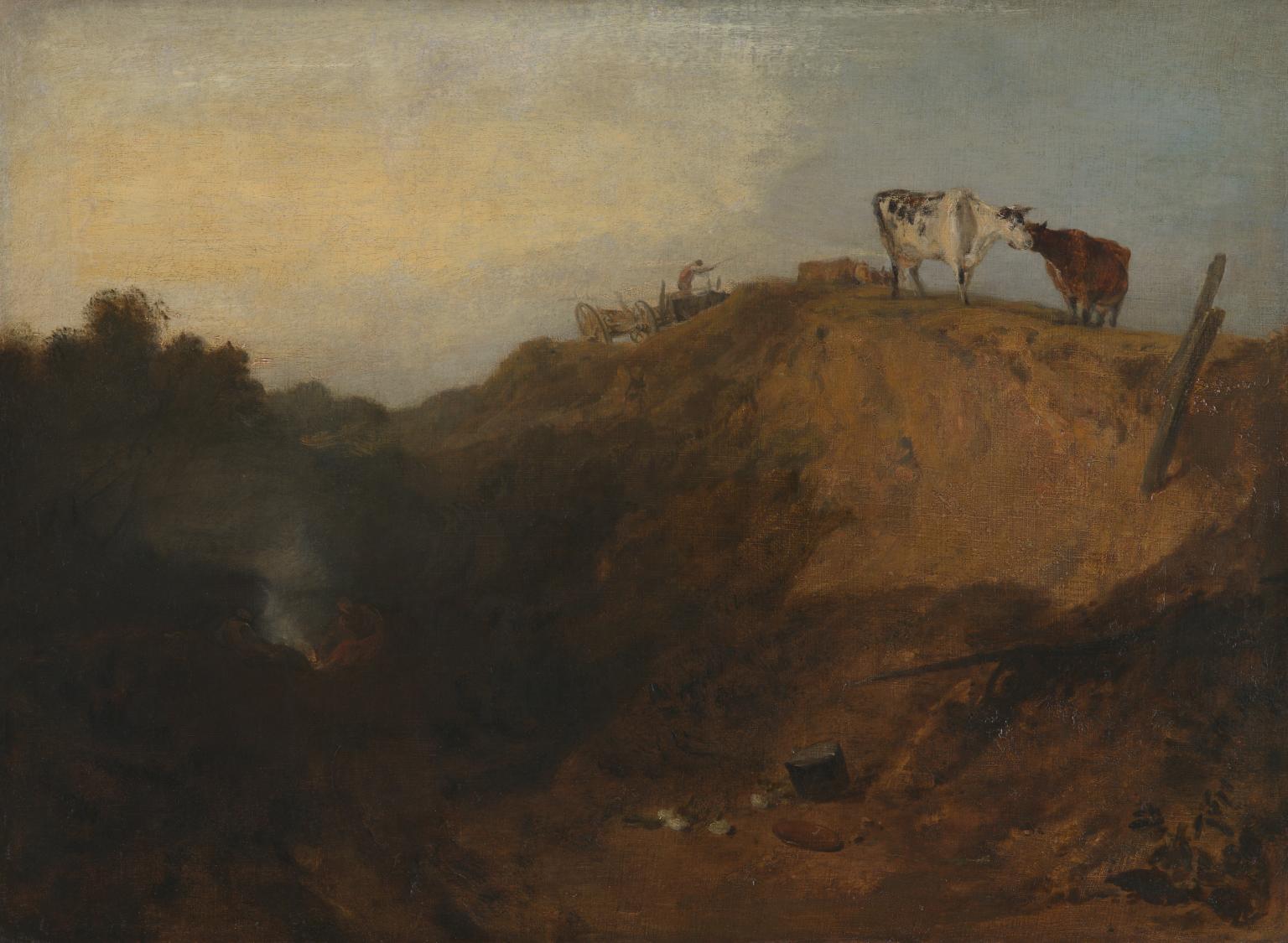 Joseph Mallord William Turner
Sketch of a Bank, with Gipsies
? exhibited 1809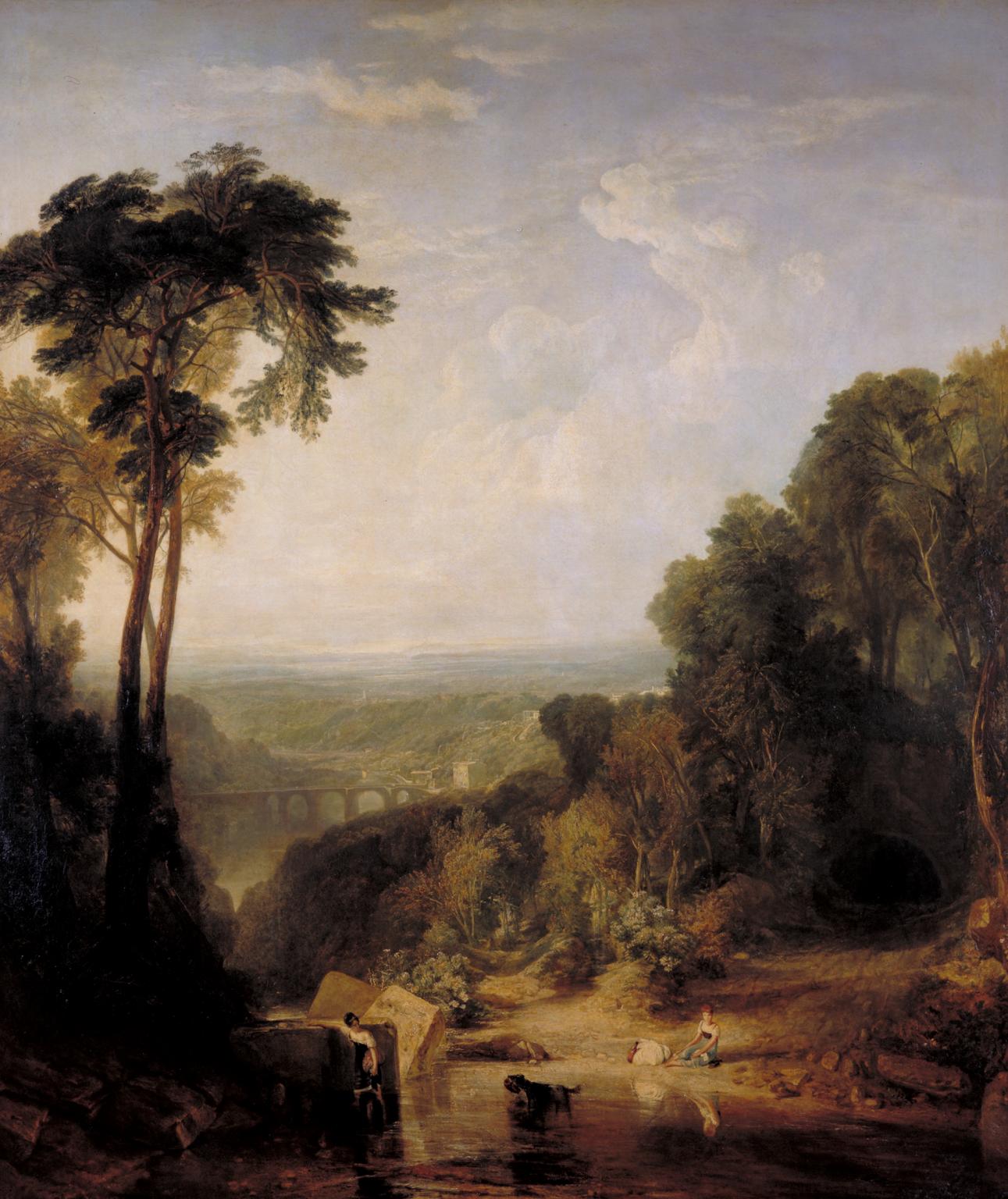 Joseph Mallord William Turner
Crossing the Brook
exhibited 1815