15 rooms in Walk Through British Art
See landscape painting and great neoclassical works from 1810–1840
This room includes two areas of art which developed in Britain during this period. Landscape painting by artists including John Constable depict the British countryside.
Artists were making work inspired by the ancient Greek and Roman art. Pompeii, the ancient Roman city, was uncovered. The art and architecture found there gave artists new ideas. This style of art is called neoclassicism. Examples in this room include sculptures by John Gibson.
Britain defeated France in the Battle of Waterloo in 1815, giving the Royal Navy control of the seas. However, domestically it was a period of economic struggle and social unrest.
If you thought you knew British art, visit and think again … there is no better place to go
Samuel Palmer

,

Coming from Evening Church

1830

Palmer painted this while living in Shoreham in Kent (1826–33). He regarded Shoreham as an ideal landscape, a rural paradise touched by a divine presence. Palmer was inspired by William Blake's illustrations (1821) to Ambrose Philips's imitation of Virgil's First Eclogue and could have been describing his own work when he wrote of the Blake engravings: 'They are visions of little dells, and nooks, and corners of Paradise; models of the exquisitist pitch of intense poetry . . . There is in all such a mystic and dreamy glimmer as penetrates and kindles the inmost soul'.

Gallery label, February 2016
Sir David Wilkie

,

The Peep-o'-Day Boys' Cabin, in the West of Ireland

1835–6, exhibited 1836

Some of Wilkie's most popular pictures showed life and folk traditions in rural Scotland, familiar from his boyhood. Later, in 1835, he visited Ireland, which he compared to Spain for its picturesque potential. He exhibited this picture the following year. It evokes the 'state of primeval simplicity' he found in Galway and Connemara, while underplaying the political and religious unrest implied by the title.Peep-o'Day Boys were Protestant guerrillas. They raided Catholic rebels at dawn, during uprisings in the 1780s and 90s. Wilkie had first planned a more contentious subject: a Whiteboy, from another group who championed oppressed tenants.

Gallery label, May 2007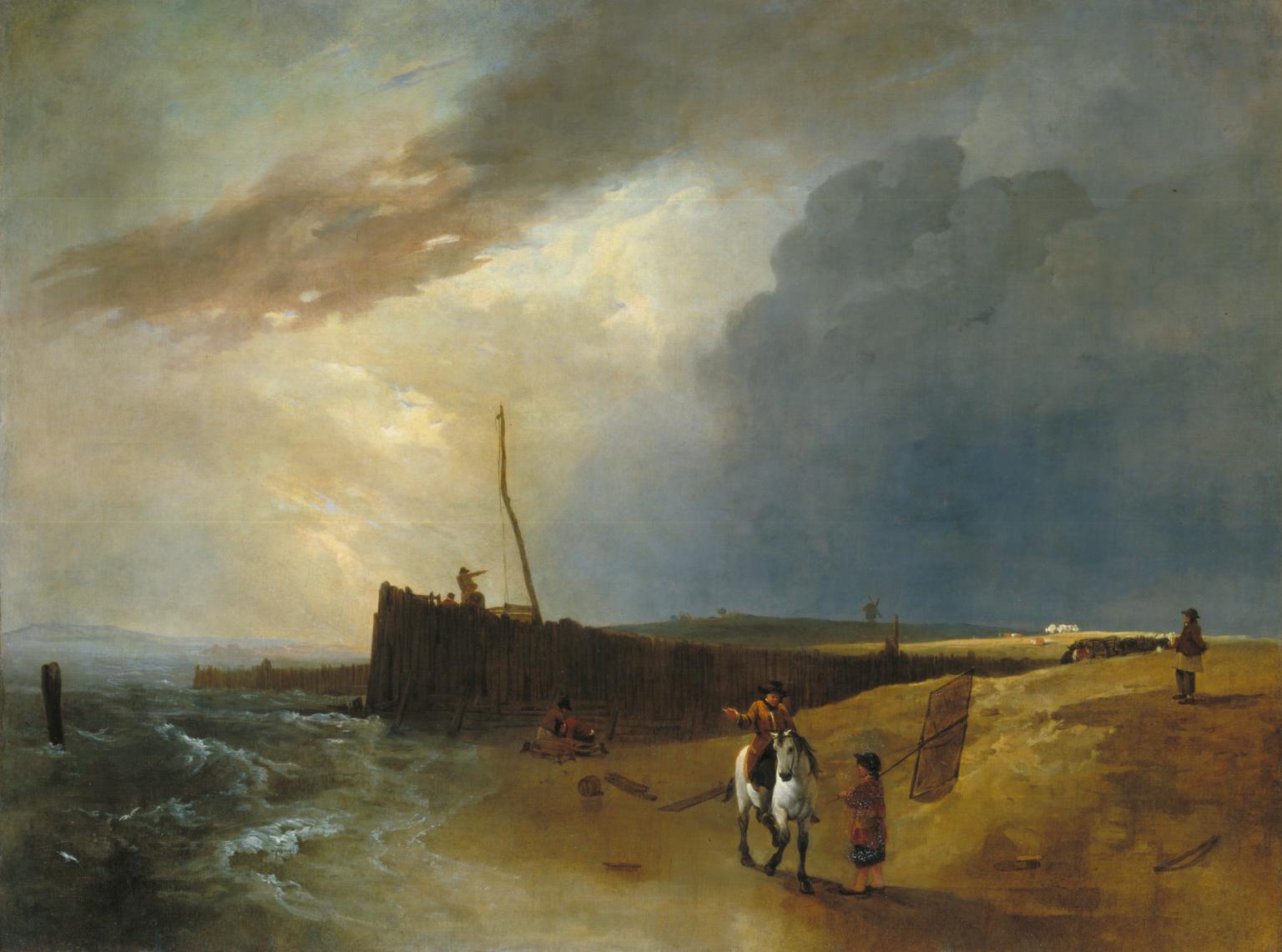 Sir Augustus Wall Callcott

,

Littlehampton Pier

1811–2

Callcott was a close friend and admirer of Turner. The two artists were often influenced by each other. Like Turner, Callcott was fascinated by atmospheric effects. His landscapes and marines tended to be simple and almost abstract in composition, to provide a clear stage for mists or shifting lights.This picture of the Sussex coast was praised for its 'aerial tints' which gave 'unity of character... the interesting impression of this otherwise desolate and uninviting prospect'. It was bought by the collector, Sir John Leicester, who formed an important collection of modern British art.

Gallery label, May 2007
John Simpson

,

Head of a Man (?Ira Frederick Aldridge)

exhibited 1827

This painting depicts the actor Ira Aldridge (1807-1867). Aldridge was born in New York, USA. He joined an African American theatre troupe in the early 1820s. In 1824 he travelled to Britain in the hope his talents would be better appreciated. Aldridge enjoyed huge success in Europe. He was the first African American actor to play the title role in William Shakespeare's Othello. He was painted several times in the early stages of his career. It is unclear whether he was working as a model or sitting for artists to promote his own public image.

Gallery label, July 2019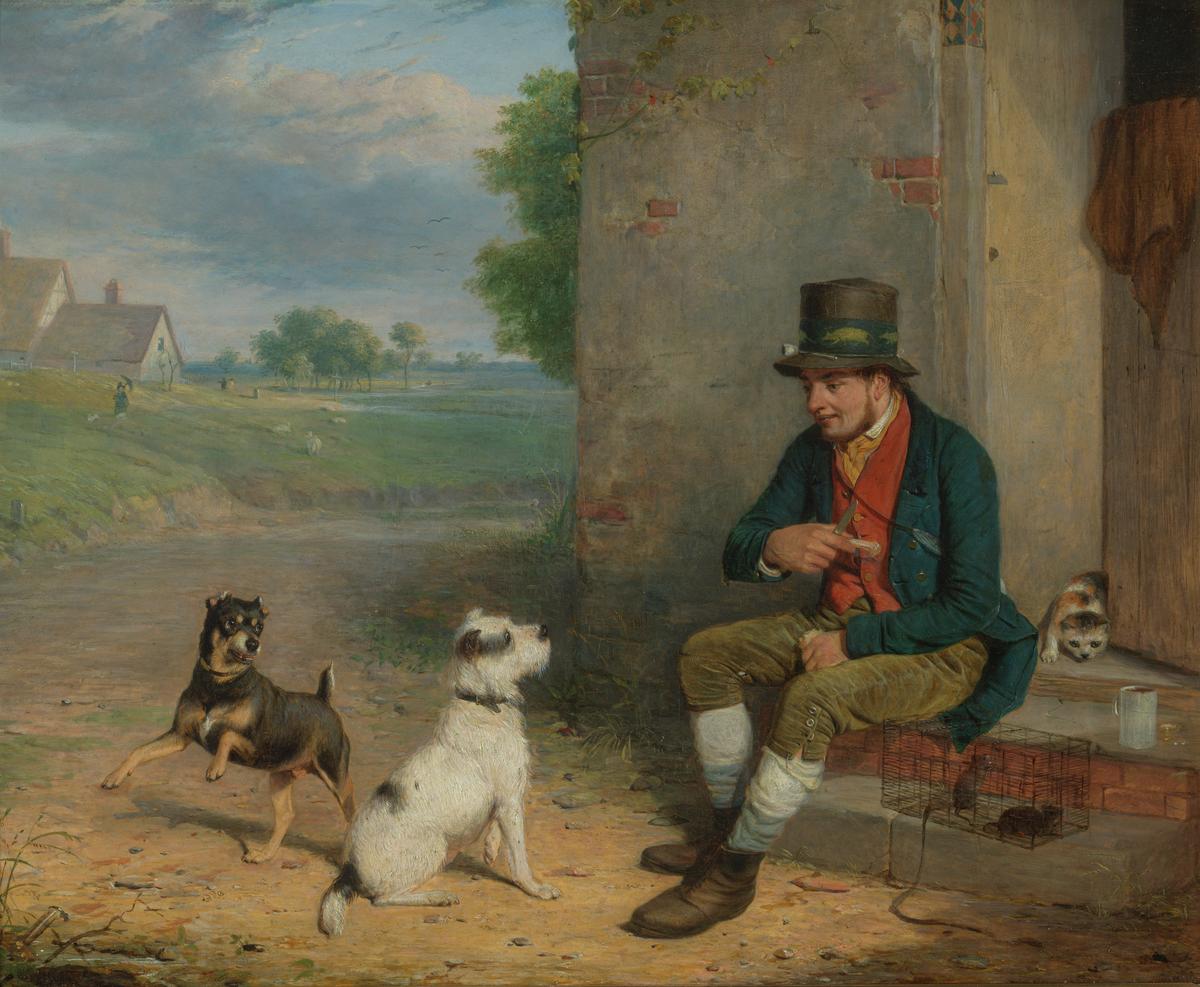 Thomas Woodward

,

The Rat-Catcher and his Dogs

exhibited 1824

The village rat-catcher, resting on the steps, is identified not only by the cage containing live vermin at his side, but by his unusual hat-band, portraying his prey. A cat stalking the caged rats, ignored by the man absorbed in playing with his terriers, introduces a note of humour to the scene. The purpose of the rat-catcher's occupation was probably straightforward pest control, although 'ratting' – when dogs competed to kill live rats in a pit – was a popular blood sport. Woodward was employed as an animal painter by Queen Victoria but he also produced landscapes and historical subjects.

Gallery label, February 2016
Sir Edwin Henry Landseer

,

A Scene at Abbotsford

exhibited 1827

Landseer began exhibiting animal and historical pictures in the 1820s. He painted a number of Scottish highland subjects and, like Turner, illustrated the works of the novelist, Sir Walter Scott. From 1824 Landseer was a visitor to Abbotsford, Scott's house in the Scottish Borders. This picture conveys its Romantic atmosphere. Scott's great deerhound, Maida, which was then dying, lies with his younger companion, among antiquarian relics and sporting trophies. This painting was shown at the British Institution in 1827, when it was bought by the Duke of Bedford.

Gallery label, February 2016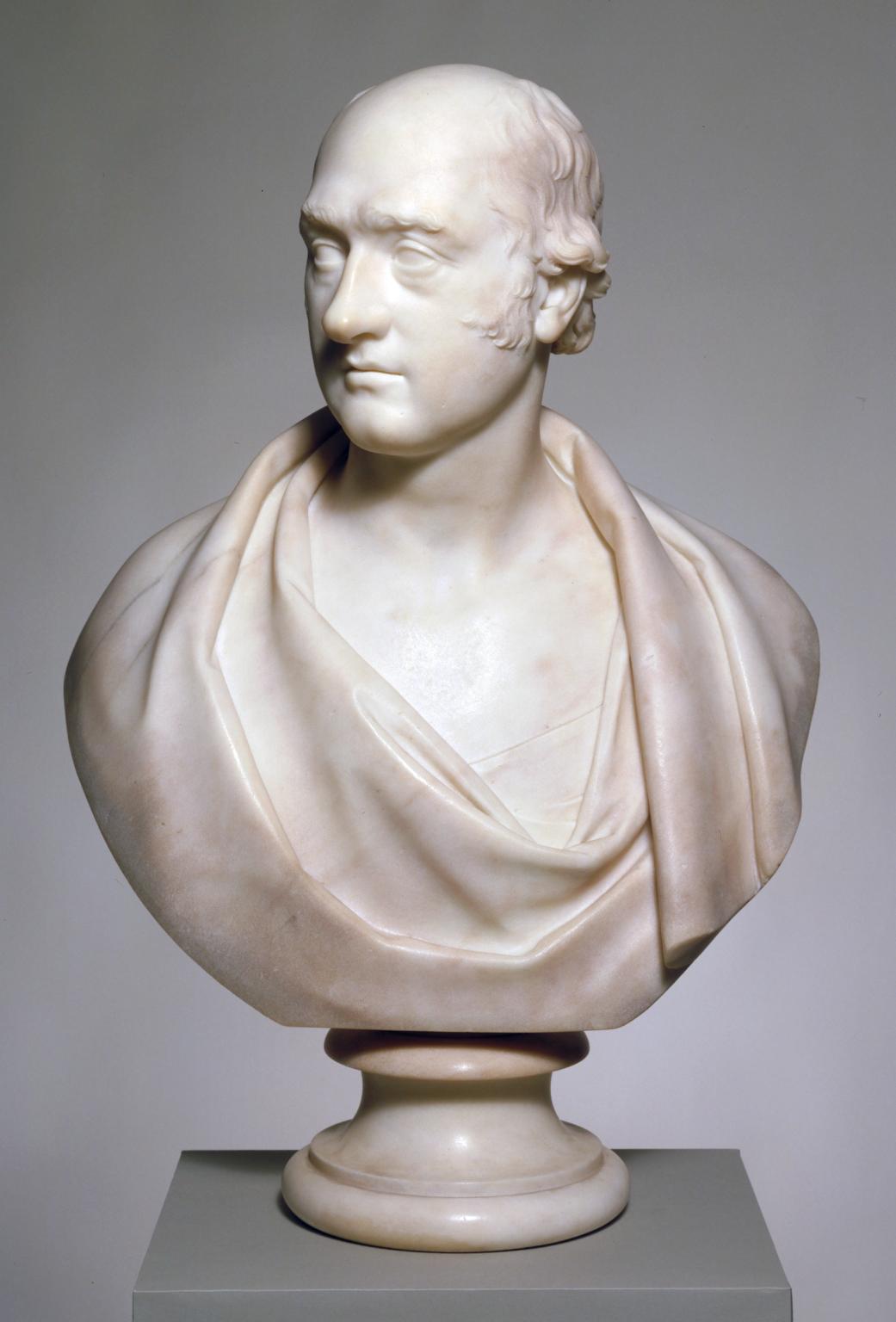 Edward Hodges Baily

,

George Canning (after Joseph Nollekens)

1829

This bust of the statesman and orator George Canning (1770–1827) was one of a group of national heroes commissioned by Robert Vernon. Baily copied the bust of Canning (who died two years before this commission) from an 1810 bust by Joseph Nollekens. Canning was Foreign Secretary from 1807 to 1809, and 1822 to 1827, and Prime Minister shortly before his death in 1827. Busts such as this were intended to record the likeness of a subject, while the classical reference and durable material indicated the timeless nature of their achievements.

Gallery label, February 2016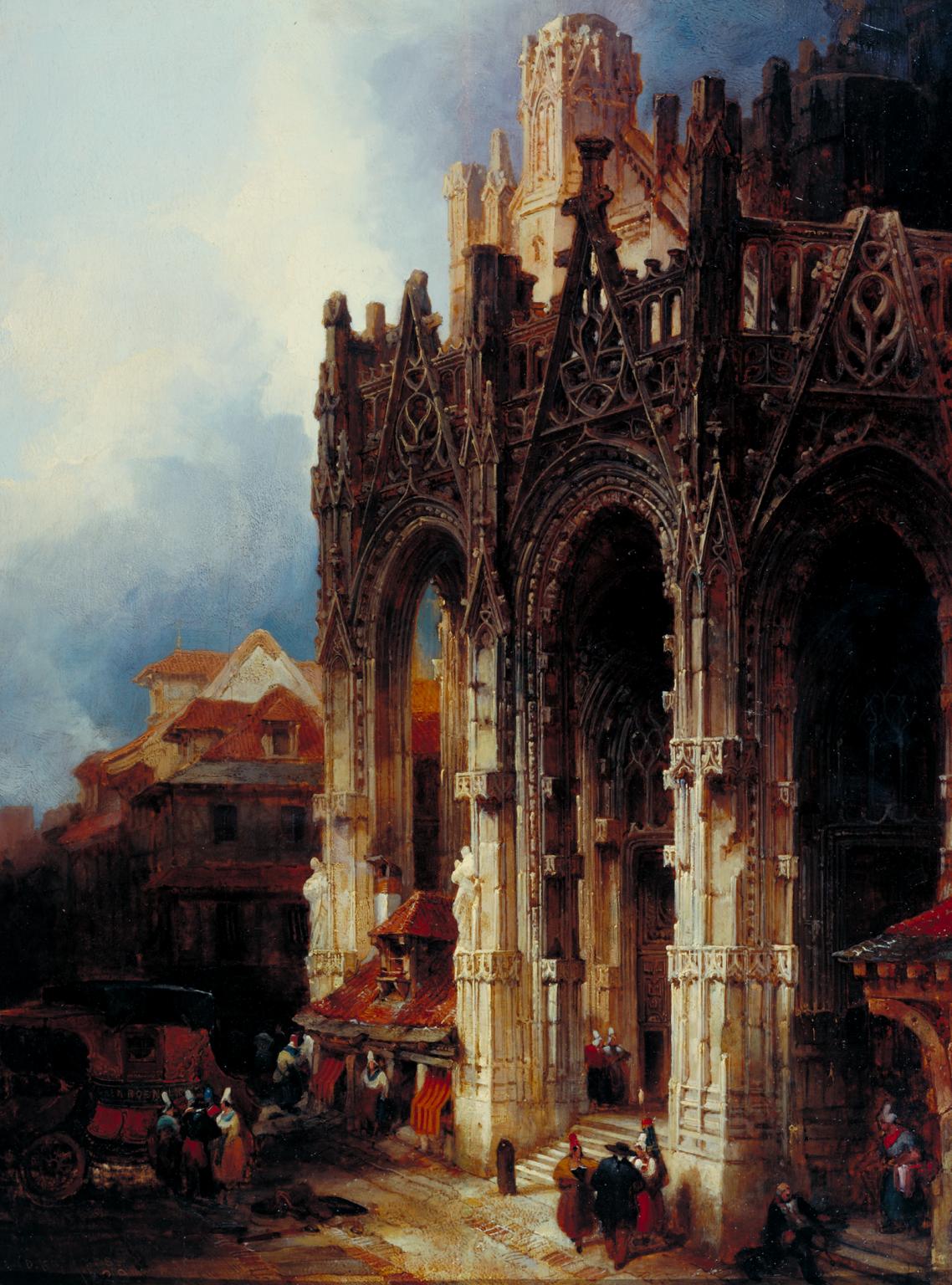 David Roberts

,

The Porch of St Maclou, Rouen

1829

The medieval architecture of France and the fine examples of Gothic to be seen in cities like Rouen became popular themes for artists during the 1820s. British artists responded enthusiastically, extending their tradition of the picturesque tour to continental scenery and antiquities, while French artists and writers directed attention to monuments and religious relics recently neglected or defaced as a result of the Revolution. For Charles Nodier, Rouen was the 'Herculaneum of the Middle Ages'. More than a detailed study of architecture, Roberts's picture of St Maclou is intended as a moody evocation of a lost age of faith.

Gallery label, February 2016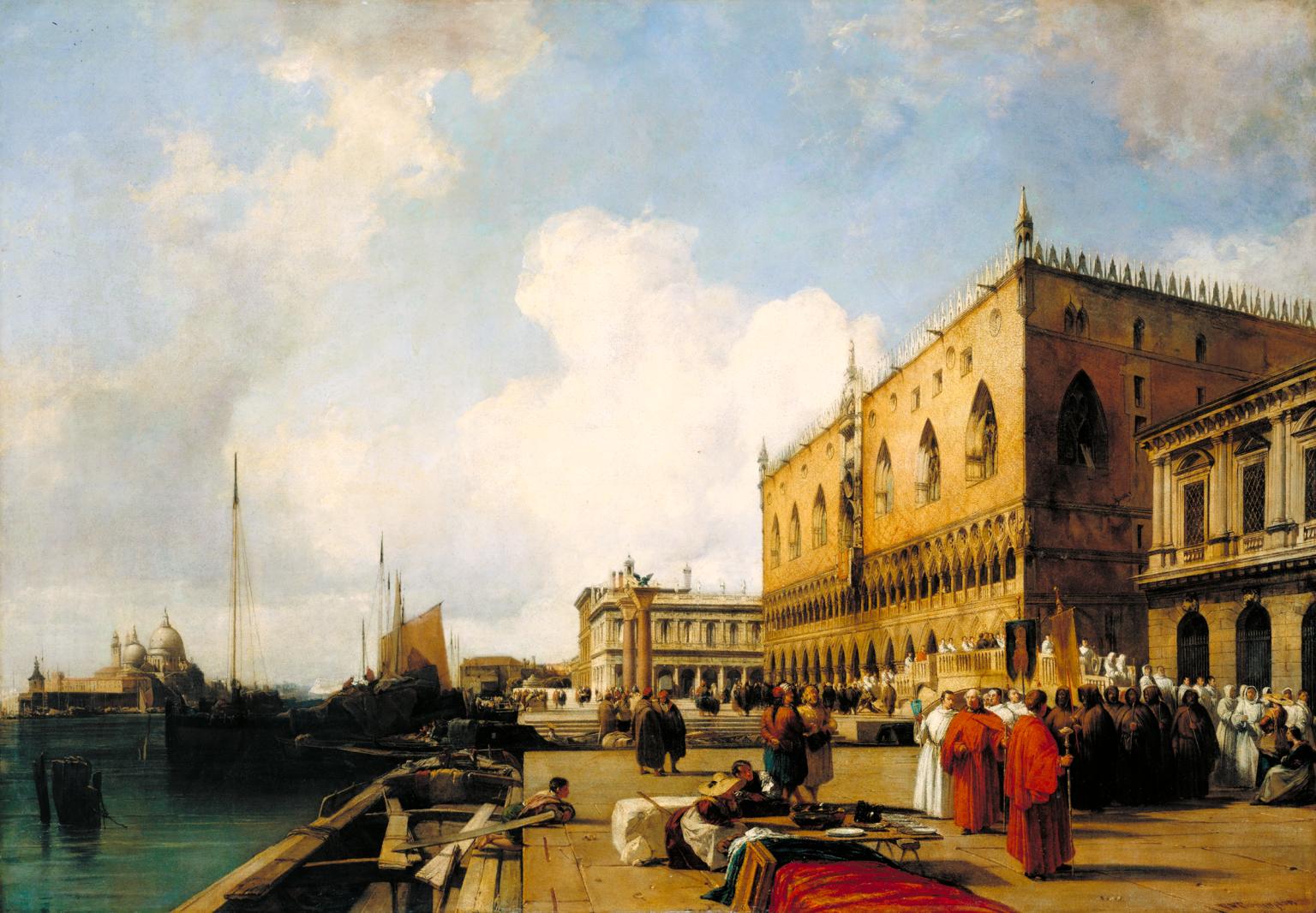 Richard Parkes Bonington

,

Venice: Ducal Palace with a Religious Procession

exhibited 1828

This ambitious painting depicts a view along the Riva degli Schiavoni in Venice. The imposing building of the Doge's palace is on the right. A religious procession enters the foreground from St Mark's Square, behind the palace. into the foreground. Bonington only visited Venice once, in spring 1826, but the city made a lasting impression on him. He made numerous sketches from life while there, which he drew upon for later pictures. This is Bonington's largest known work, and he exhibited it in 1828 to much acclaim. One critic praised it as 'uniquely Venetian'.

Gallery label, November 2021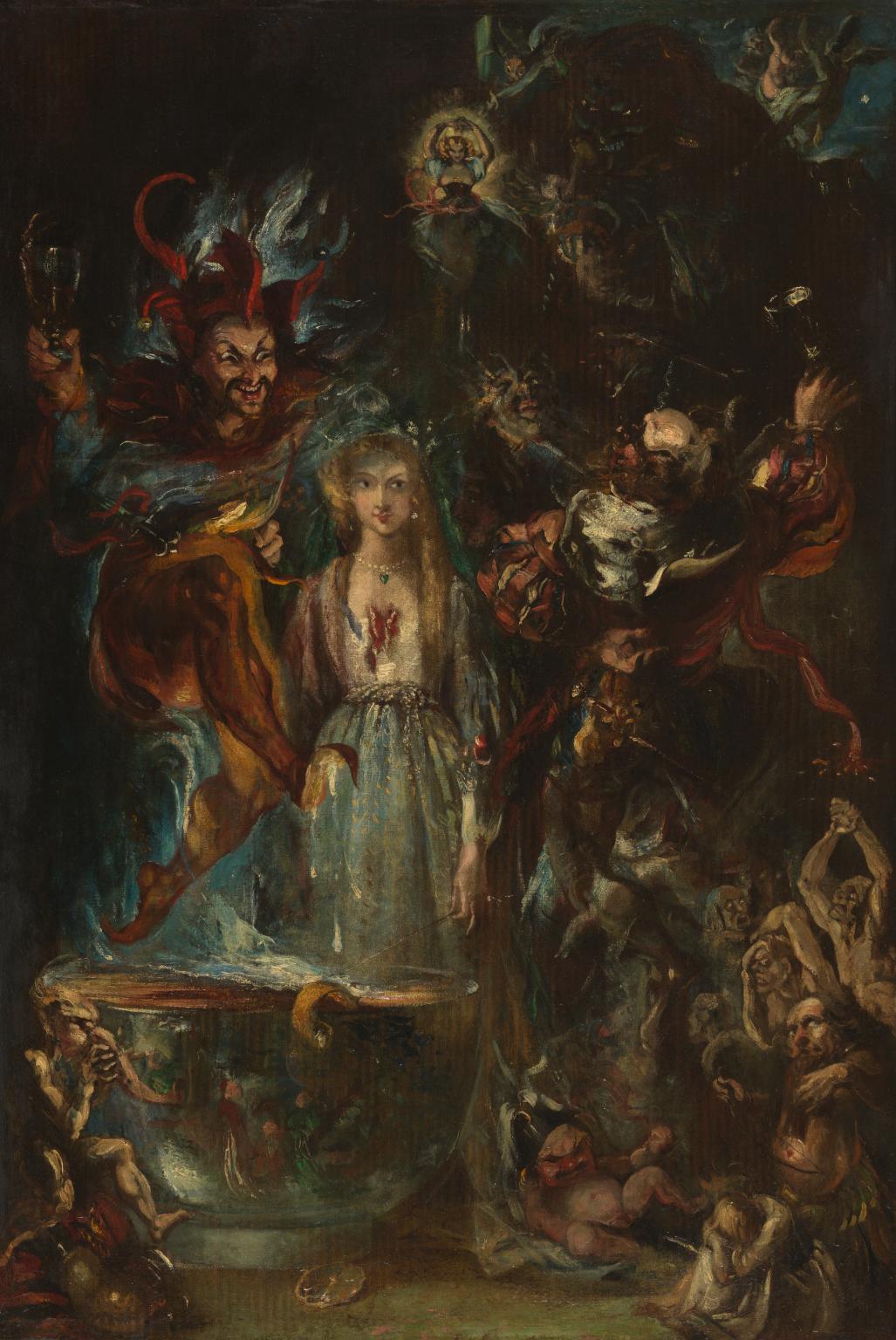 Theodor von Holst

,

Fantasy Based on Goethe's 'Faust'

1834

This turbulent scene might relate to the legend of Faust, a late-medieval scholar whose search for ultimate knowledge leads him to make a pact with the devil. Holst frequently drew inspiration from the tale, as retold by the German romantic playwright Goethe (1749-1832). Here, he seems to depict the satanic rituals of the witches and spirits that gather each year on Walpurgis Night. The grinning figure to the left may be Mephistopheles, an agent of hell and Faust's companion. Holst was a pupil of the romantic painter Fuseli (1741-1823) and, like him, specialised in literary subjects with an emphasis on the macabre and supernatural.

Gallery label, February 2022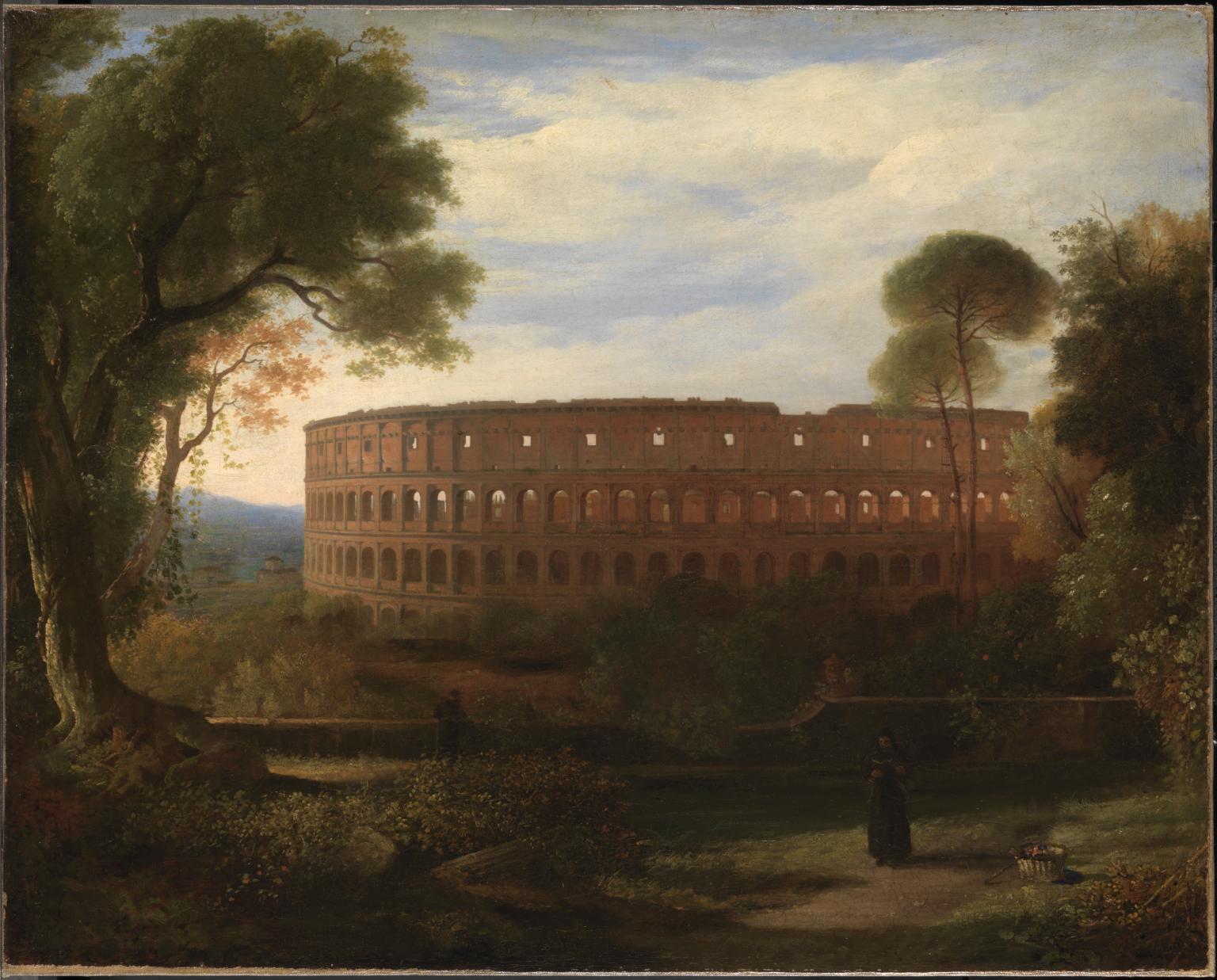 Sir Charles Lock Eastlake

,

The Colosseum from the Esquiline

1822

Eastlake began his career as a painter but went on to become Director of the National Gallery in 1851. The sale of an early picture funded Eastlake's travels to Rome in 1816. There he joined a circle of artists including the Italian sculptors Antonio Canova and Bertel Thorwaldsen, the German Nazarenes and students of the French Academy of Fine Arts. Eastlake often sketched outdoors, straight from nature. His habit of painting even in bright sunshine won him the nickname 'the Salamander'. From these studies he painted small pictures of Roman scenery like this view of the Colosseum.

Gallery label, May 2019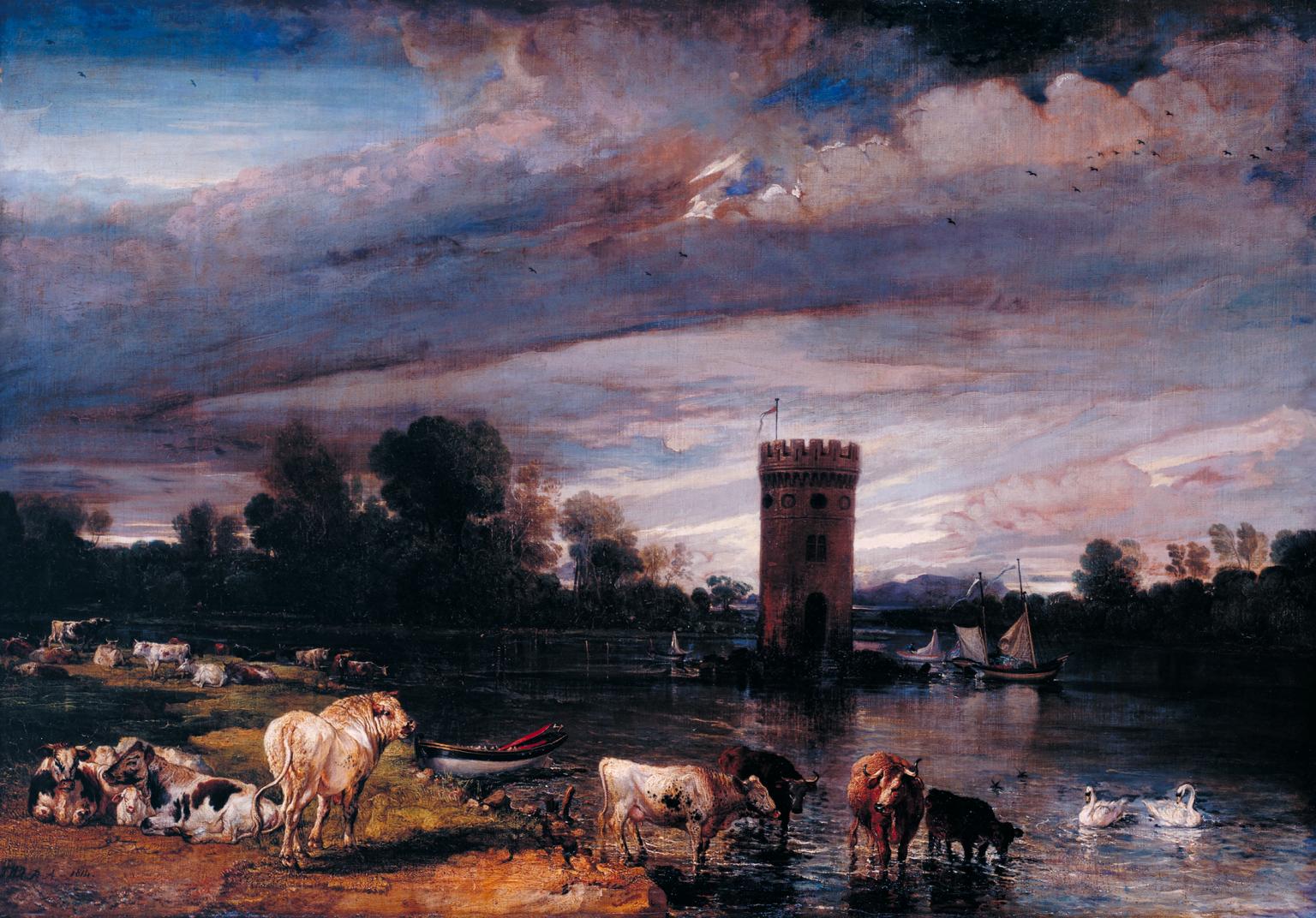 James Ward

,

View in Tabley Park

1813–8

In 1819 this picture could be viewed by the public in Sir John Leicester's London Gallery, in Mayfair. Leicester was a great supporter of British artists of the time, and his gallery showcased their work. He hoped that his collection would form the basis for a National Gallery of British art. He commissioned this picture from Ward in 1814. It depicts the Leicester family estate, Tabley Park in Cheshire. Ward has chosen as his subject a picturesque view of the lake and mock–gothic tower in the grounds.

Gallery label, October 2019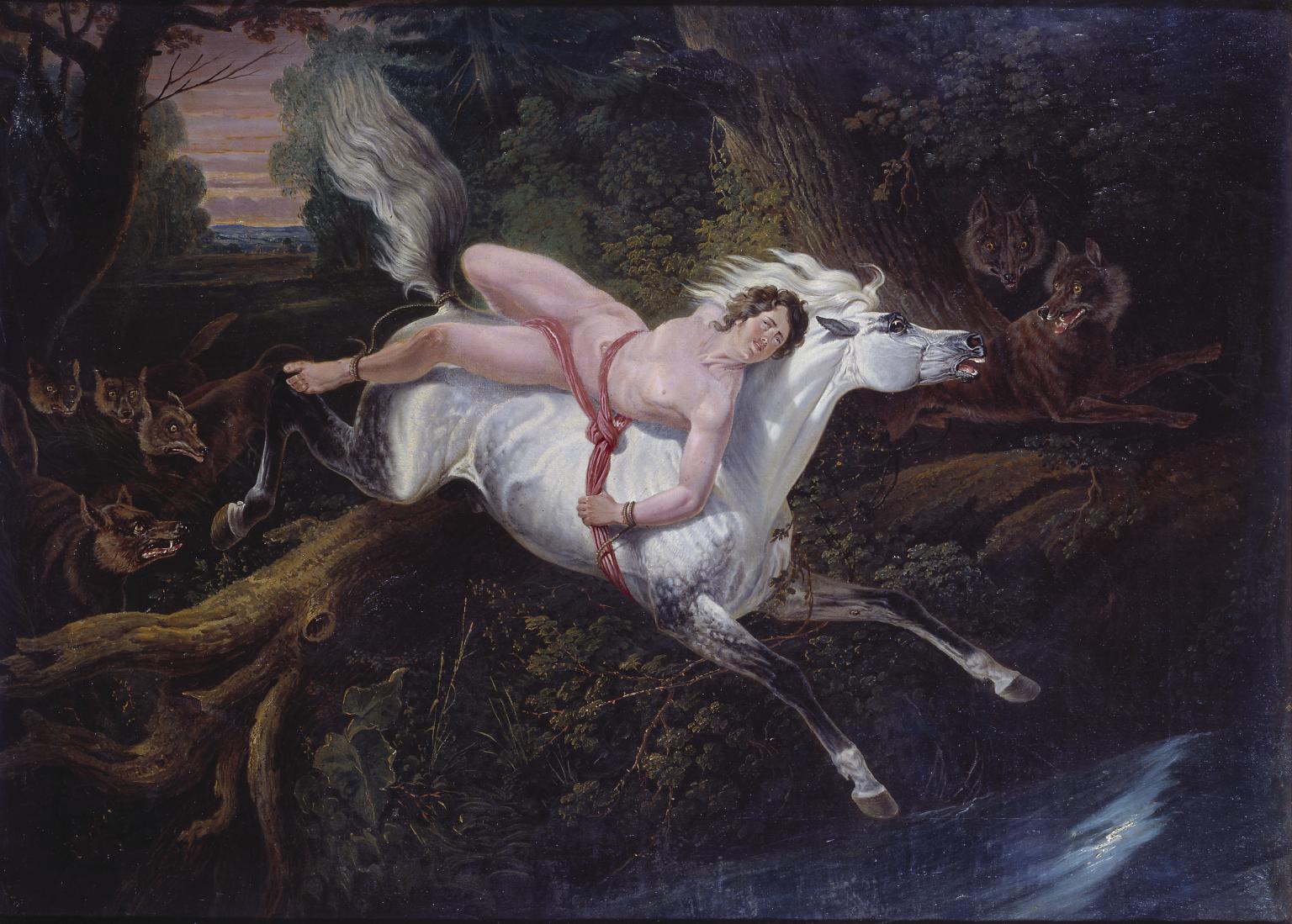 John Frederick Herring

,

Mazeppa Pursued by Wolves (after Horace Vernet)

1833

Ivan Stepanovych Mazepa (1639-1709) was a Ukrainian military leader, known for his stand against the Russian empire. His story captured the imagination of many writers and artists in the nineteenth century. This painting is inspired by Byron's epic poem Mazeppa. It recounts the legend of the young man's journey through the wilderness, strapped naked to an untamed horse as punishment for an affair. Herring was perhaps drawn to the subject as he specialised in animal painting. It is a close copy of French artist Horace Vernet's popular representation of the wolf chase.

Gallery label, October 2020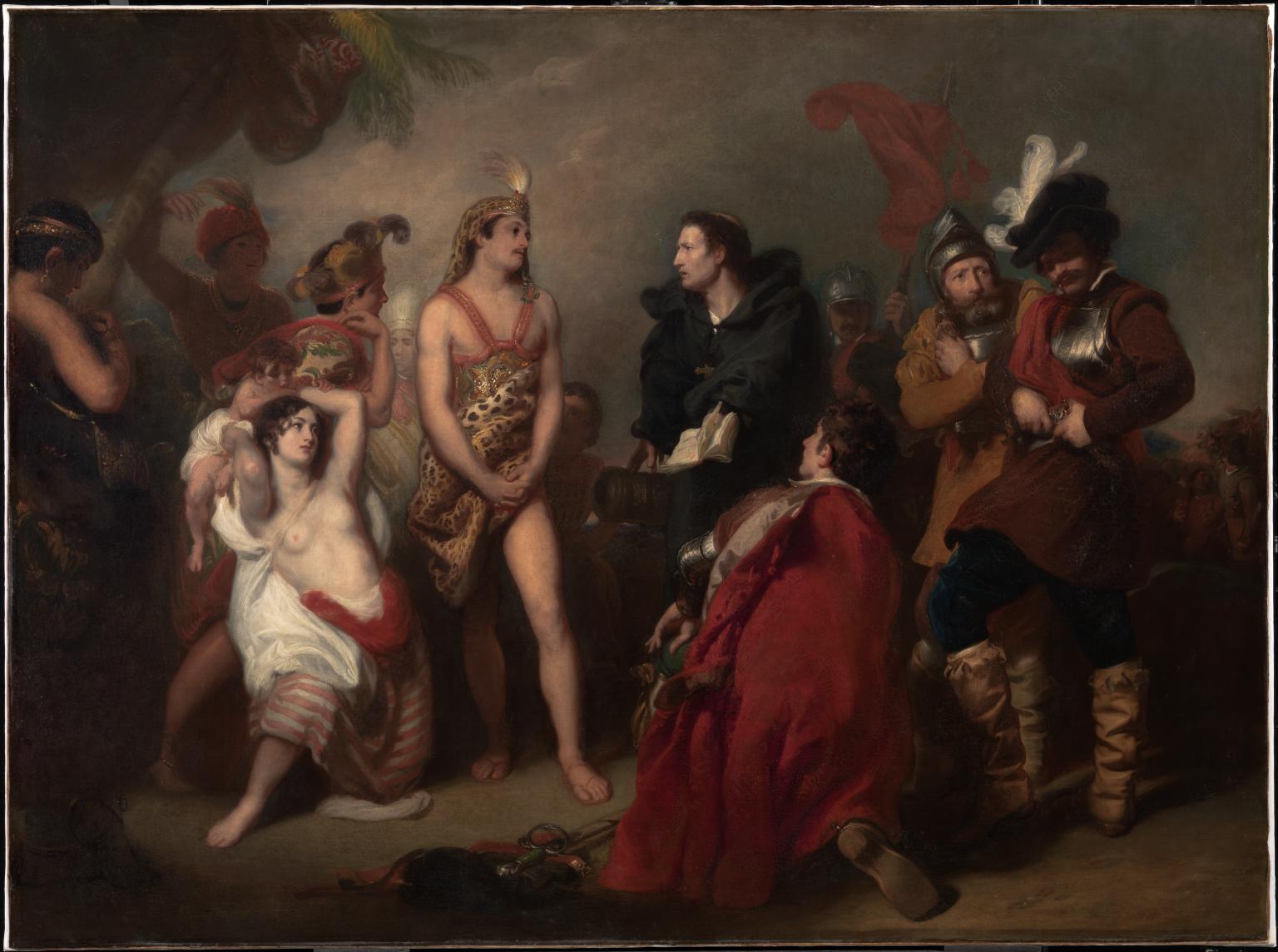 Henry Perronet Briggs

,

The First Interview between the Spaniards and the Peruvians

exhibited 1827

This painting shows an episode from the Spanish conquest of Peru in 1632. The Inca king, Atalhuellpa, is questioning Christian beliefs in front of the chaplain of the Spanish conquistador, Francisco Pizarro. A struggle ensued during which the king was captured and many Incas were slaughtered.

Briggs was one of the few consistently successful history painters of his generation. This picture was exhibited at the British Institution in 1827. Briggs had shown an earlier version of the subject at the Royal Academy the previous year, when it was highly praised, and bought by a friend of Turner's, William Wells of Redleaf.

Gallery label, September 2004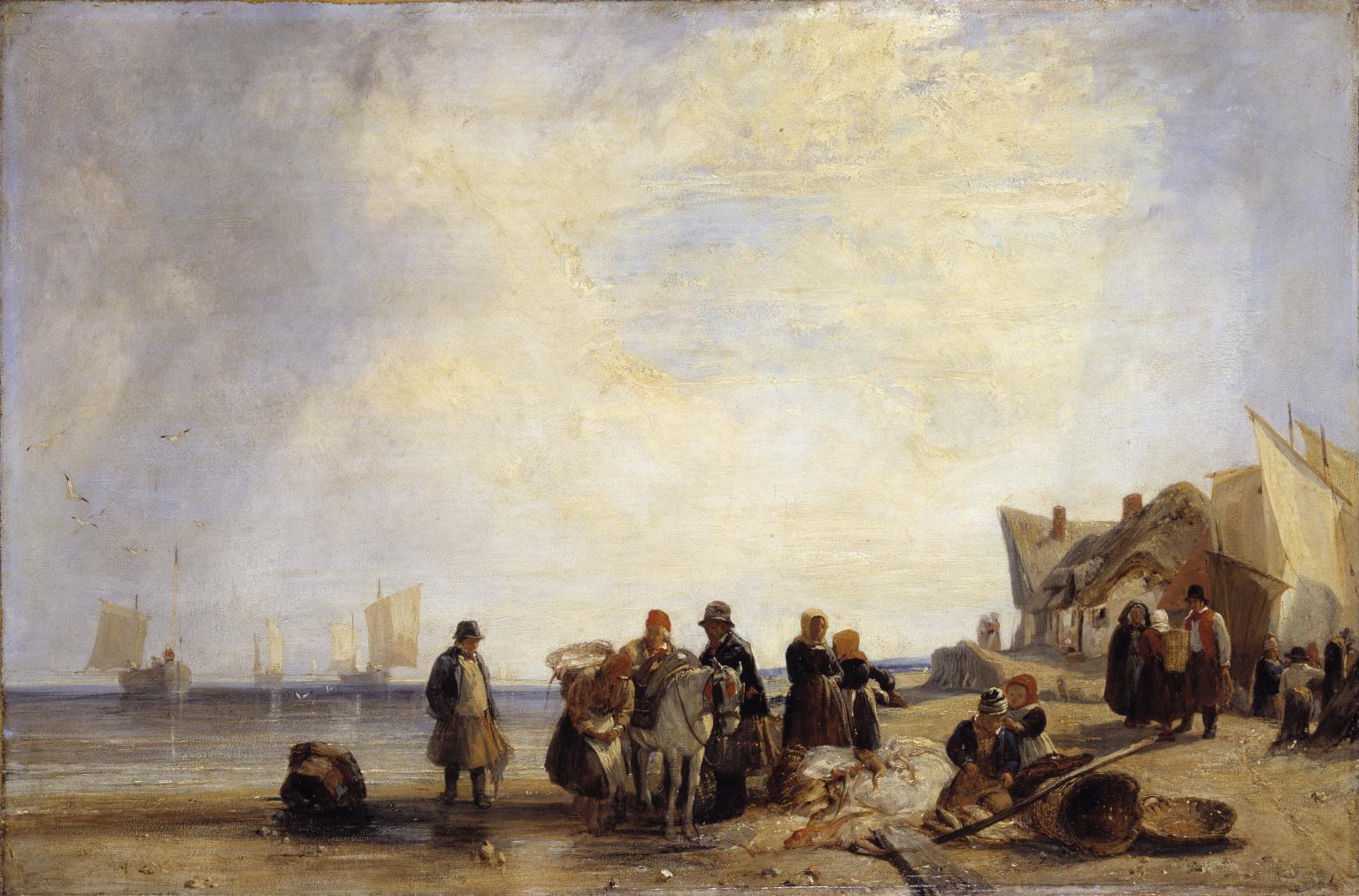 Richard Parkes Bonington

,

French Coast with Fishermen

c.1824

After the Napoleonic War, cultural exchange with continental Europe resumed with artists travelling back and forth across the Channel. For its variety, originality and painterly qualities British painting was especially admired in France. The appearance of British pictures in the so-called 'English salon' (Salon des Anglais) in Paris in 1824 encouraged French artists to visit London. Bonington lived in Paris, and French Coast with Fishermen was almost certainly included in the 1824 Salon. Bonington's exhibit caused a sensation and like John Constable, he was awarded a gold medal.

Gallery label, October 2018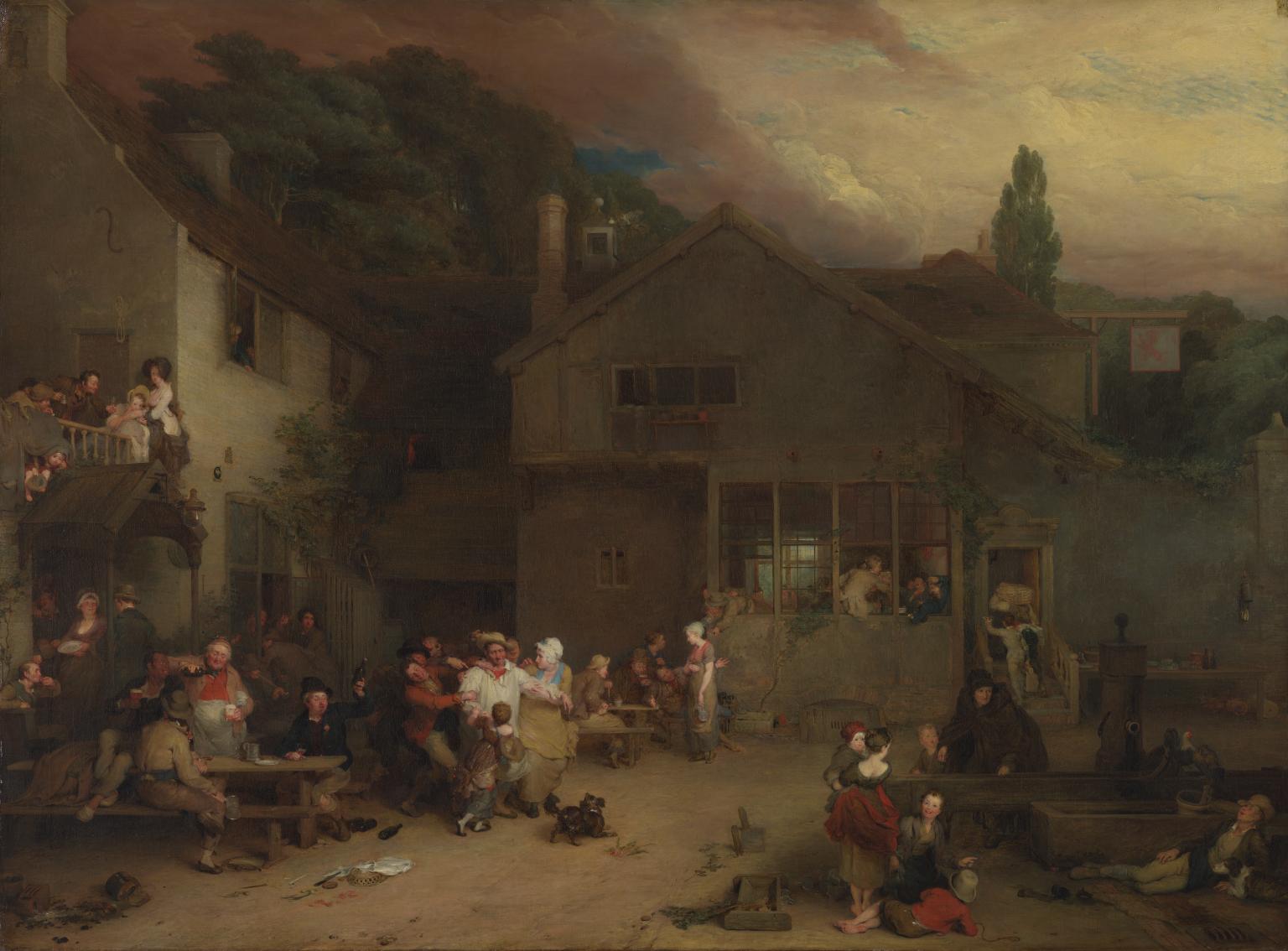 Sir David Wilkie

,

The Village Holiday

1809–11

Scottish-born Wilkie became a star of the London art world, widely admired for his moralising or humorous narratives of everyday life. Here, Wilkie updates the ancient theme of the choice between virtue and vice – in this case drink. Outside a pub, a man hesitates between going home to his wife or staying to drink with his friends. The consequences of a wrong decision are shown by the collapsed drunk on the right; Wilkie said even his dog looked ashamed of him. Wilkie exhibited the picture in 1812. It was bought by John Julius Angerstein, an important collector.

Gallery label, October 2013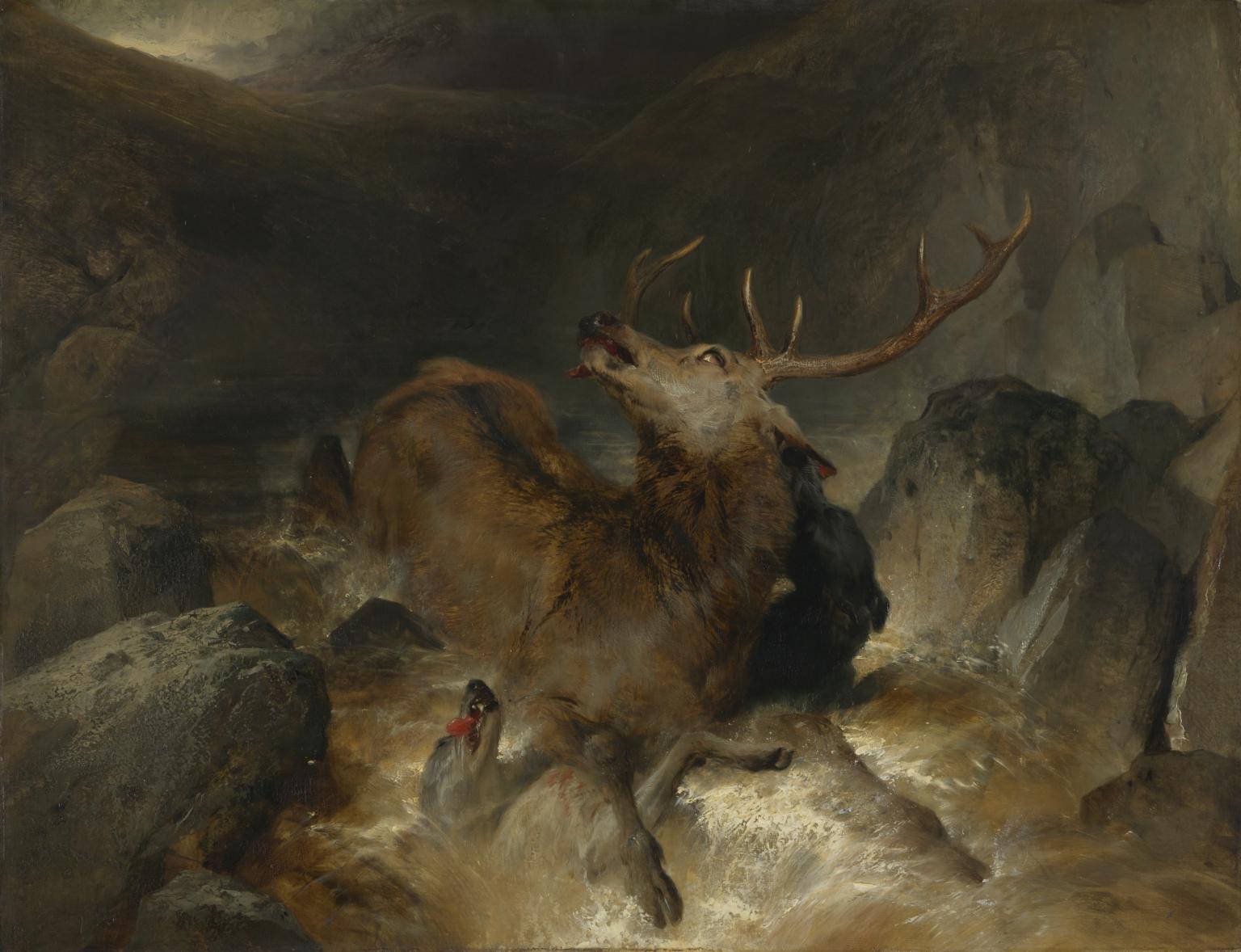 Sir Edwin Henry Landseer

,

Deer and Deer Hounds in a Mountain Torrent ('The Hunted Stag')

?1832, exhibited 1833

Landseer portrays the stag as a noble beast even in its last moments. The stag defiantly tries to fight off the deerhounds, retreating to a fierce stream. The violence of the scene and the turbulent landscape intensify a sense of struggle. Landseer was famous for the emotion and narrative he gave to his subjects. Here he presents hunting as a dramatic contest between humanity and nature. In such pictures of the wild beauty of Scotland, he contributed to a romantic vision of the Highlands.

Gallery label, May 2021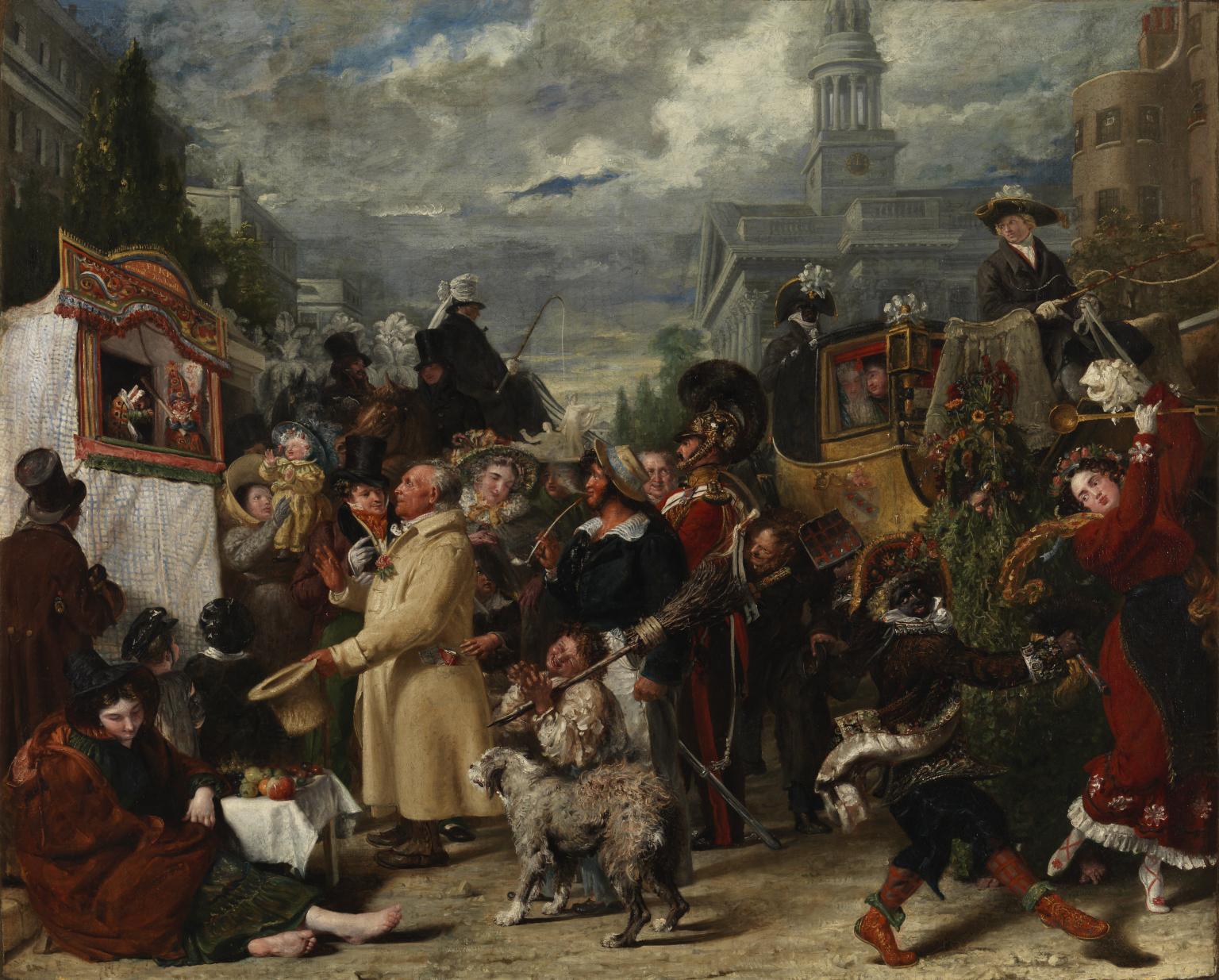 Benjamin Robert Haydon

,

Punch or May Day

1829

Haydon thought of calling this painting 'Life', reflecting his ambition to capture a cross-section of London. His composition is full of pairings and contrasts. A hearse and a marriage coach nearly collide. The newly-weds are contrasted with the violent Punch and Judy puppet show on the left. Christianity, as represented by St Marylebone Church, co-exists with the pre-Christian May Day procession in the foreground on the right. Part of this parade is a dancing chimney sweep with blond curls and soot-blackened face. This performance of 'blackness' contrasts with the artist's treatment of the black footman standing at the back of the carriage.

Gallery label, July 2018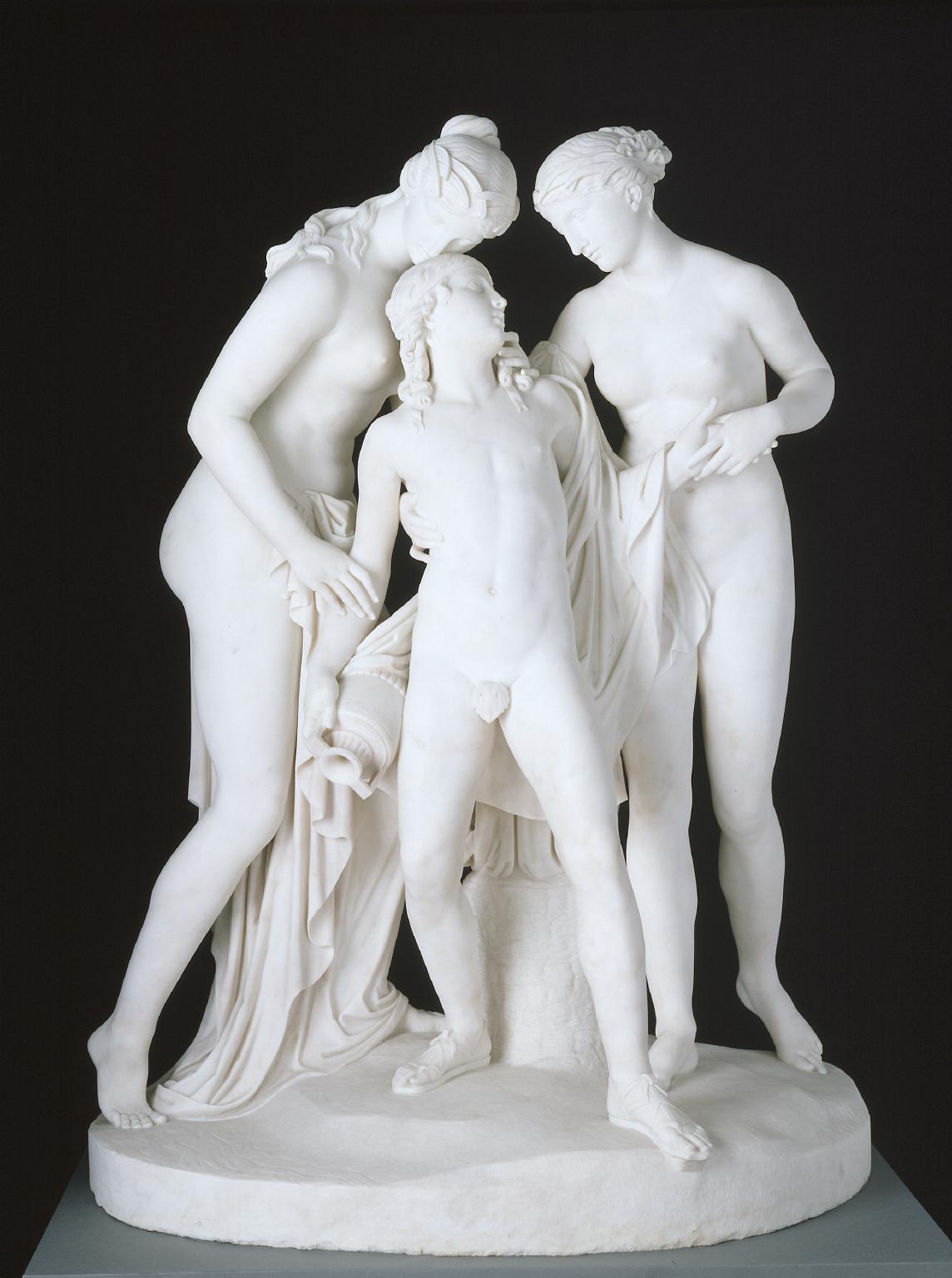 John Gibson

,

Hylas Surprised by the Naiades

1827–?36, exhibited 1837

John Gibson was one of the most widely-regarded neoclassical sculptors in Europe. In this statue group he depicts the moment in Greek myth when Hylas, the boy companion of Hercules, was abducted by water-nymphs who were entranced by his beauty. Hylas is simultaneously admired and restrained by the two Naiades. Gibson's treatment of the scene draws on many classical sources, and the marble is inscribed (in Greek) with the words 'Beautiful Hylas'. The statue was bought by Robert Vernon, a successful businessman and patron of the arts, and subsequently given to the nation.

Gallery label, February 2016
William Dyce

,

Madonna and Child

c.1827–30

Dyce visited Italy in the late 1820s. While there he became aware of the art of the Nazarenes, a group of German painters. They were inspired by 15th-century religious painting, and set out to create an art for their own times which possessed the same moral purpose. This picture, modelled on Raphael's 'Madonna and Child' subjects of the early 1500s is quite uncharacteristic of English art of the 1830s. In this sort of picture, Dyce emerges as a precursor of the Pre-Raphaelites. As a senior Royal Academician he was an important supporter of their aim to renew English art.

Gallery label, October 2013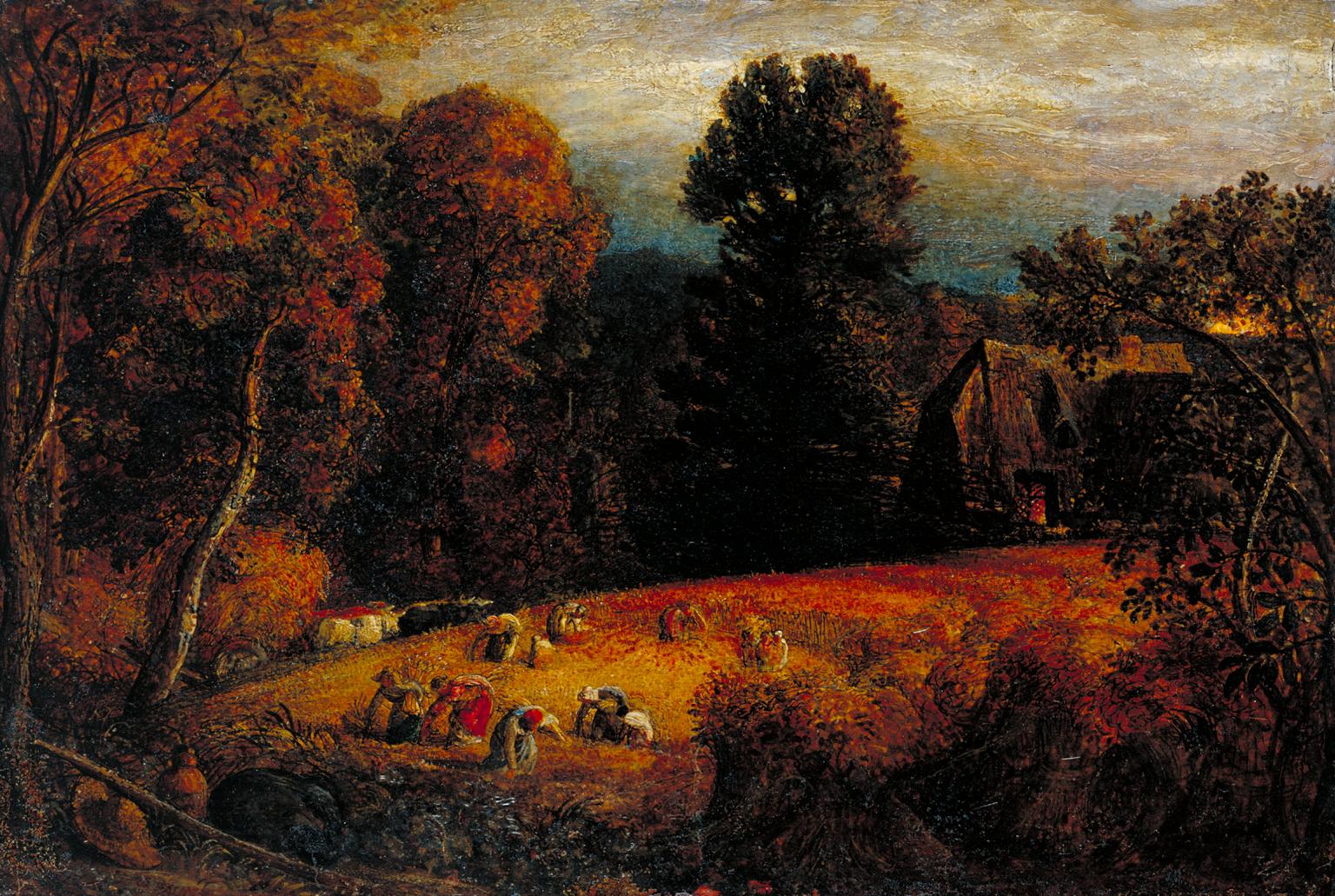 Samuel Palmer

,

The Gleaning Field

c.1833

Samuel Palmer's vision of the landscape was shaped by his friendship with the older poet and artist William Blake (1757–1827). Blake's words in Milton are those of a prophet waiting for liberty and peace to reign: 'I will not cease from Mental Fight, Nor shall my Sword sleep in my hand: Till we have built Jerusalem, In England's green & pleasant Land.' This picture shows a scene after harvesting has finished. Palmer, a devout Christian, created images of 'England's green & pleasant Land' that contrasted with the harsher contemporary reality of change and social unrest in the countryside.

Gallery label, February 2016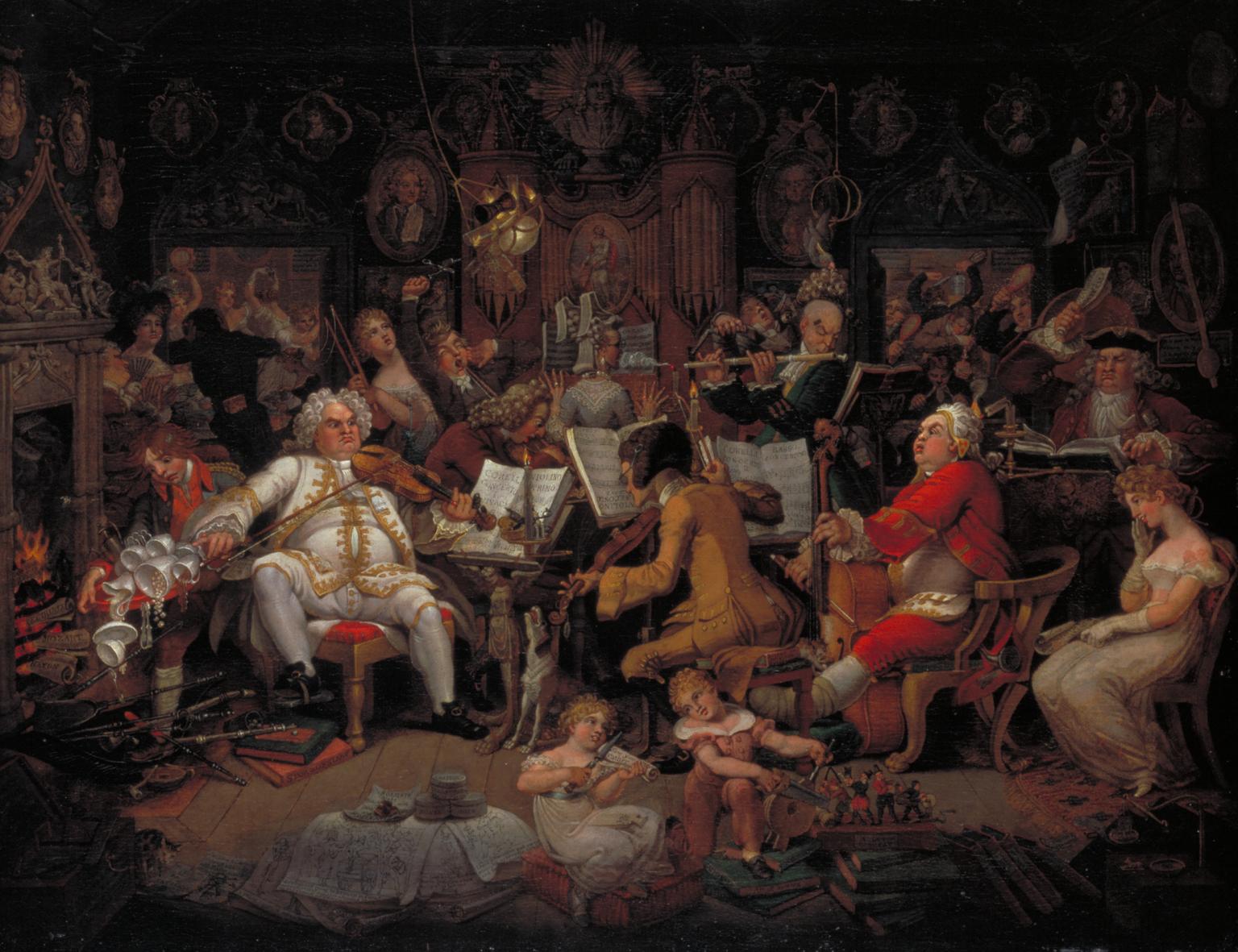 Edward Francis Burney

,

Amateurs of Tye-Wig Music ('Musicians of the Old School')

c.1820

This is one of a series of images Burney produced satirising attitudes towards music. Here his subject is the 'battle' between traditional and modern music. Modern music is represented by Beethoven and Mozart, whose names appear in the foreground. Traditional music is represented by a bust of Handel in the upper centre. A group of musicians is playing (badly) music by Handel's contemporary, Corelli. They are dressed in the traditional clothing of Handel's day, including the 'tye-wigs' mentioned in the title.

Gallery label, February 2016
Sorry, no image available
William Dixon

,

Cottages near a Track

Date not known

Until recently little has been know about William Dixon and his work has been confused with that of his friend and mentor, John Linnell. After his death, Linnell bought Dixon's 'sketches from nature and studies for Pictures', including this bright and bold study of a rural track, perhaps a Northumberland subject.

Linnell observed that Dixon made no use of his 'beautiful studies from nature', and didn't look after them properly. Perhaps he was unable to solve the problem of translating the freshness of his sketches into works for exhibition.

Gallery label, September 2002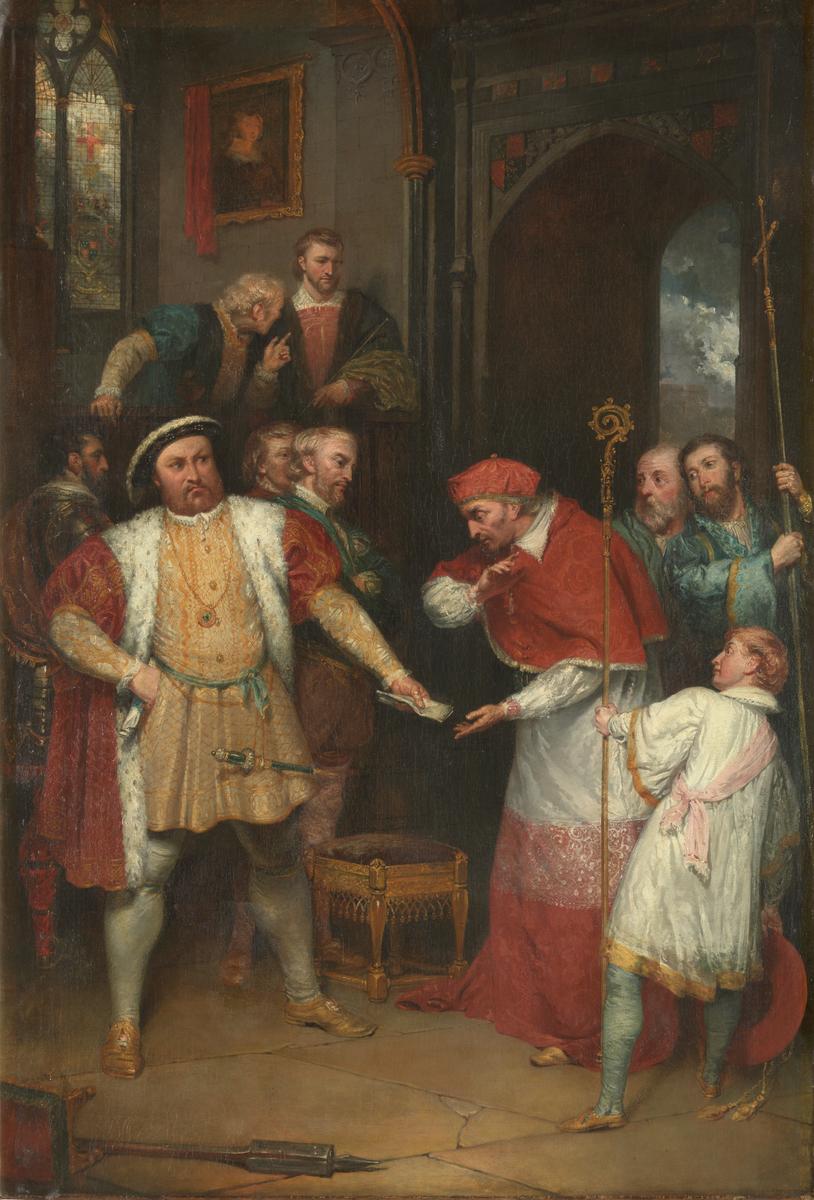 Henry Monro

,

The Disgrace of Wolsey

exhibited 1814

Thomas Wolsey (1473–1530) was an English archbishop, statesman and a cardinal of the Catholic Church. He was a trusted advisor to King Henry VIII, who made him Lord Chancellor. In 1529, having failed to secure an annulment of Henry VIII's first marriage, Wolsey was removed from government and arrested for treason. This painting won Monro a prize at the British Institution in 1813. The Institution was keen to promote historical painting by British artists. Monro died the following year, aged only 22.

Gallery label, July 2019
Art in this room
Samuel Palmer
Coming from Evening Church
1830
Sir David Wilkie
The Peep-o'-Day Boys' Cabin, in the West of Ireland
1835–6, exhibited 1836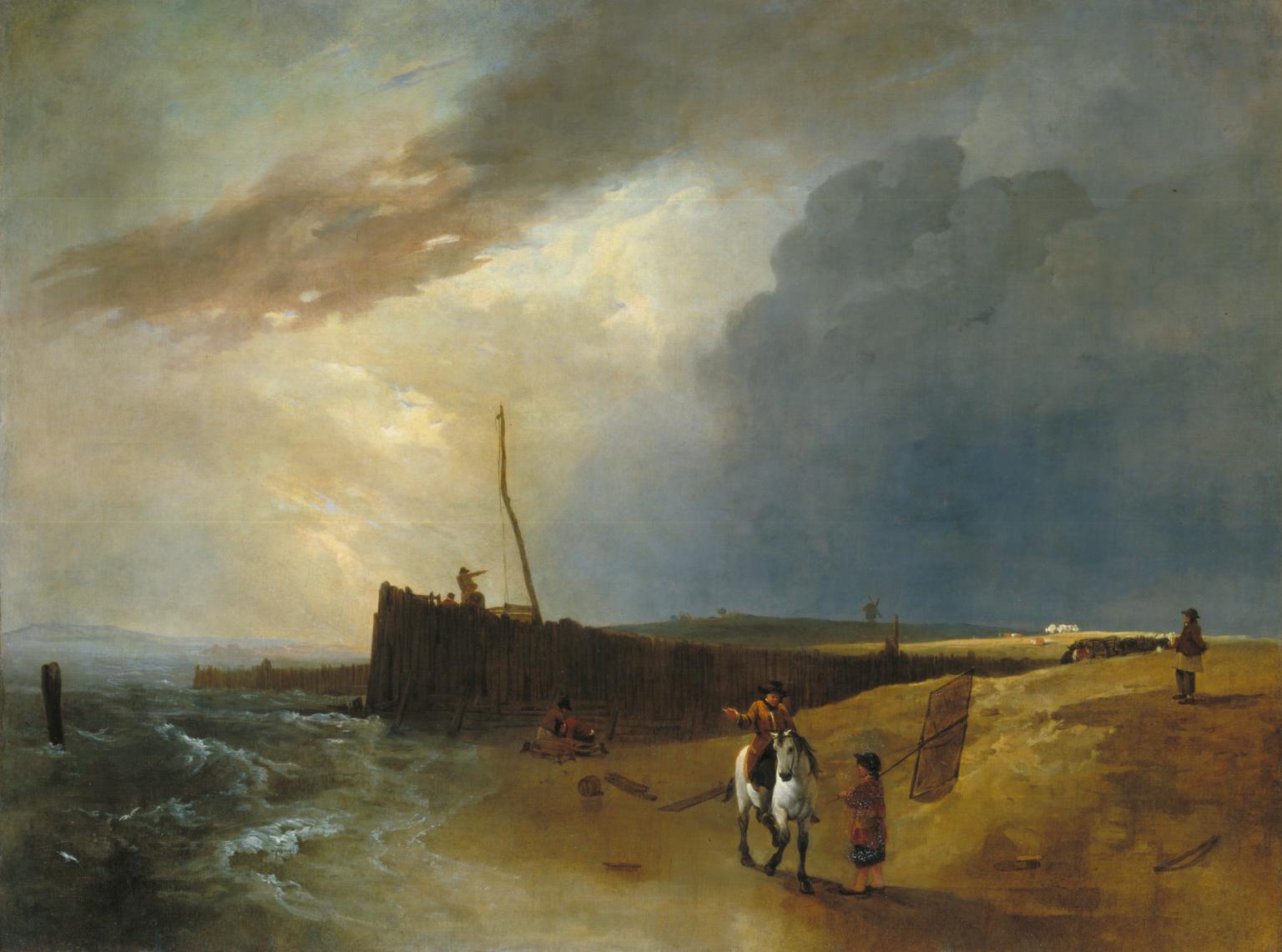 Sir Augustus Wall Callcott
Littlehampton Pier
1811–2
John Simpson
Head of a Man (?Ira Frederick Aldridge)
exhibited 1827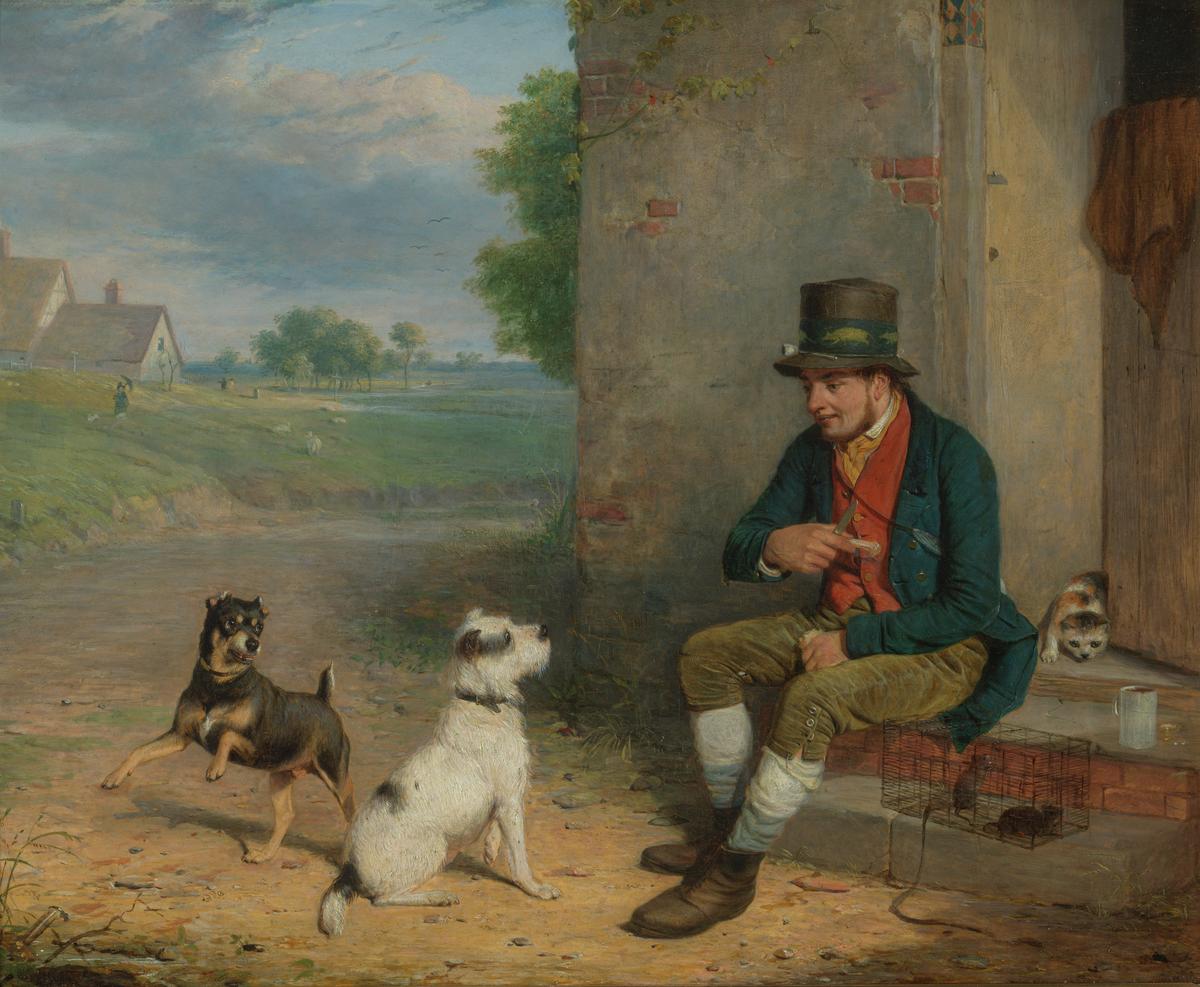 Thomas Woodward
The Rat-Catcher and his Dogs
exhibited 1824
Sir Edwin Henry Landseer
A Scene at Abbotsford
exhibited 1827
You've viewed 6/24 artworks
You've viewed 24/24 artworks