15 rooms in Walk Through British Art
Reflect on the range of art produced in Britain from 1930–1940
The 1930s was a time of political and economic struggle across the world. Some artists in this room felt that art could help to change this. The social and political concerns of the time can be seen in the art in this room. They manifest themselves in different ways.
Some artists created abstract works, where subjects are simplified into shapes and marks. Others looked to dreams and the unconscious mind for inspiration. By the end of the decade, the Second World War had started. The violence of war challenged the belief that art could creative positive change.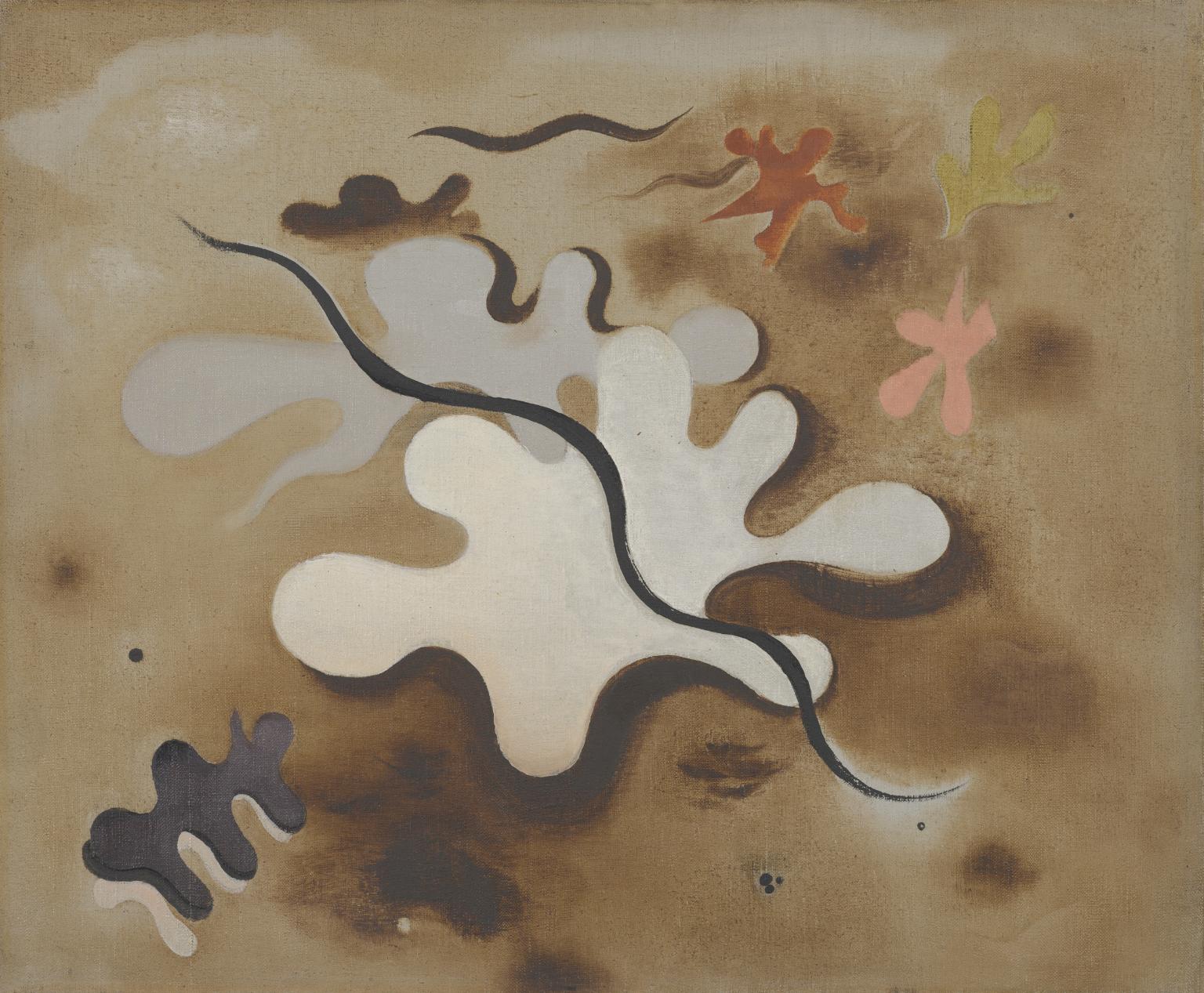 Paule Vézelay

,

White Shapes in Movement

1930

White Shapes in Movement 1930 is a small painting in oil on canvas that depicts white, brown, black and pink biomorphic forms and black curving lines floating against a dappled brown background. The central large white form is unmodelled and flat but casts a dark shadow, while the dark upper edge of the light grey form behind it suggests a solid three-dimensional object. This ambiguity about whether the forms exist in two or three dimensions and their relationship to space is heightened by the brown background which shades from dark to light suggesting receding space. Its effect is similar to the impression of a cloudy sky against which abstract shapes float seen in the grey background of contemporaneous works such as Curves and Circles 1930 (Tate T03954), but White Shapes in Movement uses a more organic palette of pinks and browns and the suggestion of movement of the forms in space is more pronounced, as emphasised by the work's title.
Winifred Nicholson

,

Sandpipers, Alnmouth

1933

Throughout her life, most of Nicholson's work depicted either flowers or landscape. This painting was made during a holiday on the Northumberland coast. It is typical in its reduction of the scene to a few simple areas of colour. Despite this abstraction it is still very evocative, not least because of her application of real sand to the paint denoting the beach. Nicholson's paintings have an air of freshness and of the back-to-basics attitude upon which she based her lifestyle.

Gallery label, September 2016
Sam Haile

,

Surgical Ward

1939

In true surrealist tradition, Haile's work challenges convention and good taste. There seems to be a clear air of violence and threat in this picture. We seem to be looking at both a figure in a landscape and at the internal organs of a human body. The artist was fascinated with surgery and dismemberment. This work may show a surgeon (right) trampling on parts of a dissected body, watched by a series of disembodied eyes (left). The idea of stripping away all learnt convention to facilitate a new vision was an important part of surrealism.

Gallery label, September 2016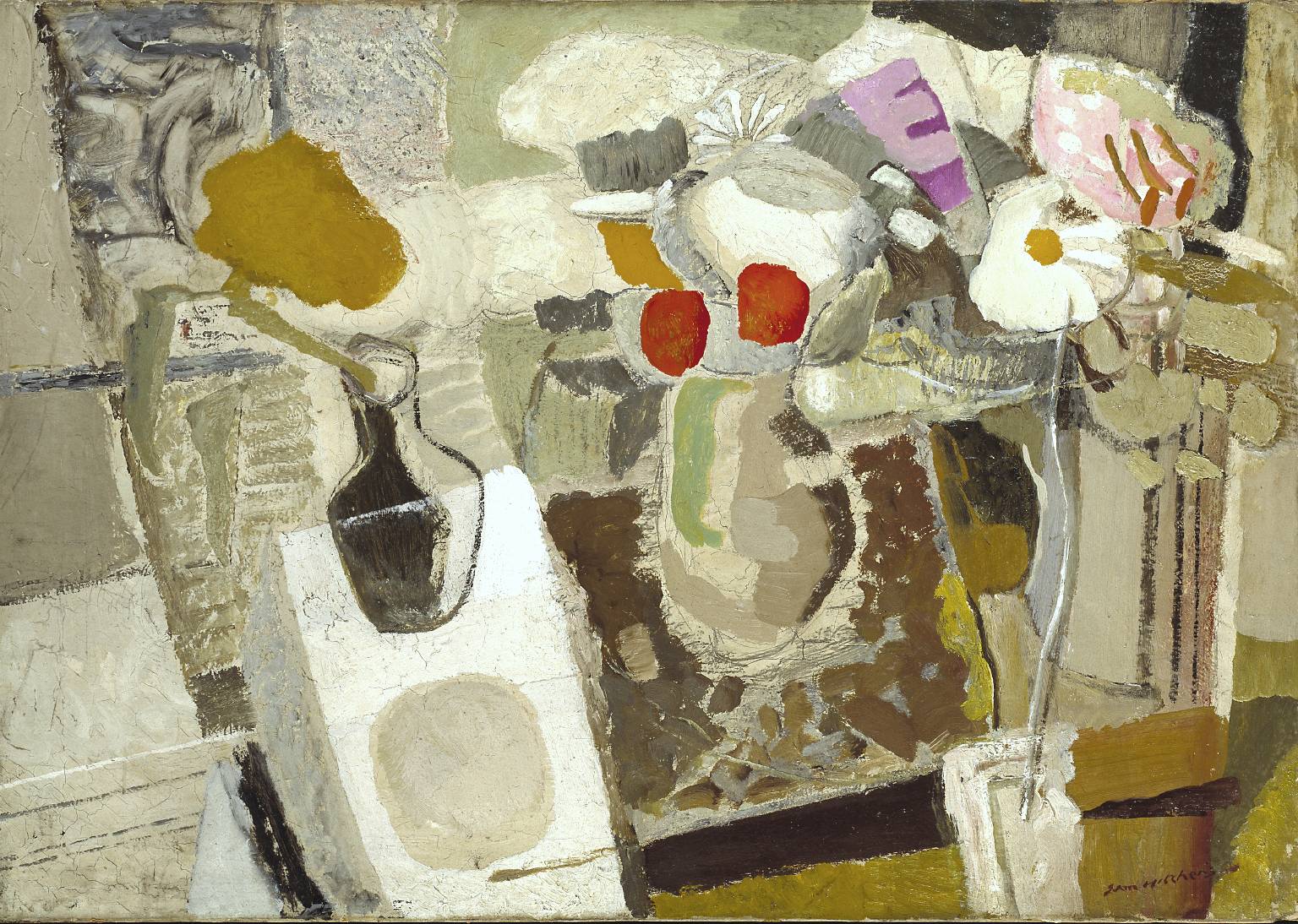 Ivon Hitchens

,

Autumn Composition, Flowers on a Table

1932

In this painting Hitchens used a palette knife, rags to wipe away paint and vigorous brush strokes to create an active surface. Painted in his Hampstead studio this work 'dates from the kind of surroundings and the period of [Hitchens's] urban life - from about 1920-40 before the full impact of nature and country living.' The shallow space and overlapping forms suggest the influence of the post-cubist still lifes of Braque. So does the use of accents of colour that punctuate an otherwise sombre painting. The strength of the colour, however, is more suggestive of Matisse.

Gallery label, September 2016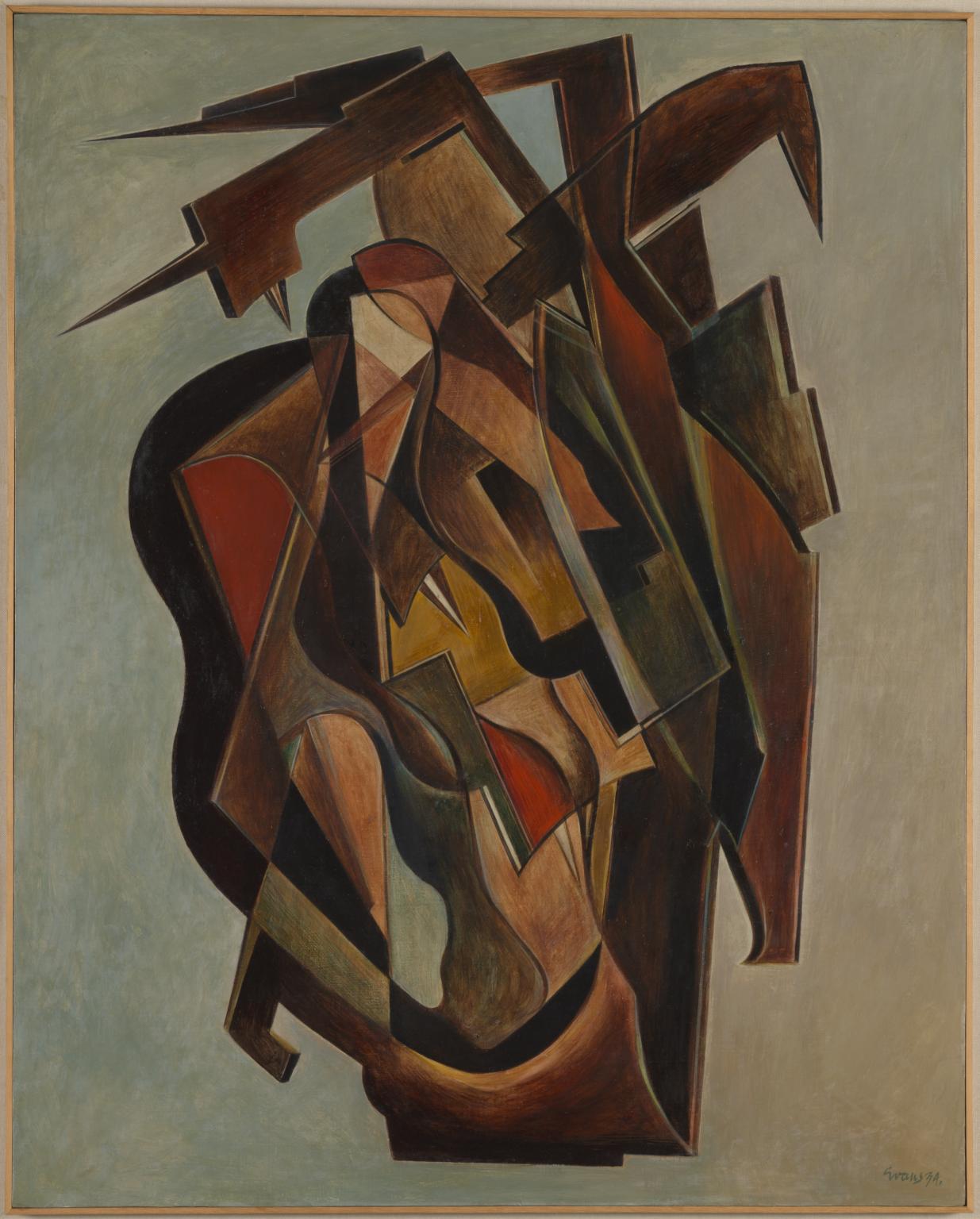 Merlyn Oliver Evans

,

The Conquest of Time

1934

Evans's complex interlocking forms were inspired by his study of the natural world. The artist described how he wanted to explore the timelessness of art by thinking of a kingfisher, which waits motionless beside a flowing river, occasionally plucking a fish from it. His abstract bird form is painted in subdued colours and set against a plain background to suggest stillness and isolation. His work became associated with the surrealist art movement when The Conquest of Time was exhibited in the International Surrealist Exhibition held in London in 1936.

Gallery label, March 2019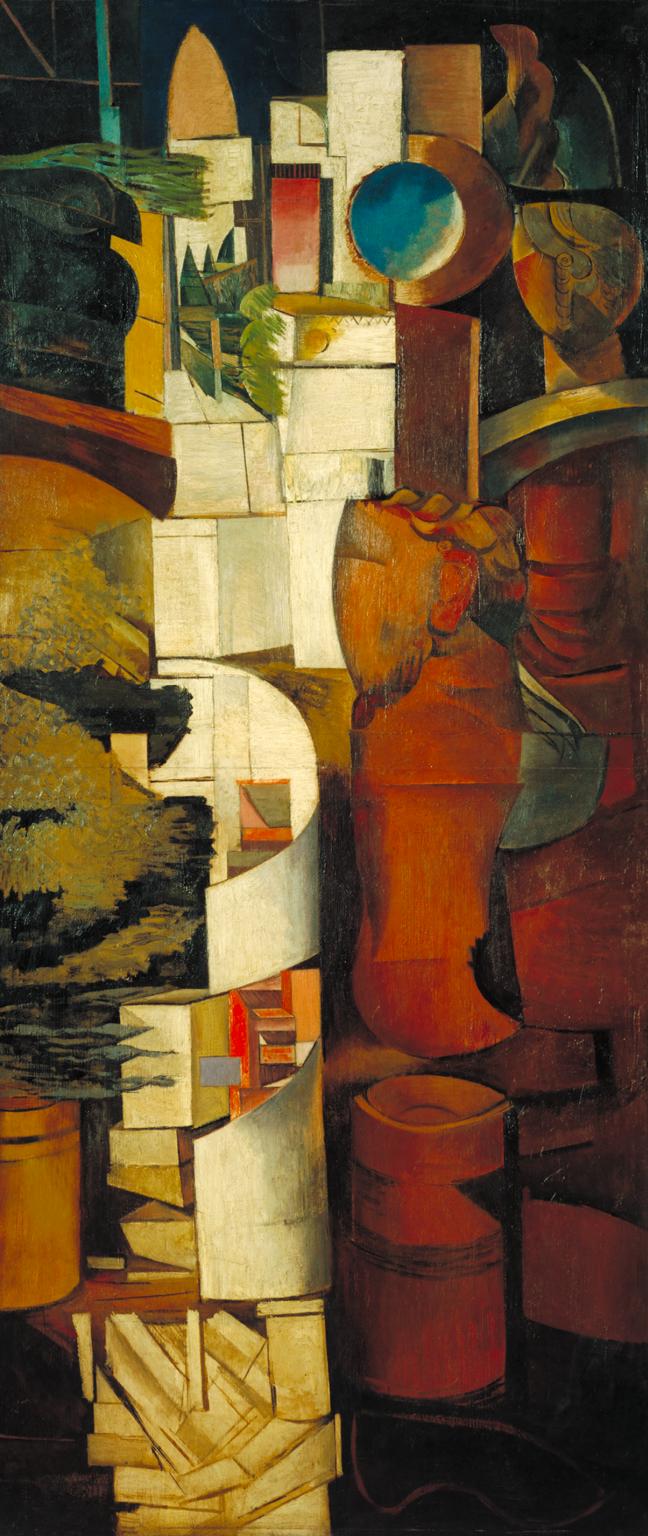 Wyndham Lewis

,

Bagdad

1927–8

It is thought that Lewis made Bagdad to decorate a cupboard in his studio on Ossington Street, London. The wood panel is composed of several strips joined together. Its title and design may come from a chapter of Lewis's book 'The Caliph's Design', published in 1919. Lewis wrote a short parable set in Baghdad, about a Caliph who is unhappy with the appearance of his city. The Caliph creates a Vorticist-style design, instructing an engineer and architect to 'invent the shapes and conditions that would make it possible to realise my design'. Lewis seems to have developed the imagery from abstract drawings he did the previous year.

Gallery label, November 2021
Sorry, no image available
Sir Stanley Spencer

,

Double Nude Portrait: The Artist and his Second Wife

1937

Spencer is depicted naked, contemplating the body of second wife, Patricia Preece. It was painted in a frank, non-idealised manner, the year they were married. However, their relationship was already troubled. Despite their physical proximity there is a sense of distance and sexual tension between the figures. Seen close-up and compressed in the picture space, they create an uncomfortable sensation of intimacy when viewing the painting. Spencer pays close attention to the colours and textures of human skin which are contrasted with the flesh tones of a raw joint of mutton.

Gallery label, November 2021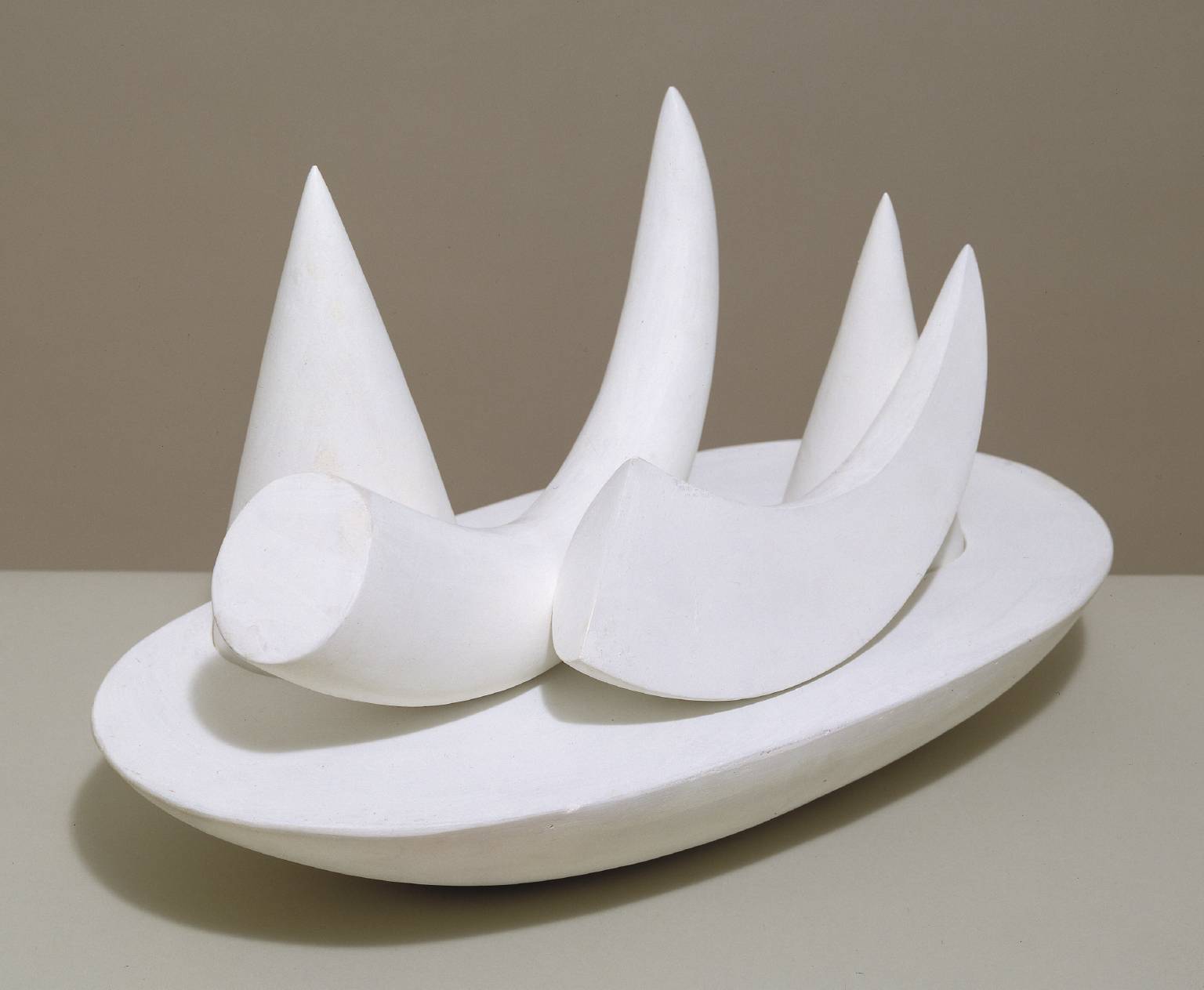 Paule Vézelay

,

Five Forms

1935

Paule Vézelay 1892–1984Five Forms 1935PlasterBristol-born Marjorie Watson-Williams adopted the name Paule Vézelay while living in Paris between 1926 and 1939. During this time her work became increasingly abstract. Vézelay was interested in how art might convey new forms of political and spiritual understanding. Five Forms is one of a small group of white plaster sculptures Vézelay made in 1935. The use of simple, white, biomorphic forms suggests truth, beauty, harmony and clarity.Presented by the Patrons of British Art through the Tate Gallery Foundation 2000T07582

Gallery label, June 2019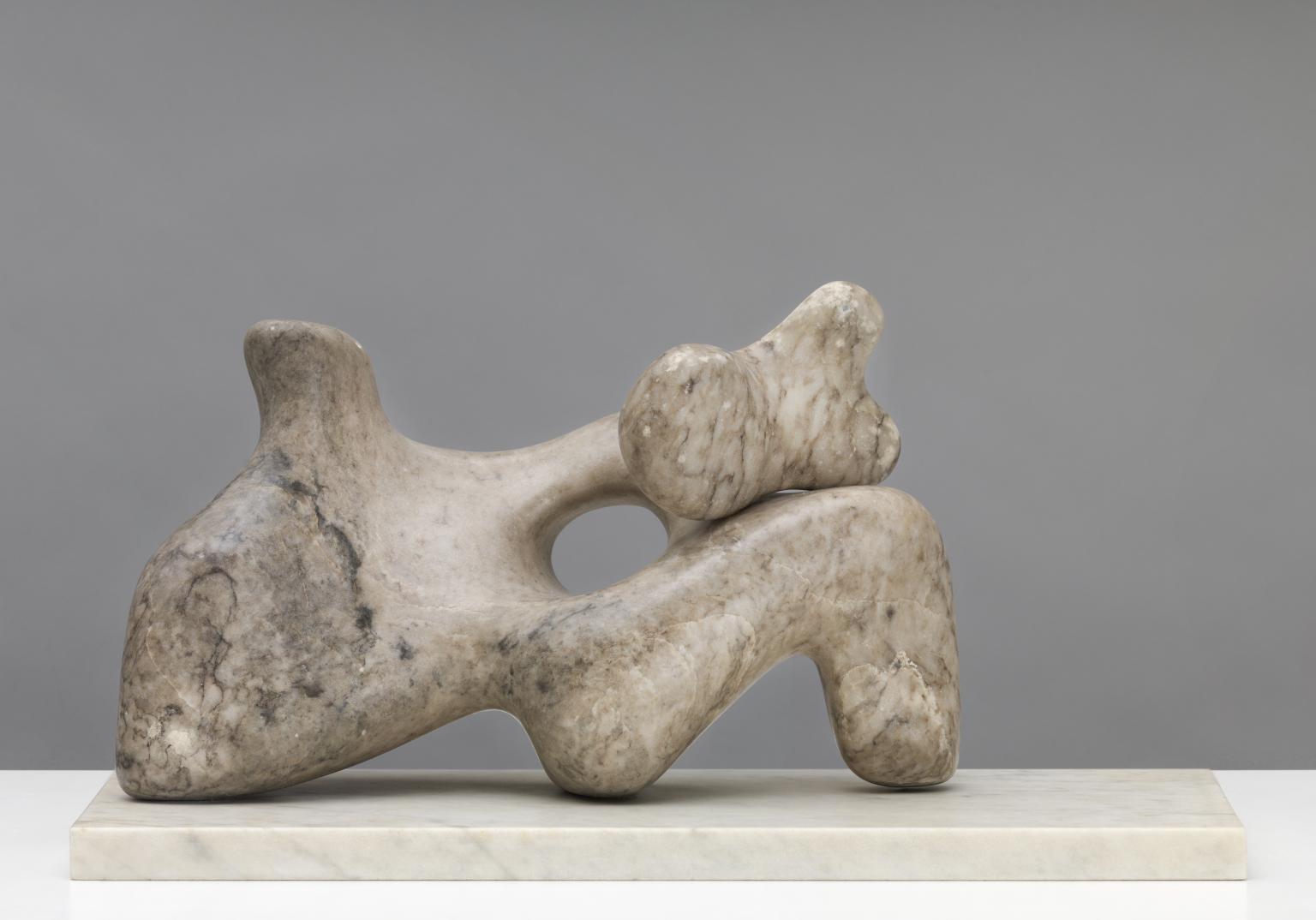 Dame Barbara Hepworth

,

Mother and Child

1934

Hepworth's child perches on the knee of its reclining mother, implying a continuity of material. Yet, looking at the veining of the stones, we can see that they are separate forms. In the early 1930s, Hepworth was starting to create more complex, multi-part sculptures. She developed a range of new abstract forms by carving holes into her works. This hole suggests that the child has come from – and outgrown – the vacant space in the centre of the mother's body.

Gallery label, May 2021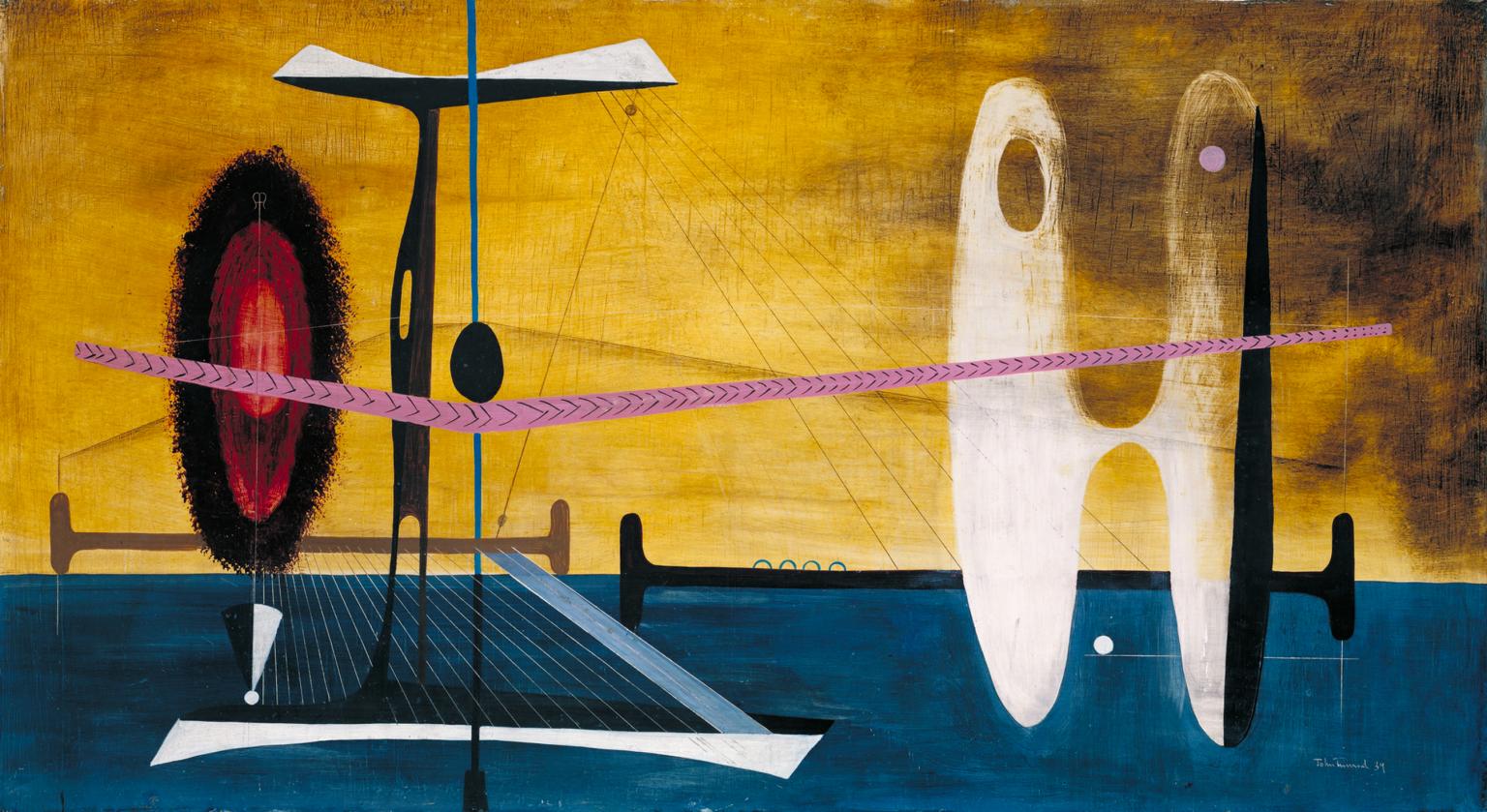 John Tunnard

,

Fulcrum

1939

An advocate of surrealism in Britain, Tunnard was interested in experimental techniques that summon an imaginative world. He developed a unique vision of quasi-mechanical structures in deep space that remain mysterious. Tunnard was taken up by the American collector Peggy Guggenheim and shown in her London gallery in 1939. The story goes that he crossed the private view to introduce himself to a prospective collector by turning three somersaults.

Gallery label, September 2016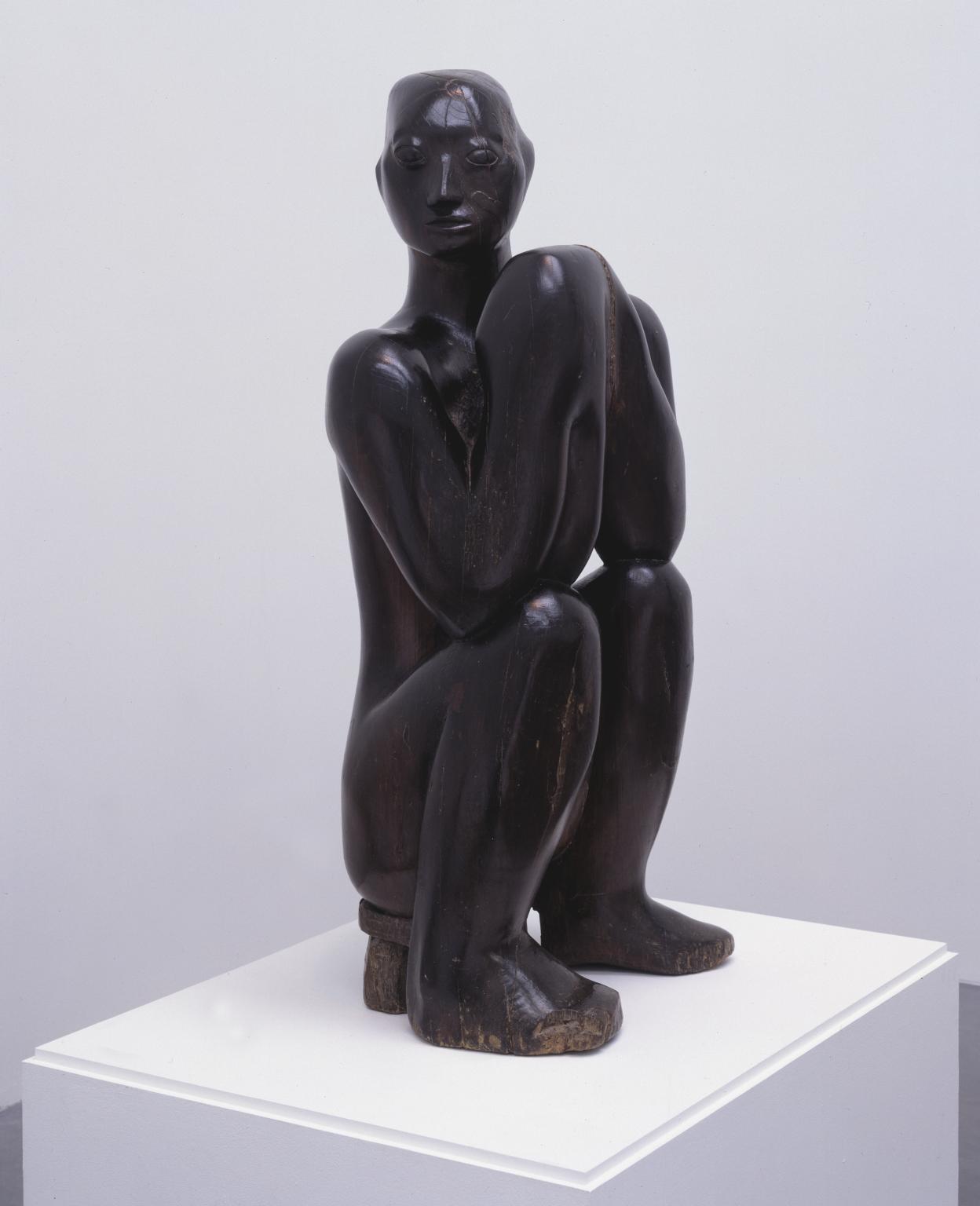 John Skeaping

,

Akua-Ba

1931

The work refers to an Ashanti (or Asante) legend from Ghana. Akua had trouble conceiving and consulted a priest. He instructed her to care for a wooden doll as if it were a real child ('ba') and this helped her become pregnant. Akua'ba dolls have historically been used as fertility aids in the Ashanti region. The doll in this sculpture looks very different. This suggests that Skeaping, a white British artist, had limited knowledge of the legend's cultural context. He may have connected it with his choice of wood, associating acacia trees with Africa. Skeaping drew on the Akua legend at a time when the Ashanti state was a British colony, annexed by force.

Gallery label, April 2021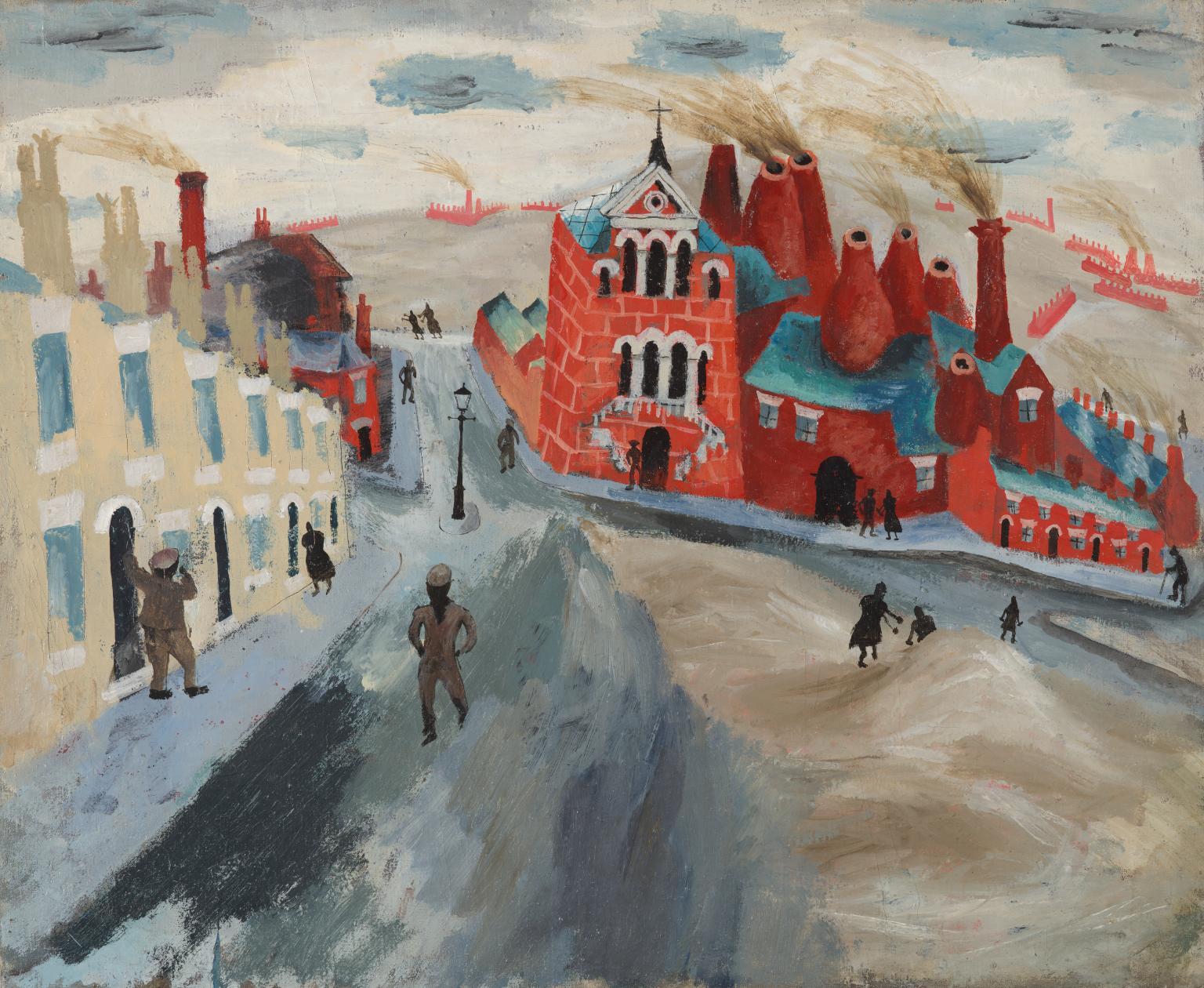 Julian Trevelyan

,

The Potteries

c.1938

Julian Trevelyan worked with Mass Observation, which applied anthropological survey methods to British society. It was founded in 1937, the year after the Jarrow March, a mass protest against unemployment. While the primary tool in gathering information was hundreds of amateur diarists, photography and painting were also used. After a visit to Bolton, Trevelyan returned home via Stoke on-Trent, describing its industrial area as 'a landscape full of drama and pathos', explaining how 'human beings seemed to creep about almost apologetically among the manmade disasters'.

Gallery label, September 2016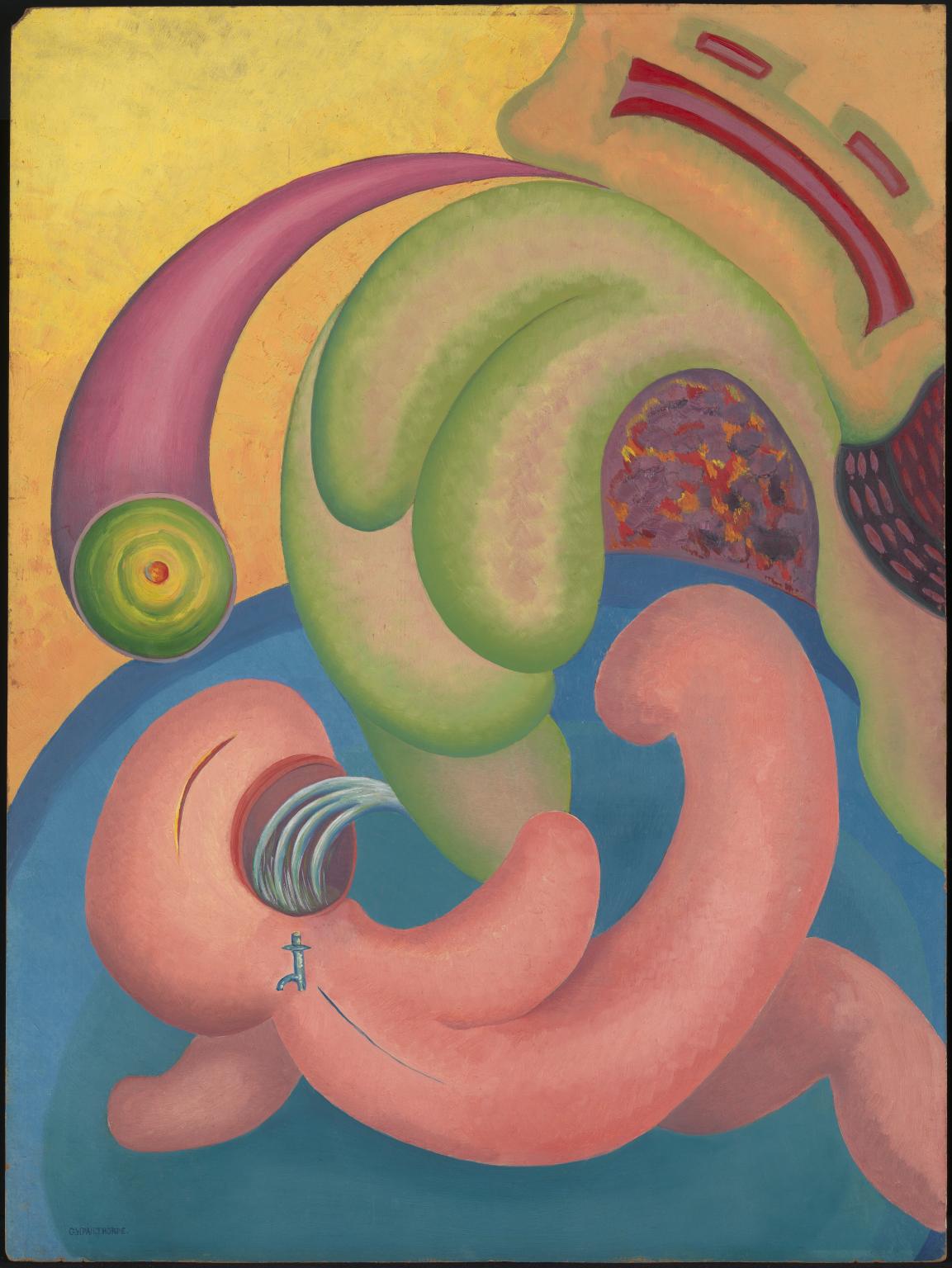 Grace Pailthorpe

,

December 4th, 1938

1938

This painting shows a foetus being nourished in the womb. These early stages of life were Pailthorpe's main artistic subject. Part of her process was to analyse her paintings, using them as a therapeutic tool. This put her at odds with other members of the British Surrealist Group. Her work was celebrated at the 1936 International Surrealist Exhibition in London. Yet, members saw her use of surrealist techniques for therapeutic ends as 'repressive'. This ultimately led to her expulsion from the group in 1940.

Gallery label, May 2021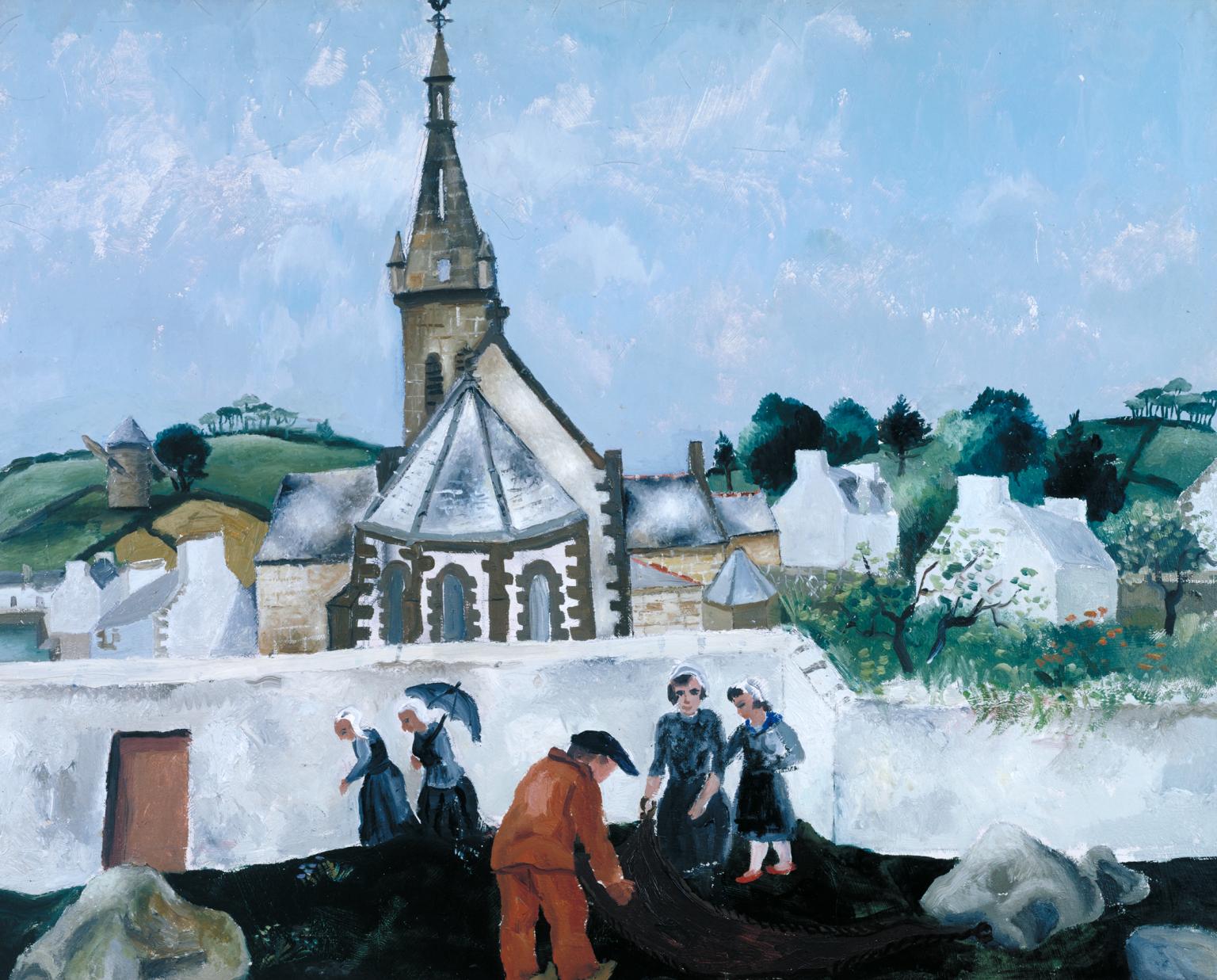 Christopher Wood

,

Church at Tréboul

1930

Wood spent June and July 1930 painting in Brittany, basing himself in Tréboul, close to Douarnenez. This area was popular with both British and French painters and was close to Pont-Aven, which had been made famous by Gauguin whose work, together with that of Van Gogh, was important to Wood. In the space of 40 days Wood painted some 60 canvases both from life and, at night, from postcards, mostly depicting scenes from the daily lives of the fishing community. Moving from the depiction of boats to architecture he claimed helped him to paint a 'quieter composition'.

Gallery label, September 2016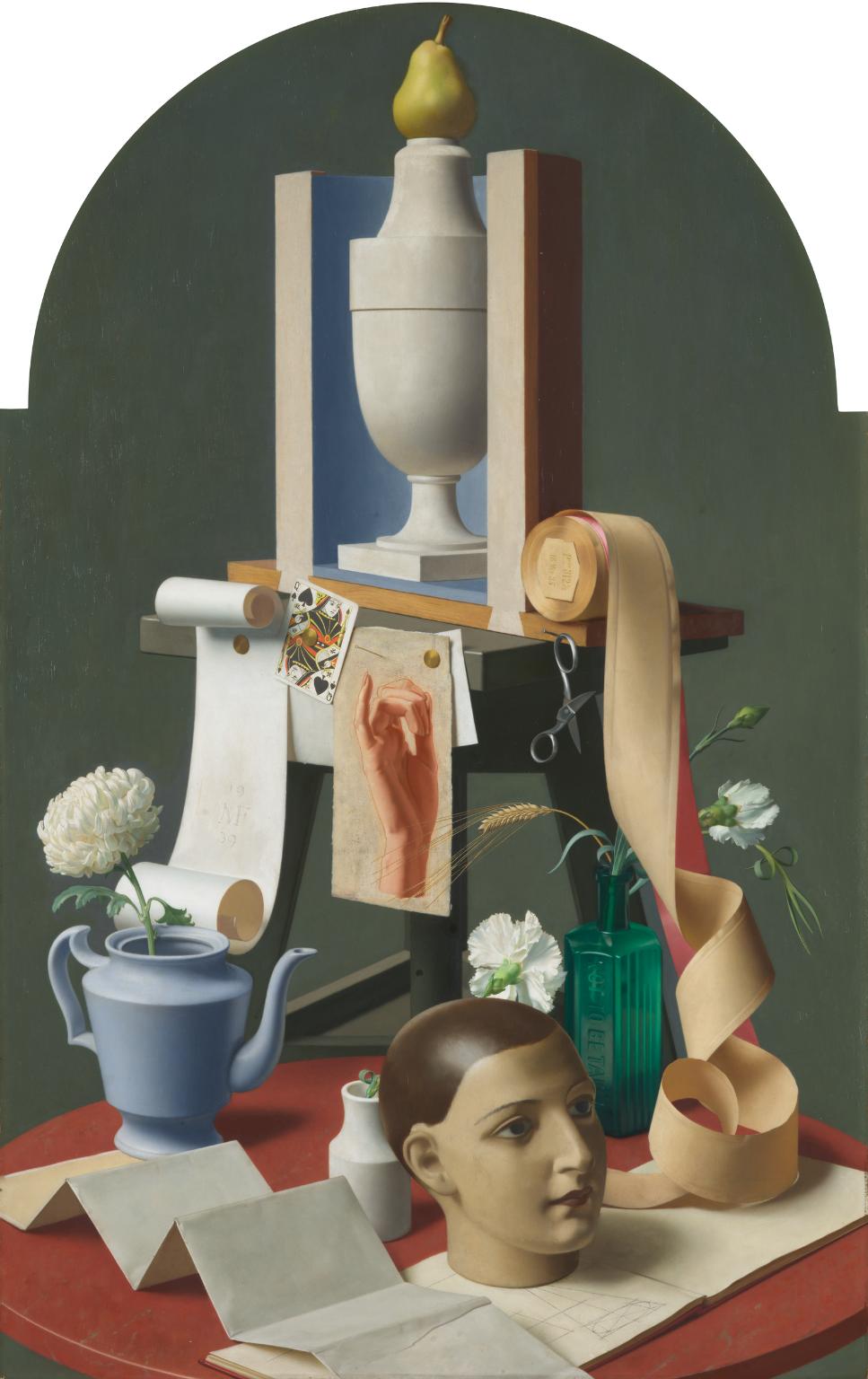 Meredith Frampton

,

Trial and Error

1939

Many of the objects in this still life refer to the 'art of painting'. For example, the head of a model used for life drawing placed on the open sketchbook. Other items could suggest the temporary nature of life. These include the urn and the white carnation flowers, often seen at funerals. The unusual mix of objects, painted in Frampton's precise style, give the work a surreal, dream-like quality.

Gallery label, November 2019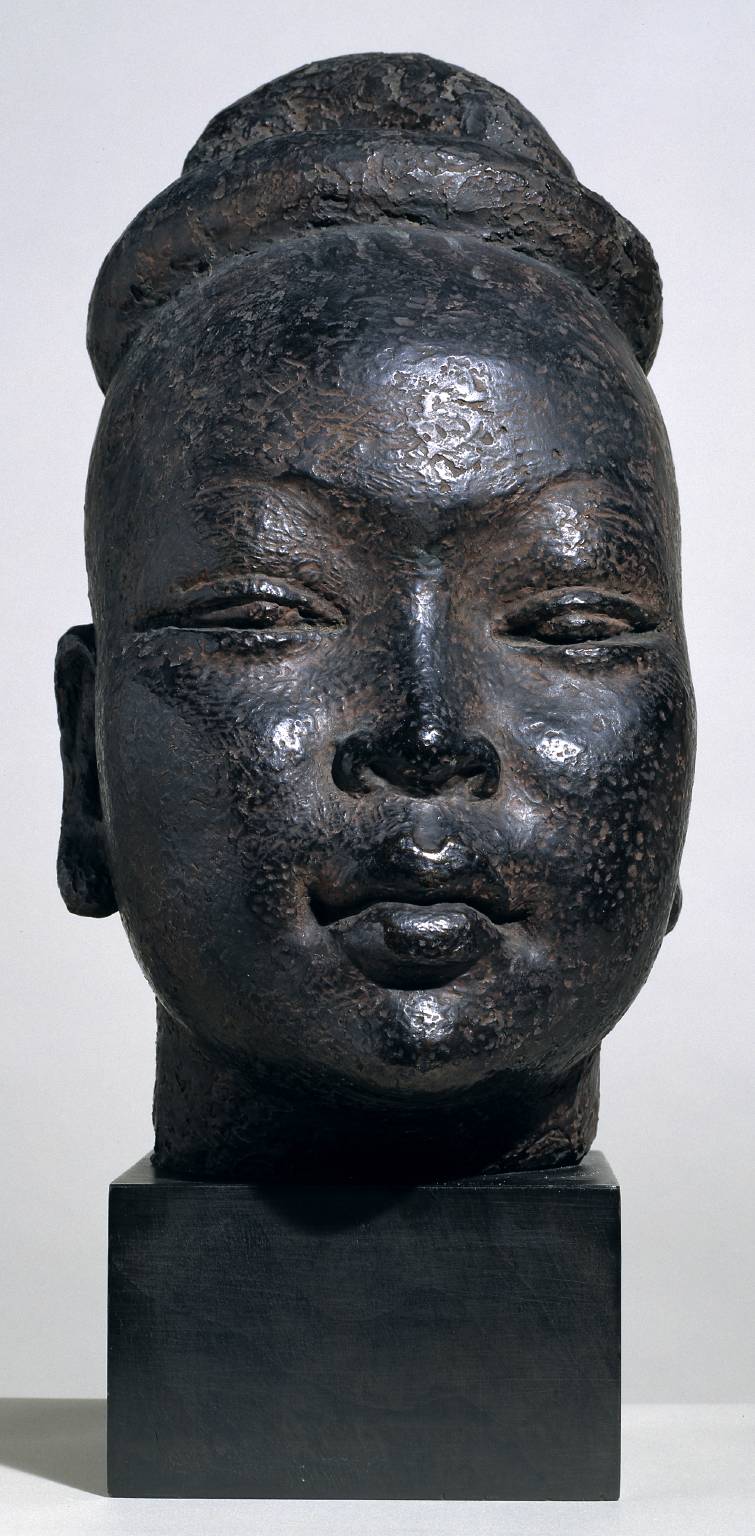 Dora Gordine

,

Javanese Head

1931

Described by the Evening Standard as 'a girl sculpture genius', Gordine travelled to Singapore to work on a commission for the city authorities to produce six sculpted heads representing people of different ethnic backgrounds living in the Malay Peninsula. Javanese Head was modelled there, and its form sits between artistic styles in British art of the period, as the critic Arthur Symons defined, a 'profound sense of pure form… heedless alike of realism and of exaggerated abstraction'.

Gallery label, September 2016
Ben Nicholson OM

,

1933 (milk and plain chocolate)

1933

Here Nicholson floats circles, triangles and other shapes on a dark and milk chocolate coloured background. He creates a sense of rhythm and movement through the use of contrasting blue and red dots and straight and arcing scored white lines. These lines were produced by scratching through paint to reveal a white layer beneath. For Nicholson, this technique emphasised the painting's materials and its status as an object in its own right. In 1934, he described his process as a way of creating 'a living thing as nice as a poodle with two shining black eyes.'

Gallery label, October 2020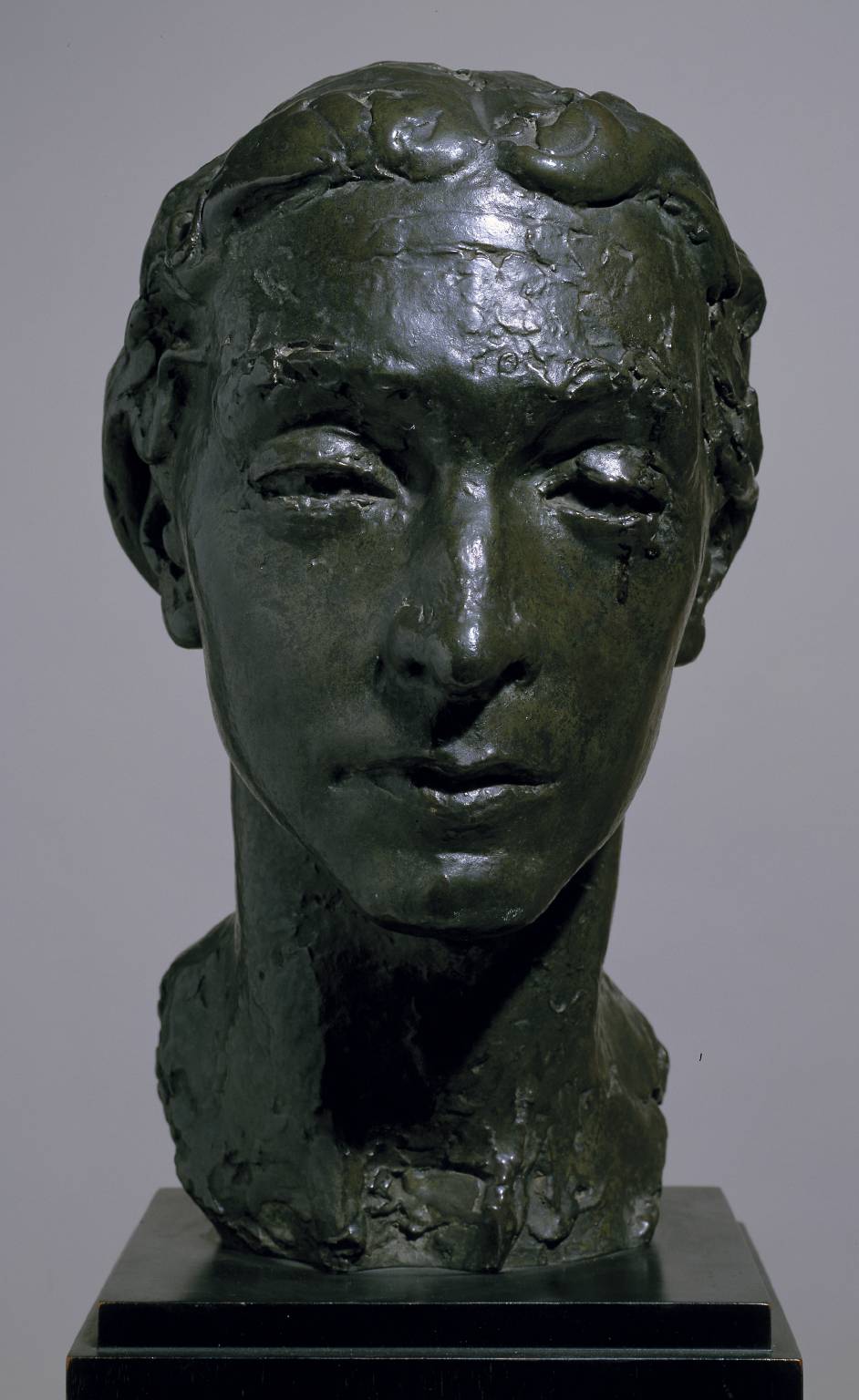 Maurice Lambert

,

Head of a Woman

exhibited 1938

This bronze portrait of the English lutenist, Diana Poulton (1903-1995), was completed in 1936. Lambert's delicate modelling of Poulton's features combined with the lucid transitions between lines and curved mass emphasise the sensuality of his sitter's character. He cast this piece before considering it finished which brought about a sense of experiment and vitality. These attributes are associated with modern sculpture and move this work away from realism towards a looser expression of form in portrait sculpture. Lambert cast only one bronze of this piece and retained the plaster original for himself.

Gallery label, September 2016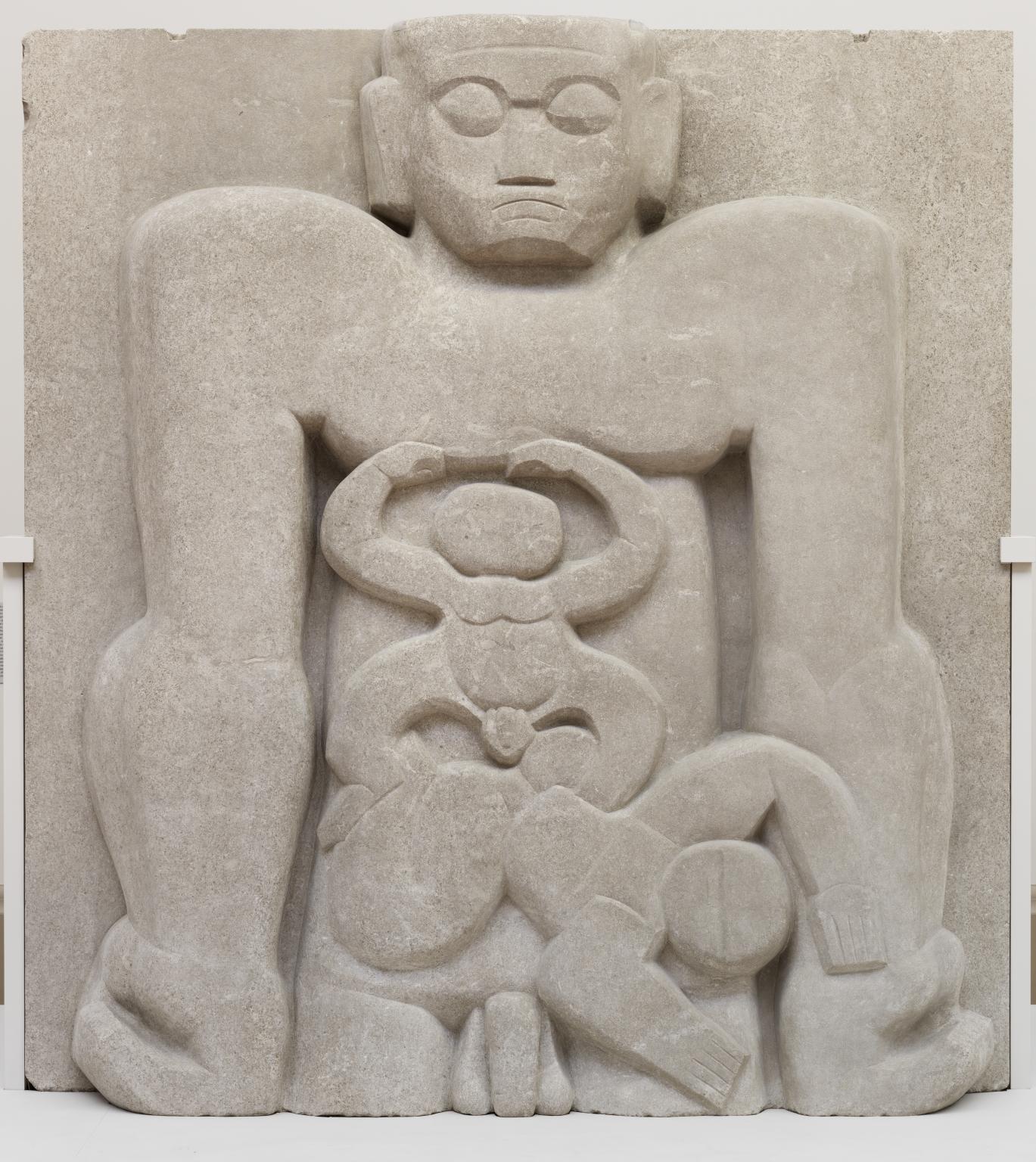 Sir Jacob Epstein

,

Sun God (verso: Primeval Gods)

1910, 1931–1933

The two sides of this sculpture were carved at different times. Sun God was carved in 1910. It is one of several works by Epstein influenced by Egyptian art, exploring the power of the sun. In 1931 Epstein carved Primeval Gods on the reverse. The massive square-shouldered figure is inspired by reliefs from ancient Assyria (now northern Iraq) and Polynesian figures. Epstein collected sculpture from around the world. He adapted sculptural ideas from these works into his art, without necessarily engaging with their meaning or the specific contexts in which they were made.

Gallery label, April 2021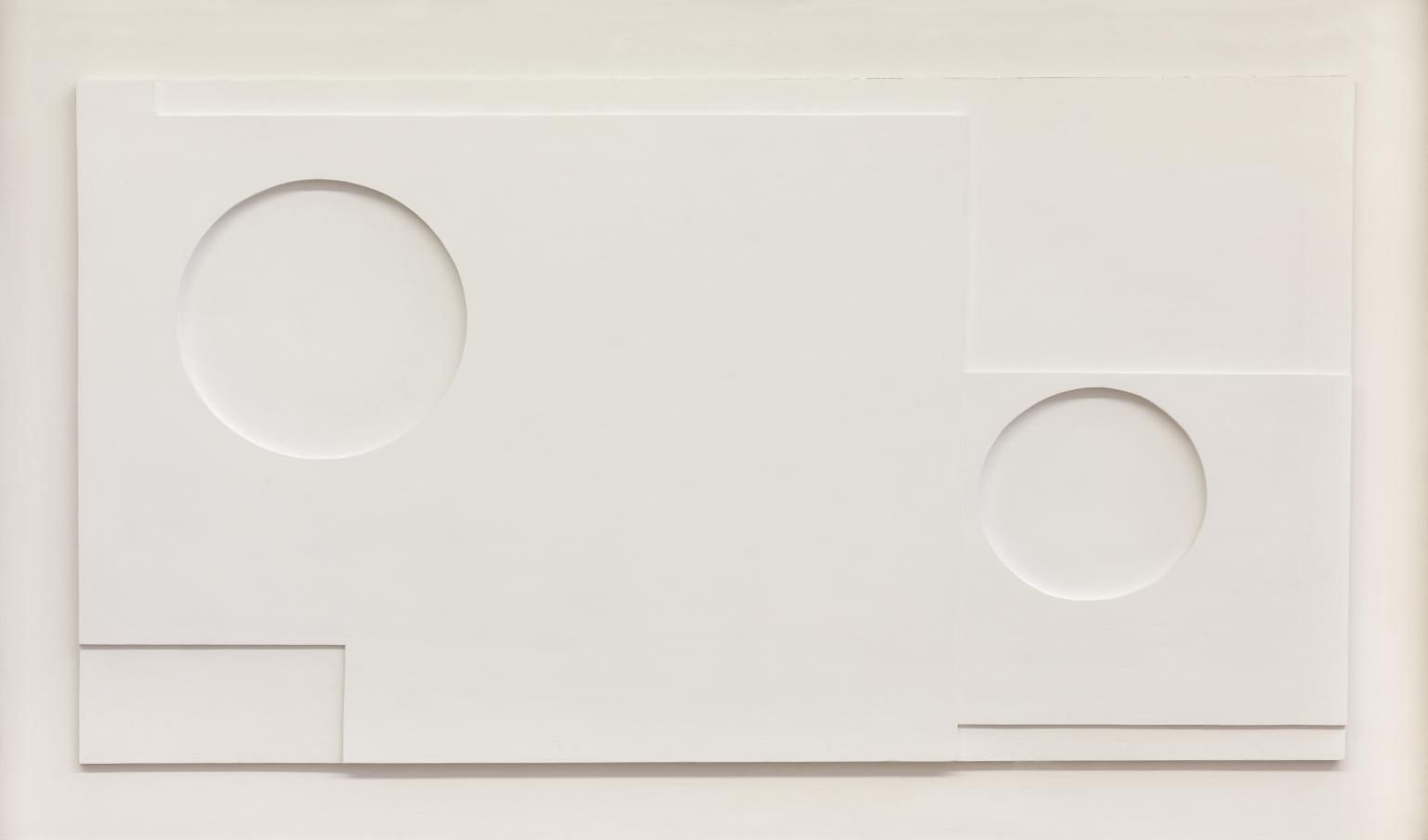 Ben Nicholson OM

,

1935 (white relief)

1935

Ben Nicholson was, with his second wife Barbara Hepworth, a leading figure in the international modern movement in Britain. With artists in continental Europe and North America such as Mondrian, Moholy-Nagy and Calder they worked together to achieve and promote an art that was abstract, synthesised with architecture and design. In defiance of the increasingly antagonistic nationalism engulfing Europe, position was explicitly internationalist and utopian. The compositional quietude of Nicholson's white reliefs provided an aesthetic model for a possible social harmony.

Gallery label, September 2016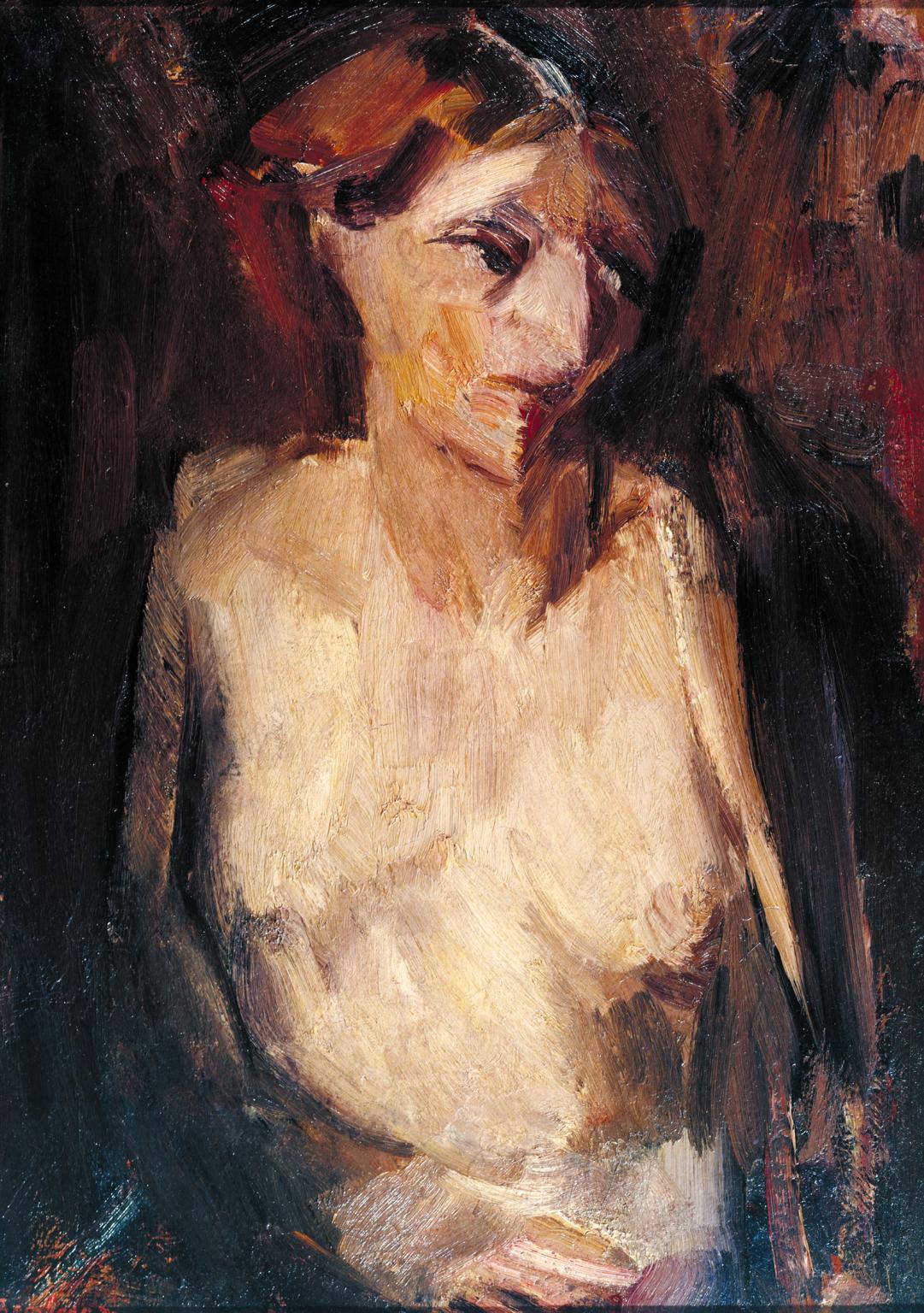 David Bomberg

,

Lilian

1932

David Bomberg produced many portraits of his partner, artist Lilian Holt, during the 1930s. These are notable for their use of vigorous brushstrokes. Holt recalled that, for this half-length portrait, she sat with a black satin dressing-gown around her shoulders and arms because she was shy of posing completely nude. Bomberg required her to pose quite still and in silence, in order that nothing should interrupt his concentration.

Gallery label, November 2016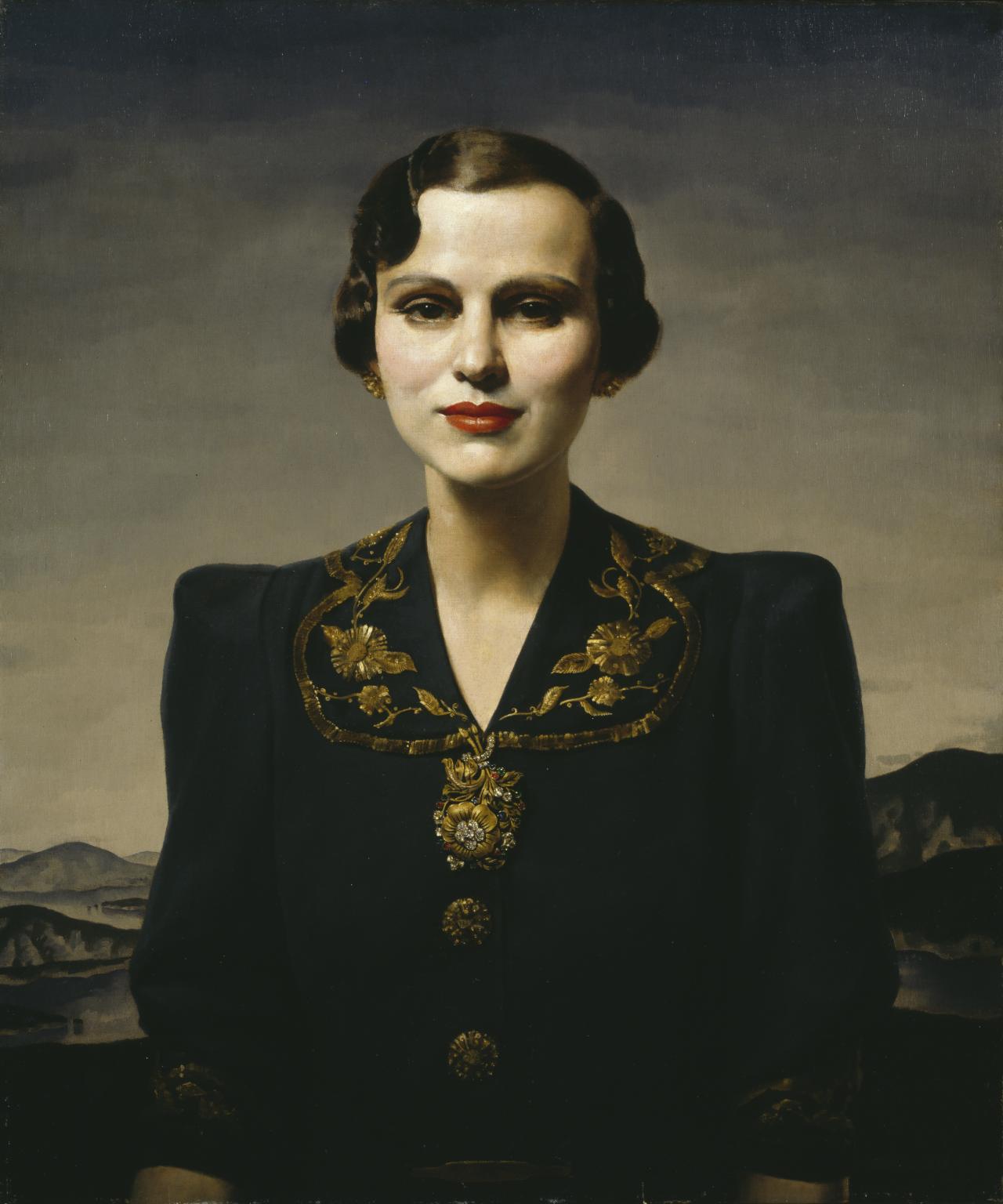 Gerald Leslie Brockhurst

,

Portrait of Margaret, Duchess of Argyll

c.1931

In the 1930s Brockhurst became a sought after portrait painter. Paintings such as this represented a fashionable assimilation of past with present, a modern expression of traditional artistic values. Combining rich decoration with subtle assessment of character, Brockhurst specialised in painting rich, famous and often highly independent women. This is a portrait of the socialite Margaret Sweeney, Duchess of Argyll. The dramatic landscape background of volcanic mountains and loch allude to the sitter's Scottish heritage of which she was intensely proud.

Gallery label, August 2019
Art in this room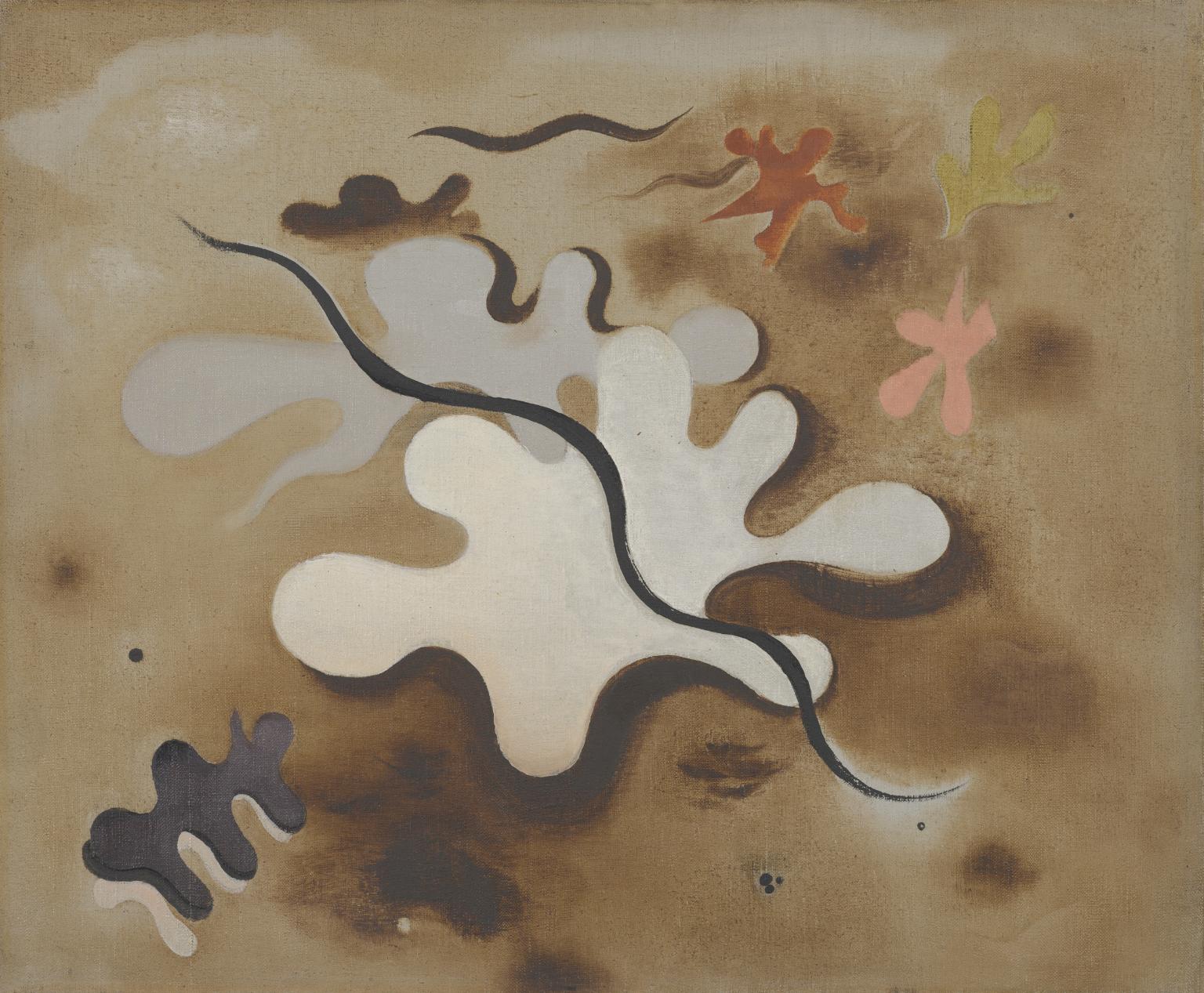 Paule Vézelay
White Shapes in Movement
1930
Winifred Nicholson
Sandpipers, Alnmouth
1933
Sam Haile
Surgical Ward
1939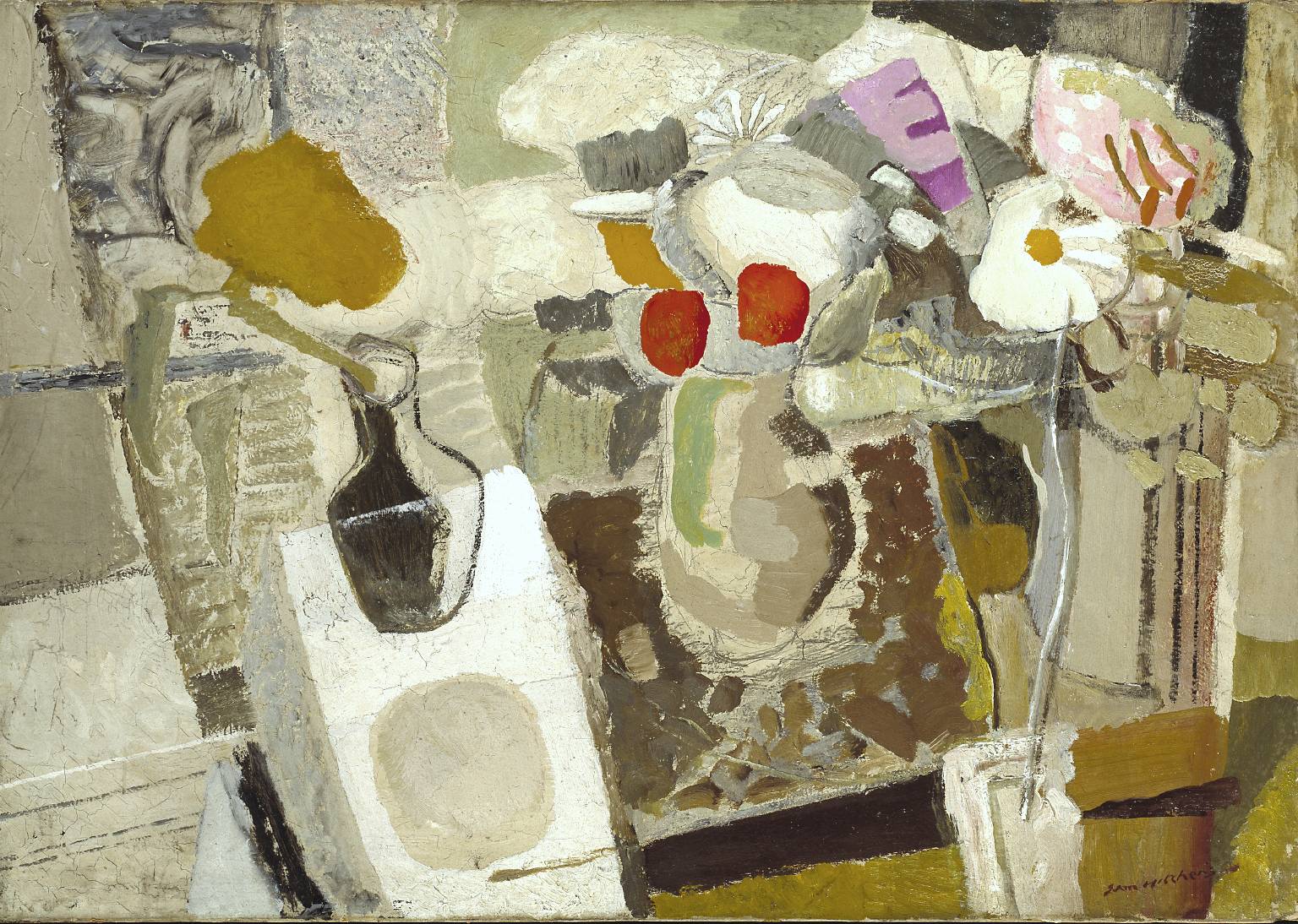 Ivon Hitchens
Autumn Composition, Flowers on a Table
1932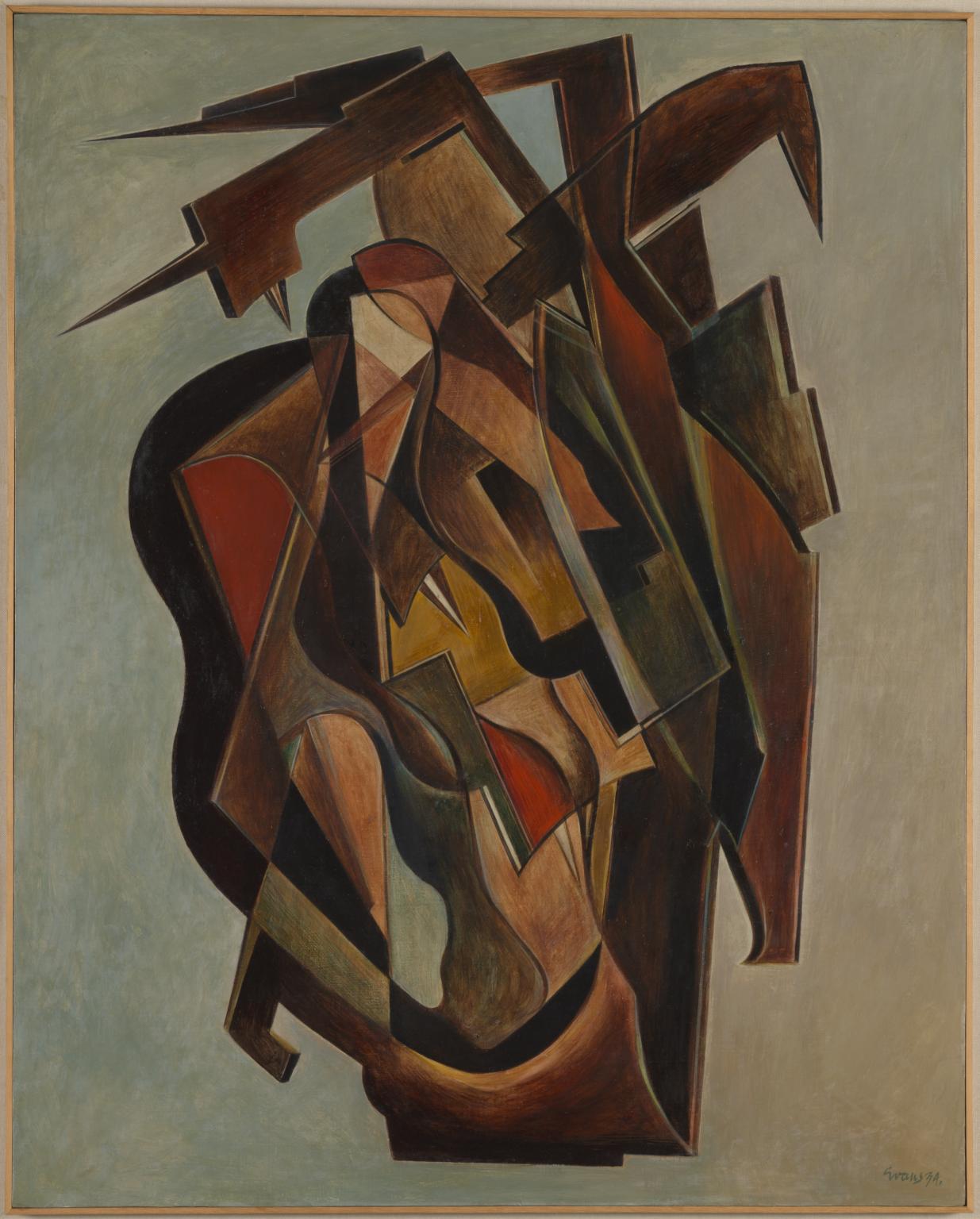 Merlyn Oliver Evans
The Conquest of Time
1934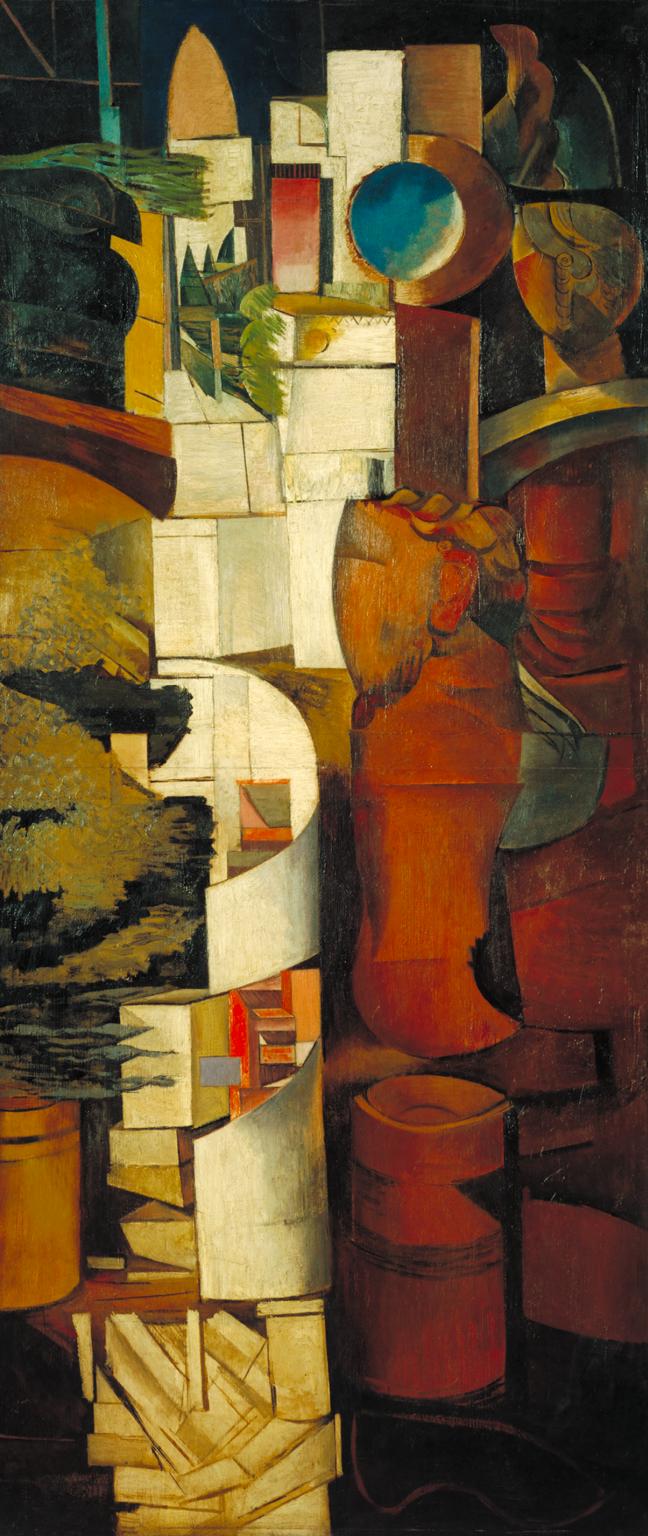 Wyndham Lewis
Bagdad
1927–8
You've viewed 6/22 artworks
You've viewed 22/22 artworks
If you thought you knew British art, visit and think again … there is no better place to go