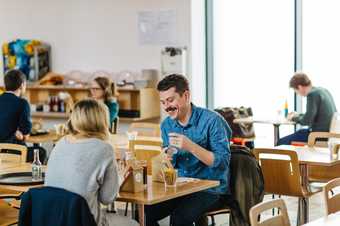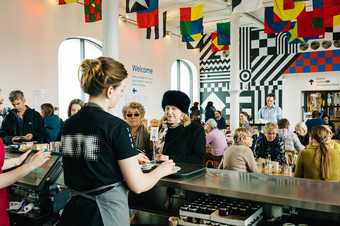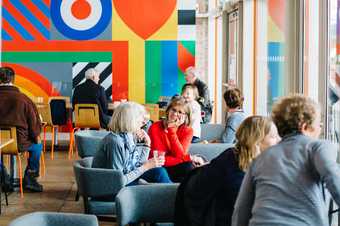 Menu
We are working on a new, delicious menu. We are currently serving a selection of coffees, teas, hot chocolate and babyccinos. Enjoy mouth-watering cakes and biscuits from Caz's Kitchen, which include triple chocolate cookies, pecan blondies, vegan chocolate biscoff, chocolate and gingerbread cake and lemon and raspberry drizzle cake.
Families
The Café welcomes families and provides high chairs on request.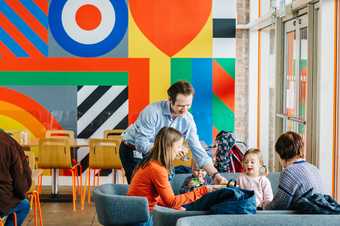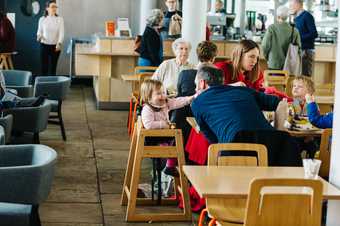 Design
Sir Peter Blake was specially commissioned to transform Tate Liverpool's Café. Here, visitors can enjoy the same cheerful and bright imagery as displayed on his Everybody Razzle Dazzle, Liverpool's incredible dazzle ferry currently lighting up the River Mersey. Consisting of a new prominent wall installation which brings together the artist's iconic pop motifs, Blake has also designed a special set of maritime signal flags, which adorn the café ceiling. This new look and feel for the café, conceived by the Liverpool based design practice Architectural Emporium, also includes a new suite of furniture ensuring you'll dine in style.
Students at the University of Liverpool and Liverpool Hope University receive a 20% discount on all orders.
Available for hire for corporate and private events.