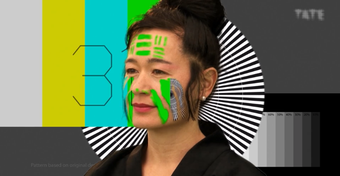 Being fitted with an invisibility cloak and being a superhero are two of the things Hito Steyerl suggests trying if you want to be invisible. She also suggests hiding away in a house with big security gates and wearing a box over your head.
Hito Steyerl is an artist, filmmaker and writer. She is also a performer and often does 'performance-lectures', that are a cross between a talk and a performance. She was born in Germany in 1967, studied filmmaking in Japan, and now lives and works in Berlin.
Steyerl is most famous for her dazzling films and videos in which she layers lots of different themes and images. They are entertaining and funny but also really clever, (so clever they should probably be shown with a warning that they'll make your head spin and your mind boggle!)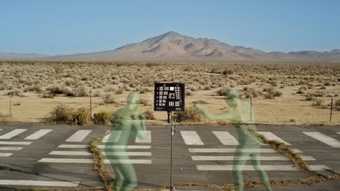 Her films sometimes look a bit like video games, because she uses digital recreations of settings and virtual realities as well as real places in her work. In fact in her films you can never quite tell what is real and what is pretend. She also often fakes things like news reports or government broadcasts to add more confusion! This is what one journalist said about her work:
'With Steyerl, you can't always tell fact from fabulation, where the jokes end and seriousness begins, what is truth and what is a lie'
Where do her ideas come from?
Hito Steyerl is fascinated by the amount of images that we are bombarded with every day. She is also fascinated by the digital technologies used to make and circulate these images around the world. In her work she explores what images show, why they are made, and what effect they have on the way we think and how we see the world.
Hito Steyerl's work has been described as 'an art for our times' because the themes she uses are very much about what is happening right now. She has been inspired by everything from dance moves to TV to modern architecture; and she even investigates philosophy and mathematics. She also deals with social and political issues that she feels strongly about, such as women's rights, political corruption and the horror of conflict and war.
How does she make her work?
To make her films and lecture-performances, Steyerl does lots of research, interviewing people and investigating the subjects she wants to include. She also hunts out images and bits of film from TV, the internet, from art and art history and all sorts of other places.
She then puts these together using sampling techniques, adding in her own digitally created pictures, to create dazzling film collages that sometimes look like a serious scientific documentary and sometimes look magical and to dreamlike.