Harold Gilman 1876–1919
Early style and inspiration
After leaving the Slade, Gilman spent over a year in Spain, much of the time copying the work of the great Spanish masters Diego Velázquez (1599–1660) and Francisco Goya (1746–1828) in the Prado in Madrid. Gilman later wrote an article in 1910 on 'The Venus of Velasquez', in which he repudiated claims that
The
Rokeby Venus
in the National Gallery was not by the artist.
4
Velázquez was of great importance to many of Gilman's Slade contemporaries. This was partly due to the publication of an important monograph on the Spanish artist by R.A.M. Stevenson in 1895, where Stevenson described him as 'the prophet of the new schools' and saw him as the forerunner of impressionism.
5
Stevenson sought to legitimise the work of English impressionist artists, such as the London-based American artist James Abbott McNeill Whistler, by drawing parallels with what he called Velázquez's 'truth of impressionism'.
6
Whistler's smooth tonal handling was also of great importance to Gilman in the development of his style at this time.
Gilman was in Madrid at the same time as Gore and Lewis, although it is not known whether they saw each another. It was there too that he met his first wife, Grace Cornelia Canedy (c.1864–c.1957), who was the daughter of a wealthy Chicago industrialist and was also there to copy Velázquez. On 2 February 1902 they married in the garden of the United States consulate in Toledo.
7
The couple returned to England towards the end of 1902 and on 19 January 1904 their first daughter Elizabeth was born at 128a Lancaster Road, Notting Hill.
8
Gilman showed at the spring exhibition of the New English Art Club that year, where his address is given as The Rest, The Moors, Pangbourne, Berkshire,
9
indicating that the family had already decided to move out to the countryside. Later on in the year Gilman was in Ottawa working on some murals, now lost, for a Canadian government building, before joining Grace in Chicago where their second daughter Hannah was born on 4 February 1905. Grace's father reputedly tried to persuade Gilman to join his business, but the artist refused.
10
In February 1907 Gilman and Sickert were introduced. Shortly afterwards saw the formation of the Fitzroy Street Group, of which Gilman was a founder-member. Gilman's friend Louis Fergusson recalled that at this time he was
a figure of dignity in snuff-coloured suit and black neckerchief. He impressed you with his transparent earnestness. Painting meant ever so much to him. He told you with the utmost conviction that Freddie Gore was going to be a very great painter, that the next important art-movement would certainly emanate from the room in which we were standing.
11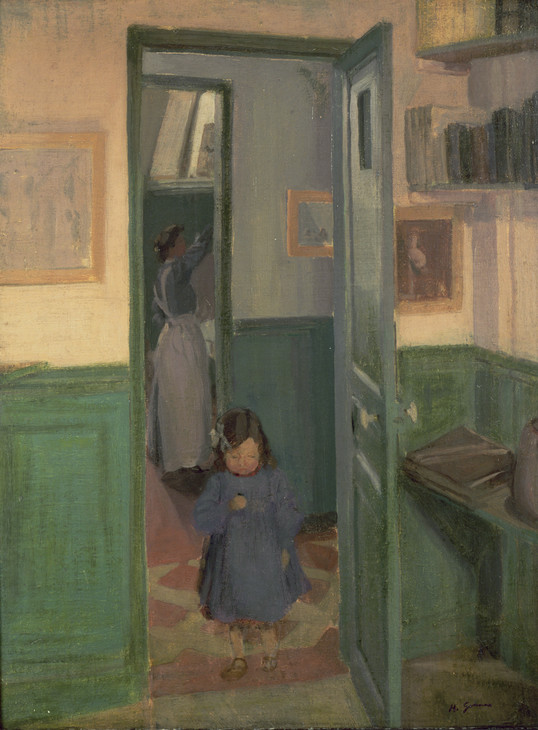 At this time Gilman's painting still displayed the influence of Whistler, whose memorial exhibition of 1905 inspired many young artists. Fergusson remembered that Gilman's works of this type
were very intimate – very smoothly painted – without impasto – without excrescences. Degas, who disliked anything growing out of a canvas – any thrust of pigment into the third dimension – would have passed his hand over the surface with entire satisfaction. The attitudes of the people represented at their domestic avocations were gravely rendered in an illumination both subtle and subdued; the tones harmonized with impeccable taste.
12
Gilman and his family stayed in Sickert's house at Neuville outside Dieppe from the summer of 1907 (fig.5).
14
In March 1908 he exhibited at the Salon des Indépendants in Paris for the first time, showing there again in 1909, 1910, 1912 and 1913.
15
Back in England he was part of the group that helped Rutter to form the Allied Artists' Association, which was inspired by the non-jury Salon. He showed at the first exhibition in July 1908 at the Royal Albert Hall. It was at the AAA in 1910 that Gilman and Gore met Charles Ginner – that year all three were on the Hanging Committee owing to their surnames beginning with the letter 'G'.
16
Post-impressionist influence
On 20 September 1908, Gilman's son David was born at Letchworth Garden City in Hertfordshire. The family address at this time was 15 Westholm Green, Letchworth,
17
close to the designer William Ratcliffe who lived at number 10, whom Gilman befriended. As the art historian Wendy Baron observes, 'It tells much of the power of Gilman's personality that he persuaded Ratcliffe, at the age of fifty, to take up painting again by studying part-time at the Slade in 1910 and by spending his Saturday afternoons in the Fitzroy Street Group studio.'
18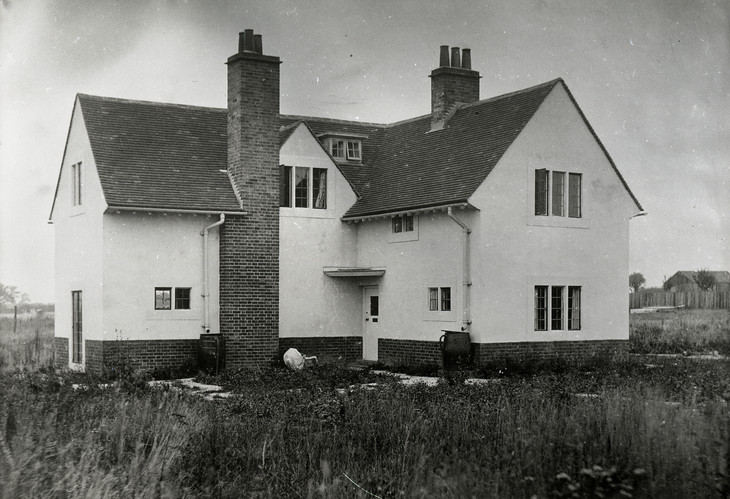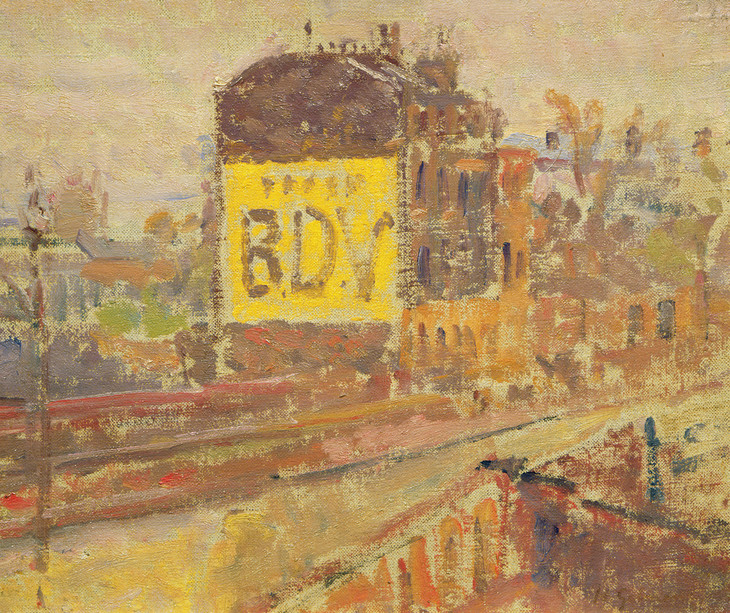 Gilman commissioned a larger family home to be built at 100 Wilbury Road (fig.6), but less than a year later Grace left for Chicago with their three children and did not return, perhaps owing to irreconcilable differences and pressure from her family.
19
Following their separation, Gilman spent more time in London (fig.7) and became increasingly outspoken at 19 Fitzroy Street.
20
Rutter wrote that after his marriage break-up:
Roughly handled by life, Gilman began to think for himself and take little or nothing on trust. In politics he became a Socialist with a profound dread and distrust of Society; while in art his loyalty to a 'safe' painter like Velazquez began to be undermined by a growing interest in the work of such 'rebels' as Cézanne, Gauguin and Van Gogh.
21
As a result of these growing interests, Gilman began to use brighter colours and thicker paint – a new style epitomised in
The Blue Blouse:
Portrait of Elèni Zompolides
c.1910 (Leeds City Art Gallery).
22
More than any of the other Fitzroy Street members, who were already familiar with modern continental work, Gilman was especially inspired by Roger Fry's exhibition
Manet and the Post-Impressionists
at the Grafton Galleries from October 1910. A trip he took to Paris around this time with Rutter and Ginner where they saw modern paintings in the Pellerin and Durand-Ruel collections and at the Vollard and Sagot galleries also stimulated a new direction in Gilman's art.
23
According to Rutter, the 'immediate sequel of this visit [to Paris] was Gilman's production of a series of admirable "dot" drawings in emulation of those of Van Gogh'.
24
Rutter felt that 'Van Gogh particularly appealed to him, partly because Gilman himself had in him a good deal of the Dutchman's fanatical humanitarianism, partly because he was fascinated by van Gogh's technique, and partly because van Gogh was the special idol of his friend, Charles Ginner'.
25
As the artist Wyndham Lewis described, van Gogh was in fact so important to Gilman that:
If you went into his room, you would find Van Gogh's Letters on his table: you would see post cards of Van Gogh's paintings beside the favourites of his own hand. When he felt very pleased with a painting he had done latterly, he would hang it up in the neighbourhood of a photograph of a painting by Van Gogh.
26
The allegiance to van Gogh was something that stayed with Gilman throughout his life.
The Camden Town Group and 'Neo-Realism'
Gilman's conviction that, as Walter Bayes remembered, 'nobody really counted as a painter who was outside his own group',
27
led to his perseverance with the formation of the Camden Town Group. Ginner wrote that Gilman was the 'prime mover' in the formation of the group because the New English Art Club had been rejecting his and his friends' works, so that 'Something had to be done, and when possessed with the idea that some wrong needed redressing he was not one to let the matter rest until something
had
been done'.
28
Rutter recalled that not everyone was keen on breaking away from the NEAC, but 'Gilman was tooth-and-nail against any compromise with the enemy, and was definitely in favour of founding a new exhibition body', so that 'Eventually the persistence of Gilman triumphed' and the Camden Town Group was formed.
29
Gilman exhibited at all three of the Camden Town Group exhibitions, and also held joint exhibitions with Gore in 1913 and Ginner in 1914.
30
By the time of Gilman and Ginner's exhibition in April, they had already announced themselves as 'Neo-Realists' in an article Ginner wrote for the
New Age
in January of that year and in the Allied Artists' Association exhibition in July the previous year. Gilman had always been a keen realist, as his statement of 1910 attests:
No flower is better placed than where it grows, or in a vase by one not thinking of expression. The teacup filled shows best the thought that filled it; when it is emptied another pattern on the table will be formed. Life dictates the shapes. The artist only holds them. If forms don't please, look for another motive. Nothing but life can imitate the real. The natural inclination of a head or its aversion shows the intention and the subtlest thought. This is composition.
31
In 'Neo-Realism', Ginner stated that:
Greco, Rembrandt, Millet, Courbet, Cézanne – all the great painters of the world have known that great art can only be created out of continued intercourse with nature.
32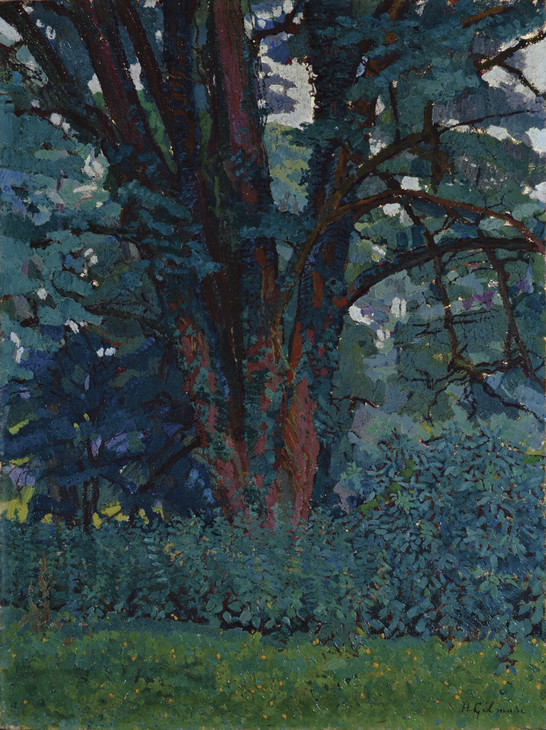 Gilman's allegiance to realism meant that he never created work that was completely abstract. The most abstract piece he painted was
The Lane
1915 (Plymouth City Museum and Art Gallery),
33
which depicts a country lane in geometric blocks of colour, akin to the paintings Gore made in 1912 at Gilman's house at 100 Wilbury Road, Letchworth (see Tate
N04675
) when Gilman was away painting in Sweden. But Gilman did not pursue the style beyond this. Instead he adapted it in other landscapes of 1916, such as
Study in Trees, Beechwood
(private collection)
34
and
In Gloucestershire
(fig.8), which depict the landscape in a stylised yet realistic way. Fergusson said of this series, 'In 1916 he came back from Gloucestershire with some half a dozen canvases that showed him in a new light. They were paintings of nothing but trees.'
35
Gilman's new alliance with Ginner signalled his eventual breach with Sickert. Lewis described the rift comically:
After his break of what was more or less discipleship with Walter Sickert and his plunge into the Signac palette and a brighter scheme of things ... He would look over in the direction of Sickert's studio, and a slight shudder would convulse him as he thought of the little brown worm of paint that was possibly, even at that moment, wriggling out onto the palette that held no golden chromes, emerald greens, vermilions,
only
, as it, of course, should do. Sickert's commerce with these condemned browns was as compromising as intercourse with a proscribed vagrant.
36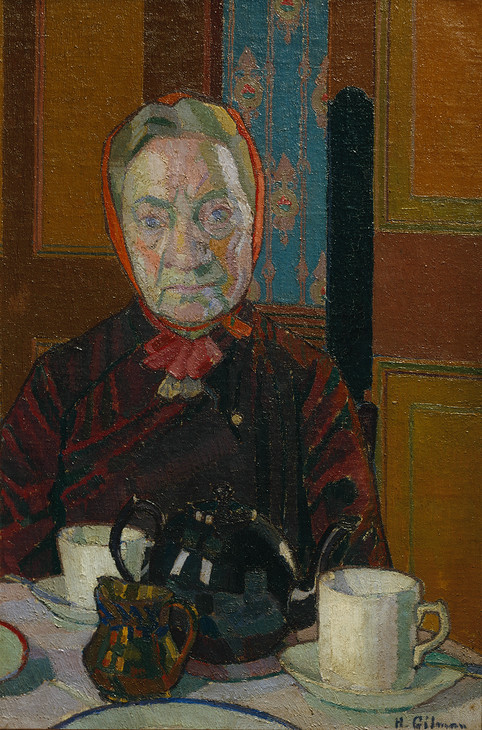 Although Lewis's account is littered with hyperbole, by 1914 the increased intensity of Gilman's palette is ever more apparent in his paintings of interiors, especially those of his flat at 47 Maple Street off the Tottenham Court Road, and of his housekeeper there, Mrs Mounter (Tate
N05317
, fig.9), whom other artists might have depicted in so-called 'dirtier' colours. Mrs Mounter's expressions show her to be a serious, elderly, working class woman, yet the vibrancy of the colours with which she and her surroundings are painted give her a sense of vitality, akin to van Gogh's portraits.
Sickert reinforced the divide between himself and his former Camden Town Group colleagues when, in response to Ginner's 'Neo-Realism' article, he mischievously labelled Gilman and Ginner as 'The Thickest Painters in London'.
37
Gilman was also hurt and put in financial difficulty when in 1915 Sickert took back a teaching post at the Westminster School of Art that Gilman had assumed after Gore's death.
38
Gilman and Ginner formed their own exhibiting society, the Cumberland Market Group, with Robert Bevan amongst others (figs.10 and 11), which showed only once at the Goupil Gallery in 1915.
39
After Gilman lost his post at Westminster, he and Ginner set up their own art school at 15–16 Little Pulteney Street in Soho in January 1916 where they would deliver their own particular views on art. As their student Marjorie Lilly recalled:
On one side of the room was a reproduction of Toulouse Lautrec's picture 'A la Mie' and on the other wall a print of the famous Van Gogh self portrait with pipe in mouth and bandaged ear. Before he began to paint, Gilman would wave his brush in the air and bow towards the portrait, crying, 'A toi, Van Gogh!' ... Everyone followed in the steps of the master and I found this orgy of rainbow hues confusing ... As for spreading the thick paint, of the consistency of clay, on the canvas, I soon decided that Sickert was right; it
was
like walking across a ploughed field in pumps. Although we were not encouraged to use any medium I longed to smuggle in a little turpentine when no one was looking to thin this stiff mixture.
40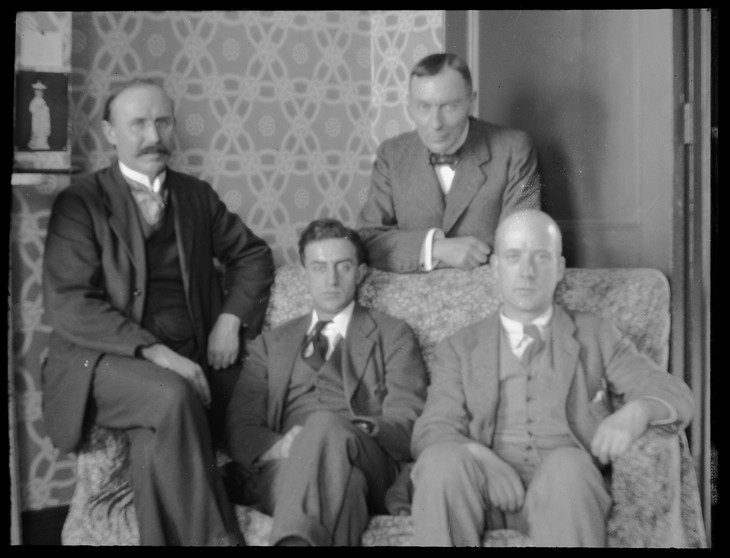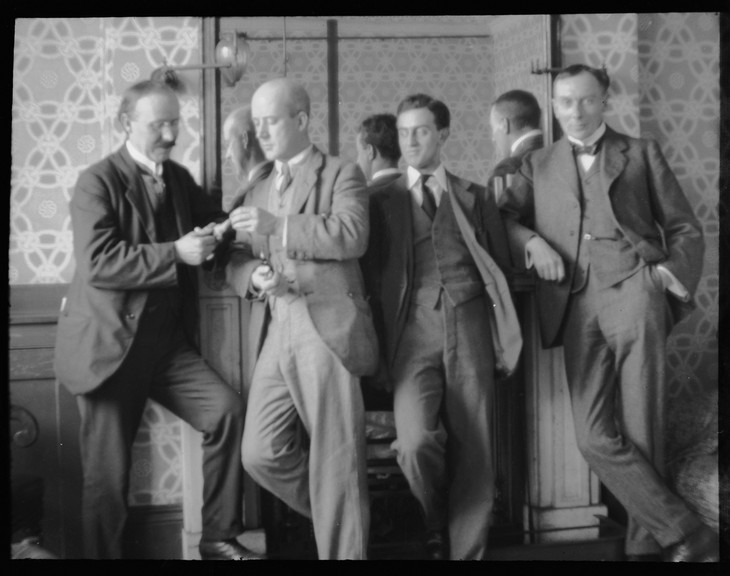 For health reasons, Gilman did not serve in the war. However, he was commissioned by a committee in London headed by Lord Beaverbrook to paint Halifax Harbour in Nova Scotia in 1918,
43
which had been devastated in a massive munitions explosion late the previous year in which nearly two thousand people died and thousands more were injured or left homeless.
44
As Wendy Baron notes, 'he worked with unrelenting dedication, in all weathers' to fulfil the commission,
45
producing the largest work of his career,
Halifax Harbour at Sunset
1918 (National Gallery of Canada, Ottawa),
46
which tells very little about the recent devastation, as the viewpoint is set back so that the harbour appears undisturbed.
47
Lewis said of this:
If you are to seek for anything dramatic in his death, it is that his last picture (that of Halifax Harbour), on exhibition during his last illness, was in many ways the best he had done.
48
Memorials
Gilman died on 12 February 1919 in the French Hospital on Shaftesbury Avenue, a victim of the postwar influenza epidemic, catching the illness from nursing his friend Ginner.
49
Lewis and Fergusson were quick to publish
Harold Gilman: An Appreciation
in the summer. Fergusson regarded 'His premature death ... a great misfortune for English independent art',
50
and Lewis said of his former Slade contemporary:
He had a great capacity for friendship, a poor and third-rate gift for hatred, every virtue of middle-class England, and, in fact, was one of the most amusing, genuine, equable, sensitive individuals I have met. And all his contemporaries agreed that he was a good painter.
51
Rutter later wrote that Gilman died 'just as he was entering on a last phase of supreme technical mastery and individual distinction'.
52
That summer Ginner also wrote an article on his friend in
Art and Letters
, the journal they had set up with Frank Rutter, which was reproduced in the catalogue for Gilman's memorial exhibition held in October 1919 at the Leicester Galleries. Ginner wrote that Gilman's death, 'coming so few years after that of Spencer F. Gore, is a great loss to the modern art movements in this country', which 'owe much to the efforts of ... Gilman, whose achievements in painting and whose keen interest in all attempts to bring artists together will long be remembered'.
53
How to cite
Helena Bonett, 'Harold Gilman 1876–1919', artist biography, October 2009, in Helena Bonett, Ysanne Holt, Jennifer Mundy (eds.), The Camden Town Group in Context, Tate Research Publication, May 2012, https://www.tate.org.uk/art/research-publications/camden-town-group/harold-gilman-r1105360, accessed 18 August 2022.