Lucien Pissarro 1863–1944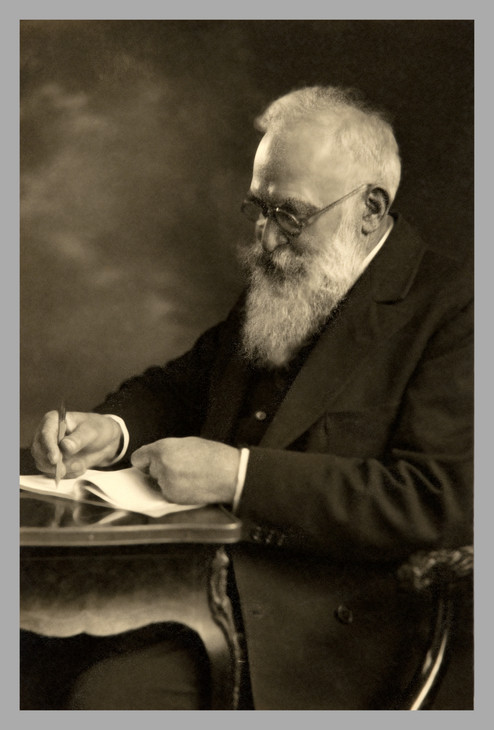 Lucien Pissarro (fig.1) was born on 20 February 1863 in Paris, the eldest of seven children of the impressionist painter Camille Pissarro (1830–1903) and Julie Vellay (1839–1926). Lucien first visited England with his family in 1870–1 during the Franco–Prussian war, staying with relations in Upper Norwood on the outskirts of London. Over a decade later in 1883–4 he again came to England, living with family in Holloway Road in north London, to learn English and to work in the office of a music publisher. Like his father, Pissarro was both a painter and an illustrator; he returned to France in 1884, working as a landscape painter while also making an income producing book illustrations, and he showed with his father in the last impressionist exhibition in 1886. During this time back in France he met and worked with the painters Paul Signac and Vincent van Gogh; the latter dedicated an 1887 painting,
Basket of Apples
, 'à l'ami Lucien Pissarro' (Kröller-Müller Museum, Otterlo).
1
He also exhibited at the Societé des Artistes Indépendants in Paris for the first time in 1886, and in 1888 was on the Hanging Committee with Signac and Georges Seurat, alongside whose work he exhibited under the title of 'Neo-Impressionist' in Paris in December 1892–January 1893 and December 1893–January 1894.
Pissarro's permanent move to England in November 1890 was in part a response to his admiration for William Morris and the illustrators of the Arts and Crafts movement, and he lectured on impressionism at the Art Workers Guild in 1891. He stayed also for his attraction to Esther Levi Bensusan (1870–1951), whom he had met in 1883 during his first visit to England. The couple were married in Richmond on 10 August 1892. Their honeymoon was first spent in Rouen and then they stayed for eight months at Camille and Julie Pissarro's new house in Eragny, in the countryside north-west of Paris. Pissarro continued to visit the Eragny home regularly over the years.
Upon returning to England, the couple settled in Epping in Essex, where they lived from 1893 to 1897. Pissarro painted the area in
April, Epping
1894 (Tate
N04747
). Their daughter and only child, Orovida Camille Pissarro, was born on 8 October 1893. Inspired by William Morris's Kelmscott Press, the following year the Pissarros established the Eragny Press at their Epping home, named after his family residence in France. The first publication was a translation from a French fairytale by Esther's friend Margaret Rust,
The Queen of the Fishes
(1894), for which Pissarro made coloured woodcuts and handwritten text.
2
The book was published in collaboration with Vale Press, which was run by Pissarro's good friends and collaborators Charles Ricketts (1866–1931) and Charles Shannon (1863–1937). The Eragny Press was active until 1914, publishing thirty-two books. In making illustrated books Pissarro was typical of an artist of the 1890s, but his printmaking was linked with his socialist beliefs and he collaborated with the anarchist press in London and Paris.
In March 1897 Pissarro suffered a stroke, one effect of which was to prevent him working out of doors, so that he did not paint regularly again until 1905. The following month the family moved to 62 Bath Road in the new suburb of Bedford Park in Chiswick, west London. With Esther's help Lucien was able to continue his book production, much reduced, using engravings already begun. In 1902 the family moved to The Brook, a house and studio nearby at 27 Stamford Brook Road.
Pissarro exhibited April, Epping at the New English Art Club in November–December 1904, where he renewed contact with artists he had met more than ten years earlier. He was invited to join Walter Sickert's Fitzroy Street Group in 1907, and so became acquainted with those who went on to form the Camden Town Group in 1911. For the younger artists of the group in particular, Pissarro represented a direct link to the origins of impressionism and neo-impressionism, his father Camille being a great inspiration, as well as his friends Seurat, Signac and van Gogh. The influence of Pissarro's style and technique can be traced in the work of Spencer Gore, Harold Gilman, William Ratcliffe and James Bolivar Manson in particular. Sickert wrote of this influence in the New Age in May 1914:
Mr. Pissarro, holding the exceptional position at once of an original talent, and of the pupil of his father, the authoritative depository of a mass of inherited knowledge and experience, has certainly served us as a guide, or, let us say, a dictionary of theory and practice on the road we have elected to travel.
3
His correspondence with Sickert, Gilman and Charles Ginner shows that they were not close friends, although he did present Gore with his 1885 painting
La Route de Thierceville
(private collection)
4
at his wedding in 1911 and helped Sickert and Gilman sort Gore's paintings after the latter's death in March 1914. By this time the Camden Town Group had become the London Group, from which Pissarro resigned before the first exhibition in March, as he felt that 'the wrong clique ... has gained influence',
5
meaning the 'cubists' Wyndham Lewis, Frederick Etchells, Cuthbert Hamilton, C.R.W. Nevinson and Edward Wadsworth.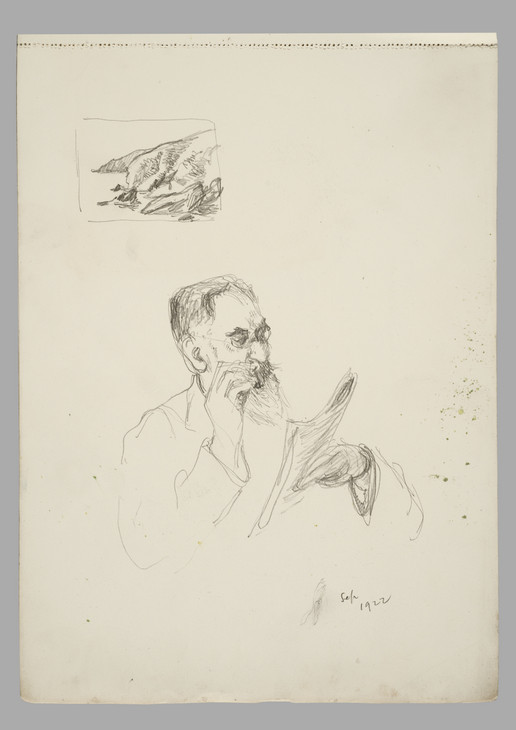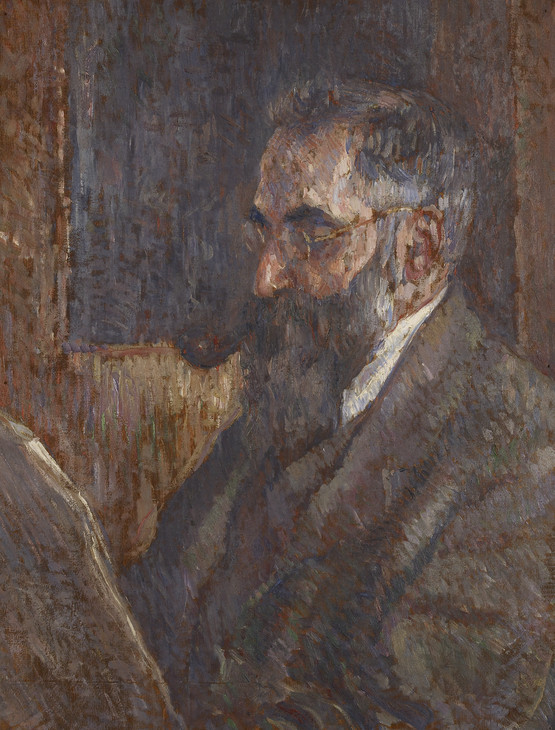 Uninterested, too, in the circle around Roger Fry, Pissarro's closest friend and ally at this time was J.B. Manson, an art critic as well as a painter (figs.2 and 3). The two became acquainted around 1910, and Pissarro introduced his younger friend to the Fitzroy Street Group that year. Manson wrote an article on Pissarro's book illustrations in 1913 and on his paintings in 1916.
6
He promoted Pissarro's work to private collectors, art institutions around Britain, and in New York in 1916 through the patron and collector John Quinn. As 'worshippers of nature' dedicated to impressionist principles,
7
the two formed the Monarro Group – its name conflating the surnames of the impressionists Claude Monet and Camille Pissarro – staging two exhibitions in 1920 and 1921.
Manson joined the staff of the Tate Gallery in December 1912, and became director in 1930. Owing to their close friendship, Pissarro was an unacknowledged influence on the Tate's acquisitions at this time. Pissarro directed his friend, the critic Félix Fénéon, to sell his Seurat,
Bathers at Asnières
1884, to the Courtauld Fund for the Tate Gallery in 1924.
8
He also gave his father's self-portrait (Tate
N04592
) to the Tate in 1931, during a Camille Pissarro exhibition there, and he gave another of his father's pictures in 1933 (Tate
N04709
). He bequeathed three to the National Gallery in 1944, all of which include family portraits (Tate
N05574
,
N05575
and
N05576
).
9
In his painting Pissarro remained faithful to the principles of his father's impressionism, and he was of the same generation as the first impressionist painters in Britain, such as Sickert and Philip Wilson Steer. Almost all of his paintings depict the landscape, and he worked directly in front of his subject, whether out of doors or looking through a window. The five paintings in Tate's collection are typical of this kind of work. They do not include the more luminous neo-impressionist works he had made in France before 1890 nor one of his few portraits, almost all of which were of his family. His choice of subjects shows his liking for modest sites in the countryside of southern England, and for the effects of weather and sunshine. Pissarro became a British citizen in July 1916.
Pissarro held his first solo exhibition at the Carfax Gallery in May 1913. Throughout the 1920s and 1930s his work was exhibited widely, occasionally in conjunction with that of his father and daughter,
10
and he began showing at the Royal Academy in 1934. Memorial exhibitions of his paintings and wood-engravings were held at the Leicester Galleries in London in 1946 and 1947.
11
After his death in Somerset on 10 July 1944 his vast family archive was offered by Esther to the Ashmolean Museum, Oxford, where a new print room had recently been built, and it was accepted by the Keeper, Karl Parker, in 1950. The art historian Anne Thorold arranged and published this material in the 1980s and 1990s,
12
and the Pissarro study room there was opened, complying with Parker's undertaking to the family.
How to cite
David Fraser Jenkins and Helena Bonett, 'Lucien Pissarro 1863–1944', artist biography, February 2011, in Helena Bonett, Ysanne Holt, Jennifer Mundy (eds.), The Camden Town Group in Context, Tate Research Publication, May 2012, https://www.tate.org.uk/art/research-publications/camden-town-group/lucien-pissarro-r1105344, accessed 26 May 2022.