Nan (Anna Hope) Hudson 1869–1957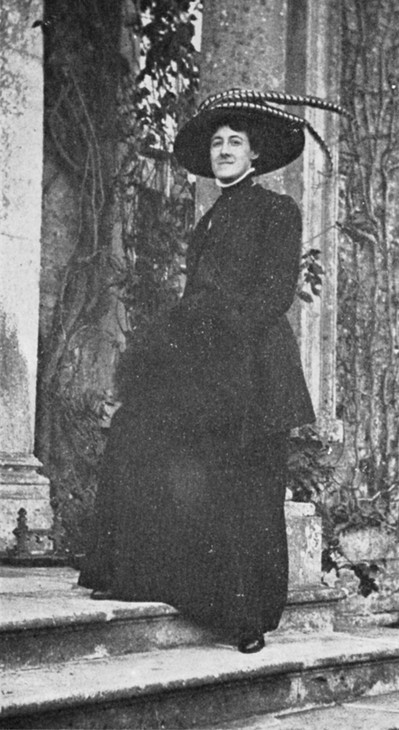 Although born in New York on 10 September 1869 and resident in America until she was twenty-four, Anna Hope Hudson, known throughout her life as Nan, spent most of her life living and travelling in Europe, particularly in her adopted homeland, France (fig.1). Her mother died when she was only nine years old and following the death of her father, Colonel Edward McKenny Hudson, in 1892, she was left a young woman of independent means and the freedom to choose her own path in life. She elected to go to Paris and study painting and it was there that she met Ethel Sands, a fellow American and art student who became her lifelong friend and companion. Although quite different in temperament and character, the two women had many interests and values in common and their friendship was enduring and loving, as is testified by their personal correspondence now held in the Tate Archive. They studied together in 1896 at the studio of the French painter Eugène Carrière (1849–1906), and from January 1897 Hudson also took classes with the Flemish painter Henri Evenepoel (1872–1899).
The mutual sympathy and affection between Hudson and Sands meant that they found it hard to be separate from one another, yet they favoured very different ways of life. While Sands loved England and the social diversions of London, Hudson preferred a quieter existence in Paris or other parts of France. They very quickly got into the habit of dividing their time between France and England to accommodate their preferences, alternating periods of painting with travelling, socialising and entertaining. Hudson was an independent and unconventional woman for her day. The writer Virginia Woolf, who described her as 'dour & upstanding', also recorded that she was always 'stylishly dressed'.
1
Walter Sickert once called her 'the radiant & dashing horsewoman of a young man's dreams',
2
and his charismatic portrait of her,
Miss Hudson at Rowlandson House
c.1910 (fig.2), shows her standing hand on hip and looking directly at the viewer, and captures her independent spirit and flair.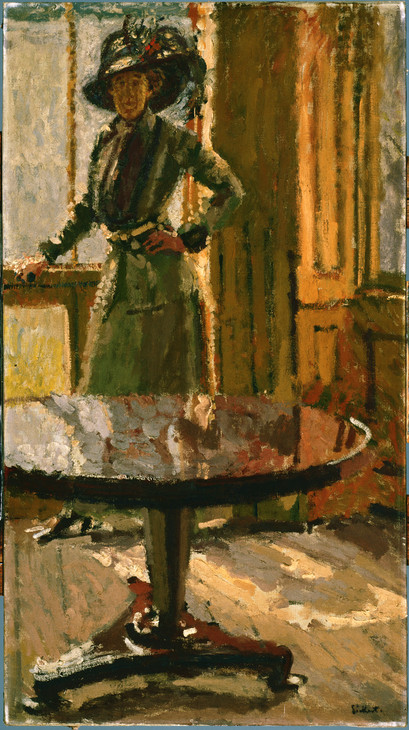 Up until 1906, Hudson's artistic success was achieved solely in Paris where she exhibited at the Salon d'Automne. She was brought into contact with the London art scene largely through Sands, whose sociable nature led her to make contacts and friends and to act as one of the most well-known society hostesses of the day. Following a painting trip to Venice, Hudson exhibited a painting of the Giudecca Canal at the Salon d'Automne in 1906, which was seen and greatly admired by Sickert. Although already slightly acquainted through meetings in Paris and London, he did not initially realise that the work was by her. On making the connection he wrote to Hudson praising the work and offering advice on painting for the future. This began a correspondence and genuine friendship that lasted many years. In 1907 Sickert invited both Hudson and Sands to join the Fitzroy Street Group, an invitation which reflected his eagerness to secure their financial assistance and social connections as well as his admiration of their artistic merits. Both women regularly sent work to the Saturday afternoon 'At Homes' and attended whenever their social commitments allowed.
Neither Hudson nor Sands was invited to join the Camden Town Group in 1911 following the rule introduced that no women members should be allowed. By this stage, however, they were familiar faces among the artistic circles of London, and Hudson exhibited her work at the New English Art Club, the Allied Artists' Association and the Leicester Galleries. In 1912 she held a joint show with Sands at the Carfax Gallery, the same exhibiting space of the Camden Town Group, which received largely favourable reviews. On the assimilation of the Fitzroy Street with the Camden Town Group in November 1913, they were both among the founder members of the London Group with whom Hudson exhibited periodically until 1938.
During the First World War, Hudson and Sands went to France and set up a hospital for wounded soldiers near Dieppe. When this was forced to close down, Hudson continued to nurse both in England and in France until autumn 1918. In 1920 she bought the Château d'Auppegard, a seventeenth-century house situated about ten miles inland from Dieppe in the Normandy countryside, which she had fallen in love with, and spent much time and energy in its restoration and decoration. It was her home for the rest of her life and it was here that Tate's only work by this artist was painted (Tate
T07810
). She resumed painting after the war, occasionally contributing works to the New English Art Club and the London Group. She continued to live with Sands into old age until her death on 17 September 1957, aged eighty-eight.
It is difficult to draw conclusions about Hudson's artistic development owing to the scarcity of extant paintings, particularly from earlier in her career. Few of her works are held in public collections and many were lost during the Second World War, firstly when Sands's house in Chelsea was destroyed by a parachute mine during the Blitz and secondly when Hudson's French home, Château d'Auppegard, was ransacked. She tended to paint landscapes, particularly with architectural interest, and she liked to apply the paint in patches on to canvas or cardboard, using the ground itself as part of the colour composition. In this she was possibly inspired by the work of the French painter Edouard Vuillard (1868–1940). Some of her paintings reflect the influence of Sickert who took it upon himself to act as her artistic mentor and on occasions gave her the use of his studio and models.
Catalogue entries
How to cite
Nicola Moorby, 'Nan (Anna Hope) Hudson 1869–1957', artist biography, March 2003, in Helena Bonett, Ysanne Holt, Jennifer Mundy (eds.), The Camden Town Group in Context, Tate Research Publication, May 2012, https://www.tate.org.uk/art/research-publications/camden-town-group/nan-anna-hope-hudson-r1105358, accessed 28 June 2022.