Fried fish shops were extremely popular among the working classes in early twentieth-century London. The cloud of smoke billowing above the grill and the shop's counter are the only features indicating the type of commerce engaging the line of patrons, including small children, crowding in under the shop's yellow gaslight.
Stanislawa de Karlowska 1876–1952
Fried Fish Shop
c.1907
Oil paint on canvas
330 x 390 mm
Inscribed 'S. de. Karlowska' bottom right
Presented by the artist's family 1954
N06238
Ownership history
Exhibition history
References
Technique and condition
Entry
Shops selling fried fish and chips were to be found in large numbers in London by the date this picture was made (fig.1). This kind of food was characterised as a staple of working class diet, although in many cases it was in fact a more occasional luxury. It was extremely popular, and at this time considered highly nourishing. However, the noxious odours given off by the poor quality oils frequently used for frying led to numerous prosecutions for public nuisance in the early years of the century. Fried fish shops were viewed with disdain by the middle classes, both for their smell and their popular working class ethos. In the Public Health Act of 1907 – the same date as this picture – fried fish shops were specifically designated an 'offensive trade', and fryers came under strong pressure to use better quality oils and hoods to collect the fumes.
1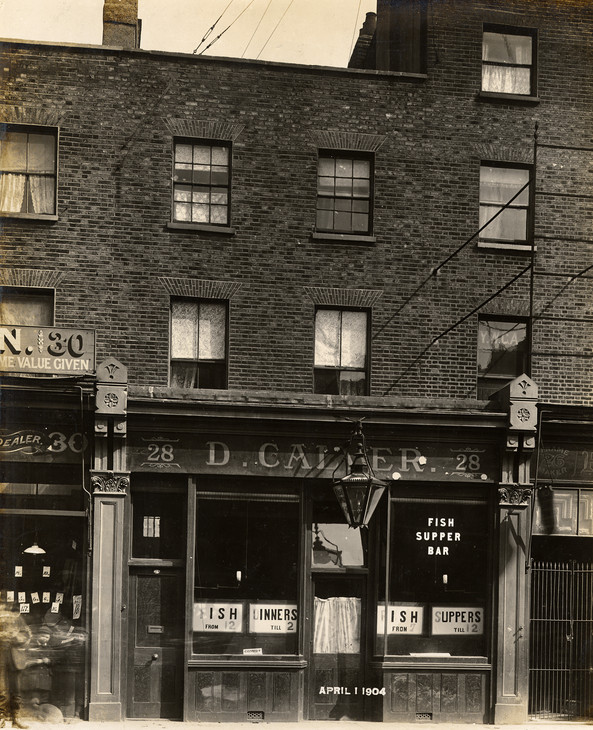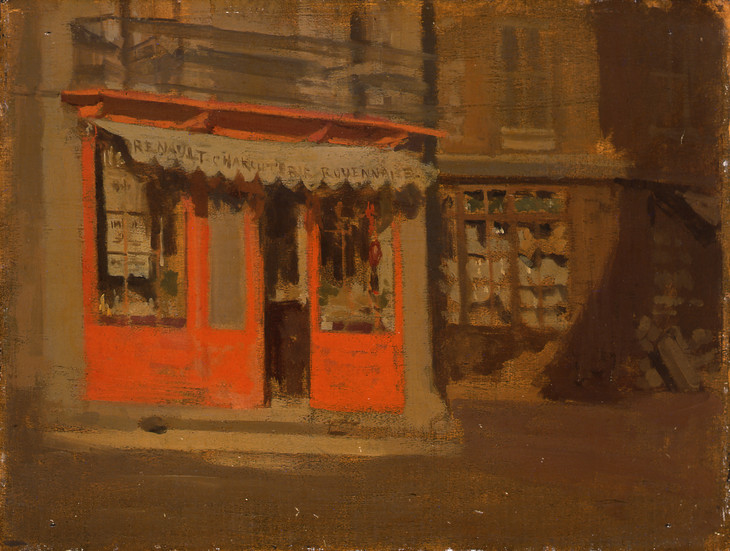 Karlowska painted a related shop subject in 1914,
The Wine Shop
(private collection).
2
This shows a shop interior, but has a very similar composition and approach in distributing the figures across the span of the picture. It is painted in a more adventurous palette, principally of red and green. Comparison might be drawn with Walter Sickert's small number of much earlier and very different paintings of French shop fronts made in the late 1880s such as
The Red Shop
(fig.2). These are more conventionally impressionist in style, and do not include figures, but in some degree are similar in intent. Karlowska's focus in
Fried Fish Shop
lies principally in the figures rather than the shop which, apart from its counter, is almost without feature. There is a strong sense of London life glimpsed in passing, a snapshot of working class experience from the vantage of the pavement. The picture is also an exercise in capturing the fall of yellow gaslight through the shop window, penetrating the gloom of the street.
In 1910 Karlowska's work had attracted critical praise from the art critic Huntly Carter, who was a supporter of other future members of the Camden Town Group circle, notably Spencer Gore and Harold Gilman. He was particularly interested in the emotive potential of colour, and partly for this reason seems to have been attracted to Karlowska. He also wrote favourably in the New Age about women painters:
That the work of the Women's International Art Club, now being exhibited at the Grafton Galleries, is above the average is clear from the beginning. In the first room one meets with at least half a dozen women who have something uncommonly interesting to say in paint. Among them are three artists who are painting in colour, whose work is frank and honest, and not disposed of with a few fierce dashes of the brush, but in a complete, substantial, and emphatic way. What S. de Karlowska has to say she tells us lucidly in pure and harmonious colour. Her two studies of still life speak in the broadest, simplest, and most convincing terms.
3
Writing of Fried Fish Shop when it was exhibited with the Women's International Art Club in 1911, Carter wrote:
A welcome contrast to this 'shouting angel' [Anne Estelle Rice's
Egyptian Dancers
] is found in S. de Karlowska's delicate shade of colour thought beneath. Restful indeed are the quiet subtle harmonies of blue and yellow, while the soft steamy oily atmosphere lifts the common 'Fried Fish Shop' into the realm of poetry.
4
The art critic Frank Rutter also wrote favourably of Fried Fish Shop:
Lower in tone than anything on this wall 'The Fried Fish Shop,' by S. de Karlowska (Mrs. R.P. Bevan), is a delightful and wholly personal rendering of a common Whistler subject transfigured by a vibrating luminism that was unknown to Whistler.
5
Notes
How to cite
Robert Upstone, 'Fried Fish Shop c.1907 by Stanislawa de Karlowska', catalogue entry, May 2009, in Helena Bonett, Ysanne Holt, Jennifer Mundy (eds.), The Camden Town Group in Context, Tate Research Publication, May 2012, https://www.tate.org.uk/art/research-publications/camden-town-group/stanislawa-de-karlowska-fried-fish-shop-r1139849, accessed 20 May 2022.