The First Exhibition of the Camden Town Group, June 1911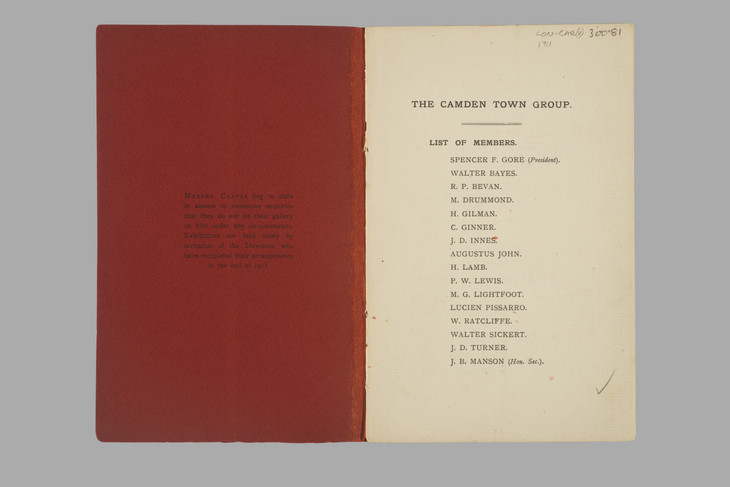 Each of the sixteen artists exhibiting with the Camden Town Group was allowed to display up to four paintings of a reasonable size, though not all took up their quota. Importantly, the works of individual artists were always hung together, rather than dispersed, to create a strong impression of the different style and approach of each.
Reviewers of the first exhibition had a field day commenting on the commonplace nature of the group's preferred subject matter. One wrote, 'It cannot be said that there is anything among the exhibits which calls for a lyrical expression of delight, unless such might be inspired by a company of ballet dancers, cab horses, and murderers, to which Mr. Gore, Mr. Bevan, and Mr. Sickert introduce us; or by the garden corners, pale landscapes, and railway stations in which Mr. Manson, Mr. Pissaro [sic], Mr. John, and Mr. Drummond delight to dwell.' But most critics saluted the effort of these painters to attempt something new.
Look at the exhibition catalogue to see who exhibited with the group and read the critics' responses.
How to cite
'The First Exhibition of the Camden Town Group, June 1911', in Helena Bonett, Ysanne Holt, Jennifer Mundy (eds.), The Camden Town Group in Context, Tate Research Publication, May 2012, https://www.tate.org.uk/art/research-publications/camden-town-group/the-first-exhibition-of-the-camden-town-group-june-1911-r1105705, accessed 18 May 2022.