Walter Bayes 1869–1956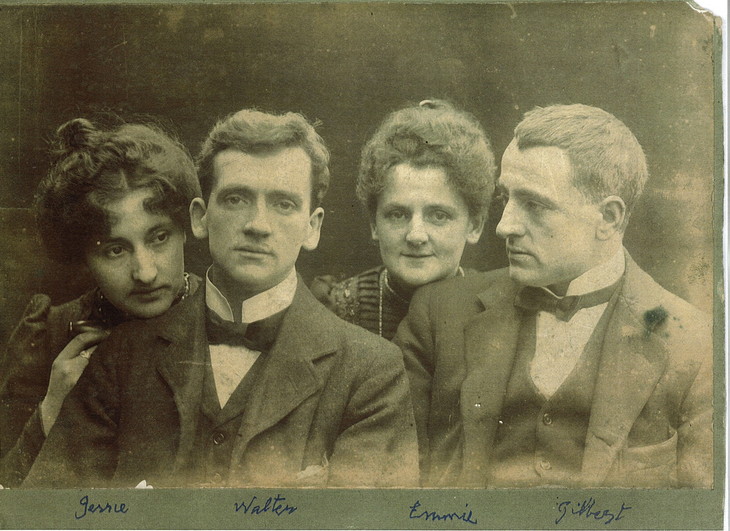 Born on 31 May 1869 in London, Walter Bayes came from an artistic family (fig.1). His father was Alfred Walter Bayes (1832–1909), a painter and etcher who exhibited regularly at the Royal Academy and who is best remembered for his illustrations for
Hans Christian Andersen's Stories for the Household
, published in 1866 and engraved by the Dalziel brothers. Alfred Bayes married Emily Ann Fielden and together they had four children, of whom Walter was the second. Only the elder sister Emmeline did not take up an artistic career. Walter's younger brother was the sculptor Gilbert Bayes (1872–1953) and his sister Jessie (1877–1970) became a painter of miniatures and a designer in the Arts and Crafts style.
Despite the obvious talent inherent within the Bayes family, Alfred Bayes seems to have been reluctant for any of his offspring to take up the financially precarious life of an artist.
1
Following a rigorous education at the Quaker School in Saffron Walden and University College School, his son began a career in a solicitor's office. He disliked the work, however, and in 1886 began to attend evening classes in art at the City and Guilds of London Institute in Finsbury, resolving finally to dedicate his life to painting. He continued his studies at the Westminster School of Art under Professor Fred Brown, and in 1894 he also studied for a short time at the Académie Julian in Paris, a teaching atelier particularly popular with British students. Although his artistic education was somewhat spasmodic, he attained a sufficiently high standard of work to exhibit a French landscape at the Royal Academy by 1890, and in 1892 his work was accepted at the New English Art Club.
Bayes was always interested in the intellectual aspects of painting and the 1890s also saw the launch of his career as an art critic and writer, contributing a regular art column for
Outlook
. Later he also wrote for
Saturday Review
,
Weekend Review
and from 1906 he replaced Roger Fry as the art critic of the
Athenæum
. Furthermore he supplemented his income by teaching, initially at his former art school, The City and Guilds of London Institute, and later at Bolt Court School of Arts and Crafts and Camberwell School of Arts and Crafts. In 1904 he married the model Katherine (Kitty) Telfer and she appears in many of his paintings, for example,
The Lemon
c.1910–12 (Sheffield City Art Galleries).
2
Bayes's painting career evolved steadily and he consistently showed his work in both group and solo exhibitions at the Royal Academy, the New English Art Club and many of the private commercial galleries in London. During 1908 he became one of the founder members of Frank Rutter's Allied Artists' Association, the independent exhibiting forum that brought together many of the Fitzroy Street and Camden Town regulars. It was here that a fortuitous friendship was formed when he met Walter Sickert, later recalling that when 'at the First Exhibition of the Allied Artists, I found him eloquently holding forth to a group of bemused spectators before one of my pictures, I felt that my merits were appreciated by one other person besides myself'.
3
Sickert invited Bayes to attend the regular Saturday meetings of the Fitzroy Street Group and as a result he later became a founder member of the Camden Town Group, exhibiting at all three exhibitions.
The critic of the Daily Telegraph writing about the second Camden Town Group exhibition in December 1911, described Bayes's painting as having an 'austere modernity', hitting upon the quality of his work that distinguished him from the other members of the group. Although Bayes's paintings are 'modern' in their simplification of forms and the fluid use of paint, they are 'austere' in their controlled composition and the even smoothness of the painted surface. He used pure, sometimes acidic colours, but he avoided the really bright post-impressionist palette used for example by Spencer Gore or Robert Bevan and the thick impasto of Charles Ginner and Harold Gilman. In fact his work was relatively unaffected by his contact with the Camden Town Group since he also eschewed both Sickert's dark, murky interiors and Pissarro's neo-impressionist broken dabs of colour and was not driven to record subjects drawn from everyday life in London. Instead he was particularly concerned with the theoretical complexities of painting, and his works, both in oil and watercolour, tended to be landscapes, especially coastal and bathing scenes, which are carefully constructed with attention to composition, perspective and the integration of figures into the overall design. He continued to paint and exhibit throughout his lifetime, holding several solo exhibitions. He was also a founder member of the London Group.
Bayes also had an interest in decorative design and mural painting. In 1901 he painted two scenes for a production of Henrik Ibsen's play, John Gabriel Borkman (1896). At the first Camden Town Group exhibition in 1911 he exhibited costume and scenery designs for a new play by Lord Dunsany, The Gods of the Mountain, performed at the Haymarket Theatre in the same year.
Although thematically and stylistically Bayes's work differs from generic 'Camden Town' art, he was an important intellectual figure in the group. His aesthetic knowledge and critical faculties were highly respected amongst his contemporaries, although he could also be a rather daunting personality. The watercolourist and illustrator William Russell Flint (1889–1969) described him as 'aggressively knowledgeable',
4
whilst Bayes himself admitted that he bristled 'with principles like a porcupine from whatever point of view you approach me – to the extent, indeed, of being quite uncomfortable to my friends'.
5
Sickert described him as 'a hardened veteran, triply grizzled in the service of written criticism, of teaching, which is constructive criticism, and of the severest of all criticism, the self-criticism of the laborious painter'.
6
In a written account about the dynamics of the group published in the
Saturday Review
, Bayes reveals himself to have been a dissident, challenging his colleagues' reverential view of Lucien Pissarro as 'the fountain of true principle' and their 'perennial repainting from Nature ... most generally known as Camden Town Group painting'.
7
His willingness to voice an alternative opinion must have provided a useful foil to some of the other forceful personalities in the group, particularly Gilman and Sickert. Sickert often teased Bayes about the heavy theoretical style of his writing, saying 'I have read your Athenaeum article ... read it three times and I believe, I am proud to believe, that I understand it!', but in truth respected an intellect and knowledge which rivalled his own.
8
Bayes's academic approach to his work led to achievements in teaching and writing which in hindsight might be considered more impressive than his creative artistic output. On Sickert's recommendation he was appointed to the most prestigious post of his career, Principal of the Westminster School of Art, a post he held from 1918 until 1934, during which time his students included David Jones (1895–1974) and Edward Ardizzone (1900–1979). His energy seems to have been limitless. Between 1927 and 1939 he was Lecturer in Perspective at the Royal Academy Schools and in 1934, on leaving Westminster, he became a visiting lecturer at Reading University, continuing until 1937. In 1944, aged seventy-five, he became Director of Painting at Lancaster School of Arts and Crafts, only finally retiring five years later in 1949. In addition to his teaching duties he wrote extensively and published three books, The Art of Decorative Painting (1927), Turner: a Speculative Portrait (1931) and A Painter's Baggage (1932).
When Bayes died on 21 January 1956, aged eighty-seven, his obituary in the
Times
described him as 'an academic painter' and 'an admirable teacher and art critic'.
9
He is now best remembered in the context of his membership of the Camden Town Group and there is little published material about him, although there were exhibitions of his paintings at the Michael Parkin Gallery in 1978 and 1986. His work can be found in a number of public galleries in Britain including the Imperial War Museum which owns perhaps his most famous painting,
The Underworld
, a large canvas depicting Londoners sheltering from an air raid in a Tube station during the First World War.
10
How to cite
Nicola Moorby, 'Walter Bayes 1869–1956', artist biography, June 2003, in Helena Bonett, Ysanne Holt, Jennifer Mundy (eds.), The Camden Town Group in Context, Tate Research Publication, May 2012, https://www.tate.org.uk/art/research-publications/camden-town-group/walter-bayes-r1105357, accessed 25 June 2022.