This painting is dominated by the French window of Sickert's north-facing front room at 6 Mornington Crescent. Light falls softly on the dim figure of the red-haired girl, seen looking across Mornington Crescent Gardens. Rachel, the daughter of his frame maker, features in five known oil paintings by Sickert.
Walter Richard Sickert 1860–1942
Girl at a Window, Little Rachel
1907
Oil paint on canvas
508 x 406 mm
Inscribed by the artist 'Sickert' bottom right
Accepted by HM Government in lieu of inheritance tax and allocated to the Tate Gallery 1991
T06447
Entry
Sickert painted Girl at a Window, Little Rachel during the summer of 1907, putting off his planned trip to Dieppe and Paris as he became interested in the sequence of paintings he was making. It was an important period for the artist, when he self-consciously tried to consolidate and extend his artistic development. He wrote to his friend, the artist Nan Hudson:
I am clear-sighted enough to realize that the backward position I am in, for my age, and my talent, is partly my own fault. I have done too many slight sketches, & too few considered, elaborate works. Too much study for sake of study, & too few résumés of the results of study ... I shall try this summer to do a few really complete canvases in Dieppe and Paris.
1
But Sickert stayed on in his Mornington Crescent rooms, from where he later wrote to Hudson:
I am very much afraid you must be having a hell of a time by the Thames. Even I in my ark in the crescent am chilly.
This is to tell you I have got entangled in a batch of a dozen or so interiors on the first floor here. A typical lodgings first-floor. If you are in London any day & could come I should like to show you a set of studies of illumination half done. I am very much interested & shall stay till they are done. A little Jewish girl of 13 or so with red hair & a nude alternate days.
2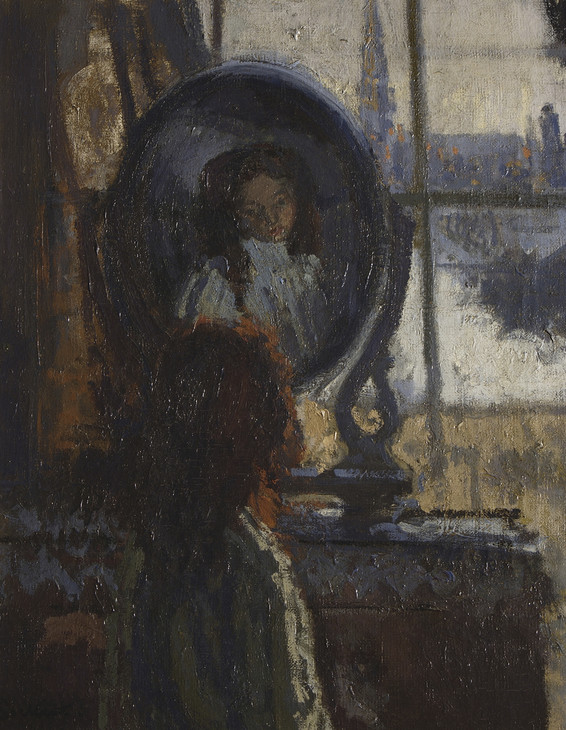 There are five other known oils of the same sitter:
Girl at a Looking-Glass, Little Rachel
(fig.1);
3
Little Rachel
(National Art Gallery of Queensland, Brisbane),
4
a head and shoulders portrait, probably seated on Sickert's bed;
Little Rachel
(private collection),
5
a three-quarter-length portrait of the sitter half turned, with light falling on her face; and
Little Rachel
(Plymouth City Museum and Art Gallery),
6
an oil study in profile. In all these works she wears the same blouse as in Tate's picture. There are several drawings of Rachel, some of which relate to these paintings, but none of them is a study for Tate's oil.
7
According to Sickert's title for one of these oils and one of the drawings, the sitter was the daughter of his frame maker. Using information supplied by Agnew's, the art historian Wendy Baron records that Rachel's surname was Siderman, and that she died in 1963 aged 70. However, on her marriage certificate her father's profession was listed as grocer.
8
Richard Kingzett of Agnew's recalled his gallery's Sickert exhibition of 1960 in which the canvas of
Little Rachel
, now in Plymouth City Museum and Art Gallery, was displayed:
What I think happened was that Miss Siderman came into that exhibition in 1960, and identified herself as the sitter. Geoffrey Agnew wrote the catalogue for our 1947 exhibition of Dr. Emmons's pictures, and knew Dr. Emmons well. It is possible that he or his cousin Hugh Agnew, who was also a close friend of Emmons, was told about Little Rachel's identity in that year by Dr. Emmons, but I cannot find anything about this in the archives here.
9
London Trade and General Post Office directories for the last decade of the nineteenth century and the first decade of the twentieth century do not list any frame makers (of which, interestingly, there are a very large number) named Siderman, although he could perhaps have worked for a larger company not bearing his name. Nor does the 1911 census record anyone named Rachel Siderman, or girls with that surname of a suitable age.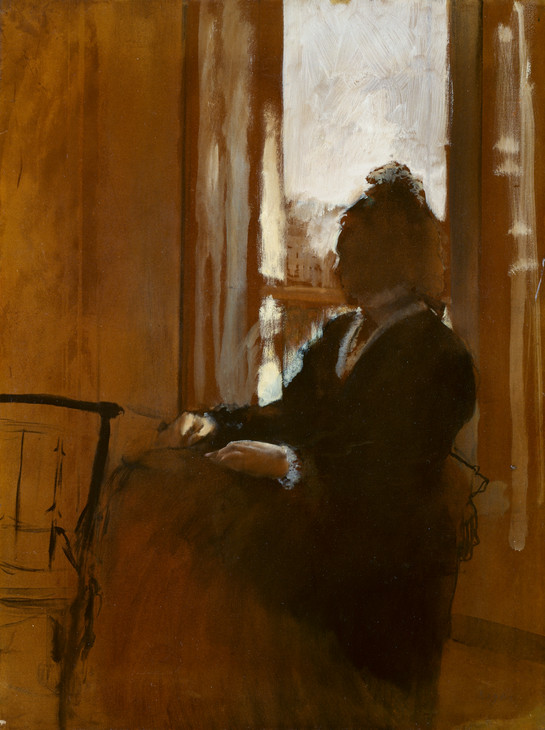 Sickert's composition is dominated by the rectangular window beside Rachel, the brighter light of the exterior piercing the darker interior of the room and falling softly across her figure. This device is used in several of the pictures from the series that Sickert painted in this room, both of Rachel and of nudes. The effect is also a feature of a painting by Edgar Degas that Sickert owned (fig.2). In 1914 Sickert set out his preference for working indoors rather than in the open air, and also some of the specific effects of indoor lighting. He drew attention to a picture by Moritz von Schwind (1804–1871), which may partly have inspired his framing of Rachel next to a window:
If he [the artist] lives in a northern climate and has no hankering for physical martyrdom, he, with the rest of his countrymen, will work indoors. The house, where man is born, and married, and dies, becomes his theatre, and the sun shines as well, if sometimes more indirectly, on the indoor as on the outdoor man. It may be that the windows, framing and limiting the light, act on the indoor landscape as the frame of the sonnet-form acts on a stream of poetic light, not always with detriment. We all know that picture of Moritz von Schwind, of the little German girl in plaits who throws open the casement of her bedroom to greet the sounds and scents of morning. The everlasting matutinal is enshrined in it once for all and for ever ... Or take the afternoon ... The afternoon light flows in through the open folding doors, from the small back-room in the classic uniform English first floor, into the bigger front room.
10
In
Girl at a Window, Little Rachel
, Sickert shows his sitter standing by the French windows of his north-facing, first-floor front room at 6 Mornington Crescent, London NW1, which he kept in 1907, just a few doors away from his friend Spencer Gore who lived at number 31. The room was rented, as Sickert wrote in a letter of 1907 to Nan Hudson addressed from Mornington Crescent, 'I rather hope that when I come back in the autumn I may take the floor above my lodgings here as a room-studio and do the interiors I love'.
11
The 1907
Kelly's Camden and Kentish Town Directory
lists the householder as 'Mrs George Jones Jr', who was presumably Sickert's landlady. Mornington Crescent was only one of Sickert's addresses, and at this time he also had another studio in Fitzroy Street. Following his return to London in 1905 Sickert had continued the practice he followed in Dieppe of keeping several studios at once, which probably sometimes doubled as living accommodation. The art critic Clive Bell recalled Sickert at a somewhat later period 'showing us his "studios" – "my drawing studio" "my etching studio" etc. The operation involved chartering a cab and visiting a series of small rooms in different parts of London.'
12
Through the window Sickert shows the view across Mornington Crescent Gardens, on which the Carreras cigarette factory was built in 1928. The steeple visible on the horizon is that of St Matthew's Church in Oakley Square. Designed in Gothic Revival style by John Johnson, it was built in 1852–6 and demolished in 1977. Oakley Square was built at the same time as the church, part of the Bedford New Town development, which was demolished in 1980 to make way for blocks of flats.
It is likely that the first owner of Girl at a Window, Little Rachel was Sickert's patron Hugh Hammersley. In a letter to Hudson, Sickert wrote that Hammersley, who had already bought
my portrait with the casts in the last New English,
13
came on Tuesday and bought 3 new ones, two nudes and a child at a window ... He paid £60 for the three instead of £36 which the Bernheims would have given, so it is a stroke of luck. Also that makes rather an important collection of my work in a London House.
14
Hammersley made his money in the City, and spent it at the New English Art Club. He and his wife Mollie became great friends of Sickert, and he was a regular part of the circle of artists and writers who gathered at their house in Hampstead.
15
Sickert's friend and pupil, Dr Robert Emmons (1894–1963), was the first definite owner of
Girl at a Window, Little Rachel
. An American, he practised medicine in London during the 1920s, but painting came to be his dominant interest, and in October 1927 he enrolled as a student at Sickert's art school at 1 Highbury Place, Islington. He exhibited his work at the Royal Academy in 1928 and 1932.
16
Emmons was the author of
The Life and Opinions of Walter Richard Sickert
, the first biography of the artist, published by Faber in 1941, the year before Sickert died. An important collector of Sickert's work and of other artists of the period, his collection was put on show in 1947 at Agnew's, including
Girl at a Window, Little Rachel
.
Notes
How to cite
Robert Upstone, 'Girl at a Window, Little Rachel 1907 by Walter Richard Sickert', catalogue entry, May 2009, in Helena Bonett, Ysanne Holt, Jennifer Mundy (eds.), The Camden Town Group in Context, Tate Research Publication, May 2012, https://www.tate.org.uk/art/research-publications/camden-town-group/walter-richard-sickert-girl-at-a-window-little-rachel-r1136821, accessed 26 June 2022.