Henry Moore's American Patrons and Public Commissions
Pauline Rose
Moore's greatest market was in the United States where he had an influential network of supporters, who saw him as the quintessential Englishman. In the Cold War years his monumental bronzes also provided civic and corporate managers with highly visible symbols of citizenship and leadership.
When considering the acquisition of a sculpture, Henry Moore's American patrons, whether civic or corporate, shared broadly similar expectations and hopes. Architects, chief executive officers and city mayors alike understood the cultural cachet that came with such a sculpture and how it could be used to improve responses to their buildings, products and ideas. If reservations were expressed concerning the choice of Moore rather than an American sculptor for such commissions, his presence at preparatory meetings or unveilings would almost without exception quell misgivings, such was his charm and warmth. Additionally, the nature of Moore's sculptures – not explicitly figurative, yet not entirely abstract because of their references to the body and landscape – proved a highly appropriate form of public sculpture in the context of the immediately post-war and Cold War years. Notwithstanding Moore's leftist leanings, the works offered no overt political content and, radically different from the type of figurative monuments associated with fascist and communist regimes, were promoted as symbolic both of Western democracy and, in their representation of humane qualities, civilised values in general.
An important factor in Moore's success in the United States was his public image. American journalists tended to emphasise his working class origins when this suited their themes but also just as frequently described him as the perfect English gentleman. Reporters who saw him at his home and studio in Perry Green were also favourably impressed by his domestic environment and life with his wife and daughter. In 1946, after seeing Moore's solo exhibition at New York's Museum of Modern Art (MoMA), an American reviewer visited the sculptor at home and recalled the 'deep pleasure of knowing the man himself – kind, sincere to a rare degree in a veiled society, alive with ideas and strength, undidactic, in short with all the seldom encountered marks of greatness.'
1
Such characterisations of Moore as an extremely personable and even admirable figure featured in a broad spectrum of publications in the post-war years, from art journals and documentary films to mass circulation magazines and newspapers, while photographs of Moore and of his home and sculptures regularly appeared in American mass media journals such as
Life
,
Look
and
Vogue
.
The rise of Moore did not pass unnoticed, of course. In 1967 the art critic Hilton Kramer observed that Moore was the first choice when American institutions were searching for a monumental sculpture to place in or alongside new buildings. The appeal of his work resided, Kramer wrote, in its 'massive but gentle forms, its bronze glitter and high-style rhetoric, its quality of being at once eminently modern and yet vaguely traditional – that makes it the inevitable choice of civic-minded patronage. Not every such patron manages to get himself a Moore, but everyone seems to want one.'
2
This essay aims to explore how a son of a Yorkshire miner came to be the acceptable face of modern art in the minds of key opinion makers and leaders in the civic and corporate spheres in the United States, using narratives of commissions in four major American cities – New York, Chicago, Dallas and Washington D.C. – as case studies.
Sculpture, urbanism and the art of business
American cities have long been conceived as sites of cultural and civic ambition. In the early twentieth century the City Beautiful Movement, for example, sought to refashion and enhance modern cities, and found supporters among local leaders of business and industry.
3
In the post-war years there was again much discussion about the nature of public space and about how to improve the quality of city life. Public sculpture, it was thought, could play a central role in these endeavours, and in the 1960s and 1970s cultural developments became overtly linked with urban regeneration plans.
4
Attempting to rejuvenate downtown areas and counter the flight to the suburbs, city mayors saw the commissioning of public sculptures as a means of bringing open spaces to life.
5
Parks were prime sites for attempts to conceive the American city as a positive, enlightened entity. Early rhetoric about city parks had largely been philanthropic but businessmen quickly realised how their own interests could be served by their involvement in civic culture in public spaces. By the 1960s, however, parks in major cities had become seen as potentially dangerous places and among many possible solutions to this problem the installation of monumental sculptures was thought by some to be likely not only to adorn but also to humanise, and thus generate public respect for, such spaces.
As will be seen, civic and corporate tastes and aspirations came together in a remarkable way in the commissioning of sculptures by Moore for major public sites in cities in the United States. Influential individuals in both spheres (and they often came together in the boards of art museums) promoted the idea of art as adornment and emphasised the value of its integration into contemporary life. The influence of, and relationships between, such figures encouraged other, less wealthy private collectors to purchase Moore's sculptures for their homes and offices (the taste that was being encouraged for the domestic sphere was easily transferred to the working environment, the 'home' for most people for the greater part of their day).
In corporate offices, however, the display of artworks often represented more than the exercise of good taste – it became a marketing tool, linked to the company mission statement. A number of businesses produced in-house journals that by the 1940s included high quality colour reproductions of artworks. Free and printed in large numbers, these journals reached many people who never visited galleries or museums and promoted an appreciation of (corporation-approved) art on a hitherto unknown scale. In 1956
Art in America
published a special issue on the theme of 'Art and Industry' where it was stated that 'the modern corporation is still quite surprised (and in many cases not a little pleased with itself) to find its members meddling in the affairs of culture.'
6
In such 'meddling' businessmen often co-opted art world clichés for their own purposes. In 1969 a former Chairman of the Board at the Sinclair Oil Corporation described an artist as 'the prototype of the free-questing individual ... in his works we find the nearest reflection of the human condition, its tensions and its direction. Where there is a vigorous artistic life, innovation, experiment, and challenge irresistibly communicate themselves to every other segment of society. Without these qualities, business would lose its forward thrust.'
7
The innovations of avant-garde art supplied companies with a model for the promotion of themselves as progressive organisations, which helps explain why corporations were more interested in acquiring contemporary art rather than seemingly more conventional works by the old masters.
8
At the same time, the growing sophistication evident in the modes of display within the retail sector was noticed among museums: sometime before 1970 a president of the Metropolitan Museum of Art apparently asked 'a group of department store executives to remember that their influence was far greater than that of all the museums combined ... urging them to become missionaries for beauty.'
9
The Rockefeller family vividly demonstrates the overlapping of cultural, political and business concerns so prevalent among business leaders in the United States. Born to one of the richest families in the world, Nelson Rockefeller was a businessman, philanthropist, public servant and politician, serving as Governor of New York from 1959 to 1973 and as Vice-President from 1974 to 1977. His mother was one of the founders of MoMA and he became its President in 1939. At the time of Moore's exhibition there in 1946, Rockefeller, who was a great collector and patron of the arts, struck up a long-lasting friendship with the artist. Aware of the political impact of cultural affairs, Nelson later praised the activities of the British Council in facilitating cultural exchange, describing it as 'a subtle yet powerful means of propaganda'.
10
His brother David also supported the involvement of business in the arts, saying in 1966, 'bankers and businessmen from the Medici to the Mellons have often been enthusiastic patrons of the arts'. Having 'developed ideals and responsibilities going far beyond the profit motive [the modern corporation] had become ... a full-fledged citizen, not only of the community in which it is headquartered but of the country and indeed the world.'
11
Washington D.C.
At the inauguration of the Hirshhorn Museum and Sculpture Garden, beside the National Mall at the heart of Washington D.C., President Johnson spoke in 1974 of the new building as showing the city to be a 'great capital of beauty and learning, no less impressive than its power.'
75
Across the Mall I.M. Pei's 1978 East Building extension to Washington's National Gallery was also carefully positioned so as to relate to the geometry of the city's original layout and to make reference to the physical and symbolic importance of its prestigious location. The presence of Henry Moore's sculptures outside both of these buildings was an unmistakable sign of their acceptability to the political and economic elites in the city.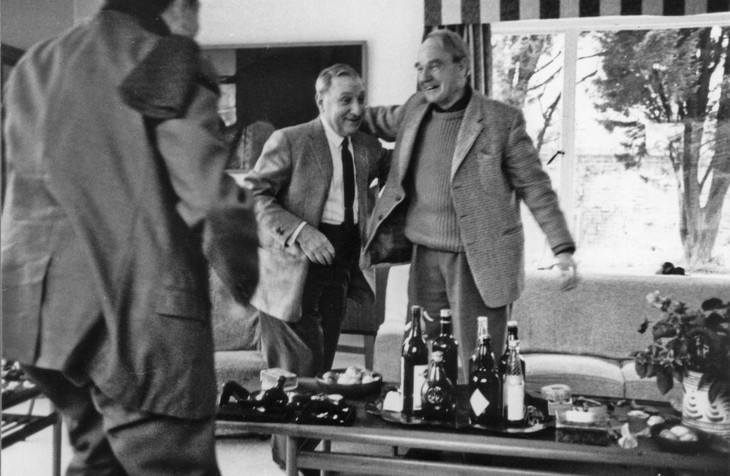 Joseph Hirshhorn was a businessman first and art collector second, as were so many of Moore's American supporters. Hirshhorn was known for visiting artists' studios and galleries himself, and often bought in bulk.
76
Hirshhorn's widow Olga later recalled that her husband knew many artists but was particularly close to Moore, greatly admiring 'his way of life, the family man, the sweet gentleness of his nature, the persistence of his working life, and his normality' (fig.12).
77
Curt Valentin sold Hirshhorn his first Moore sculpture in 1945, the year before Moore's solo exhibition at New York's MoMA, and Hirshhorn met Moore soon afterwards. By the 1970s Hirshhorn had more than seventy Moore sculptures and drawings, and was complimented by the critic Herbert Read who said that he had seen many collections but never one that could rival Hirshhorn's in terms of its 'completeness ... quality and ... display.'
78
The inaugural exhibition at the Hirshhorn Museum presented a range of Moore's works from the collection while the sculpture garden provided an attractive Mediterrean-style outdoor display area (fig.13). Hirshhorn himself gave four new sculptures to the museum, including Moore's
Two-Piece Reclining Figure: Points
1969–70 (fig.14), which had been featured at the sculptor's retrospective exhibition in Florence two years earlier.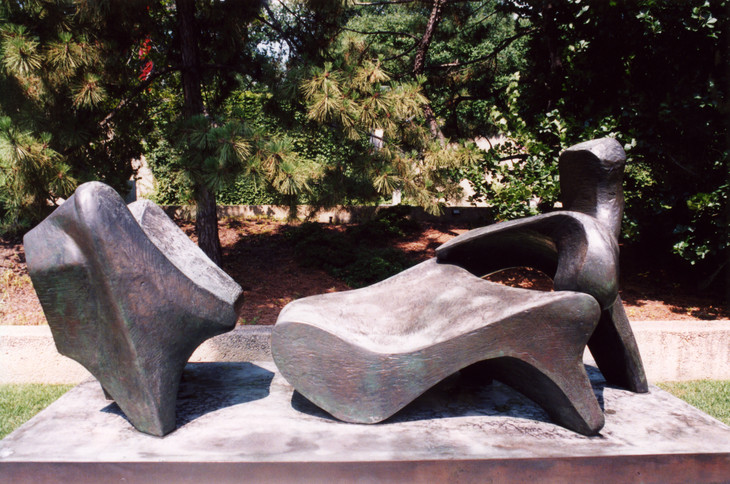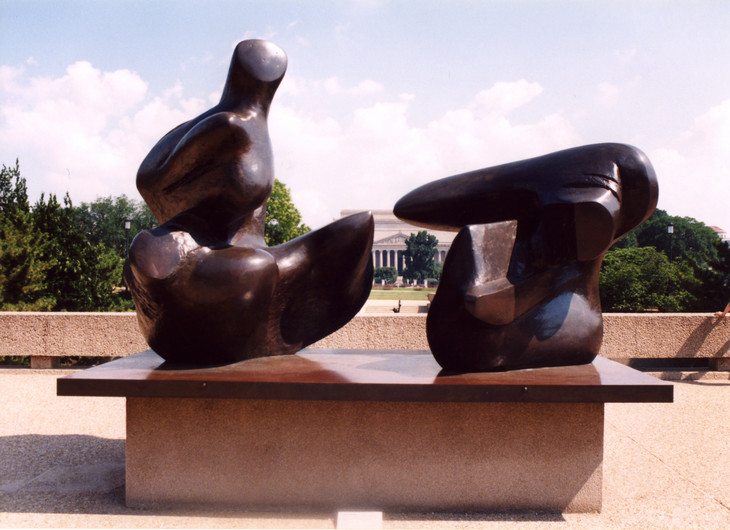 The monumental bronze was placed centrally in front of the Hirshhorn Museum's entrance and can be seen as providing a visual link to the other side of the Mall, the site of the National Gallery of Art's West Wing. Close by, I.M. Pei's East Wing to the National Gallery of Art opened in 1978, four years after the Hirshhorn Museum. At the time it was widely felt that Pei had successfully met the challenge of designing for the awkward triangular site and of relating the new building to its neoclassical West Wing. Director J. Carter Brown believed that Moore's sculpture could 'become architecture at civic scale.'
79
Writing to the sculptor in 1973, Carter Brown described the importance of Pennsylvania Avenue as 'the great symbolic way joining the White House with the Capitol and Supreme Court, thus linking the three branches of the Government. It is down this avenue that all State funerals, inaugural parades ... process, and a Presidential Commission is currently working on ways in which the ceremonial character of the avenue can be enhanced.' He informed Moore that Pei's new building at the axes of Pennsylvania Avenue and the Mall was positioned at a 'pivotal point'.
80
It seems that initially Moore suggested an enlarged version of an existing sculpture,
Spindle Piece
1968, for a site on Pennsylvania Avenue. In May 1974 Moore visited the city and in December informed Carter Brown that he had an idea. He had finished 'a quite largish and rather massive sculpture' that was being cast in Berlin, after which he would consider whether it would be right for the National Gallery, although he thought it might be slightly too small.
81
'The sculptural idea in Spindle Piece is a variation on the "points" theme which I have used in several sculptures ... but ... the points move outward ... suggest(ing) the hub of a wheel. (A rather literary connection might be made as an argument for its appropriateness to Washington ... "the hub of the world". Sometimes people need a literary reason as a start to look more favourably on sculpture).'
82
Spindle Piece
arrived in New York on 7 April 1976 and Moore visited the new East Wing on 16 April. The sculpture had not yet arrived in Washington but according to the majority of accounts this was the point at which Moore decided he did not like the Pennsylvania Avenue site. Some say that Moore objected because the work would be out of the sunlight; David Finn, however, said that Moore felt the site 'would be too busy for a quiet contemplation' of the work's forms.
83
By the same afternoon arrangements had been made for the sculpture to be diverted from Washington and to continue to the North Carolina Museum of Art, as Gordon Hanes, who was a member of the National Gallery's Collectors Committee and a trustee at the North Carolina Museum of Art, stepped into the breach and bought the work for the latter museum.
84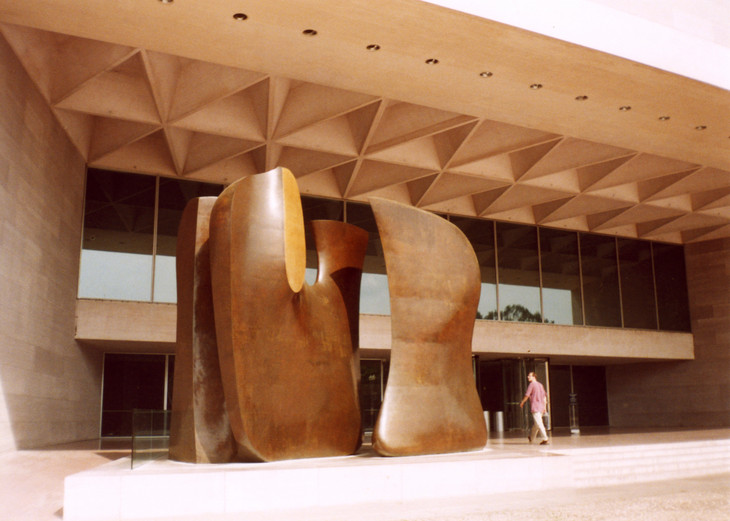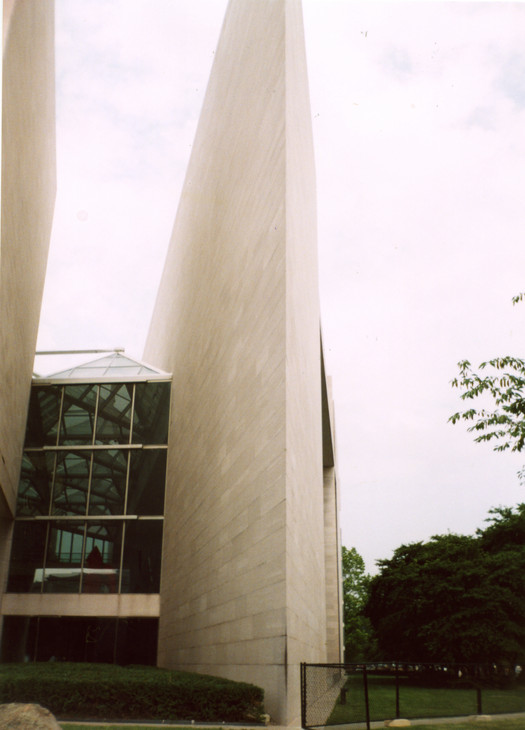 After some further consideration, Carter Brown and Pei agreed that, if enlarged and if the relative position of the two pieces was reversed and made the 'mirror image' of themselves, Moore's
Knife Edge Two Piece
1962–5 would be the right sculpture for the museum, and, if sited at the museum's entrance on 4
th
Street, people could walk through it on their way into the gallery (fig.15).
85
Pei evidently felt able to tell Moore that a reconfigured
Knife Edge
would be a good choice for the site (and that he did not like
Spindle Piece
). Speaking to the author in 2003, he said that he chose
Knife Edge
as it related to the building's sharp edge (fig.16).
86
Up until this point the preferred sculpture for this spot had been Jean Dubuffet's
The Welcome Parade
1974, but this may have been thought perhaps too whimsical a piece for the many congressmen from across the United States who visited Washington and the museum lost its nerve.
87
Artistic competitiveness may have played a role here, too: Moore may also have felt that the site in front of the museum entrance was the more prestigious site. The work was installed in May 1978.
As this essay has attempted to show through reference to four American cities, commissions gave Moore a public presence in the US that was unprecedented for a foreign living sculptor. In New York the commissions signalled Moore's growing status within the art world; in Chicago they allowed Moore to be part of that city's history of important public sculpture; in Dallas Moore's work became part of the story of the city's recovery from national trauma; and in Washington D.C. the siting of Moore's bronzes outside both the Hirshhorn and the National Gallery of Art marked the zenith of his official acceptance and admiration in the US. Interconnections between friends, patrons, businessmen, politicians and museum personnel worked to facilitate these placements and furnished much of the momentum for Moore's career.
Moore appears to have been attracted to American openness, enthusiasm and entrepreneurship and, in turn, his personality seems to have played an important role in his success in the US. Americans time and again commented on Moore's friendly nature, his down-to-earth way of talking about his work, the fact that he was the opposite of a difficult, eccentric and troublesome contemporary artist. Those who visited him at his home and studios at Perry Green – and so many patrons, architects and businessmen did – responded favourably to seeing Moore embedded in a particularly lovely part of the English countryside, with all the somewhat romanticised connotations that inevitably conveyed.
American patrons were among Moore's staunchest allies, and as the biographer Roger Berthoud has commented, this support went a long way to buoy the sculptor's reputation when it was assailed at home. In the post-war years, Berthoud writes, Moore was
between a number of reputations ... the reactions of the broad public, conscious mainly perhaps of his international fame; and the growing admiration of American collectors and business men, for whom the sculptor was becoming the acceptable face of modern art. This last group was to be a source of comfort in the coming years as the assaults of the younger generation reached their maximum intensity.
88
There were of course risks involved in the promotion of Moore everywhere, even as a foreign star, and Carter Brown, Director of the National Gallery of Art in Washington D.C., was well aware that the commission of a major Moore bronze in the 1970s risked being seen as a 'cliché'. But the alternatives – in this case the more light-hearted work of Jean Dubuffet – felt risky for a site of major national importance. And, as he noted in an interview in 1994, 'Henry Moore was one of the toughest bargainers you'll ever run into ... He was not going to be playing second fiddle to anybody'.
89
Acknowledgements
This essay draws on material in Pauline Rose, Henry Moore in America: Art, Business and the Special Relationship, London 2014.
Dr Pauline Rose is Professor of Art History at the Arts University Bournemouth.
How to cite
Pauline Rose, 'Henry Moore's American Patrons and Public Commissions', in Henry Moore: Sculptural Process and Public Identity, Tate Research Publication, 2015, https://www.tate.org.uk/art/research-publications/henry-moore/pauline-rose-henry-moores-american-patrons-and-public-commissions-r1145958, accessed 05 December 2023.