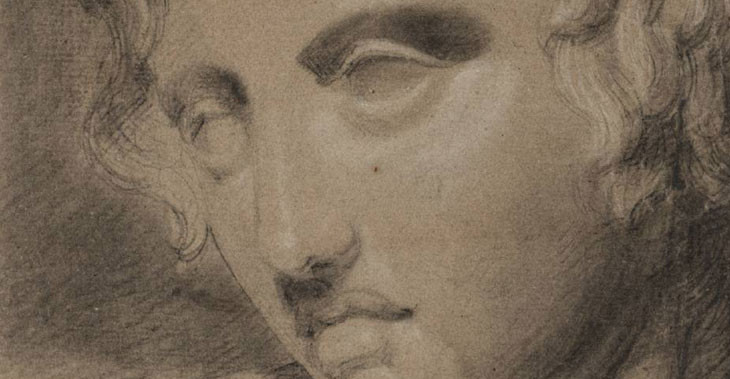 1787–1801 Student and master
This period spans Turner's beginnings as a draughtsman while still a boy, his education, emergence as an artistic prodigy and first professional recognition. He studied at the Royal Academy Schools (from 1789), with architects and architectural draughtsman and at the informal evening 'academy' of Dr Thomas Monro (from 1794), worked as a drawing master, made his first scenic tours, exhibited watercolours (from 1790) and oils (from 1796) and was elected Associate of the Royal Academy (1799).
Turner's earliest drawings show his progress from study of the human figure to architecture, topography and landscape. Catalogued here are studies after casts of ancient sculpture drawn in the Plaister Academy and of the living model in the life school (from 1792), after other artists and for original pictures, and views of scenery in the Midlands, North, Wales and Scotland. Turner's earliest sketchbooks belong to this period, the first dating from 1789. Large colour studies and exhibition watercolours show his rapid mastery of the medium as he outgrew conventional practice. 'Scottish Pencils' drawn in 1801 explore their subjects in monochrome, in terms of mass and tone rather than colour, demonstrating an increasingly catholic approach to media and technique.
How to cite
'1787–1801 Student and master', in David Blayney Brown (ed.), J.M.W. Turner: Sketchbooks, Drawings and Watercolours, Tate Research Publication, December 2012, https://www.tate.org.uk/art/research-publications/jmw-turner/1787-1801-student-and-master-r1130129, accessed 19 May 2022.