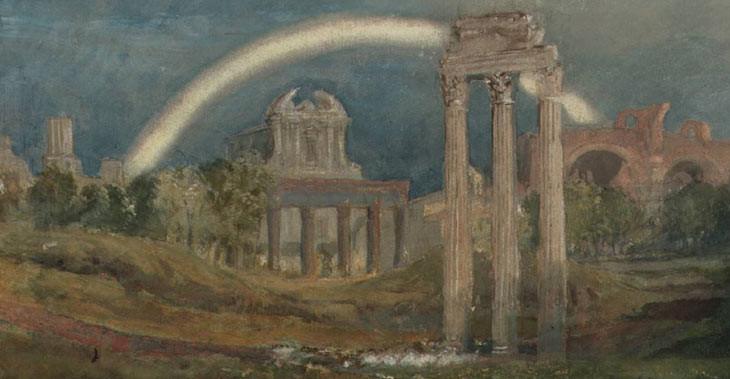 1819–1829 Italy and after
Two long visits to Italy – to Venice, Rome and Naples (1819–20) and Rome (1828–9) – frame this section. In the intervening years Turner visited France (repeatedly from 1821), Belgium, Luxembourg and Germany (1824), and the Netherlands (1825). These tours are documented in sketchbooks, often in small pencil sketches, but the first Italian tour occasioned notable colour studies as well, in both watercolour and gouache.
Further sketchbooks and works on paper record George IV's visit to Edinburgh (1822), of which Turner started a series of pictures. His more intimate social life is revealed in sketches made during stays at East Cowes Castle, Isle of Wight (1827) and Petworth, Sussex (1827, 1828), in which he experimented with different papers and media. Highlights of the collection are sketches of interiors, parkland and society at Petworth made in gouache on small sheets of blue paper, for pure pleasure as a private record.
In contrast to these quick, personal impressions, topographical subjects made for engraving such as Rivers and Ports of England, larger Marine Views and the first designs for Picturesque Views in England and Wales are made in watercolour, with a wealth of detail on an expansive scale. From late in this decade is a series of concise watercolour vignettes made c.1826–7 for an illustrated edition of Samuel Rogers's poem Italy (1830).
Please note: a few drawings dating from about 1827 will be found in the Kenilworth and Birmingham and Coventry sketchbooks, under 'Midlands 1830' in the subsequent '1830–5 Annual tourist' section.
How to cite
'1819–1829 Italy and after', in David Blayney Brown (ed.), J.M.W. Turner: Sketchbooks, Drawings and Watercolours, Tate Research Publication, December 2012, https://www.tate.org.uk/art/research-publications/jmw-turner/1819-1829-italy-and-after-r1130131, accessed 28 June 2022.