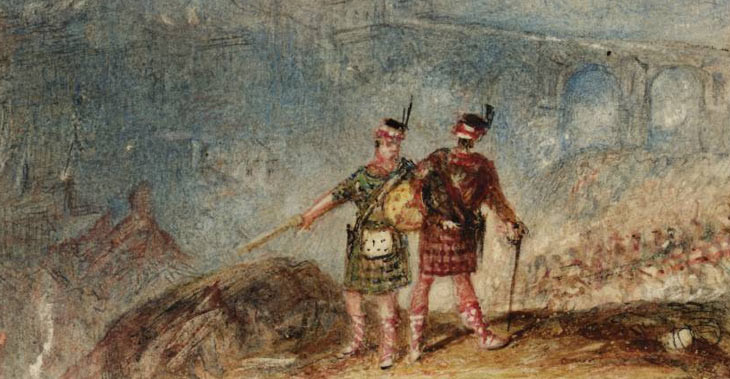 1830–5 Annual tourist
This section is named after Turner's Annual Tour: Wanderings by the Loire and Seine (1833–5; later reissued as Rivers of France). Views of the Seine, the only engraved subjects which Turner designed in gouache on blue paper, are highlights of the collection.
During this period Turner continued to travel extensively, at home and abroad. Ongoing work for Picturesque Views in England and Wales took him to the Midlands (1830). He visited Scotland (1831, 1834) to illustrate poems and novels by Walter Scott, France (1832) for the Annual Tours and Scott's Life of Napoleon, and made two of his most ambitious European trips, to Germany, Austria and Venice (1833) and Denmark, Germany and Bohemia (1835).
All these tours and projects are richly represented in the collection, in sketchbooks filled with pencil memoranda, colour studies and works for the engraver. Watercolour vignettes illustrating Byron, Samuel Rogers and other authors belong to this period, as does the last watercolour Turner exhibited at the Royal Academy (1830). Colour sketches, studies and 'beginnings' abound, some of them independent experiments and others related to works in progress, for example for England and Wales.
Please note: the Kenilworth and Birmingham and Coventry sketchbooks, under 'Midlands 1830' in the present section, include a few earlier drawings dating from about 1827. Some dating from 1833 will be found in the Val d'Aosta sketchbook, under 'Tour of the Alps 1836' in the subsequent '1836–47 Modern painter' section.
How to cite
'1830–5 Annual tourist', in David Blayney Brown (ed.), J.M.W. Turner: Sketchbooks, Drawings and Watercolours, Tate Research Publication, December 2012, https://www.tate.org.uk/art/research-publications/jmw-turner/1830-5-annual-tourist-r1130132, accessed 19 May 2022.