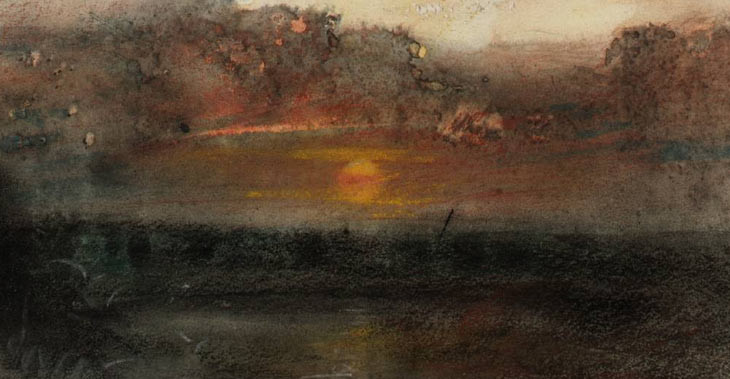 1836–47 Modern painter
This section begins with works made on a tour through France to Switzerland and the Aosta Valley with H.A.J. Munro of Novar (1836) and draws towards a close with output from visits to the French Channel coast (1845) and to the English side, extending perhaps to several years later. In the meantime Turner continued to travel often, visiting France (1837), Belgium, Luxembourg and Germany (1839), Germany, Austria and Venice (1840) and making annual visits to Switzerland (1841–4).
From these tours and visits comes a wealth of material ranging from on-the-spot pencil sketches to coloured studies and more developed treatments. Many freely handled watercolour sketches were painted directly onto the pages of soft-bound, landscape-format roll sketchbooks. Some were left as first painted, others worked up in more detail. Outstanding works unique to this period are 'sample studies' of Swiss subjects (made from 1842) for Turner's agent Thomas Griffith to show to potential clients to attract commissions, as well as one of the final versions, The Blue Rigi.
John Ruskin's book Modern Painters (first volume1843) elevated Turner above his contemporaries for truth to nature. Ruskin's admiration was largely founded on Turner's late mastery of watercolour and its unrivalled depiction of light, atmosphere and weather, above all in Venetian and Swiss subjects. Their dazzling effects are underpinned by many independent sketches of clouds, waves, sunsets and storms, not topographically located but probably inspired by stays at Margate and wanderings along the Channel coast. Turner's posthumous reputation as a proto-modernist, anticipating impressionism and abstraction, is based on these but the artist never expected them to be seen. More specific experiences recorded in sketches are the arrival of King Louis-Philippe of France at Portsmouth (1844) and Turner's visit to the king's summer residence at Château d'Eu (1845). Other coastal sketches are overlaid with imagination or even fantasy, as Turner introduces sea monsters or scenes from the whaling industry.
Turner was reclusive in later years, and increasingly unwell by the mid-1840s. His later work is not always easy to date but it is likely that he continued drawing until some years before his death in October 1851.
Please note: the Val d'Aosta sketchbook, under 'Tour of the Alps 1836', includes a few earlier drawings dating from 1833.
How to cite
'1836–47 Modern painter', in David Blayney Brown (ed.), J.M.W. Turner: Sketchbooks, Drawings and Watercolours, Tate Research Publication, December 2012, https://www.tate.org.uk/art/research-publications/jmw-turner/1836-47-modern-painter-r1130133, accessed 21 May 2022.