Royal Academy Perspective Lectures: Sketchbook, Diagrams and Related Material
c.1809–28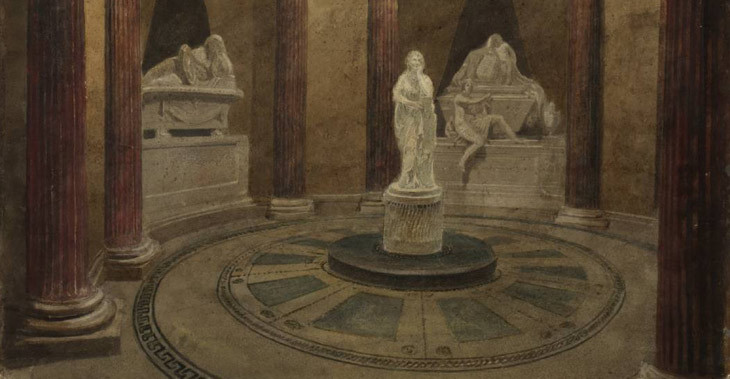 From the entry
While Professor of Perspective at the Royal Academy, a post he took up in 1807 and held until 1837, Turner created about 170 diagrams to help illustrate the theories and procedures he described in his lectures. These survive in the Turner Bequest, as do a few perspective studies and unfinished tracings, and preliminary notes in sketchbooks, primarily the Perspective sketchbook grouped here with the diagrams but also the Windmill and Lock, Greenwich and Frittlewell sketchbooks (see below). Turner assembled about half of this material before he began lecturing early in 1811. Afterwards, until the late 1820s, he added batches of new diagrams as he reworked or improved the lectures. Altogether, the drawings depict a broad range of subjects related to both linear and atmospheric perspective. The mode of presentation is equally varied, from technical drawings to carefully finished watercolours. This catalogue arranges the material into the following subsets: [I] Perspective sketchbook circa 1809 D07353&amp ...
D16970–D17124
,
D17126
,
D17128–D17150
,
D40001–D40011
,
D40012–D40015
,
D40018
,
D40019
,
D40022
,
D40024–D40026
,
D40265
Turner Bequest CXCV 1–153, 155, 157–179
Technical notes
Peter Bower
37
has established that there are several distinct groups of paper used for the perspective diagrams, but 'most bear a range of different Whatman marks: twenty-two variants in ten different sizes and ranging from papers made by James Whatman the younger, through the period of the Balston Hollingworth partnership (1794–1805) to papers made from both William Balston at Springfield Mill and the Hollingworth brothers [Finch and Thomas Robert], who continued to work Turkey Mill. The remainder comes from several makers, with the largest group made by Joseph Ruse. Of the papers not made by Whatman or his heirs, none in fact date from after 1800, and one wonders if they were in fact odd sheets, or groups of sheets, that had been sitting in Turner's studio for some time. Judging by the condition of many of them they were not particularly good sheets, and in some cases had not been carefully looked after.' The Whatman papers, for instance, probably came from the outsides of batches of reasonable-quality paper.
Where available, information is given on the individual sheets.
Notes in Tate catalogue files.
Additional material
Notes and observations towards Turner's lectures and diagrams are present in a number of sketchbooks as well as the Perspective cited above.
The
Windmill and Lock
sketchbook contains memoranda from Kirby's
Dr Brook Taylor's Method ...
:(
D07975
,
D07976
,
D07979–D07981
; Turner Bequest CXIV 11 verso, 12 recto, 13 verso, and 14 recto and verso). Datable circa 1809, they would have informed the first draft of Lecture 3.
38
Further notes and diagrams are:
D07965
,
D07970–D07973
,
D07975
,
D07976
,
D07979–D07981
,
D07990–D07993
,
D08018
,
D08019
,
D08025
,
D08026
,
D08044
,
D08045
,
D08050
; Turner Bequest CXIV 4 verso, 8, 9 recto and verso, 10, 11 verso, 12, 13 verso, 14 recto and verso, 20 verso, 21 recto and verso, 22, 45 verso, 46, 50 verso, 51, 65 recto and verso and 69 verso.
Studies of buildings in London, preparatory to the watercolour diagrams for Lecture 1 given in January 1811,
39
are:
For Turner's response to a letter in
The Examiner
complaining that Academy professors were not lecturing, see the
River and Margate
sketchbook (Tate
D40597
; Turner Bequest XCIX [inside front cover]). His draft request for postponement of the lectures is in the
Greenwich
sketchbook (Tate
D06764
; Turner Bequest CII 23). There are various other notes related to the lectures in the same book (
D06728
,
D06749–D06753
,
D06756
,
D06758
,
D06764–D06767
,
D06774–D06776
; Turner Bequest CII 4a, 15–17, 19, 20, 23–24a, 28–9). More are in the
Frittlewell
sketchbook (Tate
D07772
,
D07773
,
D07803
,
D07835
,
D07836
; Turner Bequest CXII 16, 16a, 46, 77a, 78).
The original writing and research for the entries on the diagrams was supported by The Samuel H. Kress Foundation. Thanks are due to Maurice Davies for his advice. Subsequent research by Helen Dorey has contributed to the revision of these texts and is also gratefully acknowledged. The Perspective sketchbook has been catalogued by Matthew Imms.
Supported by The Samuel H. Kress Foundation
How to cite
Andrea Fredericksen, 'Royal Academy Perspective Lectures: Sketchbook, Diagrams and Related Material c.1809–28', June 2004, revised by David Blayney Brown and Matthew Imms, September 2016, in David Blayney Brown (ed.), J.M.W. Turner: Sketchbooks, Drawings and Watercolours, Tate Research Publication, December 2012, https://www.tate.org.uk/art/research-publications/jmw-turner/royal-academy-perspective-lectures-sketchbook-diagrams-and-related-material-r1131857, accessed 18 May 2022.