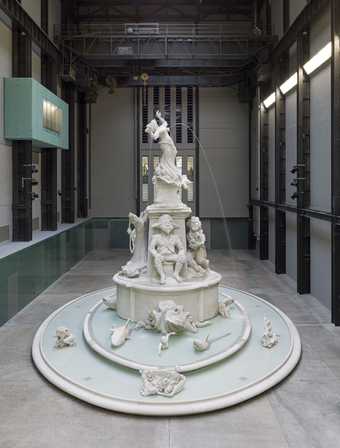 Artist Kara Walker has made a giant fountain, full of sharks and ships for the Turbine Hall in Tate Modern. It is an artwork called Fons Americanus. This means Fountain of the Americas. It is the 2019 Hyundai Commission.
When a group of kids from Charlotte Sharman Primary School in Southwark came to see Fons Americanus they had lots of questions. They took part in a workshop where they looked at the artwork and tried to find some answers. They did drawings, wrote poems and got to talk about their ideas and worries.
You might want to read the rest with an adult, so you can ask them any questions you might have. The fountain is about a violent and sad history. It can be hard to talk about.
You might think the figures carved into this fountain are characters from a pirate story. It is actually inspired by the grim history of trading enslaved African people across the Atlantic Ocean to Britain and the Americas.
Is this work about pirates?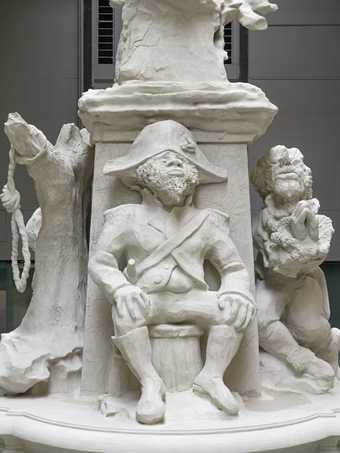 Larome (aged 10) said that the artwork must be about pirates because the figure at the front has a pirate hat. The other kids agreed that it must be about pirates, because of the hat, boats and sharks. Logan said 'Pirates are bad people who steal treasure.' Is this fountain about bad people?
What do you know about slavery?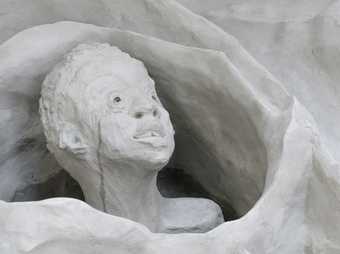 Slavery was the kidnapping and trading of enslaved African people. The United Kingdom and the United States of America sold African people and forced them to work in fields where sugar and coffee were grown.
It took place between the fifteenth and nineteenth century. It lasted over 350 years and made the United Kingdom and the United States of America very rich. It was so devastating, that many Black people still feel the effects today.
We often don't talk about the history of slavery. It is a difficult and upsetting subject. Kara Walker has said that her fountain is a gift to the United Kingdom. Why do you think she would want to give her fountain as a gift?
Who is Kara Walker?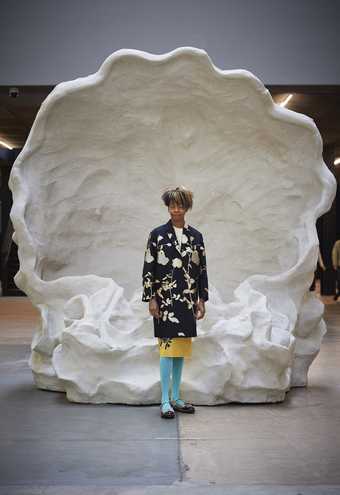 Kara Walker is famous for making artworks that deal with the gruesome and violent histories of slavery. Walker looks at important and serious themes in a playful way. She often tells stories about a time in the nineteenth century when slave labour was used in the Southern parts of the United States of America to grow crops like cotton, tobacco, rice and sugar. Can you do your own research on this time in history?
Who is the woman laughing at the back of the fountain?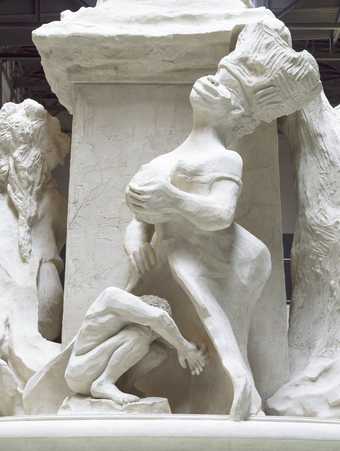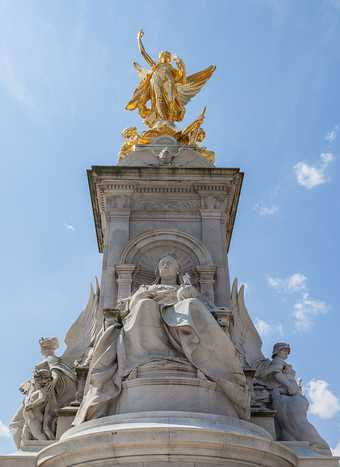 Lexi (aged 10) asked who the woman laughing was. Some of the kids thought this was the queen of the pirates. Maybe she is laughing, because she is evil.
Did you notice the people drowning in the water? The kids thought this could be the people the queen had enslaved.
Kara Walker has said that this figure does represent a queen, Queen Victoria of England. The shape and size of the fountain was inspired by the Victoria Memorial outside of Buckingham Palace. Have you visited Buckingham Palace and seen it?
Queen Victoria was leader of the British Empire. The Empire was all of the countries that Britain took control of. This included many places in Africa. Why do you think the queen is laughing?
Why are there sharks in the water?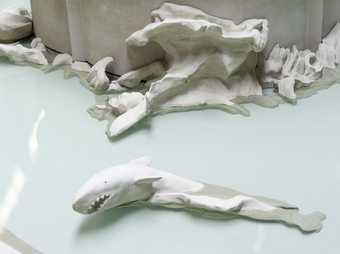 Yusuf (aged 10) noticed that there were lots of sharks in the water. On the journey from Africa, it was common for enslaved people who were sick or dying to be thrown into the water. Sharks changed direction to follow the ships, knowing that there would be plenty of people to eat. It was unusual for sharks to move in this direction and they still move like this today. This shows how much impact the slave trade had.
What other hidden meanings can you find?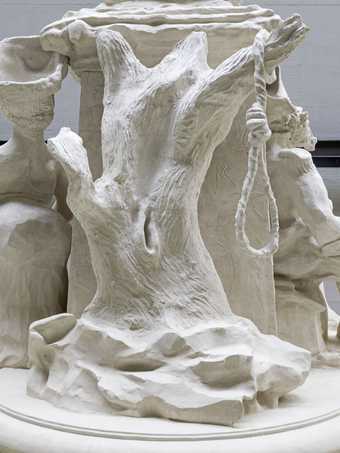 Why is there water spraying from the woman at the top?
Can you spot Kanye West's name on the fountain? Why is Kanye West part of this story?
What does the rope noose hanging from the tree mean?
Kara Walkers has filled this artwork with lots of different characters and images. Some of these are based on real life people and some of these are based on famous artworks. Chloe (aged 10) thought that that the woman at the top looked like a goddess. Walker did base this woman on Venus, the Roman goddess, who you might have learnt about in school.
The rope in the tree is a noose. It was used for executions and murders by hanging. Racists and slave owners have historically used these nooses to kill Black people. Today many people still find images of nooses like this scary and upsetting because they know the racist history of its use.
Why is this artwork important?
Siobhan (aged 10) asked what is the point of making a big fountain. Have you thought about why Walker chose to make a big fountain?
It is important the kids asked about pirates, as the slave traders were sort of like pirates. They did sail on boats and did steal people and goods from Africa.
Maybe Walker is asking us to think about the story of the British Empire. For a long time people thought that Empire was a good thing, because it brought civilisation to places like Africa. They thought that Africans did not know how to behave and so it was up to the British to teach them. We now know that civilisation existed in Africa long before Britons and Americans arrived on slave ships. Africa continues to be a place where people think of new ideas.
What Next?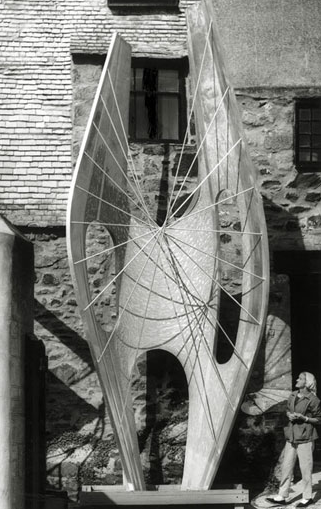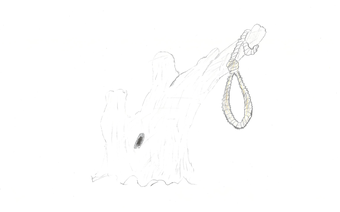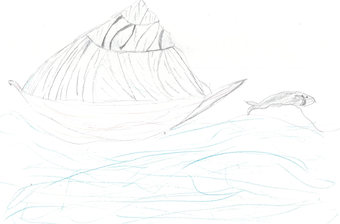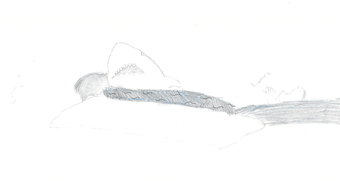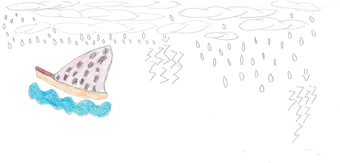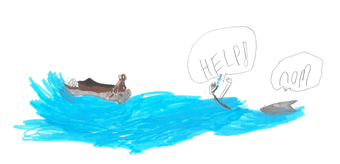 Choose part of the fountain that you find meaningful and maybe difficult to understand? Draw a picture inspired by what you see. Take a close look at the details and use your imagination to create your own artwork based on what you can see.
Kara Walker is not afraid to talk about horrible histories that have been hidden from us. Did the artwork show you things you didn't know about? Why do you think histories of slavery are sometimes hidden away?
Next time you look at an artwork that shows images of British or American history, ask if something is missing from the story. You can start by visiting the Victoria Memorial at Buckingham Palace. What are the similarities and differences between this fountain and the one in Tate Modern? What histories about Empire have been left out?