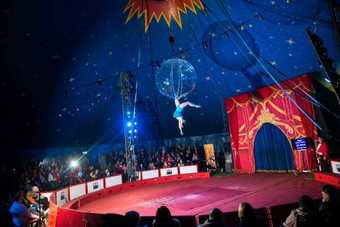 Have you ever been to the circus? Did the beautiful acrobats, funny clowns and the awesome ringmaster inspire you? Lots of artists have been inspired by circuses – such as artist Alexander Calder who made wire sculptures inspired by the movements of acrobats.
Let's meet aerial performer Romy Bauer and see what it's really like to work in a circus! She works for Circus Starr which provides amazing shows for thousands of disadvantaged, disabled or vulnerable children.
Hi Romy! What does a normal day look like?
A normal day on Circus Starr includes getting up very early to move to the next place and a lot of teamwork. It also includes practising (training) and getting ready for shows. Then of course there is show time which is the best part of the job!
We would love to know when was your first back flip?
I was trained in contortion [that means that Romy is really flexible] from a very young age, I don't actually do backflips as that is more gymnastics than aerial contortion. I always wanted to be flexible so my contortion training was a good base skill for my future.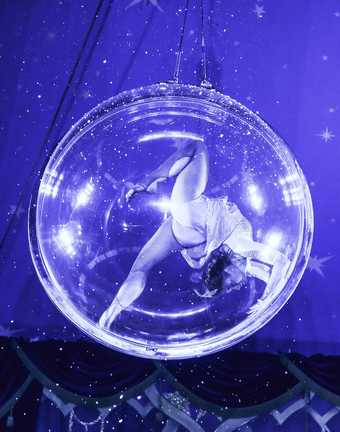 How did you end up working at Circus Starr?
I was born into the circus and as soon as I could perform, I did. I made my Big Top debut aged 3. I was part of my mother's and father's act, which also included my grandmother, cousin, aunt and uncle. My parents used to be managers and artists in Circus Starr in the 1990s so I was actually brought up here! It's a company that is close to my heart and I'm very happy to be back here.
Do you see yourself as an artist?
Yes, as circus is performance art. I perform contortion inside a giant perspex ball suspended from the roof of the big top. It is such a wonderful feeling to perform for our audiences… I can't describe it!
If you weren't an acrobat, what would you be doing?
I've always loved make-up and fashion, so maybe something in that department!
Are there any other artists or dancers that inspire you?
Whenever I go to see another circus the other artists always inspire me!
What's the best thing about your job?
I have always loved aerial; I love the beauty and danger of it! Seeing the children's faces and excitement at show time makes all the hard work worth it.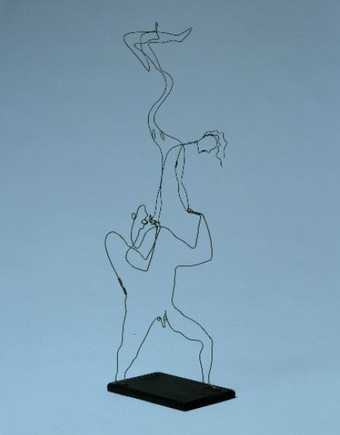 Have you ever seen Alexander Calder's work?
This is the first time I have heard of Alexander Calder. I love the movement and playfulness in his work.
As a real-life acrobat, what do you think about it?
It's very interesting to see circus from a different perspective. It has a very old-fashioned circus feel to it. It's beautiful!
Massive thanks to Romy and Circus Starr for the interview!