Berthe Morisot was born in 1841 in Paris, France. Her family was wealthy and when she was growing up her parents encouraged her and her sister Edma to take art lessons and acknowledged their talent. They didn't however want Morisot to be a professional artist. It was just meant to be a hobby!
She was part of a group of painters called the impressionists. Watch the video to find out more about the impressionists:
Berthe Morisot was the only woman in the group of impressionists at the start. She was part of the first exhibition where the group called themselves 'impressionists' in 1877. She participated in all of the exhibitions except for the one in 1879 because she fell ill after giving birth to her daughter Julie.
Because of people's attitude towards women at the time, she was not meant to go out alone and paint scenes in bars and cafes, or even in parks. It was thought to be improper for a woman to be out in public without anybody else.
Many of the men in the group of impressionists painted life in the city as well as landscapes. When Morisot became a professional artist she would hide her paintings and materials away when people came to visit! Even though she sold a lot of paintings and was successful in her lifetime, it was still frowned upon for a woman to be a painter.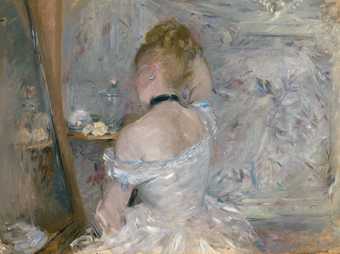 Berthe Morisot's paintings were often of people at home or in the garden. She was known for painting in loose, quick brush strokes. You can really see all the brushstrokes in her paintings! She didn't make the surface smooth or flat.
Some critics said her work looked unfinished, but you could also see it as 'raw' and full of emotion.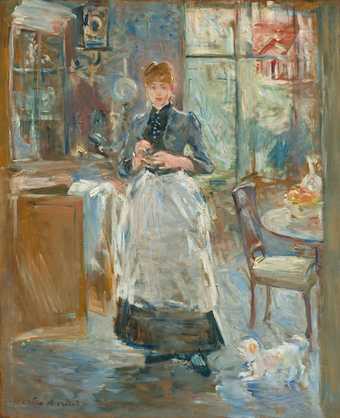 Look at this portrait of a woman in her kitchen with a little dog at her feet. How do Morisot's brushtrokes make you feel about the portrait? What do you think the woman is thinking? What might she do next?