Charles Ginner 1878–1952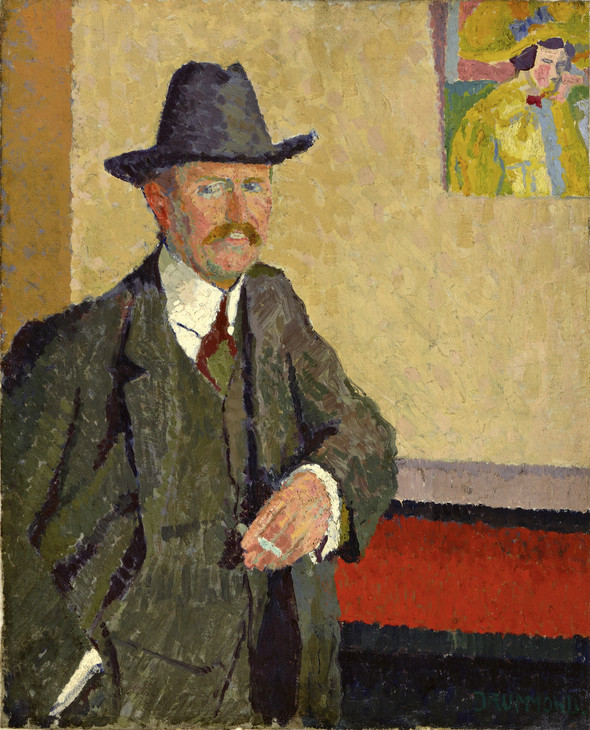 Charles Ginner was an influential member of the Camden Town Group. Born in France and having lived in Paris for almost a decade before moving to London, he appeared an authority on continental modern art to his British colleagues.
1
Malcolm Drummond painted a 'vital and characteristic' portrait of his friend in 1911 (figs.1 and 2),
2
displayed at the second Camden Town Group exhibition, which presents Ginner as a suave and sophisticated artist, standing nonchalantly with cigarette in hand in front of one of his post-impressionist paintings. Ginner lived in England for the rest of his life but retained a French accent for many years, humorously caricatured in a 1914 letter to the secretary of the London Group, James Bolivar Manson (fig.3).
Isaac Charles Ginner was born in Cannes in the south of France on 4 March 1878.
3
He was the third of four children of Isaac Benjamin Ginner (died 1895), from Hastings in Sussex, and Lydia Adeline Wightman, who had lived in London and was of Scottish descent. Ginner's father established the Pharmacie Ginner in Cannes,
4
and his elder brother, Ernest Wightman Ginner, later became a doctor with a practice on the Riviera. Ginner's eldest brother had died in infancy. His youngest sibling, Ruby Mary Adeline Ginner (later Dyer), became a dancer and dance teacher; many of Ginner's works were in her collection.
5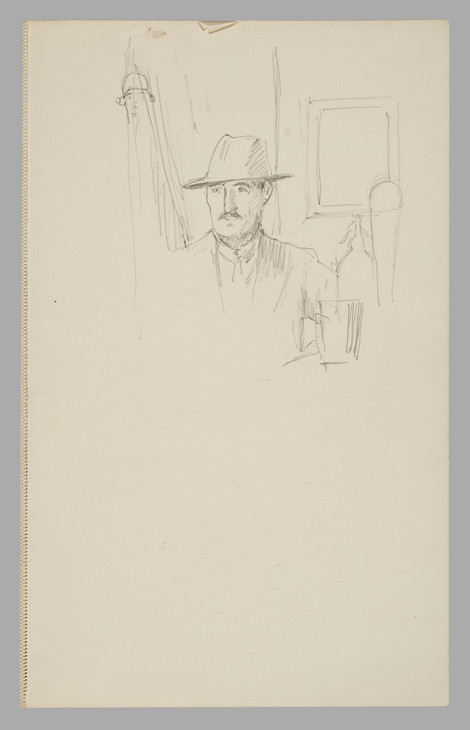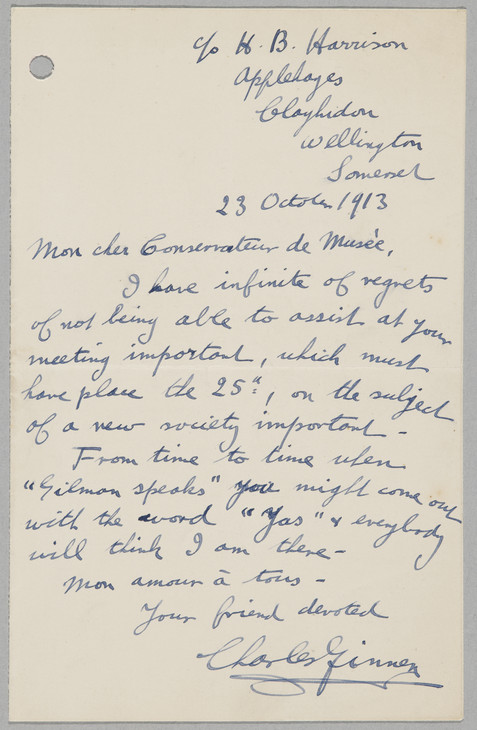 Ginner was educated in Cannes at the Collège Stanislas. At the age of sixteen he contracted typhoid and double pneumonia and was sent to recuperate on a long sea voyage on his uncle Charles Harrison's tramp steamer in the Mediterranean and South Atlantic.
6
Upon returning to Cannes, he spent time working in an engineer's office before moving to Paris at the age of twenty-one where he was employed in an architect's office from 1899 until 1904.
7
Early style and inspiration
The former director of the Tate Gallery and friend of Ginner, John Rothenstein, wrote about the artist that: 'For as long as he could remember he wished to be a painter, but he had to overcome the opposition of his family'.
8
With financial help from his uncle, Ginner eventually enrolled at the Académie Vitti in Paris in 1904. During his time at art school he earned money as a magazine illustrator, creating some highly detailed, ironic depictions of lascivious gentlemen in decadent Parisian scenes.
9
He studied at the Académie until 1908 firstly under the French artist Paul Jean Gervais (1859–1936) and later the Spanish painter Hermen Anglada-Camarasa (1871–1959), as well as briefly studying in 1905 at the Ecole des Beaux-Arts.
10
He may have learnt to use bright colours and impasto from Anglada-Camarasa;
11
a fluid handling of thick paint can be seen in Ginner's earliest known oil paintings,
The Sunlit Wall
1908 (private collection),
12
Tache Décorative – Tulipes
1908 (private collection)
13
and
Girl at an Easel
c.1908–9 (private collection).
14
This style was short-lived, however, as he soon developed the unique system of methodically applying thick paint in small brushstrokes, which he continued with throughout his life, as his student Marjorie Lilly recollected:
[Ginner] drew in his picture, faintly but carefully, then applied a thin colour wash of approximately the right colours, using turpentine so that it dried quickly. Then he started his real painting with a quantity of rather small, flat brushes and in his methodical way working from left to right across the canvas, finishing the picture in one very thick coat of paint. His aim was to complete this second coat without any corrections.
15
While still resident in Paris, Ginner contributed to his first London exhibition: the open-submission Allied Artists' Association at the Royal Albert Hall in 1908. The organiser, Frank Rutter, later recalled:
Few people took much notice of his work when it was first shown here in 1908, but several artists were literally attracted by his lavish use of pigment, and, the canvas being still wet, took away samples of his paint in their finger-nails. Some few, however, approached his work with more respect, and I well remember Spencer Gore coming up to me before the Ginners and saying with conviction, 'This man is a painter.'
16
In April of the following year Ginner travelled to Buenos Aires in Argentina.
17
The art historian Malcolm Easton states that Ginner held a joint exhibition in September at the Salón Costa in Buenos Aires with a fellow student from the Académie Vitti, the Danish painter Dora Erichsen (died 1943),
18
where he sold at least five paintings.
19
The art historian Wendy Baron reasons that the two probably travelled to and from Argentina together,
20
and that Dora was most likely the married woman described in Benjamin Fairfax Hall's first-hand account of Ginner:
He never married and adopted a slightly cynical attitude towards sex, affecting to regard his mistress as a constitutional necessity like the T.C.P. with which he gargled every morning. Actually, he was much in love as a young man with a woman who preferred to marry someone else. The marriage was not a success and would have been disastrous for the two daughters born of it, had not Ginner, who had a great fondness for children, made himself responsible for their education and welfare. Perhaps he never quite recovered from his early love, and this secret in an otherwise simple life may account for a reticence and shyness surprising in someone whose work was so self-assured as to be unaffected by changing tendencies in art.
21
By the time Dora became known in Fitzroy Street circles, she was the wife of a physician, Dr Alfred Victor Sly.
22
Harold Gilman painted her in
Mrs A. Victor Sly
c.1914–15 (Wakefield Art Gallery).
23
In
A Little Cheque
1914 (Sotheby's),
24
Walter Sickert depicted Dora and Ginner's financial arrangement as described by Fairfax Hall. Her first husband died on 1 May 1920 and on 29 December 1921 she married a solicitor, Robert Leo Fulford. Dora was given many works by Ginner over the years,
25
and Baron argues that she is the sitter in Ginner's
The Girl Philosopher
1929 (Christie's).
26
Dora may also be the female artist in Ginner's
Girl at an Easel
, which was painted in South America and depicts a pale-faced, blonde-haired young woman painting at an easel.
27
The Camden Town Group and post-impressionism
'Neo-Realism'
On 1 January 1914, Ginner published a manifesto on 'Neo-Realism' in the
New Age
. The article was republished in April in the catalogue of his and Gilman's exhibition at the Goupil Gallery, representing their combined philosophy.
59
The pair had also exhibited under this title in the Allied Artists' Association exhibition in July the previous year. Ginner began:
All great painters by direct intercourse with Nature have extracted from her facts which others have not observed before, and interpreted them by methods which are personal and expressive of themselves – this is the great tradition of Realism.
60
He felt, however, that some of his contemporaries were producing work that simply imitated the innovations of the great realists Paul Cézanne, Paul Gauguin and van Gogh:
The Academic painters merely adopt the visions which the creative artists drew from the source of nature itself. They adopt these mannerisms, which is all they are capable of seeing in the work of the creative artist, and make formulas out of them.
61
For Ginner 'Neo-Realism' challenged this formulaic art:
To this new Academism, which will eventually destroy Art ... we must oppose a young and healthy realistic movement, a New Realism, i.e., 'Neo-Realism'.
62
He also described his views on painterly technique:
A pictorial work of Art must be a complete expression of the artist in relation to Nature, and must result in a strong and solidly built up work to be of any lasting purpose. Good craftsmanship must be the natural result of a strong, forcible, and deliberate self-expression. An artist who cannot go beyond a sketch is but a poor artist. Neo-Realism by its very ideals finds itself opposed to the slap-dash, careless, and slick painting which has been and is still so much in vogue.
63
Ginner's article received a detailed response in the New Age from the critic and philosopher T.E. Hulme who rejected the view that realism was the only viable art form, favouring abstraction instead:
It is true, then, that an artist can only keep his work alive by research into nature, but that does not prove that realism is the only legitimate form of art.
Both realism and abstraction, then, can only be
engendered
out of nature, but while the first's only idea of living seems to be that of hanging on to its progenitor, the second cuts its umbilical cord.
64
Sickert responded ironically to Ginner's article:
Have Mr. Ginner and Mr. Gilman reflected that, when they put their heads between the sandwich-boards of this or any classification, they will have to carry the blasted boards about for another thirty or forty years?
65
Lucien Pissarro was likewise reticent about the term, writing to James Bolivar Manson in November 1913, 'I fail to understand why some of them have taken the title of Neo-Realist – I fear they don't quite know where they are going and as true opportunists want to be ready to turn with the wind.'
66
In a later review of the New English Art Club, Sickert complimented the smooth and tonal work of Henry Lamb, criticising the use of impasto and bright colours:
Mr. Lamb is not only a great talent, but a great talent under the guidance of a clear and educated brain. He has never been, for a moment, the dupe of technical pedantries. He knows, for instance, that it is a trivial thing to spend a life-time in an effort after intrinsic brightness of paint. He knows that the brightest colours will fade. He knows that there is a strict limit to the advantages of impasto. He knows that, firstly, excessive impasto is not even durable. He knows that impasto is not in itself a sign of virility. He knows even that it is, when practised as an aim in itself, only another subterfuge. Intentional and rugged impasto, from the fact that each touch receives a light and throws a shadow, so far from producing brilliancy, covers a picture with a grey reticulation and so throws dust in the eyes of the spectator, and serves, to some extent, to veil exaggerations of colour or coarseness of drawing. It is a manner of shouting and gesticulating and does not make for expressiveness or lucidity.
67
Ginner and Gilman saw this as a veiled attack on their manner of painting. Ginner deftly responded, 'Sir, – Paint is thicker than turpentine. In answer to Mr. Sickert I have but one statement to make: I shall paint as thick as I damn well please.'
68
Despite these differences, Ginner's statement on realism can be seen as a manifesto for many members of the Camden Town Group:
Each age has its landscape, its atmosphere, its cities, its people. Realism, loving Life, loving its Age, interprets its Epoch by extracting from it the very essence of all it contains of great or of weak, of beautiful or of sordid, according to the individual temperament. Realism is thus not only a present intimate revelation of its own time, but becomes a document for future ages. It attaches itself to history.
69
Later groupings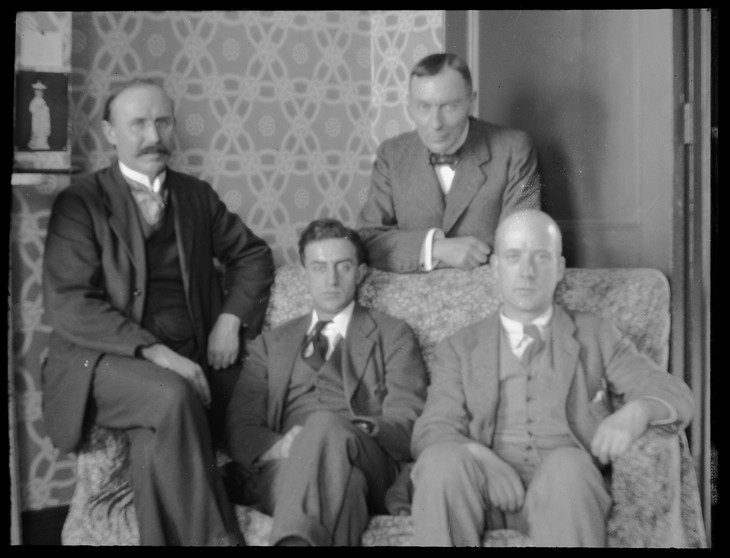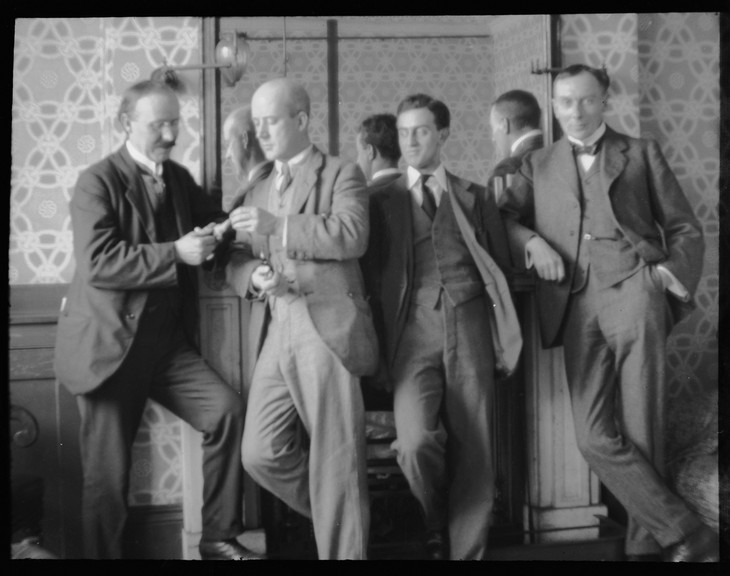 In early summer 1914 Ginner became a member of Bevan's Cumberland Market Group alongside Gilman and John Nash, which held 'At Homes' in Bevan's studio overlooking the old market square (figs.10 and 11). In January 1916 he set up a painting school with Gilman at 15–16 Little Pulteney Street, Soho, where he taught Marjorie Lilly, who recalled:
No one could have looked less arty than Charles Ginner. Most people would have taken him for a bank manager, an engineer, an accountant, but never for a painter ... Only once did I see him throw off his armour of reserve completely and that was at a party, when he pushed aside a sofa to clear more floor space and executed a neat little French song and dance with complete abandon.
70
The school closed in December the following year as Ginner had left for war.
71
Rothenstein wrote of Ginner's time at war:
Ginner was called up about 1916, serving first as a private in the Royal Army Ordnance Corps, but his knowledge of French (he was completely bilingual) resulted in his transfer to the Intelligence Corps. He was promoted sergeant and stationed at Marseilles, and later recalled to England to work for Canadian War Records, with the honorary rank of Lieutenant.
72
Working as a war artist he spent eight weeks in Hereford, close to the border with Wales, where he recorded work in a munitions powder-filling factory in a large painting, No.14 Filling Station, Hereford 1918 (National Gallery of Canada, Ottawa), which has numerous sketches (for example, fig.12). Ginner served as an official war artist in both world wars.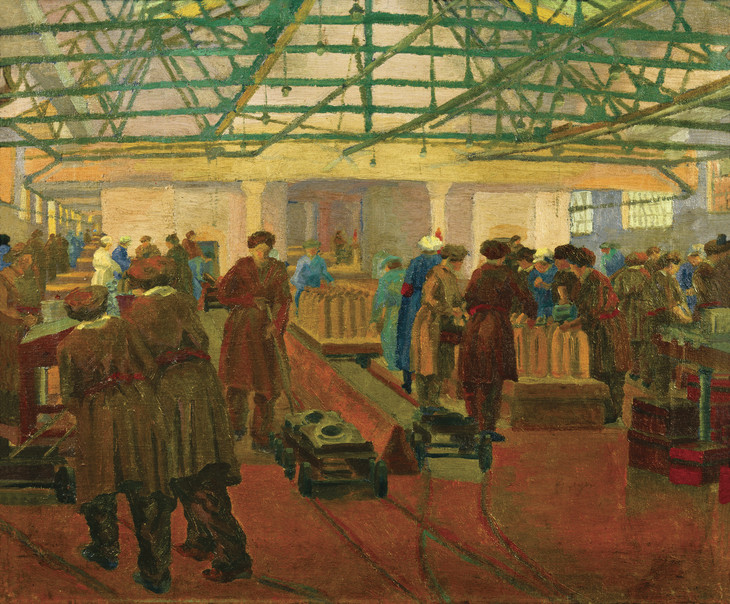 Following the war Ginner continued his close partnership with Gilman, sharing his studio at 47 Maple Street, off Tottenham Court Road.
73
With Rutter, the two had set up the illustrated quarterly
Art and Letters
in 1917. But in 1919, Ginner became ill with influenza, which Gilman contracted through nursing him; the flu then developed into pneumonia for both of them and Gilman died.
74
Their friend, the painter Hubert Wellington, wrote of the pair in the catalogue for an exhibition of Ginner's works in 1925:
Their partnership was a delightfully vivid and amusing affair; the austere and incorruptible passion of Gilman playing against the urbane certainty and serenity of Ginner was a spectacle much relished by their friends, and I think by themselves, for a sense of humour was their property in common.
75
In 1920 Ginner had his first solo exhibition at the Birmingham Repertory Theatre, with a catalogue introduction by Walter Bayes. He became a member of the New English Art Club,
76
but still remained part of the avant-garde, showing in Wyndham Lewis's Group X exhibition at the Mansard Gallery, March–April 1920. The following year he helped to organise an
Exposition d'un groupe de peintres modernes
at the Galerie Druet, Paris from June to July, where his work was shown alongside that of Gilman, Bevan, Nash, Stanislawa de Karlowska, E.M. O'Rourke Dickey, McKnight Kauffer, Edward Wadsworth, William Roberts and Ethelbert White.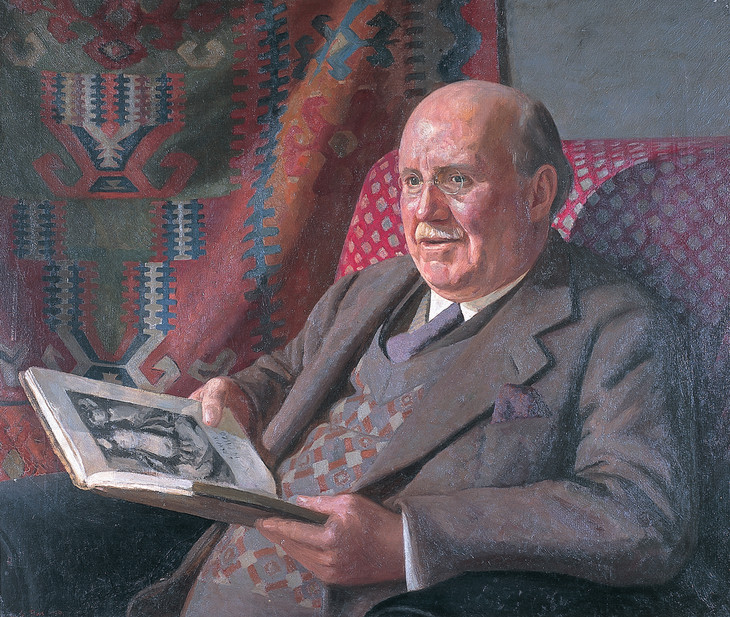 Following Gilman's death, Ginner moved to 61 Hampstead High Street where he lived until 1938.
77
There he painted numerous scenes of the local area, many depicting the view from his windows, as well as the woods on Hampstead Heath.
78
During this period he became friends with Edward Le Bas, who was to be a great patron and he painted the artist in 1930 (fig.13). As in a self-portrait from the 1940s in which he sternly surveys the viewer with pipe in mouth,
79
Ginner increasingly used pencil, ink and watercolour to create his compositions rather than oil paint, perhaps owing to financial difficulties.
In 1938 he moved to 66 Claverton Street in Pimlico, close to the Tate Gallery;
Snow in Pimlico
1939 (Tate
N05270
) is an example of the works he continued to paint from his window there. In 1942 at the age of sixty-four he was elected an Associate Royal Academician, about which he wrote to his friend and fellow artist, Stanislawa de Karlowska, 'Last April I was elected an A.R.A.! Just imagine it, me in the Royal Academy – wonders will never cease!'
80
Three years later he was also made a full member of the Royal Watercolour Society, and joked to Karlowska, 'I am, as you see, still going up in the world.'
81
In 1950 he was made a CBE for his contribution to the arts.
82
Wellington's view of Ginner in 1925 encapsulates his career:
Charles Ginner holds a special and rather enviable position among painters. Very well aware of all modern movements, ready to welcome – or to investigate with interest – any experiment, however wild, if it seems genuine and energetic, he goes on undisturbed with the exercise of his own very considerable talents. His characteristic liberality of mind finds good things among the doings of fiercely warring sects, but none of them can claim him as their own; he remains personal and independent, so that no one, I imagine, can mistake a picture by Ginner for the work of any other man.
83
Ginner died of pneumonia on 6 January 1952 at the age of seventy-three. The Arts Council held a touring exhibition of forty-three of his works the following year.
84
How to cite
Helena Bonett, 'Charles Ginner 1878–1952', artist biography, January 2011, in Helena Bonett, Ysanne Holt, Jennifer Mundy (eds.), The Camden Town Group in Context, Tate Research Publication, May 2012, https://www.tate.org.uk/art/research-publications/camden-town-group/charles-ginner-r1105346, accessed 02 July 2022.