'A sincere academic modern': Clement Greenberg on Henry Moore
Courtney J. Martin
In 1947 Clement Greenberg wrote a scathing review of Moore's retrospective at the Museum of Modern Art (MoMA), New York and in the following decades he continued to present the sculptor as a minor artist of limited interest. This essay explores the reasons why Greenberg remained so dismissive of the British artist.
Painting continues to hold the field, by virtue of its greater breadth of statement as well as by its greater energy. And sculpture has become a place where, as hopes have turned into illusions, inflated reputations and inflated renaissances flourish.
1
Clement Greenberg 1956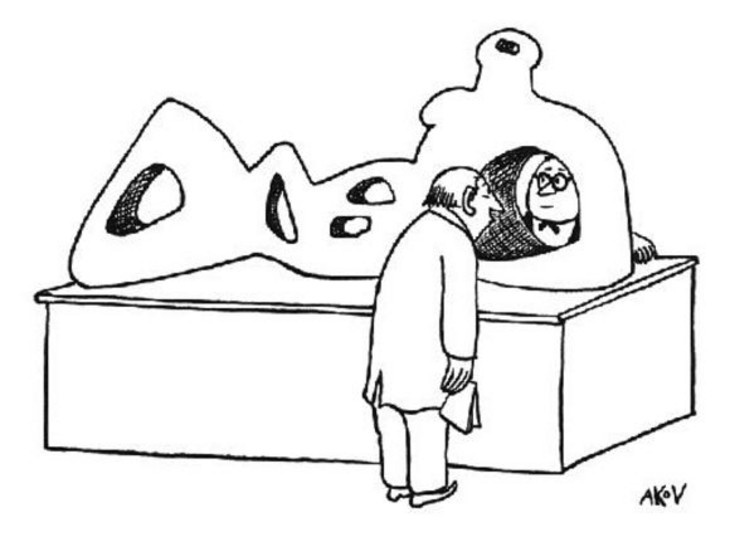 From December 1946 to March 1947 the Museum of Modern Art (MoMA) in New York held a major retrospective of the work of Henry Moore, which then travelled to Chicago and San Francisco. The exhibition contained some of the British artist's most important works, including some of his already well-known wartime Shelter drawings of people taking refuge from the Blitz in the London Underground. The highly anticipated show proved a critical success, and Moore and his work featured prominently in the nation's newspapers, magazines and television. So much so that his sculptures with 'holes' became a popular visual cliché: a contemporaneous
New Yorker
cartoon (fig.1) showed two men looking at each other – one joyless and the other a little anxious – through a 'hole' in a Moore-like reclining figure.
If those two figures bore more than a passing resemblance to the art critic Clement Greenberg, engaged in close looking and armed with a notebook, and Alfred Barr, MoMA's bespectacled director, it may have been an insider's reference to the critic's appraisal of the Modern's Moore exhibition. On 8 February 1947 Greenberg (1909–1994) published in the
Nation
a scathing review of the exhibition that set the tone for the way in which the American critic would refer to the British sculptor in the years to come. Although short – eight succinct paragraphs in length, half shared with comments on another sculptor – the review was the single, anomalous crease in the otherwise smoothly orchestrated and well received presentation of Moore in New York. Greenberg presented Moore as both a symbol of the inadequacy of post-war sculpture in relation to contemporary painting and as an example of 'Englishness'
–
in Greenberg's usage, a somewhat vague term intended to imply an incapacity to create 'truly original modern sculpture'.
2
Greenberg returned to Moore's sculpture nearly a dozen times between 1947 and 1968, the last year in which he mentioned the English sculptor in his criticism. Throughout Moore remained a figure to be surpassed and overthrown by younger artists or, in Greenberg's words of 1968, 'Abraham' to the 'Moses' of the younger British sculptor Anthony Caro (1924–2013), who had once been a trusted assistant of Moore's. According to Greenberg, the work of Caro, together with the American sculptor David Smith (1906–1965), offered a path that was equal in aesthetic potential to that of the painters that he championed, such as Helen Frankenthaler, Kenneth Noland and Jackson Pollock.
3
This essay explores how over two decades Greenberg's writings constructed an image of Moore as a traditional and limited artist ('a sincere academic modern'
4
was one of Greenberg's coded phrases), a foil to what he later proclaimed to be the new sculptural avant-garde led by Smith and Caro. Greenberg's devotion to Smith and promotion of Caro have been seen as evidence of the critic's willingness to depart from his earlier beliefs about the supremacy of abstract painting over all other forms of art. However, Greenberg's dismissal of Moore was bound up in a relative disinterest in sculpture in the early part of his career and, for a period, near obsession with proving its secondary status to painting.
5
Moore in New York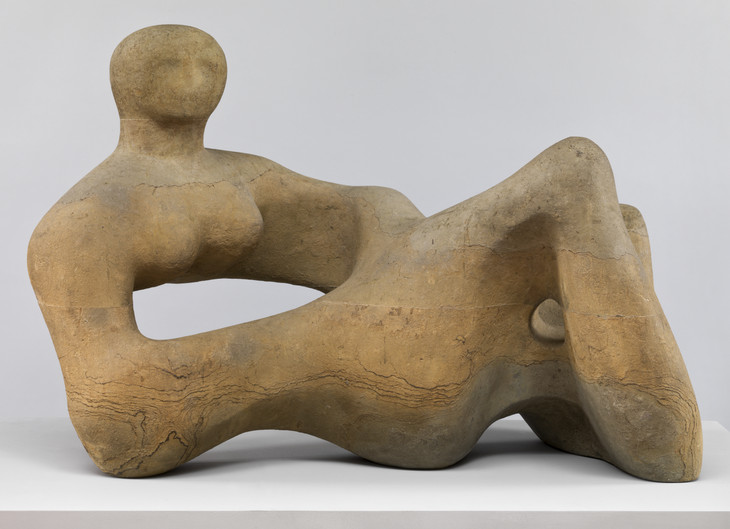 Many Americans first became aware of Moore at the 1939 World's Fair held in New York's Flushing Meadows-Corona Park. Shown over two seasons, from 30 April 1939 to 31 October 1940, its theme was 'The World of Tomorrow'.
6
Forty-four million visitors saw technological innovations, such as televisions, colour photography, fluorescent lighting and Futurama (a model of a futuristic American city funded by General Motors), intermixed with displays of American and European contemporary art.
7
Alongside works by Stanley Spencer, Graham Sutherland and other prominent British artists, Moore was represented in the British pavilion by
Recumbent Figure
1938 (Tate
N05387
; fig.2). Perhaps the model for the
New Yorker
cartoon, the stone sculpture was thereafter housed at MoMA during the war years, as it could not be returned safely to England.
8
The pavilion was planned by representatives of the British Council working with a team from MoMA that may have included curator James Johnson Sweeney.
9
In a preview of the fair's American art programme, published in March 1939, Sweeney commented on what he saw as a lack of adventurousness in the fair's approach to art: 'Perhaps the first step toward 'Building a Better World of Tomorrow' with the 'Tools of Today in the field of Art' would have been to attack the museum approach without any reserve and to emphasize the need to look to the everyday world about us for the vital formal and emotional experiences from which the art of tomorrow will be built.'
10
While he did not provide specific examples of the artists that would have fulfilled his vision for the exhibition, Moore's stone and wood sculptures in the British pavilion would perhaps have exemplified for Sweeney the 'everyday world' aesthetic that could spark 'emotional experiences'.
Sweeney was an avid sculpture collector and in the early 1940s he acquired two of Moore's watercolours,
Mother and Child
1940 and
Reclining Figures Against A Bank
1942 (sculptures by Moore were hard to come by during the war years because of the difficulties of transporting works across the sea). Both works were illustrated in the 1944 volume,
Henry Moore: Sculpture and Drawings,
which was introduced by the English critic Herbert Read and published by Moore's American dealer Curt Valentin.
11
Director of the museum's department of painting and sculpture from 1945, Sweeney proposed a major retrospective of Moore's work for the autumn of 1946. Although he was no longer in post when the exhibition opened, he selected the show and wrote the catalogue's only essay.
12
In a letter to a colleague, his successor Monroe Wheeler noted that, 'In selecting the Henry Moore exhibition, Jim Sweeney worked for the most part from the Herbert Read book', as the best available source of images and information on the artist.
13
Echoing Read's text, Sweeney eulogised Moore in his catalogue essay. 'Moore is still the one important figure in contemporary English sculpture', he claimed, and 'has taken his place in the international forefront as well.' 'As an artist Moore has the courage, the craftsmanship and talent that match his personal sympathy, humility and integrity. And in spite of the maturity and individuality of his early production, Moore has grown in statue as a creative artist with every completed major work'.
14
Heavily dependent upon the artist's own concepts (and thus, by extension, those of the artist's chief champion, Herbert Read), Sweeney's essay was laced with numerous passages from Moore's published statements. Describing the sculptor's methods as neither 'arbitrary' nor 'stiffly intellectual', Sweeney cited Moore's own clear and simple formulation of how his ideas and imagination came together in his works:
sometimes I start with a set subject; or to solve, in a block of stone of known dimensions, a sculptural problem I've given myself, and then consciously attempt to build an ordered relationship of forms which shall express my idea. But if the work is to be more than just a sculptural exercise, unexplainable jumps in the process of thought occur; and the imagination plays its part.
15
Passages like these shaped an image of an artist who was as skilled as he was intuitive, and supported the already widespread perception that Moore's work was very much an expression of Moore the man. Such statements were also in tune with MoMA's presentation of modernism after the war, in which a previous emphasis on modernism's disruptive aesthetic and political radicalism was replaced by a new concern to highlight thoughtfulness and contemplation in the making of art.
For the opening of the exhibition MoMA invited Moore to New York for what was his first trip to the United States. The museum eagerly promoted the exhibition as the largest show of the British artist's work 'ever held in any country' and the press office even pushed for a possible Paramount newsreel.
16
The plan fell through because the museum would not allow Paramount full control over the project, but Falcon Films produced a film of the private view that was directed, scripted and narrated by Sweeney and in which Moore made an appearance.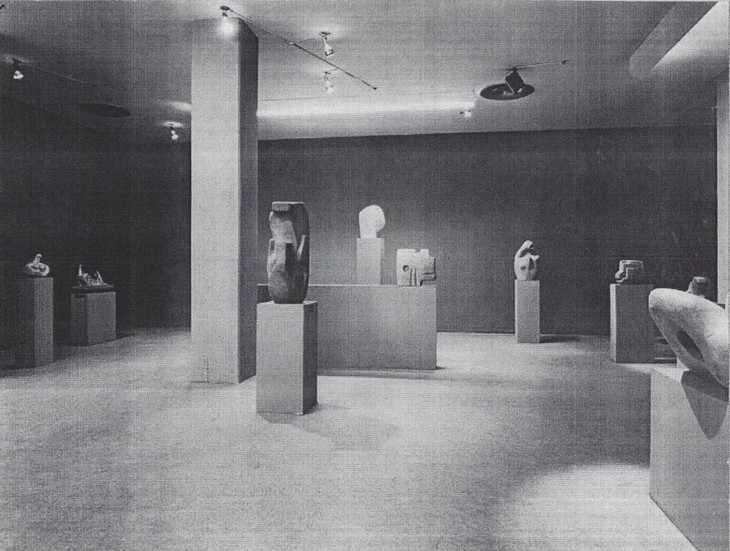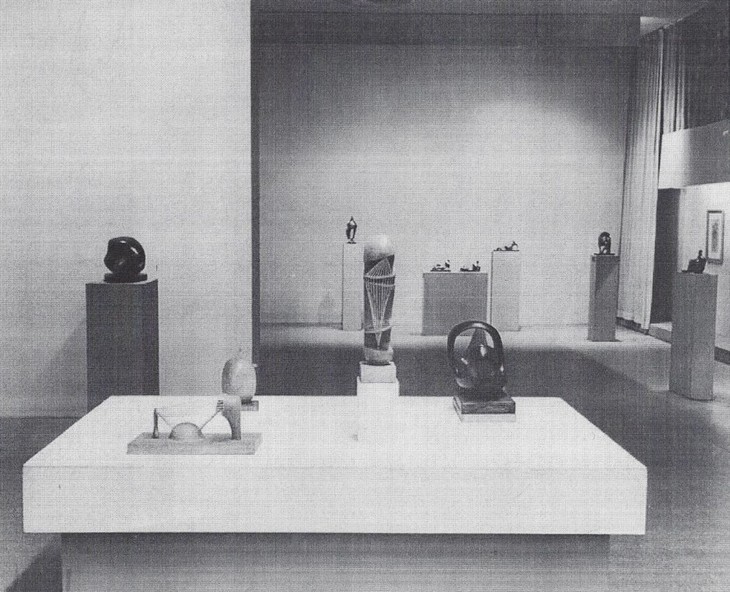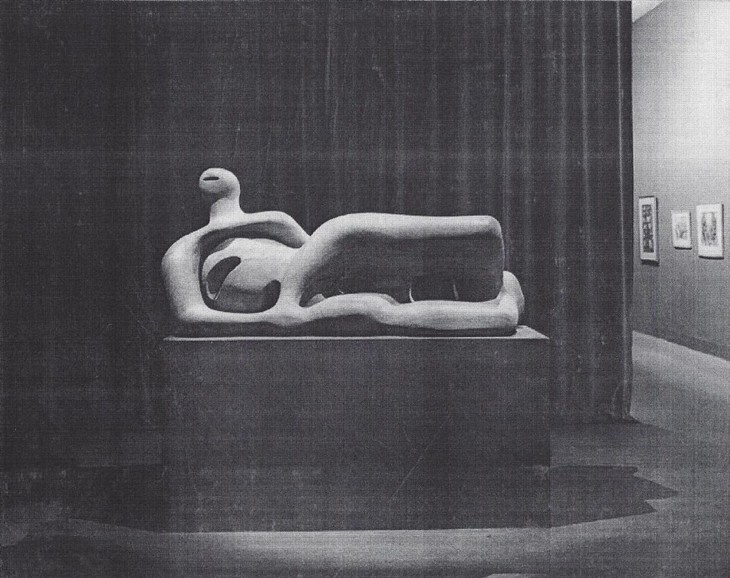 Sited on what were then the third floor galleries, the retrospective included between forty to fifty sculptures in bronze, lead, stone and wood and as many works on paper.
17
The show used Moore's sculptural processes and materials, as an organising principle (figs.3–5). Framed drawings were hung near related three-dimensional works or, underscoring their importance within his practice, separately. Curtains divided the large galleries into multiple intimate spaces and theatrical lighting brought out the drama of some of Moore's larger sculptures. Sweeney's curatorial choices educated the American audience about Moore through what was a comprehensive survey of the artist's development and subjects. For most visitors the exhibition proved Moore's worthiness of the honour of a solo exhibition at the museum. For Greenberg the show's popularity signaled a failure, presenting a sanitized version of modernism in which the avant-garde was represented by a congenial craftsman.
Later criticism
Greenberg continued to criticise Moore's work when the opportunity arose. In April 1947 Moore featured in a list of modern sculptors that his American protégé David Smith was greater than or equal to in skill and innovativeness.
38
In October Greenberg found Moore's work in a group show of British art, held in Provincetown, to be 'tasteful and monotonous as ever'.
39
Two years later Moore surfaced in a review of an exhibition by the British painter Ben Nicholson: 'this painter tends to academicize his art somewhat by confining it within a style established in its essentials by other artists, and by subjecting it to the primacy of taste – taste over strength, taste over boldness, richness, originality. Here he is not unlike other contemporary British artists and, especially, the sculptor Henry Moore.'
40
The reference to academicism recalled Greenberg's 1947 description of Moore as a 'sincere academic modern', and he likewise condemned Nicholson for similar faults: the painter played 'some real part' in contemporary art but suffered from Moore's weakness of 'inappropriate pretentiousness'.
41
After the 1947 review Moore made just eleven minor appearances in Greenberg's criticism. He was cited as an example of 'modernistic trickiness'
42
and an unworthy point of comparison ('Moore hardly deserves to be mentioned in the same breath').
43
These disparagements made Greenberg's stance known without requiring him to substantiate his views through argument. In a sense, his dismissal of Moore was thus similar to his treatment of the writings of the English critic and champion of Moore, Herbert Read. In 1947 Greenberg wrote in trenchant terms, 'I believe that the evidence upon which Herbert Read rests his suggestion that abstract and naturalistic art are compatible in the same age and even in the same person is illusory,'
44
but thereafter was content briefly to dismiss Read as an 'incompetent critic' without further ado.
45
In the 1950s Greenberg refined his position on sculpture. He now called for a new sculpture that developed aspects of cubism, renounced illusion and explicit subject matter and was generally constructed from industrial materials. 'The new construction-sculpture', he wrote in 1958,
points back, almost insistently, to its origins in Cubist painting: by its linearism and linear intricacies, by its openness and transparency and weightlessness, and by its preoccupation with surface as skin alone, which it expresses in blade-or sheet-like forms. Space is there to be shaped, divided, enclosed, but not to be filled or sealed in. The new sculpture tends to abandon stone, bronze and clay for industrial materials like iron, steel, alloys, glass, plastics, celluloid, etc.
46
This definition excluded most of Moore's works, based as they were on traditional materials and an exploration of solids rather than transparency or weightlessness. But it found exponents in David Smith in America and – perhaps surprisingly given Greenberg's antipathy to English art – in Anthony Caro. Greenberg met Caro, then aged thirty-five, in 1959 and soon introduced him to Smith and other American artists. In his first review of Caro, Greenberg likened him to Smith as the 'only new sculptor whose sustained quality can bear comparison' with the older American sculptor.
47
In the Englishman Greenberg found another sculptor willing to move into full abstraction using 'vectors, lines of force and direction'.
48
But when promoting Caro's work, he was notably keen, even desperate, to deny Moore any significant role in the former's artistic development. In an interview of 1968 Greenberg claimed: 'Caro is the Moses of English sculpture – not Moore; Moore's the Abraham maybe, a father, a generator, but not a leader, not even an example'.
49
However, he now thought that Moore, albeit a 'minor artist', produced his 'best work' up to 1940, rather than 1935 as he had claimed in his 1947 review, and was willing to concede that Moore had played a role in helping to create a 'milieu for sculpture' that had nurtured the talents of Caro. He confessed that he liked Moore 'most when he's most modest' but still complained of what he saw as 'English neatness, English patness'.
50
Echoes of Greenberg's ideas were found in the writings of English critic Lawrence Alloway, who in the late 1950s looked to American art for innovation and inspiration. In 1958 Alloway described Moore as 'somebody to react against'
51
because he 'is linked with the idea that three-dimensional sculpture must look good from all around and this has popularly become an absolute requirement of 'true' sculpture. In fact, the front-back-and sides view of sculpture is only one of several possible approaches.'
52
But Alloway, too, was pretty much a lone negative voice amidst the tide of general approval of Moore's works in Britain in the 1950s and early 1960s.
Within America, and beyond, Greenberg was an influential exponent of modernist aesthetics and a tastemaker at a time when New York was seen as the world capital of art. His hostility towards Moore might have been expected to have dented the Englishman's reputation, at least in New York circles, but there is no sign that it did. Greenberg never met Moore, and there is no evidence that the American critic's barbs particularly concerned Moore or affected the legions of his American patrons. It is possible that Greenberg's dismissal of Moore was part of the context in which forty-one younger artists, including Caro, wrote a letter to the
Times
in 1967 protesting at the idea that Moore should have a new gallery permanently devoted to his work in the Tate Gallery,
53
but generally support for Moore came from quarters that were unswayed by Greenberg's criticism. The wealthy and the influential continued to collect and commission works from Moore, and his sculpture continued to be viewed as expressive of an aesthetic that art experts and ordinary people found both challenging and moving. Greenberg's 1947 comment that Moore's sculptures fulfilled current notions of 'how modern sophisticated and inventive sculpture should look, without at the same time disappointing the popular demand for the heroic' was perhaps not far from the mark in explaining Moore's popularity in the post-war years. However, the nearly dozen references to Moore, albeit generally brief and dismissive, in Greenberg's critical writings show that, whether he liked the Englishman's work or not, Moore remained important to any discussion of sculpture, British art or modern art in the post-war period and could not be ignored.
Notes
Courtney J. Martin is Assistant Professor, History of Art and Architecture at Brown University, Providence, Rhode Island.
How to cite
Courtney J. Martin, ''A sincere academic modern': Clement Greenberg on Henry Moore', in Henry Moore: Sculptural Process and Public Identity, Tate Research Publication, 2015, https://www.tate.org.uk/art/research-publications/henry-moore/courtney-j-martin-a-sincere-academic-modern-clement-greenberg-on-henry-moore-r1171902, accessed 07 December 2023.