Circling Each Other: Henry Moore and Adrian Stokes
Richard Read
This essay explores the tensions that underlay the public collaborations between Moore and the critic Adrian Stokes during two phases in their careers. While they both originally supported an aesthetic of direct carving and publicly supported each other's reputations, they disagreed about the relationship between painting, sculpture, architecture and the role of psychoanalysis in the interpretation of sculpture.
Adrian Stokes (1902–1972) was an aesthetic critic of Renaissance and contemporary art and architecture, a balletomane, a psychoanalytic thinker, painter, poet and what might now be called a psycho-geographer of the environment. Henry Moore (1898–1986) was for many years Britain's most nationally and internationally renowned modernist sculptor. He also wrote incisively about art and wielded significant influence on the British art world and beyond. Despite some close attention to Stokes's pioneering short review of Moore's sculptures of 1933, and to the brief mention of Moore in a late essay on Barbara Hepworth of 1973, the development of their personal and institutional relationship over several decades has yet to be fully addressed from their reciprocal points of view.
1
Gaining early acclaim from a tiny British intelligentsia in the 1920s, Moore rose to become Britain's foremost representative of modern art in the eyes of an elite and of a general public who, in the words of the writer Hilary Spurling, 'grew up knowing about modernism, if at all, from
Punch
cartoons in dentists' waiting rooms'.
2
In his final years his international reputation grew to such proportions that it seemed as if every city across the world with international pretentions felt inclined to acquire at least one of his public works. So great was his stature that it both paved the way for and blocked the careers of younger British sculptors, so that, with the ebbing of his posthumous appeal, it became safe to ridicule his 'colossally mediocre work' together with the 'absurdly inflated and unjustified ... cult of Moore'.
3
In retrospect, however, as his work passes out of fashion and its institutional contexts become visible, its original motivations appear stranger and less bland.
4
Today, by comparison, Adrian Stokes, whose writings have always seemed strange, is often deemed famous for being unknown. A popular anthology of aesthetics, for example, includes him with Georg Simmel and Herbert Read on a select list of 'those who are generally neglected by current interests and courses of study'.
5
In fact, a steady stream of secondary literature has sprung up about him, especially since the posthumous publication of the three volume
Critical Writings of Adrian Stokes
in 1978. What is unassailable, however, is his reputation among those he influenced in his day. The academic and publisher Sir Geoffrey Faber thought him the greatest prose writer of his generation,
6
while the philosopher Richard Wollheim contended that his 'prose, fiercely difficult by the standards of his age, seized the imagination of some of the most interesting and creative minds of his time'.
7
Although often characterised as a belated follower of Ruskin and Pater's autobiographical approach to art, it is now possible to make wider comparisons with the serenity of Winckelmann and the intensity of Nietzsche, as well as voices of his own time from which his distinctive sensibility arises through a finely differentiated calculus of acknowledgment and disagreement: F.H. Bradley, D.H. Lawrence, Ezra Pound, Virginia Woolf, Clive Bell, Roger Fry, Wyndham Lewis, Aldous Huxley, the Sitwells, Sigmund Freud, Melanie Klein and many others.
The strong and sometimes strategic public regard in which Moore and Stokes held each other is most apparent in the early 1930s and the years from 1955 to 1968. A certain solidarity arose from their membership of the Hampstead artists' community in the 1930s. Moore moved there and took up a teaching position at the Royal College of Arts after his marriage in July 1929. Stokes arrived in 1930 to continue his daily psychoanalysis with Melanie Klein, who would surely have encouraged him in forming vibrant new friendships there. Stokes, Moore, Ben Nicholson, Barbara Hepworth and Herbert Read all lived within yards of each other along Parkhill Road in Hampstead.
8
Stokes would have met Moore through Ben Nicholson, to whom he was introduced by Margaret Gardiner. She recalled that, 'Adrian really became a great friend of this group of people ... he liked their work, he was extremely
perceptive
... they liked his ideas ... they found him ...
inspiring
in fact, and ... with Ben Nicholson he had this great bond of games.'
9
Moore shared this bond, particularly at playing the invented indoor game called 'Shut-Eyed Golf'. He also would have appreciated Stokes's fascination with the varied properties of carved stone, discussed in
Stones of Rimini
(1934).
10
Yet given Moore's notable warmth of character it is perhaps surprising that they do not seem to have been as friendly with each other as with others in the group (Moore with the critic Herbert Read, for example, and Stokes with Ben Nicholson and Barbara Hepworth). Stokes's return to Hampstead after years away in Ascona in Swiss Italy, where he married Ann Mellis, the sister of his first wife, Margaret, and after further years living with his new family in an isolated house near Guildford, is probably the context for his renewed contact with Moore in the 1950s. The catalyst, however, was Stokes's positive re-evaluation of one of Moore's favourite sculptors in
Michelangelo: An Aspect of Art
(1955). Stokes's return to London was to facilitate care of his mentally ill daughter Ariadne and to reintegrate himself in intellectual life (he founded the Imago Group with Robert Still to promote the discussion and cultural application of psychoanalysis). This was a time when psychoanalytic thought was moving to the fore of Stokes's writing, a development that both intrigued and worried Moore, who like many artists, did not feel comfortable with the idea of the sources of artistic creativity being described or explained.
There were of course enough differences of regional identity, class and experience to keep a distance between Moore, the wily and aesthetically radical son of a Yorkshire miner who had seen gruesome action in the First World War (something that would inevitably have placed a gulf between him and all those in Hampstead who had missed that experience), and Stokes, a highly assimilated Sephardic Jew from a wealthy background, educated at Rugby School. Like others whose older brothers had perished in the war, Stokes had chosen an alternative lifestyle – in his case, that of a balletomane and 'child of the sun', exploring Italy and the Mediterranean, identifying himself as a gay rival of W.H. Auden in the years before his marriage to Margaret Mellis in 1938.
11
Two years before his death in 1986, Moore could 'not remember receiving any letters from Adrian Stokes',
12
although three survive in the archives of the Henry Moore Foundation, and a few remain from Moore to Stokes in the latter's papers now held at the Tate Archive.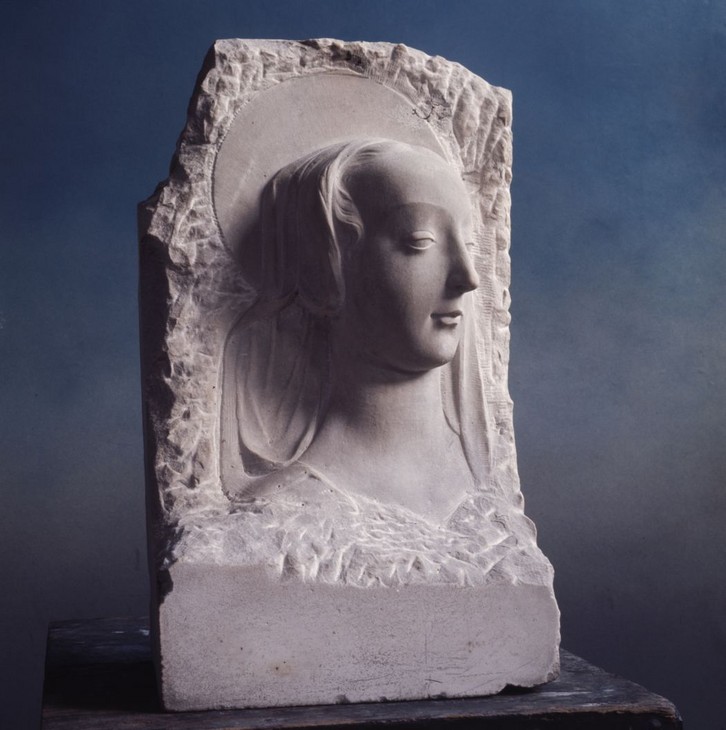 Yet Moore was the celebrated student carver of an early Renaissance bust made by direct cutting instead of the pointing machine required by his professor at the Royal College of Art (fig.1)
13
and Stokes, the exotically subtle art critic of Renaissance art and architecture, was the great advocate of direct carving as opposed to modeling, a practical and metaphysical opposition most fully developed in his
Stones of Rimini
(1934), which was devoted to Agostino di Duccio's low reliefs in the early Renaissance Tempio Malatestiano at Rimini. When Moore asked about Stokes in a late interview, 'I wonder whether – I'm only now thinking – does he anywhere talk about the difference between the hard and the soft?', he may have been recalling a resounding passage from
Stones of Rimini
: 'Limestone is between the hardness of jade and the softness of clay. This intermediate substance is the mean of European art. It demands neither to be moulded like the clay, nor minutely whittled like the jade; but to be boldly carved.'
14
Although by his own admission Moore was not a great reader,
15
it can be confidently stated that, apart from
Stones of Rimini
, Moore read at least parts of
The Quattro Cento
(1932), the whole of
Michelangelo: An Aspect of Art
(1955), which he lavishly praised in 1956, and the first chapter of
Three Essays on the Painting of our Time
(1961), on which Moore spoke in some detail in an interview. For his part Stokes wrote briefly but intensely on Moore in 1933, and more glancingly in 1956 and 1968.
Collaborations
During its preparation
Stones of Rimini
provided criteria for one of five memorable essays Stokes wrote for the
Spectator
when he took over from the regular art critic Anthony Blunt for a few weeks in October and November 1933.
16
His appreciation of Moore took its place next to equally eloquent testimonies to contemporary works by Ben Nicholson and Barbara Hepworth, helping to constitute their group identity as Hampstead artists in later years. The critic John Russell wrote in 1961 that Stokes's 'essays on Henry Moore and Ben Nicholson, though now thirty years old, can stand today with hardly a word change',
17
and indeed Stokes found exquisitely apt, memorable, even daring metaphors for Moore's work that few artists could fail to be entranced by, although it does not seem that Moore urged Stokes to write on him again as Nicholson and Hepworth did.
18
Whatever transpired between them in the interim, their relationship rekindled in 1956 after Stokes's aesthetic had undergone a deep transformation that fortuitously brought it nearer to Moore's outlook and tastes. In 1955 Stokes wrote to Moore to congratulate him on being made a Companion of Honour, although as he later recalled, he had made the mistake of calling it the Order of Merit, which Moore would not receive until 1963, when Stokes wrote: 'I remember some years ago with shame, writing to congratulate you on the O.M.; it turned out to be the C.H. Obviously I was unable to understand the separation.'
19
At least the mistake was the right way round, since the Order of Merit is considered to be the pinnacle of the British Honours system, but 'shame' might not be an entirely idle choice of word. Freudian slips were important to Stokes. In declaring his ignorance of the 'separation' between the two awards he is not merely showing a certain, probably ironical, disregard for the Honours system but also directing attention away from recognition of envy in himself as well as admiration of Moore's reputation and clout at this time.
Perhaps Moore was sensitive enough to understand and sympathise with this, for in 1956 he kindly made first a private then a public acclamation of Stokes's
Michelangelo: An Aspect of Art
(1955), the first of his books in the Tavistock series after Fabers had discontinued their long relationship with him due to his increasingly explicit psychoanalytic approach to art. 'I have just finished reading your "Michelangelo" and must write to tell you how very much I have enjoyed it. I've found it full of profound understanding. I did not expect, at this time, to read anything on Michelangelo so enthralling, and showing such new insight into the greatest sculptor there will ever be.'
20
The phrase 'greatest sculptor there will ever be' runs deep, for as a boy at Sunday school Moore had heard a story in which Michelangelo was hailed as 'the greatest sculptor who ever lived', a phrase he felt had crystallised in him the ambition to be a sculptor.
21
In the 'Books of the Year, 1956' segment in the Sunday Times for 23 December 1956, Moore made his appreciation of Stokes's book public.
Of the books I read in 1956 the one which remains strongest in my mind is Adrian Stokes's Michelangelo: A Study in the Nature of Art (Tavistock Publicatiions).
This book is concerned with the aesthetic judgment of Michelangelo's sculpture and painting and his poetry, and with the unique quality of humanist art of Michelangelo's work.
I did not think that, at this late date, so much that is new and profound could be said about Michelangelo. I was continually engrossed and appreciative, and was made to believe and marvel more than ever in the superhuman greatness of Michelangelo.
Because a sculptor's work is so slow, if he is to have anything to show for his efforts he must daily work more hours than most. Therefore there is not so much time to read serious books, really thoroughly but this is one I hope to read at least once, if not twice, more.
I think Adrian Stokes has made a new, deep and penetrating contribution to present-day art criticism.
22
The praise is unstinting, but in making a virtue of his restricted time for reading, Moore alerts the reader to his priorities as a maker rather than a critic, though in fact, he read 'almost anything' on Michelangelo.
23
Meanwhile Stokes expressed his deep gratitude for the tribute, framing it as an unexpected Christmas present, but striking a few odd notes along the way:

I 'take' the Observer but was given your very generous references to my Michelangelo on Christmas morning. I am feeling strongly pleasure, pride, gratitude, and recompense. It pleases me particularly that your dictum should appear in a Sunday newspaper from neither of which I have had any sort of notice for close on 25 years. Nothing more authoritative could be said; and that is not only immediately helpful – very considerably so – but something to hearten one always.
Looking out of the window on a day like today, it seems to me that you are the only English artist to have conquered as well as used our climate.
Always in deepest gratitude,
In putting quotation marks around the word 'take', Stokes was perhaps expressing his long-established disdain towards journalism that dated from his brief spell as a disgruntled London gossip columnist in the early 1920s. The gratitude to Moore, however, was heart-felt but it also seems as if Stokes felt that Moore's tribute did not make up for the years of neglect from these papers at a time when his career was reaching a nadir. He tried to gratify Moore with a mental picture of himself imagining a powerful sculpture outside his window, but the words 'conquer' and 'used' are generally negative terms in Stokes's aesthetic vocabulary. The extraordinary feature of this letter is that he was frank enough to paint himself here as under a cloud of depressive envy, in the psychoanalytic terms of his former analyst and intellectual mentor, Melanie Klein.
Lapsing into relative obscurity in the late 1950s,
25
Stokes may have been sufficiently heartened by recognition from a recently honoured artist of soaring international reputation to try in 1959 to take Moore under his critical wing again by responding to Stephen Spender's request for a review of Erich Neumann's Jungian biography,
The Archetypal World of Henry Moore
.
26
On the 30 November 1960 Moore wrote to Stokes thanking him for a cheque that had just arrived for a private purchase of a small bronze,
Seated Figure on Square Steps
1957 (fig.2). Since Stokes was not in the habit of collecting contemporary art, the timing may have been significant. Three days earlier Anthony Caro, Moore's former assistant from 1951 to 1953 and a rising sculptor in his own right, had published a generally hurtful review in the
Observer
of Moore's exhibition at the Whitechapel, the same exhibition from which Stokes selected his sculpture. Although respectful in many ways, it challenged Moore's monopoly of contemporary sculpture as an obstacle to progress. If Stokes had read this review (and we have just seen that he 'took' the
Observer
newspaper),
27
then the purchase might be seen as a very kind indication of support by compensating Moore in the most practical means possible, and so attesting to lasting bonds of affection, however framed by self-interest Stokes's gesture may have been.
28
'I am delighted you want a sculpture', Moore replied, and as if to reassure him, mentioned how busy his bronze foundry was being kept in producing his work.
29
The purchase was all the more potent for the witting or unwitting effect of sending Moore an auspicious signal, since Moore would surely have known that Stokes, like Moore before him in the 1940s and 1950s, had been appointed a Trustee of the Tate Gallery the previous September, in which capacity he would serve until September 1968, the year in which the second full-scale retrospective of Moore's work took place in the Gallery. It was around 1960 that Stokes told Vera Russell that he had made a conscious decision to 'join the establishment' he had earlier spurned.
30
Retaining scepticism towards its motives, he articulated a clear understanding of how the establishment could contribute to 'the cause of art' in writing to congratulate Moore in 1963 on receiving the Order of Merit (Moore wrote a large 'O.M' on the envelope, ready for filing): 'Not that they can do you any honour: they honour themselves in seeking to honour art at its best. That is highly important to the cause of art.'
31
In 1961 Moore was interviewed in the company of his wife Irina by Vera and John Russell, then art critic of the
Sunday Times
. Moore had primed himself by reading the opening pages of Stokes's latest book, which he refers to as 'Three Little Essays' but is, in fact,
Three Essays on the Painting of our Times
(1961).
32
He claims to have had time to read only the opening pages but internal evidence suggests he got through to the end of chapter one.
33
It is as if Stokes was an obvious authority, almost a crib, to go to for contemporary thinking on art, but also someone to be fiercely disagreed with as a representative critic who does not understand sculpture as sculptors do. The question of Stokes's need for recognition came up. Vera Russell felt Stokes did not want to be recognised. Her husband vigorously disagreed. As others who knew him would confirm, 'in spite of his shy manner, he's an absolute fiend for making somebody notice his work. He had got a very strong instinct of self-preservation in that way', and Henry Moore, no slouch at self-promotion himself, was 'very glad to hear that'.
34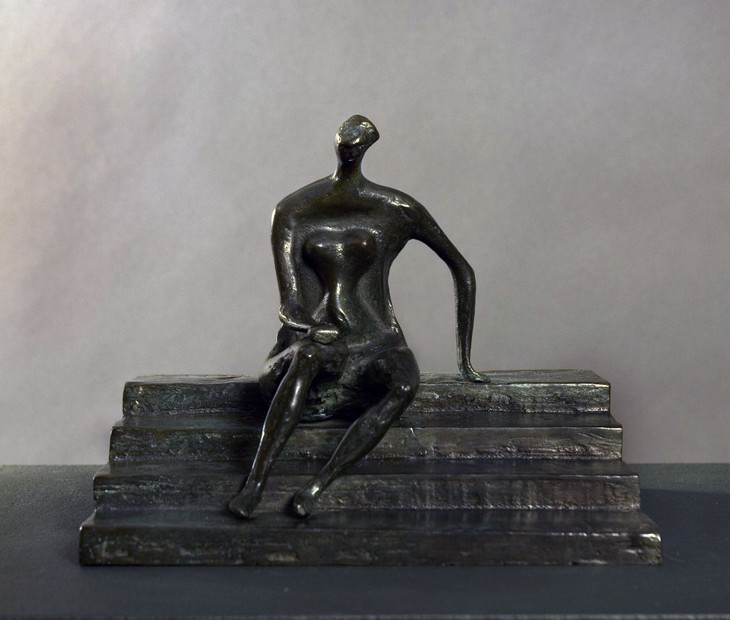 Whatever his reservations about Stokes's comprehension of sculpture, Moore's regard for the brilliance of his writing was in fact unwavering, and in a letter of 12 August 1965 to the
Times Literary Supplement
, Moore, who was by then in the habit of supporting worthy causes in national newspapers,
35
was among eighteen signatories of distinguished artists and writers complaining about the journal's neglect of 'a writer who has claims to being the most original and creative living English writer on art.'
36
Finally, Stokes included a short encomium of Moore in a foreword to an exhibition catalogue of Hepworth's works at the Marlborough Gallery in 1970. The art historian Anne Wagner has criticised Stokes's use of Moore to diminish Hepworth's importance by putting his name first in an 'inevitable' pairing with hers in the 'English contribution' to sculpture, but Stokes had genuine reservations about her work at this time.
37
This might have reflected a broader institutional position towards Hepworth. Stokes was a Trustee of the Tate Gallery from 1960 to 1967 and in a minute of a board meeting of 1965 it was noted that the gallery's collection particularly needed a 'major wood carving and several other types of work' by Moore but only 'pre-abstract', 'early work' by Hepworth.
38
Stokes was one of eight trustees who endorsed this decision, and privately he was not a fan of Hepworth's turn to abstraction in her late career, a fact that Hepworth herself cheerfully acknowledged when she once offered Stokes a sculpture in return for cancelling a debt.
39
Stokes's position was consistent with his long established defense of naturalism against abstraction, as illustrated by a letter to the critic David Sylvester in 1965: 'I believe I have long presented Ben [Nicholson] with a problem that irks him. The basis of it is that I seem for thirty years thoroughly to understand and admire his painting, yet I do not declare unilaterally for abstract art and all that is written about it. I hang up paintings by Bill [Coldstream] for instance'.
40
In 1970 he wrote about Hepworth's late abstract work more out of a sense of duty than genuine enthusiasm,
41
whereas the retention of what Moore called 'the humanist organic element' secured Stokes's approval.
42
Moore wrote in 1932: 'All the best sculpture I know is both abstract and representational at the same time.'
43
Here is one respect in which Moore's openness on questions on which Stokes took sides did not harm Stokes's estimation of his work.
Yet a closer look at the public symbiosis between Stokes and Moore reveals a rich background of tensions along aesthetic, psychological and institutional lines. In the 1961 interview with the Russells Moore expressed three main reservations about Stokes's aesthetic, which date back to the 1930s. First, he felt that Stokes belonged to a class of critics who read sculptures as if they were paintings. Secondly, he refuted Stokes's contention that architecture is the mother of the arts in order to defend the rights of sculpture as an autonomous art. Both caveats reflected opposition towards Stokes's consciously Eurocentric cultural orientation and a different understanding of the carving-modeling opposition whose currency preceded Stokes's formulation of it by at least ten years.
44
Thirdly, Moore struck an ambivalent stance towards psychoanalytic interpretations of his work, whether Freudian or Jungian, positioning himself strategically within competing tastes for innovation and tradition in contemporary sculpture.
World sculpture versus western pictorialism
Sculpture versus architecture
The second major issue of critical difference between Stokes and Moore is the place of architecture in the arts. Stokes's resistance to the three-dimensional plasticity of 'Negro sculpture' would have further provoked Moore because the defense of the low relief was integral with Stokes's aesthetic dictum that architecture is the mother of the arts. After tilting at Roger Fry in The Quattro Cento, Stokes continued:
in view of the attraction to the stone that underlies the whole Renaissance, it is absurd to attach to this sculpture the word 'pictorial' as a pejorative. Of course it is pictorial. Not only love of colour but sense of space derives from the tones of marble building. All the southern arts have this architectural foundation. Sculpture in the Renaissance is an extension of architectural fantasies, but, so far from aping pictorial art, sculpture led it: the sculptors fired the painters, taught them perspective, showed them space.
85
Compare Moore in the same year: 'Most architectural sculpture is relief decoration and not carving in the round, and for that reason I think that a holiday for sculpture away from architecture might be a good thing for sculpture.'
86
From
Smooth and Rough
(1951) onwards, Stokes was progressively more adamant that 'Architecture ... is the Mother of the Arts',
87
for it was the basis of his later position that the modern city was an inadequate maternal environment for integrating the collective human ego and succouring the lesser arts. Moore would have heard about the crusade Stokes led on this theme in his lecture to the Institute of Contemporary Art in February 1956 titled 'A Prime Influence of Buildings on the Graphic Arts'.
88
Always professionally conscientious in defending the fragile institution of British sculpture, Moore used modern versions of Renaissance
paragone
arguments to defend his own art against architecture. Sculpture was superior to architecture for the hierarchical reason that 'not being tied to a functional and utilitarian purpose, [it] can attempt much more freely the exploration of the world of pure form.'
89
In a practical sense, Moore found that the linearity that still prevailed in architecture at that time distracted from the organic asymmetries of sculpture, and so he preferred to concentrate on sculpture's relationship with landscapes: 'I would rather have a piece of my sculpture put in a landscape, almost any landscape, than in, or on, the most beautiful building I know.' On the other hand, sculpture was superior to painting because sculpture 'is a real thing, as a tree is real.'
90
Moore was wrong, of course, to slight Stokes's complex synaesthetic grasp of three-dimensional space. Stokes's sensitivity to the multi-dimensional stresses and strains of Verrocchio's early Renaissance
lavabo
in the sacristy of San Lorenzo, Florence; his plastic recreations of dancers' choreography in his ballet criticism; the spatial amplitude of sound carried up from shunting yards, or through trees from the Cornish beach in autobiographical writings, and the attention to the fuller spatial symmetries of sei- and settecento Italian buildings in
Smooth and Rough
(1951) are ample testimony to Stokes's writerly projection of a fully integrated three-dimensional sensorium. In acknowledging the 'mystery of the hole – the mysterious fascination of caves in hillsides and cliffs' as the origin of the interlaced voids and solids of his 'internal-external forms',
91
Moore may have been indebted to some extent to Stokes's evocation of the arterial geometry of Mediterranean landscape in
Stones of Rimini
.
92
Yet in the 1930s, and again in the mid-1950s and 1960s, Stokes and Moore did not quite fit each other's agendas. It is fascinating to discover that despite their shared commitment to a carving aesthetic, they had independently arrived at considerably different ideas of what that meant.
As Moore defined it in 1937, the sculptor
must strive continually to think of, and use, form in its full spatial completeness. He gets the solid shape, as it were, inside his head – he thinks of it, whatever its size, as if he were holding it completely enclosed in the hollow of his hand. He mentally visualized a complex form from all round itself; he knows while he looks at one side what the other side is like; he identifies himself with its centre of gravity, its mass, its weight; he realizes its volume, as the space that the shape displaces in the air.
93
This has nothing to do with Stokes's reverence for thinned layers of stone, which for Moore would have been too visually passive and intellectually unassertive: 'Carving is more in keeping with the mental attitude, modelling with the visual.'
94
But for Stokes this mastery of matter conceived of outwards from within is modelling because, as the art historian Alex Potts has astutely observed, it involves 'the plastic activity of fashioning free-standing solid shapes in blocks of matter' and 'the imposing of a subjectively imagined shape or form on material to hand'.
95
Moore's conception lacks Stokes's requirement that sculpture should register the carver's sense of interactive confrontation with the block before him, where 'The shape is on the surface, the matrix behind it.'
96
Still more significantly from the point of view of architecture, Moore repudiates the Kleinian sense in Stokes's later writings of the work of art's capacity to draw the viewer in to a maternal envelopment from which it simultaneously precipitates a distance from 'the whole object', in psychoanalytic parlance. Architecture is essential to Stokes's later aesthetic because it provides an integrated maternal environment characteristic of pre-modern European societies such as Venice and Amsterdam. For Moore art is fostered primarily by a concept of enduring human community: 'I believe that the best artists have always had their roots in a finite social group or community, or in a particular region ... The sculptor
belonged
to his city or his guild.'
97
For Stokes, who in 1933 had characterised Moore as one of 'a few serious artists of genius, self-conscious, isolated and well-informed',
98
human community is felt indirectly by the loss of beautiful pre-modern urban environments that leaves contemporary art to compensate in stridently assertive ways: 'to declaim from a wall the need for tactile passages and transition that were once available in lovely streets. The primacy of architecture, mother of the arts, is ... the universal witness to the luxuries of art'
99
Moore's reaction to this very passage in 1961 is adamant: 'I've just got to the bit in which he talks so much about architecture – and I disagree with a lot of that making architecture the kind of touchstone – or whatever – that's not the word – but that sort of – the real mother of the arts. I don't believe it.'
100
And more pithily in 1973: 'It's time that the myth of architectural primacy be debunked.'
101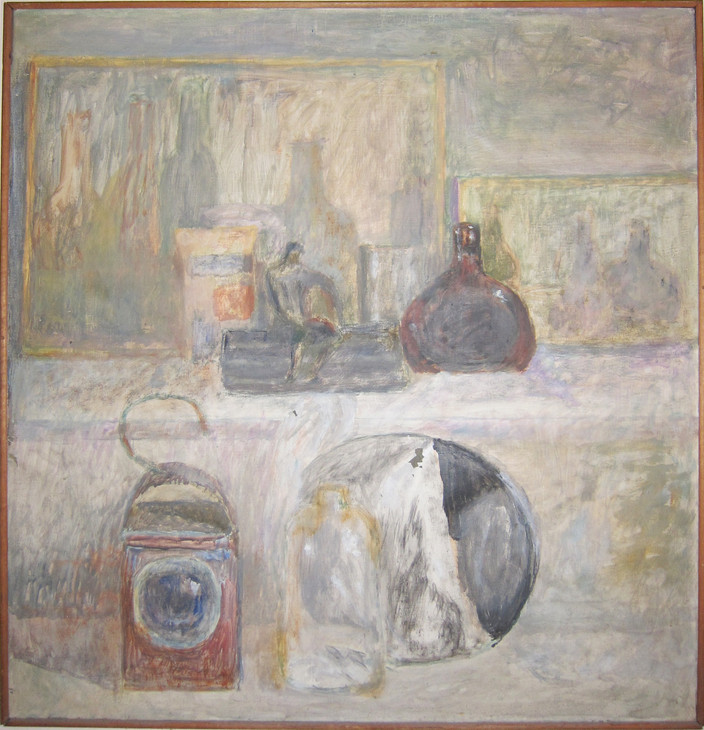 I earlier suggested that Stokes's purchase in 1960 of Moore's
Seated Figure on Square Steps
1957 (fig.2) may have been a generous gesture of support at a time when Moore's reputation faced an unexpected challenge, but there is also the possibility that in choosing a leaning figure seated on a short staircase with its feet firmly planted on its lowest step and its left hand leaning on its uppermost step, Stokes was encouraging a rare architectural impulse in Moore's sculpture and thus reinforcing his own side of their paragone debate. Whether or not Stokes caught wind of Moore's renewed attack on his supposed pictorial and architectural biases in the interview of 1961, it is fascinating to consider a polemical edge in Stokes's decision to include Moore's bronze in a painting he completed the year after.
Still Life
1962 positions Moore's sculpture in front of a grouping of Stokes's own paintings on a shelf in the studio attic of his house in Church Row, Hampstead (fig.6). At first sight it appears that in addition to other changes to Moore's bronze (including an apparent change of gender to male), Stokes has fixed a short column on the top step to the right of the figure, enhancing its architectural character but also approximating it to the broken columns on a ledge in Giorgione's
Tempesta
, one of his favourite paintings. This positive form is in fact a negative shadow from a small picture frame represented within the largest painting within the painting. It is, therefore, the represented shadow on the solid edge of a painting within a painting within a painting. This dark vertical therefore appears to hover in status between a solid and a shadow, and between different levels of represented paintings, sculpture and architecture. It thus effaces the sharp distinctions between media that Moore held dear. Admittedly, Stokes's paintings are usually innocent of iconographical meanings, but this painting is exceptional in other respects, too. The inclusion of his own paintings already speaks of an exceptional degree of self-consciousness in the selection of subject matter. To this we may add the inclusion of thematically opposed objects. On the one hand, there are useful things: a chest of drawers, bottles, a metal frying pan (without a handle, partially draped with a white sheet) and a remarkable council paraffin lamp. On the other hand, there are works of art – the paintings, the sculpture and a pot made by Stokes's wife Ann, bearing an orange circle that rhymes with the lens of the street lamp. The qualities of art and life are ambiguously held in suspension on the surface of the canvas. And perhaps there is another subliminal iconography that aptly introduces the essay's final section. Stokes's son Philip had asked his father to use this lamp from his collection of found or stolen road lamps. He liked the way his father had reproduced it and his father gave it to him. Likewise Moore's bronze is listed as belonging to Moore's daughter in the catalogue of an exhibition of Moore's work at the Whitechapel Art Gallery in 1960.
102
For all its suggestions of intellectual disagreement, the painting speaks of family romance, of objects made or possessed by loved ones.
Psychoanalysis and iconography
Acknowledgments
My thanks to the Estate of Adrian Stokes, John and Vera Russell and the Henry Moore Foundation for permission to reproduce unpublished materials. Particular thanks to Philip Stokes for his assistance. I am also grateful to Michael O'Pray for his reflections on an early draft of this essay.
Richard Read is Winthrop Professor in Art History at the University of Western Australia.
How to cite
Richard Read, 'Circling Each Other: Henry Moore and Adrian Stokes', in Henry Moore: Sculptural Process and Public Identity, Tate Research Publication, 2015, https://www.tate.org.uk/art/research-publications/henry-moore/richard-read-circling-each-other-henry-moore-and-adrian-stokes-r1151308, accessed 19 May 2022.