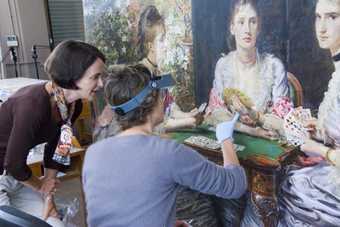 What is Conservation?
In an art gallery Conservation is the department dedicated to ensuring that artworks are preserved for the future. Conservators make sure artworks are able to safely travel or be put on display. We examine, document and treat artworks that have become damaged or deteriorated so that they do not get any worse and we may restore their appearance so they look their best for display.
What do you do every day?
That depends on what's going on in Tate Britain. If an exhibition is about to go up or down I may be condition checking works to ensure that there are no signs of damage and nothing that makes them vulnerable for travel or display. Alternatively I may be treating Tate works in preparation for a display. Right now I'm spending most of my time treating a large and dramatic John Martin painting called The Destruction of Pompeii and Herculaneum.
What's your favourite thing about working for Tate?
All the amazing pictures that I get to work with! I really have to get up close to the paintings that I treat or examine so I get to know them very well. It's extremely satisfying to do that with such a wonderful collection.