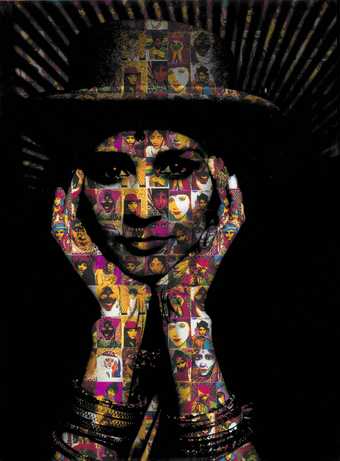 Born in Liverpool, Chila Kumari Singh Burman describes herself as a 'Punjabi Liverpudlian' who likes to combine her Indian roots with popular culture. Punjab is a region in the north of India. She has been described as a South Asian pop artist.
She creates art that is fun but also makes you think. She likes using unexpected styles and techniques to create her masterpieces. She loves the energy of different colours. Her work includes collage, printmaking and video. You could say that she's a 'mixed media' or a 'multimedia' artist.
What is 'mixed media' and 'multimedia' art?
Chila Kumari Singh Burman doesn't like being labelled as one thing. She combines different techniques including painting, collage and printing together; this is known as 'mixed media'. When video or sound is used in artwork it's called 'multimedia'.
Chila Kumari Singh Burman's multimedia work includes making short films. Dada and The Punjabi Princess is a video that features Punjabi dancers and images similar to those seen through a kaleidoscope. Her collages feature objects and pictures that she's collected. Her self-portrait, Auto Portrait is made up of 28 smaller portraits of her and it took her 12 years to make. She also made a self portrait called Tall Fly Girl made up of thousands of hand painted images of her face.
12 years is a long time! What's the longest you've spent making a piece of art?


What materials does Chila Kumari Singh Burman use?
Magpies like to collect shiny things and so does Chila Kumari Singh Burman. Her studio in Hackney, East London is filled with treasures she's found on her travels like retro jewellery, ancient artifacts, shimmering sequins, Chinese paper cut outs and bindis. Bindis are small dots worn on the forehead, traditionally in South Asia. They can be round or the shape of a teardrop. They can be simple or shiny, depending on the reason they are worn.
She once decorated a real tuk-tuk with unexpected embellishments like wrapping paper from Nepal, gems from Sri Lanka, fairy lights, Indian stickers and giant plastic eyelashes.

What is she famous for?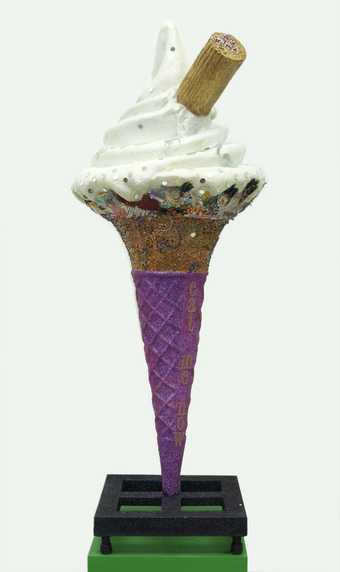 One of the artist's best-known pieces is a giant glittery ice cream cone sculpture, complete with a chocolate flake on top. This artwork is called Eat Me Now and was inspired by her dad who owned an ice cream van. It's about seven times bigger than a real ice cream at 152cm tall.
'My father was a tailor and magician but when the family arrived from India to Merseyside in the 1950s he couldn't find work so he ended up buying an ice cream van and became an ice-cream man. His van was called Burman's and it had a big tiger on top.'
Ice cream has played an important role in Chila Kumari Singh Burman's life. In fact you'll see it appearing in a lot of her work. She bought her own ice cream van which she turned into a travelling gallery! She even made an installation of upside-down ice cream cones all painted in fluorescent rainbow colours and dipped in glitter.
Other artists who have made giant food sculptures include Claes Oldenburg who created a big burger and colossal cakes. What type of food would you turn into a super-sized sculpture?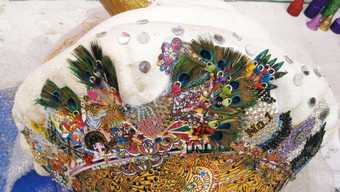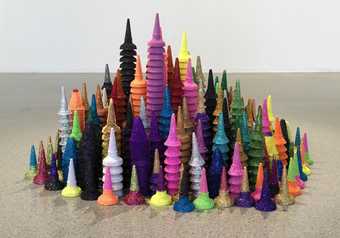 What is her art about?
Chila Kumari Singh Burman describes her art as 'fun, playful, cheeky magical journeys that are happy and delightful'.
Collages are one of Chila Kumari Singh Burman's favourite things to create. From a distance they are vibrant and bold but when you study them close-up you can see the important messages that she wants to address like women's empowerment and politics. She's also campaigned for workers' rights and protested against nuclear weapons.
As well as using her found 'junk treasures' and cutting out words and pictures from magazines, Chila Kumari Burman likes to use art materials to add details:
'I use collage to open up possibilities. I create images, turn them into prints and then add metallic acrylic paint, fluorescent poster paints, felt tip pens, glitter, crayons, spray paint and pastels.'
What are your favourite art materials? Do you use them all at once like Chila Kumari Singh Burman or prefer to stick to one at a time?
What other art does she make?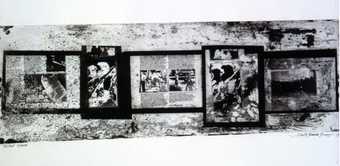 Not all of Chila Kumari Singh Burman's work uses bright colours. Her etchings are mostly black and white. Etching is a way of printing using a metal plate which is coated in a waxy material. An etching tool is then used to draw a design on. Then the plate is dipped in a special acid and the wax is wiped off.
The plate can then be printed. Etching usually comes out black and white and you can see this technique in her Riot Series. There are six prints from the series in Tate's collection.
Some artists make etchings and leave the prints as they are. As Chila Kumari Singh Burman likes experimenting, her etching designs have different layers to them. She likes to screen print on top of etching prints, so there are lots of different textures within one piece of artwork.
Why does she like being an artist?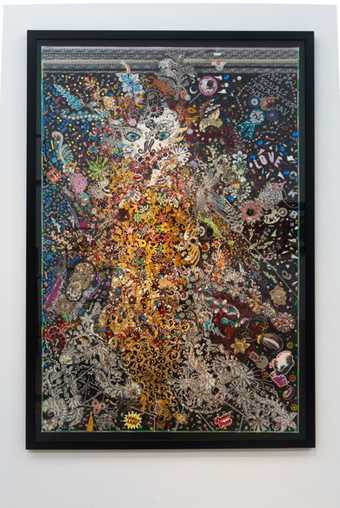 In 2017 Chila Kumari Singh Burman was awarded an Honorary Doctorate for her art, but she doesn't consider it 'work'. Her family are very proud of her art.
She keeps a sketchbook next to her bed and uses a big pencil to draw most nights. She said:
'I also like to draw on my iPad on the bus, on trains, in waiting rooms, anywhere that doesn't wobble too much. I've just got this urge to express myself through the visual medium, I just want to create and do things … that's why I love being an artist!'
Why not start a drawing diary like Chila Kumari Singh Burman? Keep a notebook by your bed and do a doodle a day before you go to sleep.