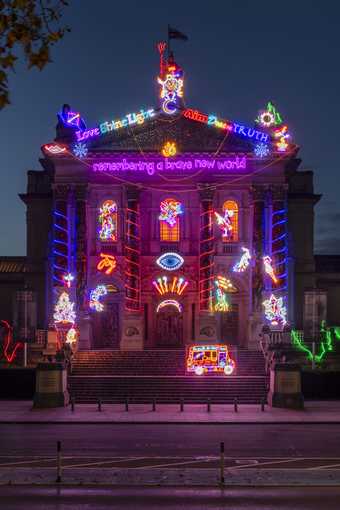 Every winter, a different artist creates an artwork that decorates Tate Britain during the darkest part of the season. In 2020, Chila Kumari Singh Burman covered the front of Tate Britain in bright lights to cheer everybody up! She called it remembering a brave new world.
Who is Chila Kumari Singh Burman?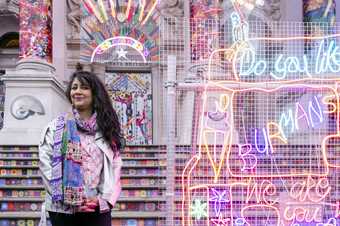 Chila Kumari Singh Burman was born in Liverpool. Her parents are from Punjab in northern India. She uses her art to explore different parts of her identity.
She likes to make art about a mix of different things that have influenced her and uses lots of methods including collage and sculpture.
Chila Kumari Singh Burman has chosen to make this artwork using neon lights. She has taken inspiration from Bollywood glamour, Hindu gods and goddesses and memories from her childhood. She's even included a sculpture of her dad's ice cream van! Read more about the artist.
The display coincides with Diwali, which is often called the Festival of Lights.
Fun facts about Diwali
Did you know Diwali is the celebration of new beginnings? The festival celebrates good over evil and light over darkness. The word Diwali means 'a row of lights'. People celebrating Diwali light clay lamps or diyas throughout the five-day festival, as well as lanterns or kandeel. Kandeel are hung outside the house on Diwali night to collect blessings from ancestors. Often, people decorate their homes and set off brightly coloured fireworks.
As well as making her artwork out of lights, Chila Kumari Singh Burman has included different Hindu gods and goddesses including Ganesh and Lakshmi. People celebrating Diwali worship them during the festival.
'When I was growing up, we didn't have art on the walls but there would be these calendars with gods and gurus everywhere; I've made Tate Britain a bit like a […] temple'