Chris Ofili was born in Manchester in 1968. He studied at Tameside College and then at the Chelsea School of Art and the Royal College of Art in London. He was very successful at a young age. At just 30 he became the first Black artist to win the prestigious Turner Prize. In 2003, he also represented Britain at the Venice Biennale, an important international art show.
Ofili lived and worked in London for many years but now divides his time between the Caribbean, London and New York.
In 2017 he was awarded a CBE (Commander of the Most Excellent Order of the British Empire) for his services to art.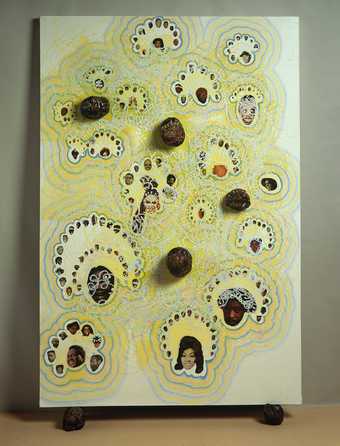 Early on in his career Ofili drew attention because he used a very unusual material in his paintings: elephant dung!
Have you ever thought about using something weird or wacky to make an artwork?
When he was 23 he won a scholarship which allowed him to visit Zimbabwe in Africa. During his time there he was amazed by ancient cave paintings made from hundreds of dots. He was also intrigued by the small round elephant droppings he saw on the ground. He even managed to bring some elephant dung back with him!
The artworks he made after visiting Zimbabwe show the influence of the dotty cave paintings and the curious dung. Sometimes he stuck small balls of dung to the surface of his paintings, and often used them as little feet for his artworks to stand on. Not everyone thought that art should contain a material like this, and some people were really angry about it. What do you think?
By using a material like dung, which is usually considered worthless, Ofili makes people think about the value they attach to things. Do you think elephant poo should be an art material? Why?

What is he inspired by?
Ofili was also heavily inspired by music, particularly hip hop and also jazz. He saw these types of music as celebrations of Black culture, saying: 'I wanted to paint things that would feel like that music'.
Ofili would sometimes cut out images of Black music stars from magazines and use them in his paintings. By doing this he was celebrating their talent and acknowledging that his artwork was linked to theirs.
What kind of music inspires you?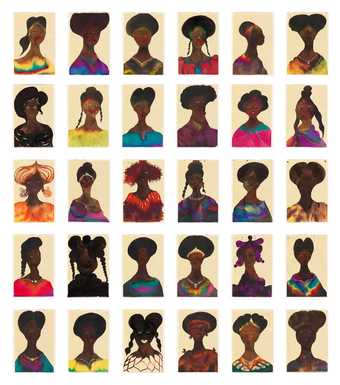 This is an artwork made up of 30 portraits of Black women. Ofili chose to present them as characters who are subtly different. He wanted to highlight the diversity of Black identities.
The miniature paintings celebrate the women's Afro hairstyles and colourful clothes.
While some of Ofili's artworks are positive celebrations of Black culture and Black experience, sometimes his art deals with difficult issues like racism.
In 1998 he made the painting No Woman, No Cry. The title is another musical reference, this time to a reggae song by Bob Marley. But instead of a celebration, Ofili commemorates a terrible act of racism.
The woman in the painting has tears streaming down her face. Inside each teardrop is a photograph of her son. The painting of the woman was inspired by Doreen Lawrence, whose son Stephen Lawrence was killed in 1993. He was the victim of a racist attack. An inquiry found that the police didn't handle the investigation properly due to racism within the police force.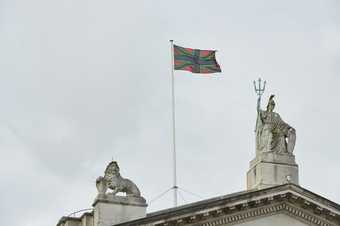 This is Chris Ofili's version of the Union Jack flag that represents Great Britain. His flag is called Union Black and replaces the colours of the Union Jack with green, red and black. These colours are the same as the ones on the Pan-African flag and they represent African blood, Black skin and African natural resources. He is asking questions around what it means to be Black and British.
If you could make your own version of the Union Jack, what colours would you choose or what changes would you make?
How did his style change?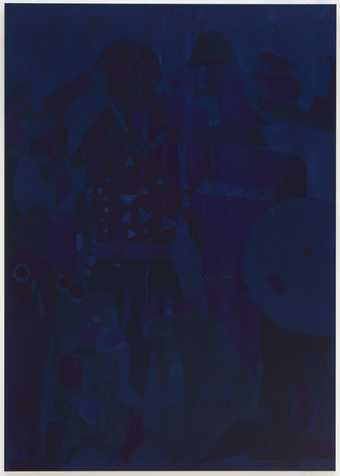 Some of Ofili's more recent artworks are quite different from his early ones. He moved to Trinidad and Tobago in the Caribbean in 2005 and stopped using elephant dung in his art. Instead he made a series of paintings using just the colour blue.
Ofili said he had not always liked using blue because of its power to take attention away from other colours. In these blue paintings he embraces that unusual power.
What colours are special to you? You could try making a painting in just one colour!
By building up layers of blue paint over a silver background, he gives these paintings a moonlight glow. You have to look at them for a long time in order to see all the details that slowly reveal themselves. It's like waking up in a dark bedroom and gradually getting used to the shadows.

What else should I know?

Ofili has also worked with other artists and craftspeople. In 2014 he made watercolour paintings that were turned into a large tapestry by specialist weavers. Though it took Ofili just hours to make the painting, the weaving took three years to finish!
The tapestry combines the tropical scenery of Ofili's Caribbean home with his interest in mythological stories. It shows a fantastical island with various characters. In the centre a man and a woman relax under a waterfall, listening to music. It seems like a paradise.
Is it somewhere you would like to visit?