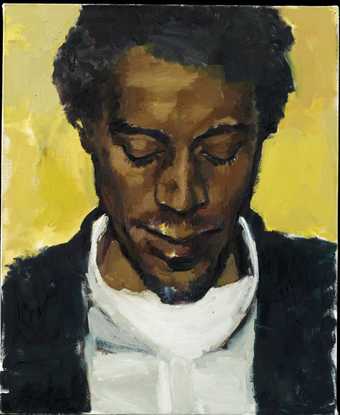 who is she and what is she known for?
Lynette Yiadom-Boakye was born in London in 1977. Her parents moved to Britain from Ghana in the 1960s. They were both nurses. When she was little, she liked to daydream and use her imagination. Before she decided to become an artist she wanted to be an optician!
When she grew up, she went to art school. She tried some different types of art but decided she enjoyed painting the most. She spent a lot of time learning to paint 'from life' – which means she painted what she saw in front of her. Later on, she changed her mind. She realised she was less interested in painting pictures of real people and more interested in the act of painting itself.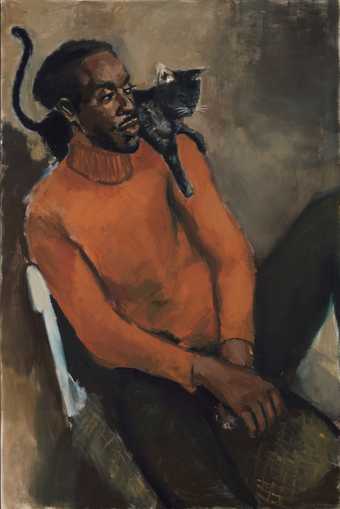 WHO ARE THE PEOPLE IN HER PAINTINGS?
The people in Yiadom-Boakye's paintings are not real. In fact, they're all imaginary! She invents them. She uses a mix of images she finds in magazines which she cuts out and adds to her scrapbook, as well as memories and sketches she's made. Her paintings don't try to reveal anyone's real character and she never paints from a model. For this reason, she doesn't even call them portraits!
The people in her paintings are usually resting, dancing or thinking hard about something. Sometimes, they have animals with them, like owls, parrots or cats. In this painting called Accompanied To The Kindness there is a parrot resting on the man's hand. It's almost like the bird is the man's magical familiar.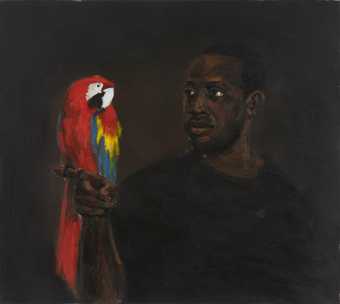 You might want to know more about the people because they seem really interesting. But the artist doesn't give us any clues. We don't know who the people are so we can make up our own stories about them and their animals!
Do you ever draw people from your imagination? Have you ever had an imaginary pet?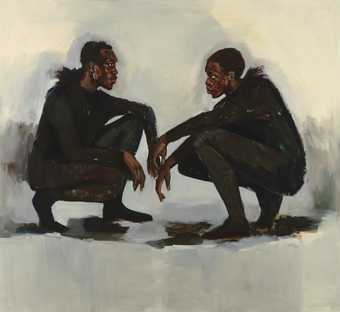 Have you noticed that many of the people in these paintings are not wearing shoes? Lynette Yiadom-Boakye reckons that shoes tell you too much about a specific period in time. She doesn't want the people in her paintings to be tied to any one time period or place!
Some people think the people in her portraits look like they're wearing fancy dress! What do you think?
What shoes or clothes would you choose to wear in a self-portrait? What would they say about you?

HOW DOES LYNETTE YIADOM-BOAKYE PAINT?
She doesn't spend too long on any of her canvases. In fact, she works so quickly that she finishes some of them in a single day.
Her favourite paint to use is oil paint. Oil paint is a traditional paint that takes a long time to dry. She says: "It's just very dirty, it's very messy; it doesn't always do what you want it to do."
Lynette Yiadom-Boakye spends a lot of time thinking about the composition of her paintings. She carefully considers the colours she uses in the backgrounds and to depict people's skin. Her favourite part about painting is thinking about the paint itself and what it can do!
"Over time I realised I needed to think less about the subject and more about the painting. So I began to think very seriously about colour, light and composition. The more I worked, the more I came to realise that the power was in the painting itself"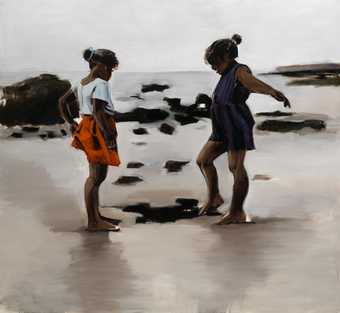 WHAT ELSE DO I NEED TO KNOW?
Have you noticed the titles of the paintings are all quite poetic? Well, Lynette Yiadom-Boakye is a writer too. She writes poems and stories. She says she writes about the things she can't paint and paints the things she can't write about.
If you like doing creative things you don't have to limit yourself to one type of art. You can express yourself in whichever way feels right. Do you like to write poems or stories as well as make art?