Sonia Boyce was born in Islington in London in 1962. When she was at school she would always draw in the margins of her notebooks. Her art teacher noticed and told her she should go to art school.
She went on to study at East Ham College of Art and Technology and Stourbridge College in the West Midlands. She is now both an artist and a teacher. She said:
Art was a door that hadn't been opened to me before. I grew up in a very working class community and had no idea about art school.
Boyce's work has changed a lot over the years. She started by making drawings, but now dedicates her time to photography, film, installation and performance.
In 2020 it was announced that she would be the first Black female artist to represent Britain at the Venice Biennale, an important international art show in Italy.

Where did it all begin?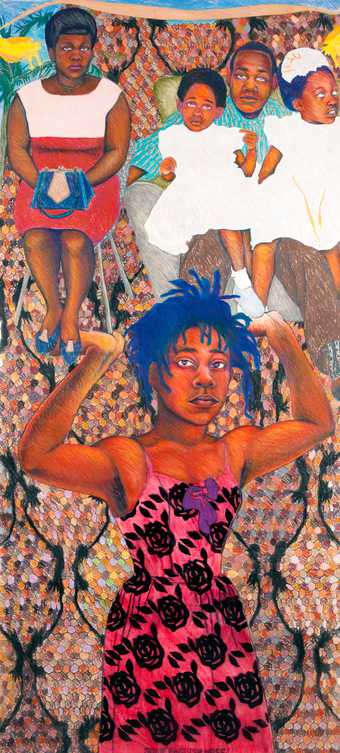 In the 1980s Boyce was associated with the British black arts movement. This was a radical political art movement that began in the 1980s. The artists involved made art about issues of race, gender and equality.
She often included herself in her artworks at this time. Many of her drawings addressed the subjects of race, identity and growing up in the city.
One of her most famous drawings is She Ain't Holdin' Them Up, She's Holdin' On (Some English Rose) which is pictured above. In this work Boyce portrays herself as the strong woman supporting a family who balance in her hands. The artwork is about the challenge of 'holding on' to the parts of your identity that come from your family, even if you've had a very different life from them.
In this drawing Boyce wears a pink dress decorated with black roses. The rose is the emblem of England, but the black colour is a reminder of her heritage. The flower is also associated with femininity, but the thorns give it a hidden strength. Through the pattern on her dress Boyce creates a new symbol that is true to her individual identity, combining Blackness, British nationality, and gender.
What kinds of images represent you?
How did her art change?
In the 1990s Boyce stopped drawing and began experimenting with photography and performance. While she had included herself in her earlier works, her new projects often involved other people. She still dealt with many of the same themes like gender and race, but thought about them in a more universal way, as big ideas that affect everyone.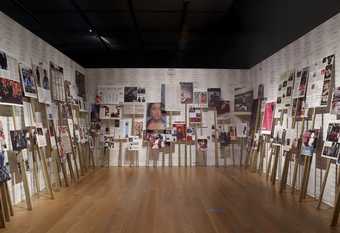 One of her most famous artworks is still not finished! In 1999 Boyce began a project called Devotional, which you can see above. It is an artwork that is always changing and there have been several different versions of it. It is made up of a collection of pictures, magazine articles, drawings and other items, that all have to do with Black British female singers. The artwork is a kind of shared memory, an archive of all the different singers that are remembered by the public.
If you were going to create a collection, what would you collect?