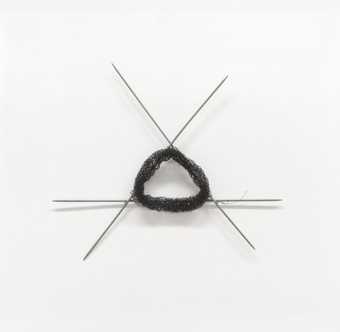 Can you imagine raiding the kitchen cupboards or even hammering nails in dining chairs to make artwork? It may sound wacky, but it's exactly what Italian artist Marisa Merz was famous for.
She was a sculptor and painter born in 1926 in Turin, Italy.
At the beginning of her career she was part of an art movement known as arte povera. In English this translates as 'poor art'. It was a movement that started in Turin in the late 1960s and lasted until the early 1970s. There were about 14 artists active in the movement, but Marisa Merz was the only woman.

What is arte povera?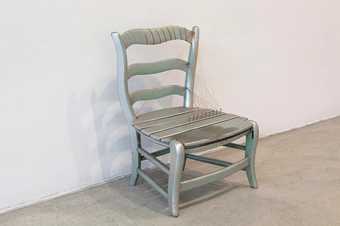 The term arte povera was not meant in a negative way. It was in fact called 'poor' as the artists didn't use oil paints and canvas. Instead they used unexpected everyday materials like aluminium foil, twigs, knitting needles and even chairs. This one looks like it might be a bit uncomfortable to sit on!
The use of all these weird and wonderful materials led one art critic to report: 'Animals, vegetables and minerals have cropped up in the art world.'
In the 1960s and 1970s, Merz did not have a separate studio space where she could make her art. So she made a lot of it at home! Her small flat was covered with things that she was working on. She even exhibited her art works at home for close friends and other artists to see. If you make art at home, how do you display it when you're finished?
Merz never spoke much about her art. The meaning behind many of her artworks is a mystery for us to unravel...

WHAT MATERIALS DID SHE USE?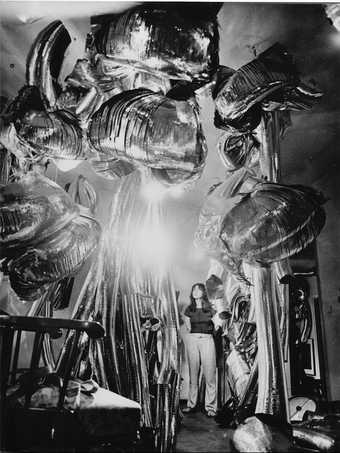 Marisa Merz used a wide range of materials in her artwork. She used conventional tools like pencils, paint and pastels, as well as the unusual materials common in arte povera.
One of Marisa Merz's earliest sculptures was made from aluminium foil and called Living Sculpture. She made it in 1966 by cutting and stapling strips of the foil to form a cloud-like artwork. It is so light and full of movement that it could almost seem alive.
Does it remind you of anything? Perhaps an alien monster, or weird metallic jellyfish!
Living Sculpture is made up of 58 different parts all attached to the ceiling with steel wire. There are so many parts that the sculpture can be installed in a different way every time it is shown. It adapts to each space like a living creature.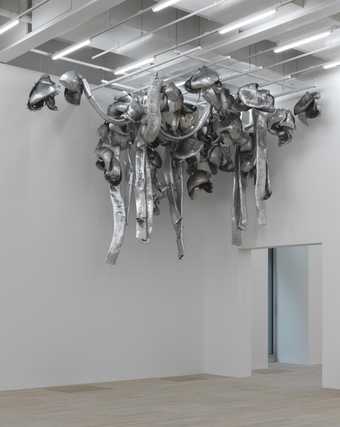 This is the sculpture installed at the Tate.
The first place it was ever exhibited was in Merz's flat! How do you think it might look in your bedroom?
Marisa Merz experimented with lots of different ways of making, from giant metal sculptures to tiny knitted objects.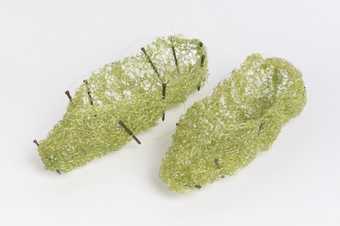 Some of her most famous works are her Scarpette, meaning 'little shoes' in Italian.
Merz knitted lots of versions of them in nylon, a kind of plastic, and in copper wire. She made them to fit the feet of both her and her young daughter Beatrice. Do they look comfy?
They might not be very practical as actual shoes but Merz's Scarpette also take inspiration from the natural world. They might remind you of organic forms like leaf skeletons, loofahs or spiders' webs.
HOW DID HER STYLE DEVELOP?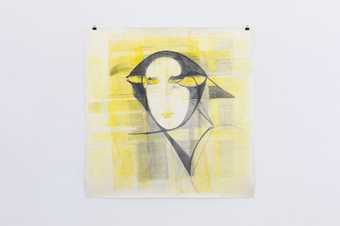 From the middle of the 1980s Marisa Merz began to focus on creating images of heads and faces in sculpture, drawings and paintings.
Merz's faces are not based on reality. She picks out the main features of a face: the eyes, nose and mouth. She uses bright, often metallic colours, simple shapes and sweeping lines to make them seem mystical. Some of them seem out of this world!
These heads were influenced by other periods and styles in art history such as Byzantine art. This ancient form of art used lots of gold and simple stylised faces just like Merz.
Marisa Merz made art for many years and was still creating artworks right up to her death at the age of 93. She was playful and experimental with her ideas, and not afraid to try new things.
Maybe you could try using some unusual materials or everyday objects next time you make an artwork! Remember to be careful or ask an adult to help you if you want to use anything sharp.