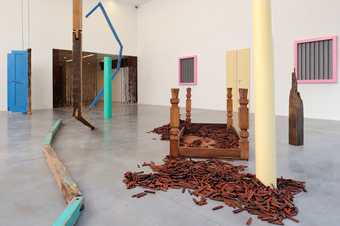 Spices, old plastic tarpaulins, oil drums, hair and cow poo aren't things we normally think of as art materials. But Sheela Gowda chooses to use these unlikely materials and transforms them into amazing installations and sculptures.
Sheela Gowda was born in 1957 and lives and works in Bengalaru, India. India is the main inspiration for her work – its culture, history, religion, and what she sees around her everyday. She often makes work about the lives, work and living conditions of poor people in India who are often forgotten about.
She is famous for using unlikely things to make her art. These are things used every day in India, but to Sheela Gowda they have a symbolic and sometimes mystical meaning. For example the scraps of tarpaulin and old oil drums she uses in her installations represent the simple slum houses of poor Indian workers, as this is often what they use to construct them.
She also often uses thread, incense (a material which gives off a sweet smell when it burns), and a bright red spice called kumkum. Thread and incense feature in Hindu ceremonies, so become symbols of culture, religion and ritual. Kumkum is associated with energy and is used to make a mark on people's foreheads as part of religious and social rituals.
The shapes in the artwork below are made from the paste used to make incense. In the exhibition she burns these so the shapes melt into dust and leave only burn marks to show where they were.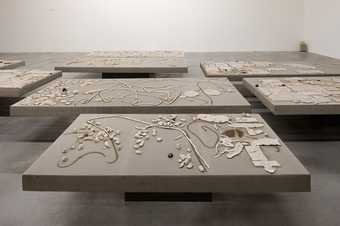 Sheela Gowda usually begins her artworks by choosing a material that interests her and tests out its physical qualities (as well as thinking about its symbolic meaning). What can the material do? How can it be transformed? What structure can she make from it?
By playing with the materials and what they can do she makes installations and sculptures that look abstract. But because the materials she uses represent or symbolise things about life in India, the artworks also powerfully put across her thoughts, ideas and feelings.