The plan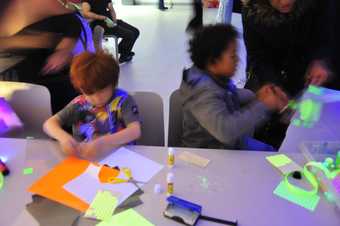 You are going to make a drawing disco!
To make your installation you will be thinking about shape, light and space. You will also think about how to make the artwork move after you have made it, as it's meant to be a kinetic (that means moving) sculpture. Grab a few friends to make it with and then you can all rave in your brilliant neon art installation once it is finished!
The Idea
The idea is inspired by the American kinetic sculptor Liliane Lijn and her amazing spinning artworks. She calls her sculptures 'koans' as they are cone in shape. The Koans are designed to make the viewer feel calm. They may make you want to meditate and it's ok to feel a little hypnotised by them!