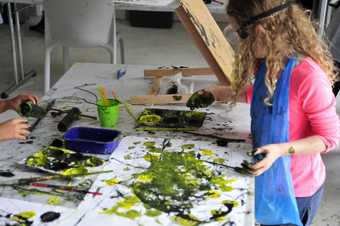 Artists usually paint on canvas. Canvas is a strong, hard cloth made from hemp or yarn. It's normally stretched across a wooden structure (called a stretcher).
But you could paint on any fabric or surface, like cotton or velvet or metal or glass. What else could you paint onto?
Artists also use some very unusual ways of putting the paint on the canvas dripping, splatting, even shooting!
For this activity, investigate some of the awesome ways that artists use colour, textures, textiles and paint and have a go at making your own textured paint masterpiece.