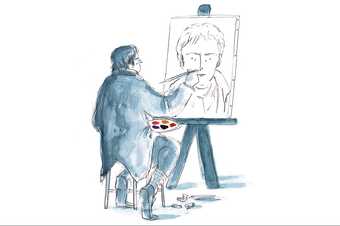 Joseph Mallord William (J.M.W.) Turner was born in London in 1775. His father was a barber and wig-maker, and his mother came from a family of butchers.
Turner was a landscape painter, traveller, poet and teacher. At the age of fourteen, he became a student at the Royal Academy of Arts.
Turner was a Romantic artist and became well known for painting beautiful landscapes, dramatic storms and scenes of nature. He was quite famous during his lifetime, though not everyone liked his work! Now he is one of Britain's most loved artists.
Turner always carried a sketchbook with him, and would do lots and lots of drawings in it. He would then number the sketches, so that when he was back in his studio he could use them as references for his paintings.
Start a sketchbook
You could start carrying a sketchbook around and using it to draw in, too. Try to record the things you see every day. Do they look different over time?
Top tips
Choose your favourite notebook to carry around with you
Make sketches of your friends, family and pets
Don't worry about making everything perfect – your sketchbook is a space to have fun!
Try to draw something new every day
Draw the things that you see when you are out and about!
Experiment with using different tools, such as pens, pencils, chalk, collage and crayons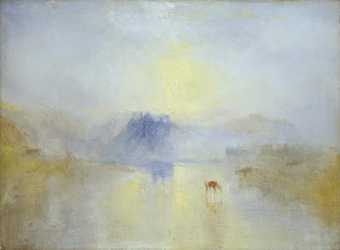 Turner enjoyed painting the light at different times of day, but especially at sunrise and sunset.
In Norham Castle, Sunrise, Turner used vivid, cool shades of yellow and blue for the morning sky.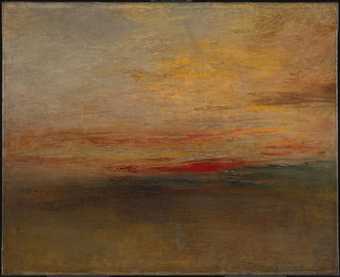 And here, in the painting Sunset, he used rich, deep reds and oranges for the evening sky.
Turner is sometimes called 'the Painter of Light'. He felt that light and energy were what brought things to life.
Create your own watercolour painting!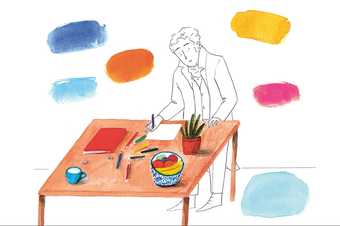 Turner often used watercolours to create his paintings. Follow these steps and have a go!
Take a white crayon and draw some trees and bushes on piece of A4 paper
Take your watercolours and paint over your drawing. Think about the colours — would you like a midnight-blue sky? Or perhaps a dazzling yellow?
Make sure you use plenty of paint!
As if by magic, the drawing you did with the crayon will start to appear.
Leave your painting to dry and you should have a lovely, woodland scene!
Paint a self-portrait
As well as painting landscapes, Turner painted portraits and self-portraits. There were no photographs at the time, so his self-portraits are the only way we can know what he looked like.
Try painting a self-portrait. It can be quite difficult, because you can't see yourself easily, but you can always use a mirror to help you.
People often think that Turner looked a bit grumpy in his pictures! Do you look grumpy in yours?
Try pulling different faces in the mirror and drawing them in the picture frames.
Happy
Sad
Angry
Excited
Jealous
Worried
Create your own gallery!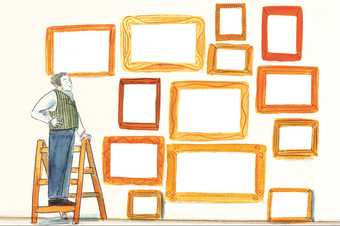 Before Turner died he wanted to make a gallery of his own work. He chose 100 of his favourite pictures and left them to the nation. They are now part of Tate's collection.
Use the download below to create a gallery of your favourite pictures. You could cut images out of magazines, add photos or draw your own artworks.
Discover more activities in the book Meet the Artist: J.M.W. Turner by Lizzy Stewart. Available online at Tate Shop. Please visit this website with an adult.